Anyone else dealing with an outdated laundry room? Not a lot of money to spend making it over? No worries. This laundry room makeover was done for a mere $85 and I'm sharing all the details below.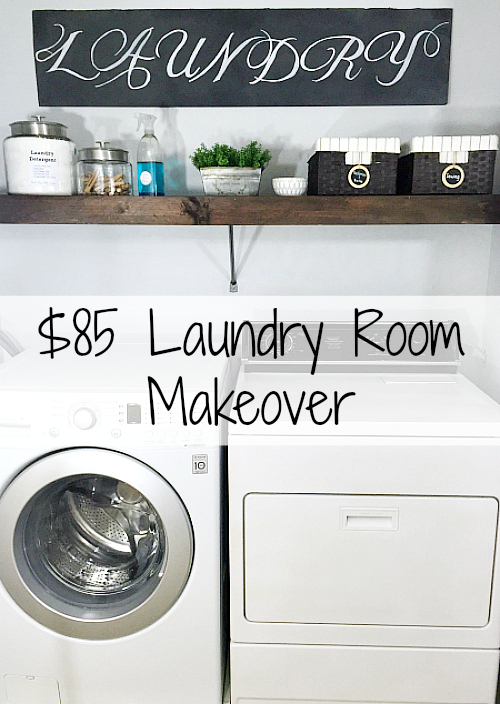 It's reveal day!!! Before we get started with all the after pictures of my laundry room… (ahem)… closet, I would like to thank Linda at Calling It Home for hosting this fun event. Remember, there are more than 150 bloggers that have taken on the challenge of transforming their spaces in just 6 weeks, so if room makeovers are your thing, head on over and check them out!
Are you ready? Let's start with a before shot of this space so we know just how far it has come…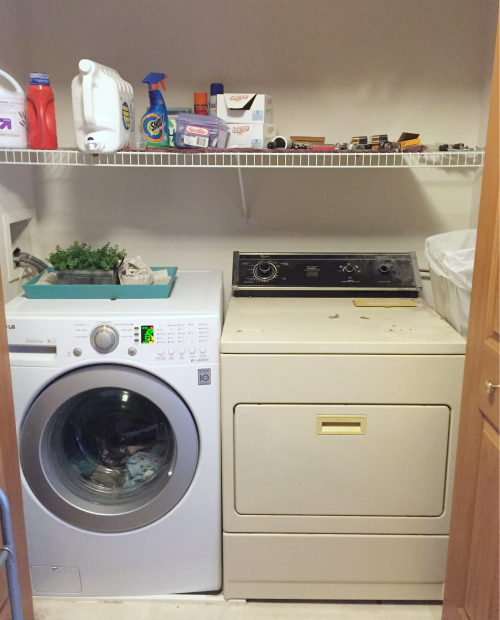 I had a list of goals, as you may recall from this post.
Clean the space
Paint the walls
Create some sort of overlay to hide the wire shelving and make it more functional
Storage Bins (Because batteries and lightbulbs strewn about does not make for great décor)
… and speaking of décor, I needed some major help in this area. I had washing instructions taped to the wall and a huge, oversized trash can as my "décor"… Ummm… no.
Paint the dryer to match the washing machine… because mismatched appliances aren't really that pretty.
…and do it all for $100 or less!!!
I am happy to report that all the things on my "to do list" have been checked off, and you can see my budget at the end of this post to see how I stayed on track!
$85 Laundry Room Makeover
Clean the Space
I started by saying goodbye to my carpet of lint (no tears shed). I also did a thorough cleaning of my dryer (inside and out). This before and after gives you just a glimpse into the grossness that was lurking in my laundry room.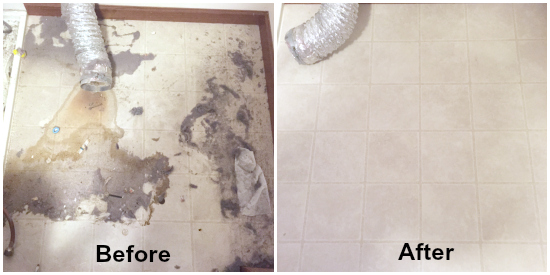 Paint the Walls. Paint the Dryer.
After cleaning up the dryer, it was hauled downstairs for some painting, because a mismatched washer and dryer aren't really the "in thing" right now… or ever. (If you want to learn more about the painting appliances, you can read about it HERE).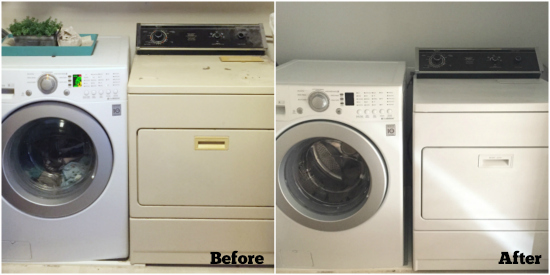 I painted the walls using a mixture of white and blue paint I already had on hand. You can (sort of) see the difference in the picture above.
That was all the boring stuff… but it made a world of difference in the space.
Now onto the fun stuff…
Create A Wood Overlay to Cover the Wire Shelf
My husband helped me create a wood overlay for the wire shelving using cedar picket fence posts. I so appreciate his willingness to help me out! I know some people like wire shelving, and that's perfectly fine. I am just not one of those people. As you may recall, I had a towel laid across the wire shelving as a way to prevent items from slipping through the cracks. Here's what it looks like now! I just love it!!!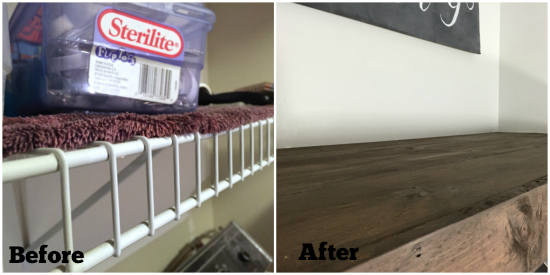 Add Décor
Gone are my taped-to-the-wall washing instructions. They have been replaced with these cute printables hung from wooden pants hangers. I used knobs to hang the hangers on the wall. You can find that tutorial here.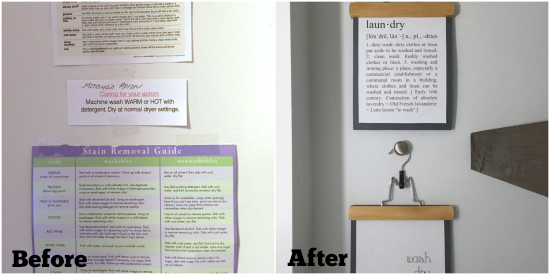 My over-sized trash can has been replaced with this DIY lint box (that actually started off as a cereal box).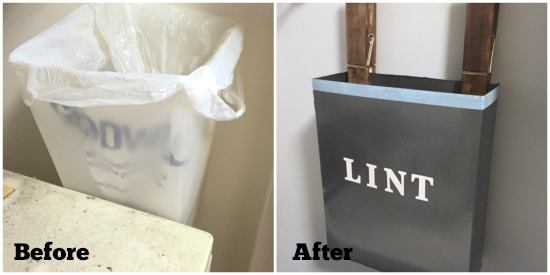 I decided I needed something for the wall above the shelf. I headed to Michael's, hoping to get some wood letters I could paint and hang, but when I got there, they were too much for my budget. In the same aisle as the letters were a bunch of framed chalkboards. A lightbulb went off, right there in the Michael's wooden letter/chalkboard aisle. I drove home, hoping I had a piece of cardboard big enough to fit my vision. Thank goodness I hadn't headed to the recycle center, because we had JUST what I needed at the bottom of the cardboard pile. Here's what I made. (Yes. Yes, that started out as a piece of dusty cardboard.)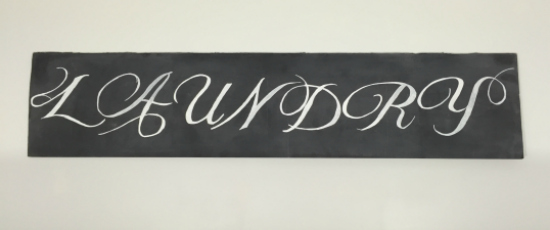 Here's the tutorial on how I made the sign and did the lettering. (Hint: I really don't have perfect penmanship 🙂 )
Add Storage
I bought some jars for my DIY laundry detergent and old clothpins. I also bought some baskets for my battery/lightbulb dilemma (Complete with labels).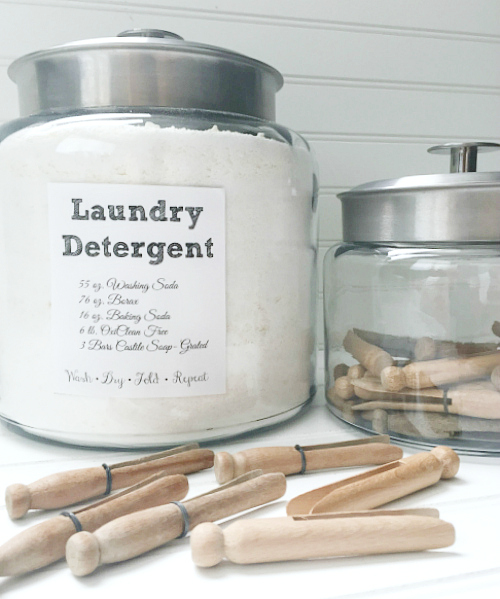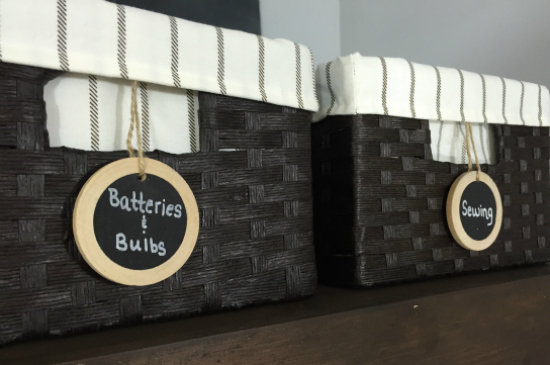 … And Here's the $85 Laundry Room Makeover Turned Out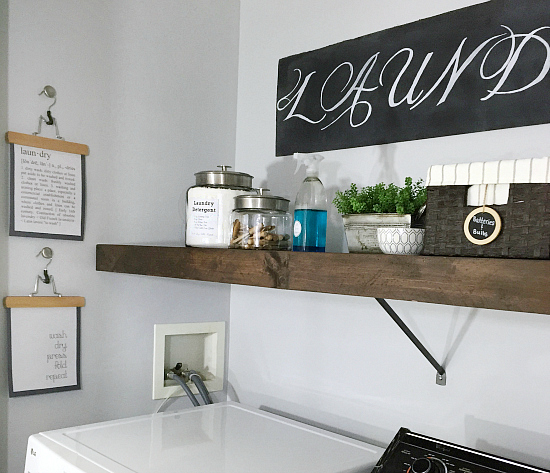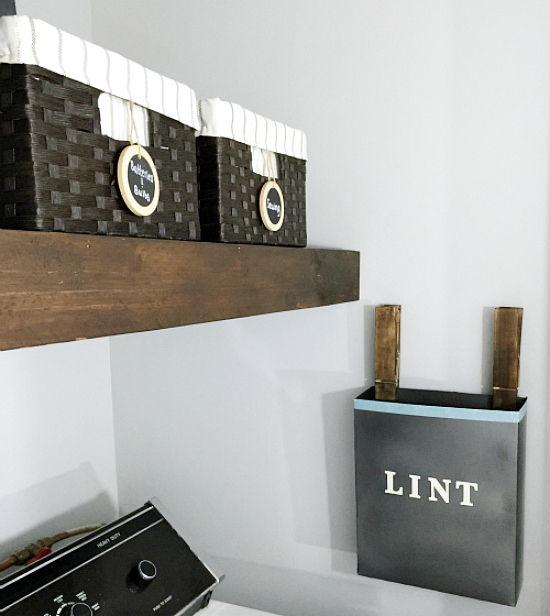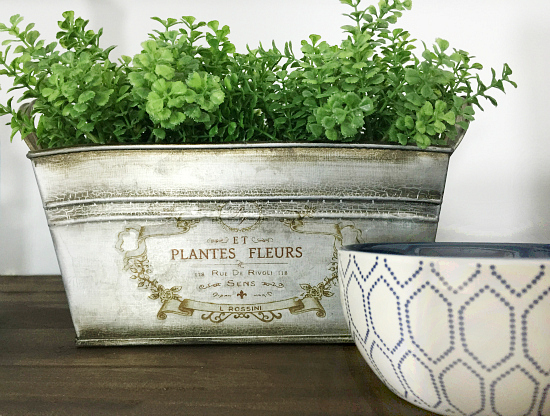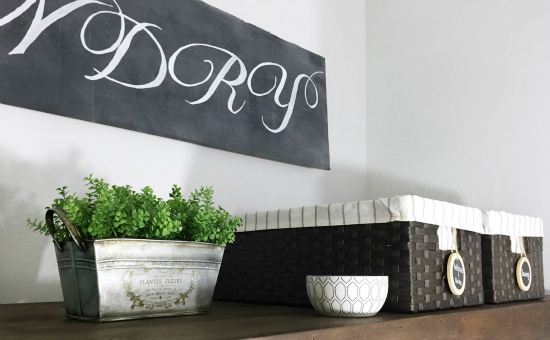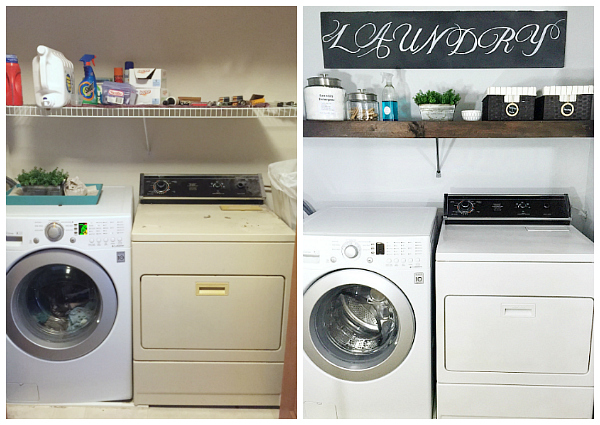 I was going for fresh, clean, and crisp, and while I think I achieved some of those elements, a little farmhouse got in there too. (I realize you can still see some hoses going to the washer and the gas line for the dryer, but apparently they are necessary to actually get clean laundry, so…)
The Budget
Last week we left off with me having spent $38.27. Here's what I spent in this final week.
Baskets- $20.25
Baskets x2: $19.30 (They are $12.79 each, but I used my Target Redcard and got 5% off, so $12.15 each; plus they were running a promotion: buy $25 worth of storage, get $5 off.)
Labels for the baskets: 95¢ (Used my Target Redcard to save 5%)
Glass Jars for Laundry Detergent & Clothespins– $22.50
Finger Bowl (for loose change): Free (I already had this. I just didn't know what to do with it until now.)
Plant in Tin: Free (Another item I already had that needed a home)
Paint for Walls– $4.77 (While this was done much earlier, I hadn't factored in the cost yet)
Paint- FREE (Mixed two samples I had with some white paint I already had)
Paint Supplies- $4.77
Total Spent on the Laundry Room Closet= $85.79!!! ($14.21 under budget!)
I'm grabbing a cup several cups of coffee and checking out all the rooms that were made over these past few weeks. I'll be sharing all my favorites next Wednesday (which means I've got to get through all of them before then!) To see all the rooms from this season's challenge, head here for the professionals and here for the linking participants.
Wanna Catch Up?
Week 1 // Week 2 // Week 3 // Week 4 // Week 5 // Week 6
Love it? Pin it!