Anyone else hate wire shelving? Things don't sit quite right and everything falls through the cracks… plus it doesn't look great. Instead of putting up with it, we made a wood overlay to cover the wire shelving in our laundry room; and the overlay simply sits on top of the original wire shelf.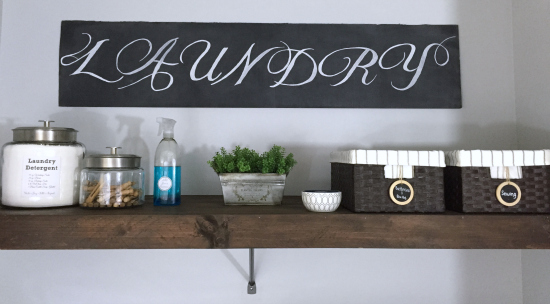 It is week 5 of the One Room Challenge, and we are working on a $100 Laundry Room Makeover. So far I have painted walls, painted the dryer (to match the washer), created a lint box (from a cereal box), used a piece of cardboard to create a chalkboard Laundry sign, and more. But this DIY Wood Shelf has got to be my favorite thing. This is what our laundry room shelf looked like prior to the start of this project… Yep. That's a towel I used to prevent things from falling through the cracks.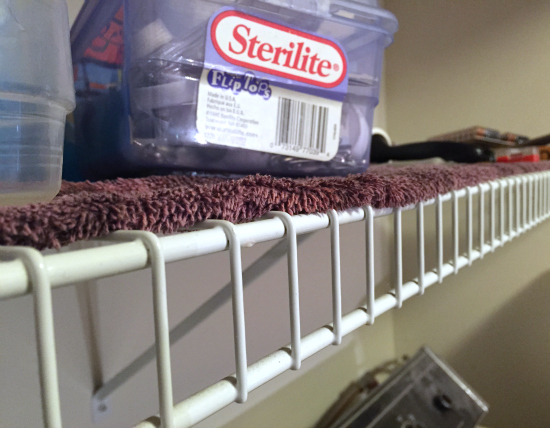 Because I had a limited budget of $100, I knew I wasn't going to replace the shelf. Instead, I wanted to create an overlay that would mimic a chunky wood shelf. Initially, I thought we'd cut a large piece of plywood down to size, but it was expensive. (You pay for the whole piece, unless you can find something in the scrap pile for 70% off; which I could not). Instead, we found some cedar fence posts; they are lightweight and $2.25 per post (we needed 5). Our shelf was 71″ long, and the posts were 72″ (perfect because there was a 1″ cutout at the top of each post… great for a picket fence, not great for a shelf). When we bought the posts, they were really wet, so we laid them out to dry.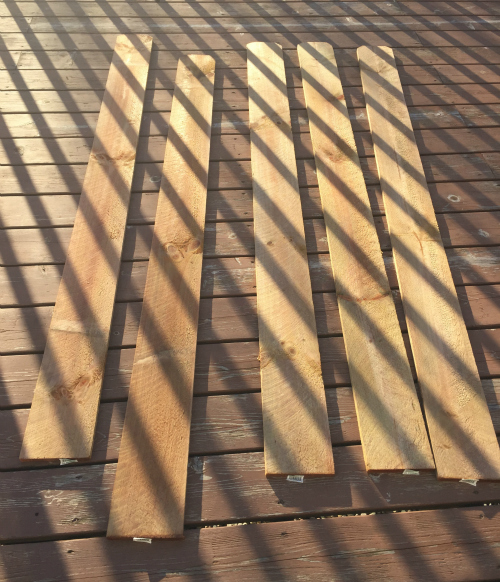 As noted, we cut off one inch from the tops of the posts, where they were angled.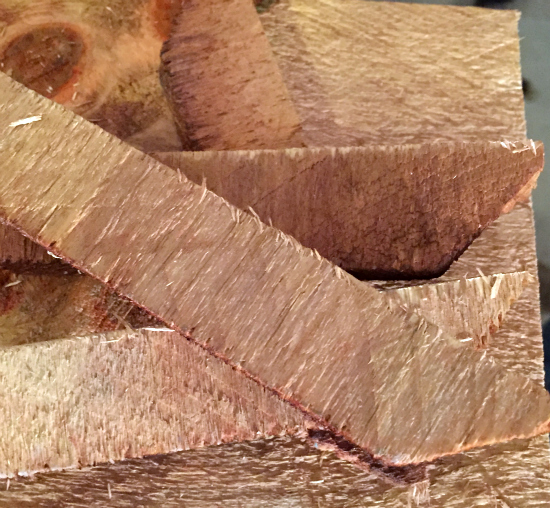 Our shelf has a depth of 20″, so we attached four of the fence posts together using 5/16″ dowels and wood glue (the fifth fence post will be used for the overhang). Please Note: You will need a dowel jig for properly placing the wood dowels, and clamps to hold the wood pieces together while the wood glue dries.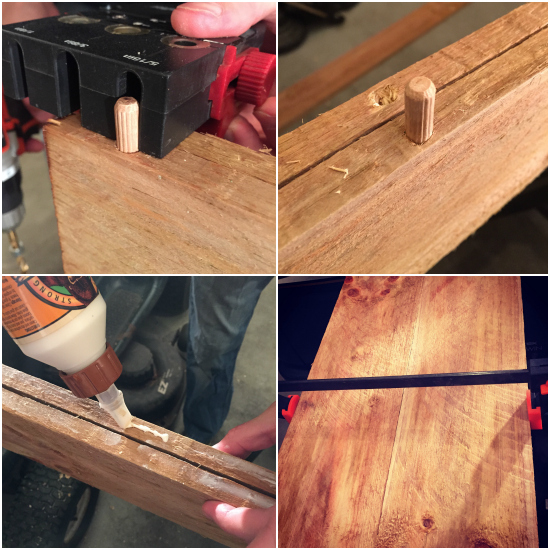 After the glue had completely dried, we sanded the boards with our Orbital Sander, starting with an 80 grit sandpaper, and working up to a 220 grit.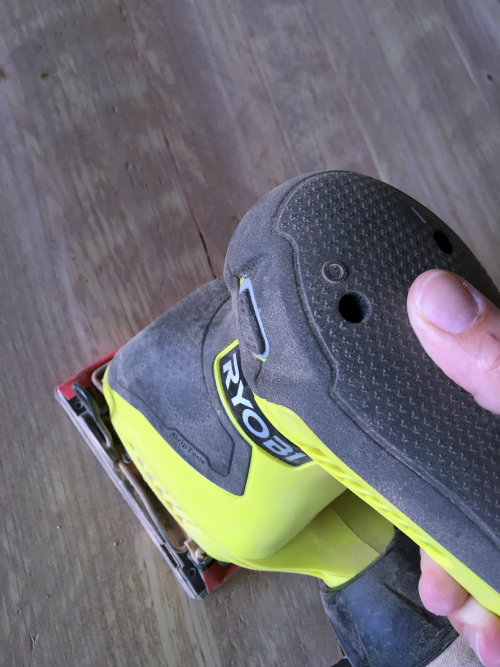 Because there is an overhang to the wire shelf, we cut the last post to create the front lip of the shelf. After sanding it, we used wood glue, and then clamped the front onto the larger shelf piece. While still clamped, we used a nail gun to secure the overhang to the shelf. (Of course, I don't have a picture of this. Sorry. #bloggerfail)
Once everything was good and dry, I stained the shelf in the color Kona.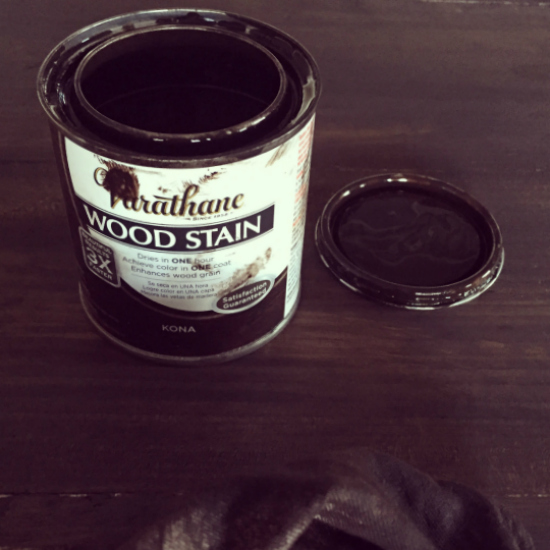 We then allowed the stain to thoroughly dry. Truth-be-told, we never got around to this next step, but you should apply a couple coats of polycrylic to seal and protect your wood.
When we brought the shelf upstairs, we simply laid it on top of the existing wire shelf, and that was all there was to it. In the picture below, you can see how the wood overlay sits on the wire shelf.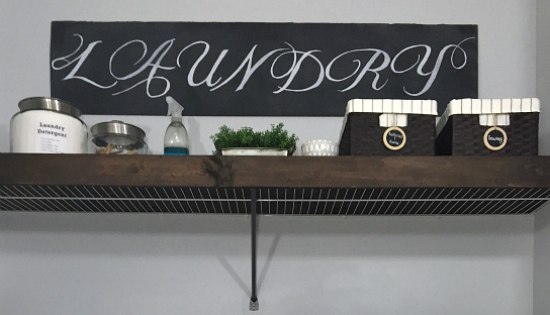 I did spray paint the support, as you can see. I thought the white would look funny, so I removed the support and sprayed it with hammered metal spray paint.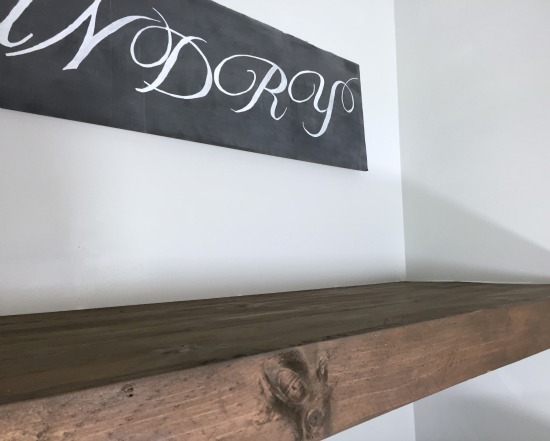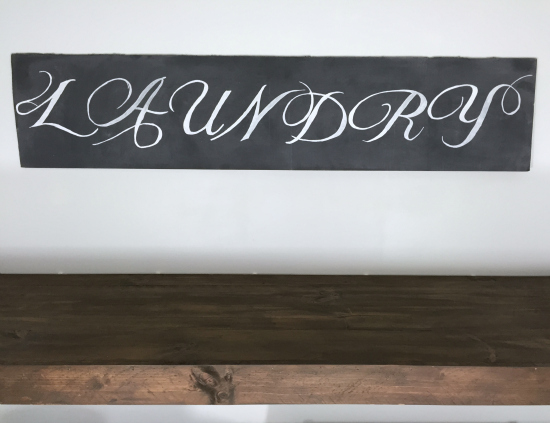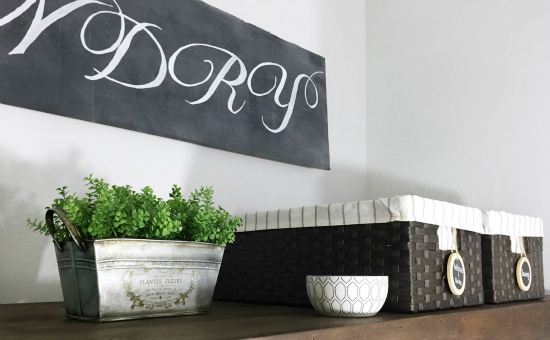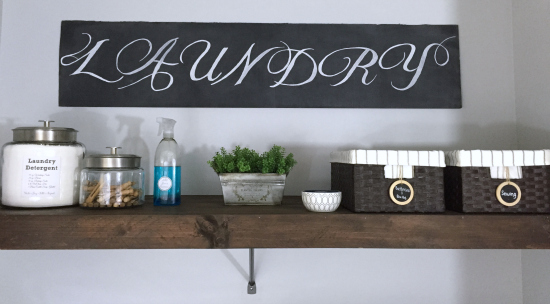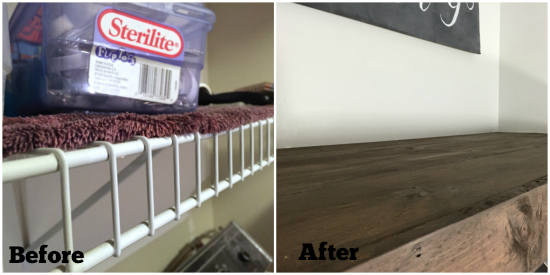 I just love how this turned out!!! Goodbye wire shelving, hello beautiful wood shelf!!!
The Budget So Far
Last week I had spent a total of $19.24. Let's breakdown the cost of this DIY Wood Overlay.
Total So Far: $38.27
Wanna Catch Up or Jump Ahead?
Week 1 // Week 2 // Week 3 // Week 4 // Week 5 // Week 6
Love it? Pin it!