I'm actually not quite sure what has gotten into me lately. If you had asked me one year ago (pre-blogging days) if I was creative, I would have burst into laughter. Seriously. Creative was the last word I would have used to describe myself. I am a rule-follower. I color in the lines. I can hardly draw stick people. Creative? No.
Then something bizarre happened. I started redoing rooms with a $100 budget. Not just "buy a new pillow for the armchair" makeovers, but real, genuine transformations. See for yourself… Here's my mudroom before and after:
… and here's my recent One Room Challenge laundry room (closet) makeover (that was actually done for about $85):
I had to get creative. I had no choice. I started looking at cereal boxes and orange plastic Dollar Store bins in a whole new way…
The day before my laundry room reveal was to go live, I realized I needed something for the blank space above the shelf, so I headed to Michael's thinking I could purchase some wood letters that spelled out "LAUNDRY" or "WASH & DRY". I got there and the letters were going to cost $3 each (and that was with a coupon). I didn't have enough remaining in the budget, so I turned to leave. Stop. Chalkboards for sale. I thought the idea would work so much better as I wouldn't have to worry about leveling each individual letter on the wall, but the chalkboards were all pretty small and would look out of place in such a big area. Then, dare I say, creativity struck. I walked out of the store with a vision. I just needed a big piece of cardboard. Like this one: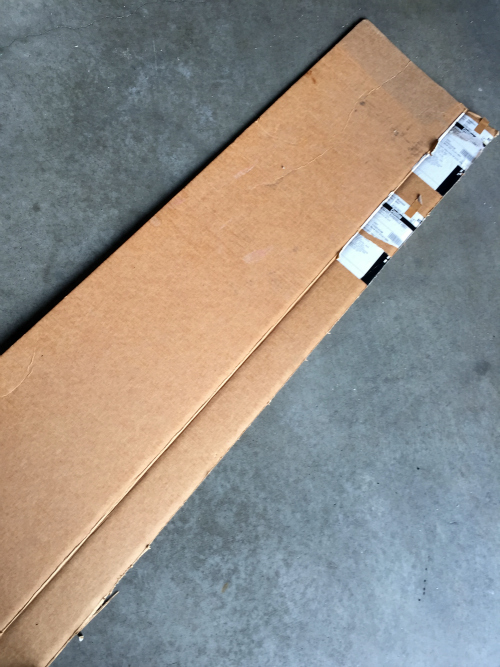 See, procrastinating your trip to the recycle center can pay off.
I cut off all the excess cardboard from the box and started painting it with chalkboard paint.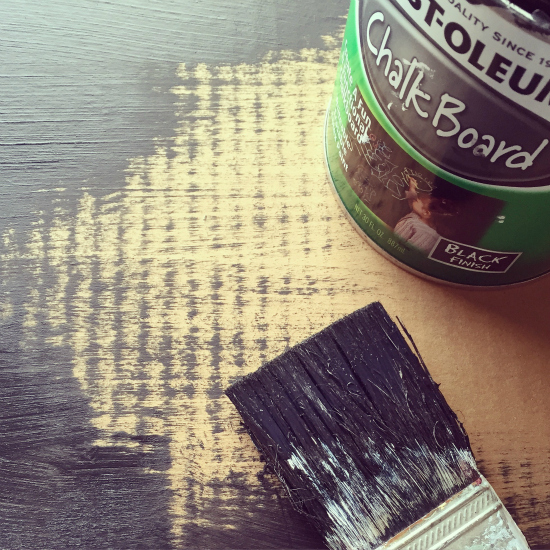 While that was drying, I started working on my lettering for the sign. Luckily, there are truly creative people out there that share tutorials on how to do beautiful chalkboard lettering for those of us not gifted in the penmanship department. Honestly, I've seen a number of these tutorials, so I can't point to one in particular, but I will share what I did.
1.) Start by creating your lettering on the computer. I used PicMonkey because I like their font options, but you could just as easily do it in Word. Depending on the size of your chalkboard, you will want to create the letters in the correct font size. I created the letters so I could get one letter on an 8 1/2 by 11 sheet of paper.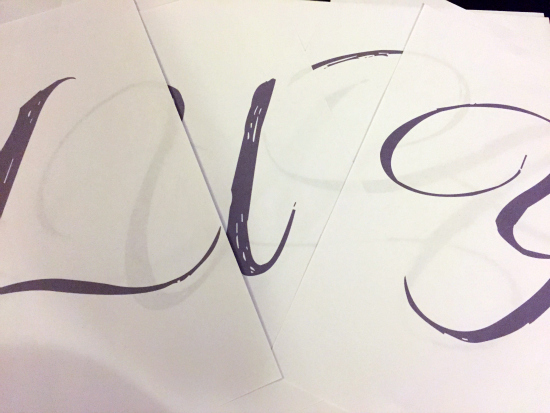 2.) Hopefully at this point your chalkboard paint is dry, so grab your cardboard piece and go over the whole thing with a piece of chalk. This "seasons" the board. If you don't do this, your board is so black from the new paint that every smudge and bit of chalk will show up.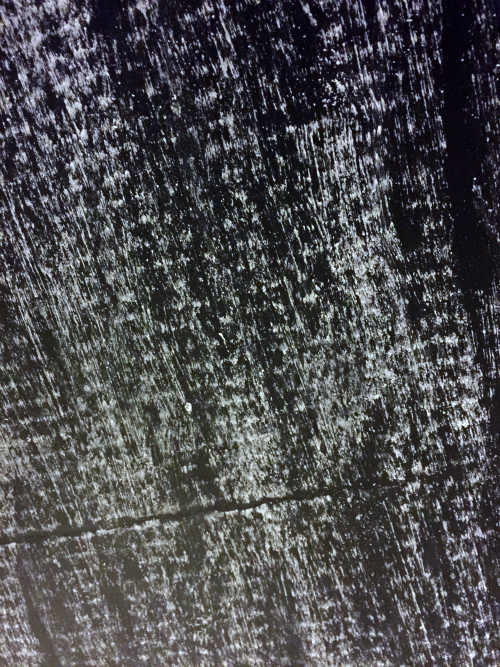 After you've covered the whole thing in chalk, wipe it off, and you'll have a perfect surface for starting your lettering.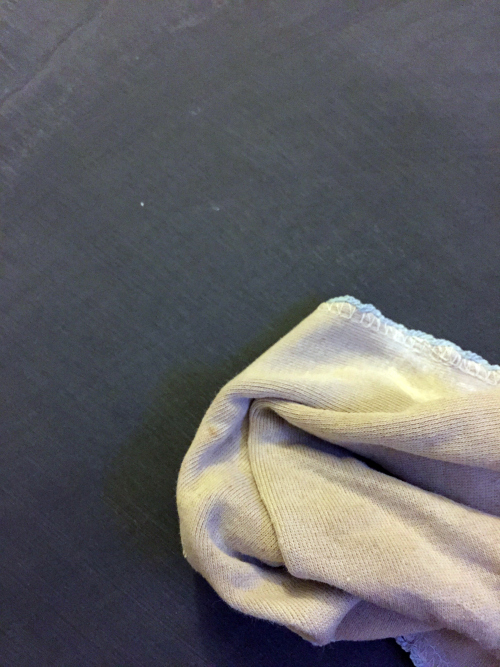 3.) Arrange your lettering on the board and tape it down, but only on one side. You'll need to be able to lift the paper to color on the back of it. Of course, this sounds like the most confusing step, and it's the one thing I don't have a picture of… Sorry.
4.) Going one letter at a time,  flip your paper up and and cover the backside with chalk.
5.) Lay the paper back down and go over the outline with a pencil, pressing firmly. Repeat this step for each letter. (Please pardon my dirty fingernails. That is from cleaning grill grates. The stuff does not come out of your nail beds. I promise. I do wash my hands.)
6.) After you have traced your letters, remove the computer paper and you'll see outlines for each letter. Color those in with chalk or a chalk marker. Using regular chalk will make it easier to erase if you plan to change the sign often. Because I'm making the laundry sign a permanent fixture, I chose a chalk marker as it's a bit more permanent (although you can still erase it as well).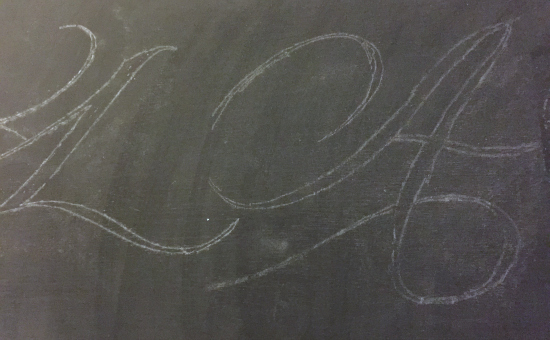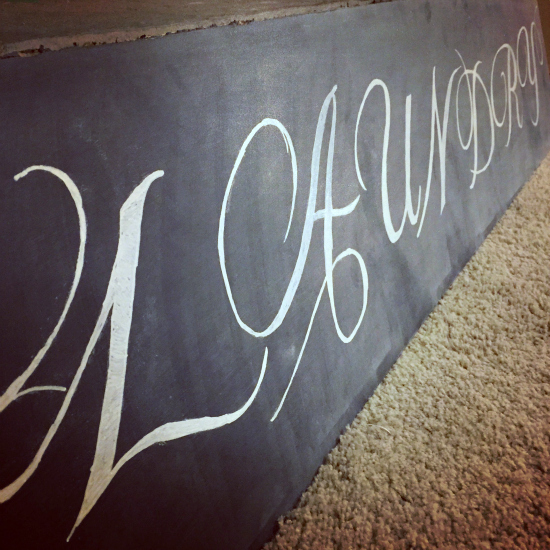 7.) I then adhered Command Strips to the back of the cardboard (now chalkboard), and mounted the sign on my wall.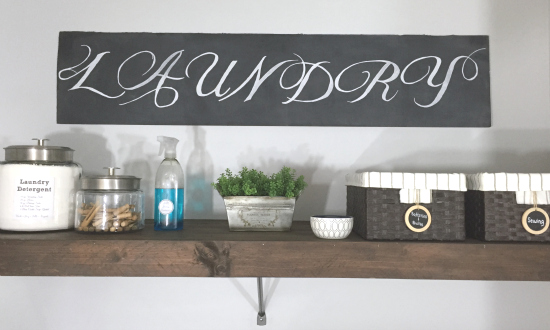 This project was done for FREE, and I couldn't be happier with how it turned out.
Thanks for stopping by! Have a wonderful day!
Erin
Want to Follow Along with Lemons, Lavender, & Laundry?
Subscribe!
Social media more your style?
Facebook // Pinterest // Instagram // Twitter
Love it? Pin it!