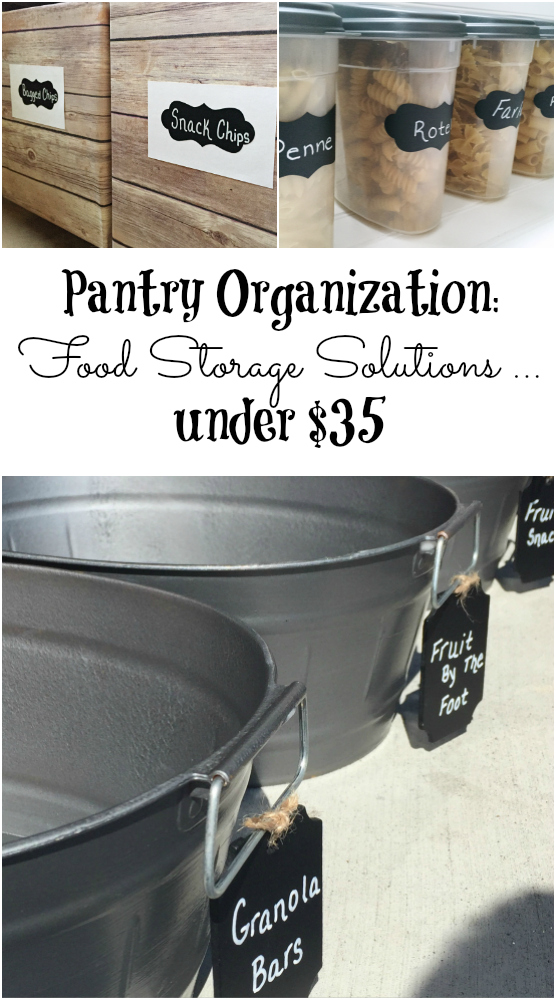 I am SO excited to share with you what I have worked on for week 3 of the $100 Room Challenge. If this is your first time visiting the series, you can catch up here:
Let me honest for just a moment. I drool over the pantry makeovers I see on Pinterest. I even have a board dedicated to Mudroom and Pantry Inspiration. For the record, my mudroom/pantry will look nothing like those beautiful photos. The $100 limit is pretty much putting a damper on that. As I was looking around for food containers, I found that most cost between $10-20 EACH! BUT… don't fret, I found some ways to create food storage containers that cost a whole lot less… I just had to think outside the box… or use the box. If you follow me on Instagram, you've already gotten a few sneak peeks.
Orange Plastic Containers to Metal Storage Tubs
The first place to head for cheap storage options is your nearest dollar store since everything costs, you guessed it, … one dollar. I started by looking for something I could use to hold individual items from my humongous Costco boxes, and these bright orange bins were perfect: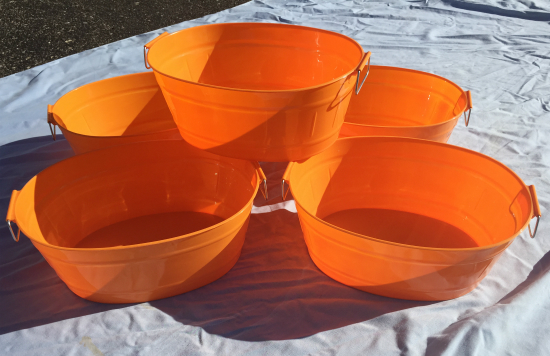 While orange is great for celebrating Halloween, it was not the look I was going for in my pantry. Nothing a little hammered metal spray paint couldn't take care of, right? I sprayed them down and attached chalkboard labels onto the handles, and they have changed their look completely: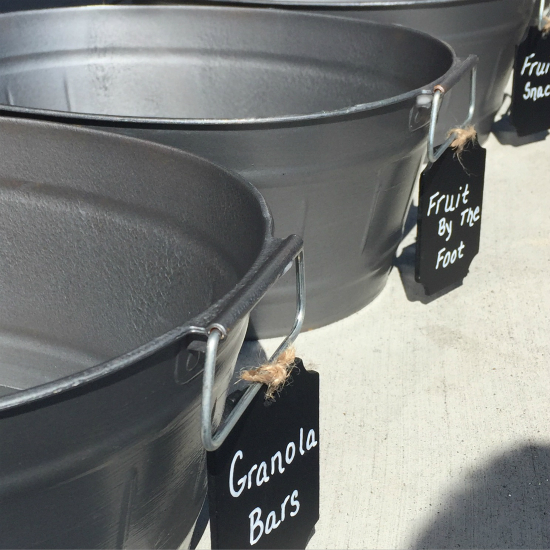 I did notice a little spray paint chipping off the bottom, so I went over the bins with some Mod Podge to help seal the paint.
Old Cardboard Boxes to Wooden Crates
I cannot take credit for this brilliant idea. I first saw it done by Lauren over at Bless'er House. While Lauren used diaper boxes for this project, I used some leftover Costco boxes and boxes that used to hold reams of paper. I found some wood-looking paper on Amazon, and used it to wrap the boxes. (This is actually paper for a photo backdrop, so it's huge: 12 ft. x 4 ft.). I started by adhering the paper with Mod Podge, but it got a little bubbly, so after the first sheet, I used an adhesive spray, and that worked a whole lot better.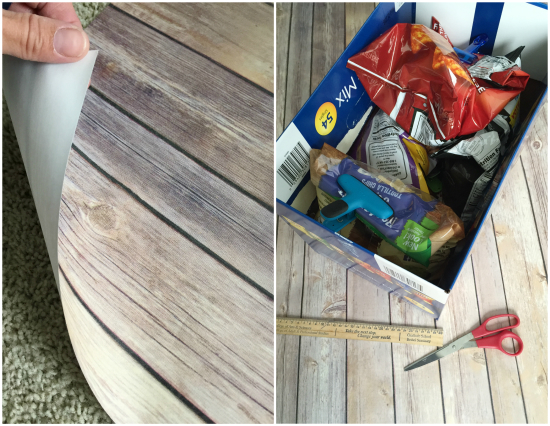 Add a chalkboard label on a notecard, and these boxes-turned-crates are used to store bags of chips and pretzels.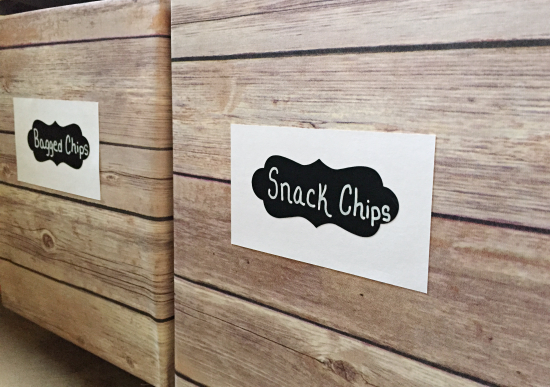 Pasta & Rice Storage
I buy a lot of pasta. My kids love it, and so do I. I buy all the different shapes, so I went ahead and bought a few containers (at the dollar store) and added some adhesive chalkboard labels. The containers held exactly one box of pasta, so it was perfect. For the rice, I used some canisters I already had on hand.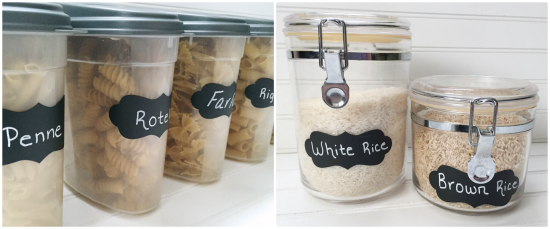 Cracker Storage
Seems to me there are two types of crackers: those that come packaged (i.e. Saltines and Ritz), and those that don't (i.e. Goldfish and Cheez-Its). I used a basket I already owned to hold all the packaged crackers; easy peasy: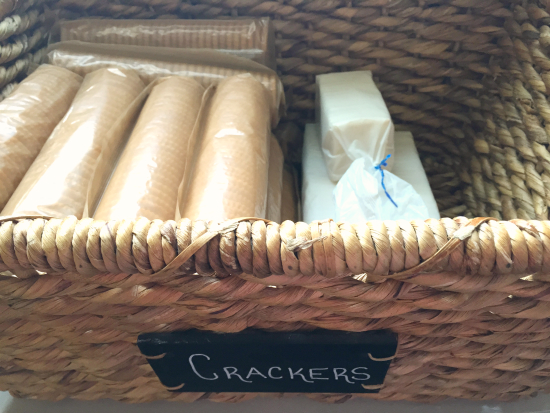 For the loose crackers, I bought more containers (again, only one dollar each), labeled them, and done: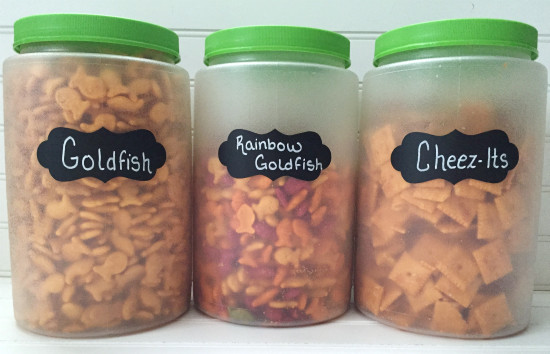 Canned Goods Storage
Since I'm repurposing boxes and plastic tubs already, I thought, why not add some old soda boxes to the mix. I needed something to hold my canned goods, and as I was about to recycle an old soda box, I realized it would be perfect.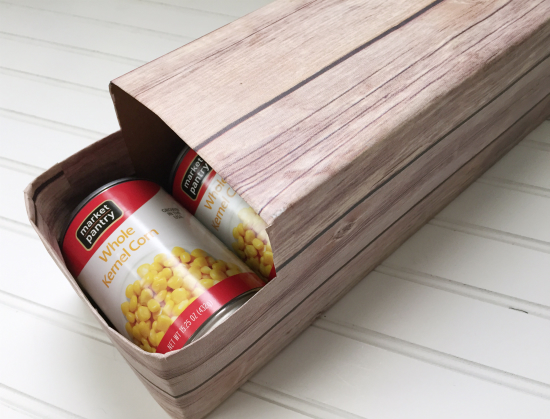 I once again went with the wood paper and I'll be adding chalkboard labels (ran out…oops). What I love about chalkboard labels, and the reason I used them on everything, is because I can change the label whenever the contents of the container change.
Cost of Food Storage… So Far
I'm not going to give an updated picture this week because I'd rather save it for the reveal next week, but I am going to give you my cost break-down thus far:
This pantry storage solution made its way to the Rachael Ray Show. See the segment below:
Have A Joyous Wednesday!
Erin
Week 1 // Week 2 // Week 3 // Week 4
Want to Follow Along with Lemons, Lavender, & Laundry?
Subscribe!
Social media more your style?
Facebook // Pinterest // Instagram // Twitter
Love it? Pin it!