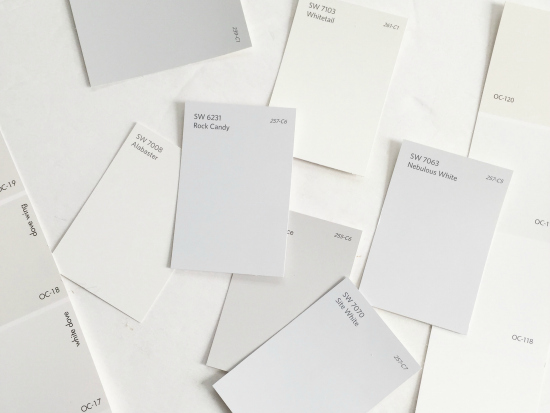 Welcome to week 3 of the $100 Room Challenge. New here? Let me quickly explain what this challenge is all about. Myself, along with a few of my blogging friends, have taken on one room in our house to makeover during the month of March, but there's a catch… you can't spend more than $100.
This week's update is going to be pretty short and sweet because, while the room has completely changed its look, there's not much to write about painting walls, but let's take a peek at what was done.
Week one I showed you where our master bathroom started out: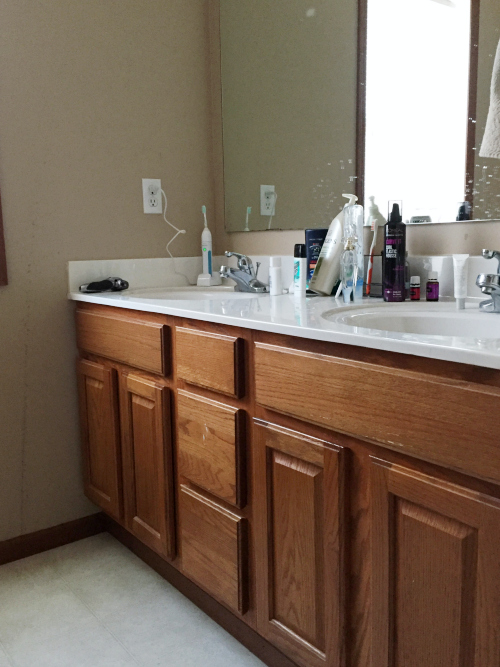 Then, last week, I painted the vanity using satin enamel paint in smoke gray. If you saw that post, then you know the cabinet doors and drawer fronts were still drying in the basement, so this is where we left off; with a little peek at the new vanity color: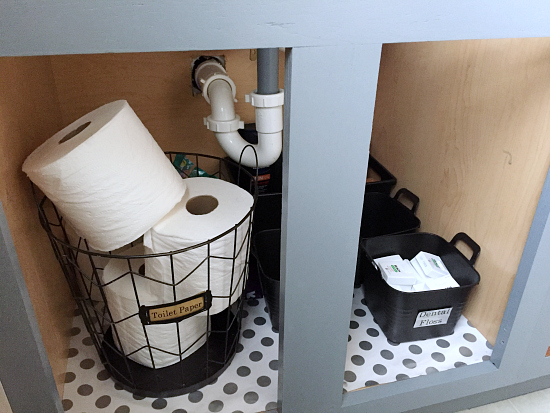 This week I've got the vanity all put together, but the biggest change is the wall color. What was beige is now white. (Follow on Instagram? Then you got a little preview 🙂 )
I asked in last week's post which color was preferred: White Dove or Alabaster. White Dove won by a landslide, so that's what I got, but not without taking a trip to our local recycle center first.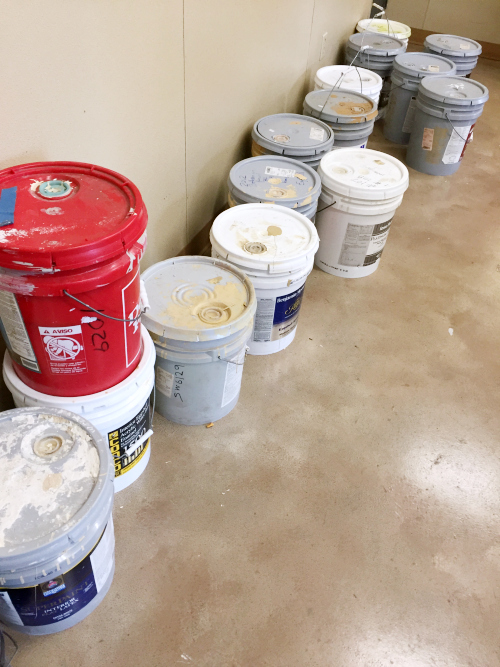 See all that paint? It's all FREE… and that's just the 5 gallon buckets, there's more gallon cans in another area. I always take my paint swatch here first to see if they have a color similar to what I need. This time, I was outta luck, so I headed to Home Depot to color match in Behr paint. The reason for this is because Behr costs half the amount of "name brands", and for this challenge, that's important.
I got my walls all painted, but not without a whole lot of complaining (to myself) about how much stuff you have to paint around in a bathroom: Mirror, light fixture, window, toilet, shower, and 2 doors. Ugh. Because I hate painting walls (loved painting the vanity though) I just turned on some tunes and got to work. Here are a few shots of the bathroom in its current state: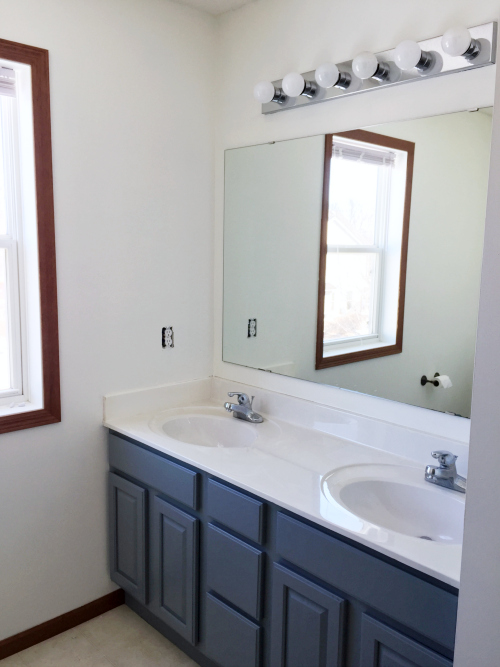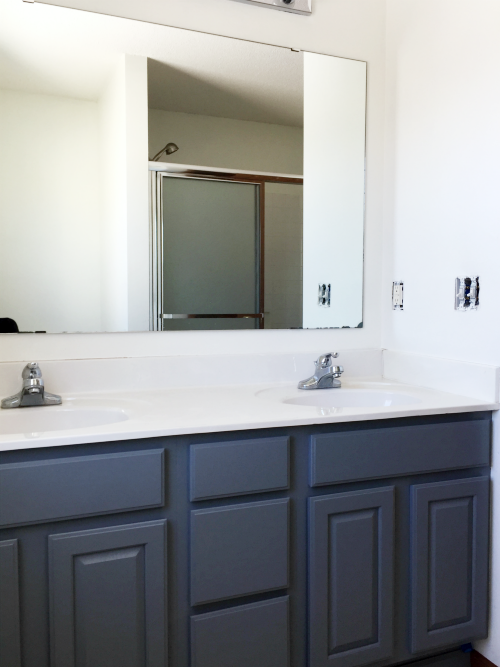 I know. I don't even have the outlet covers back on yet, and remember that shelf from week 1? I have hated it since we put it up about 6 years ago, but have lived with it anyway. It came down this week; and it took all of one minute to remove. Remind me why we put up with stuff we don't like?
I cannot wait to start working on some wood elements to warm up the space: Frame for the mirror, shelves, and a rustic ladder. Also hoping to add a towel rack and a mason jar soap dispenser and toothbrush holder. Fingers crossed for my budget, 'cause that vanity is screaming for some hardware.
Speaking of…
Budget So Far
Last week I left off having spent $12.11 for the vanity makeover. Here's what I spent this week:
Paint for the Walls: $23.78
Total So Far: $35.89
Make sure to check out what everyone else is doing in their rooms by clicking on the link-up below!
Week 1 // Week 2 // Week 3 // Week 4 // Week 5
Want to Follow Along with Lemons, Lavender, & Laundry?
Subscribe!
Social media more your style?
Facebook // Pinterest // Instagram // Twitter