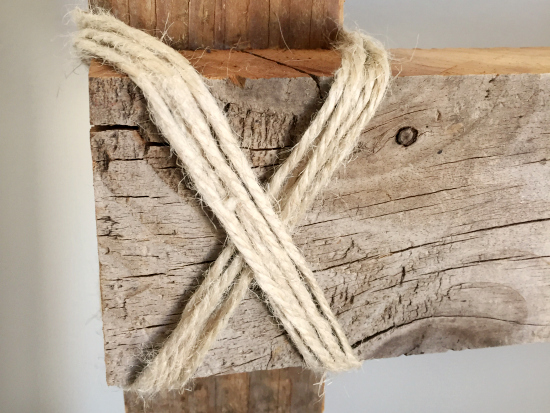 Welcome to week 4 of the $100 Room Challenge. During the month of March, myself, along with a couple dozen other bloggers, are giving one room in our homes a makeover… with only $100 to spend. This time around, I am working on our master bathroom. Week one you were able to see where this bathroom started (beige and boring). Week two, I gave the vanity a major makeover. Last week, I got the walls painted (bye-bye beige); now this week, we started to add some rustic wood elements to the room, and I'm lovin' them…
Let's start with the mirror. (I know I show this image pretty much every week, but it helps to see how much things change 🙂 )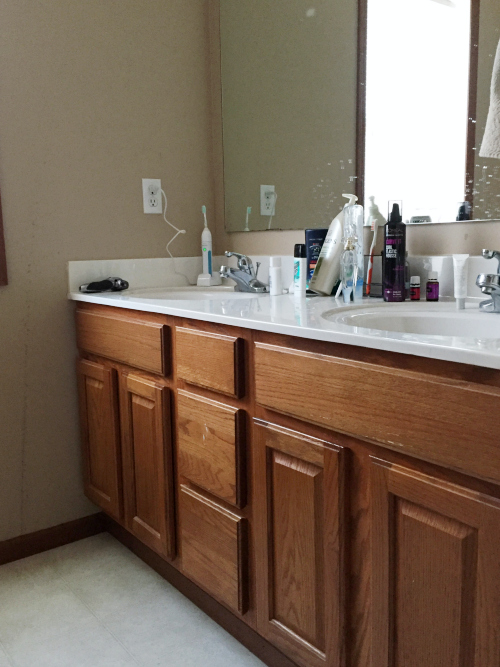 Big. Boring. Toothpaste-splattered mirror.
This week my husband and I built a frame from some old barnwood. Because there are several projects to share in this post, I won't write out the tutorials, but you can find the tutorial for this framed mirror here.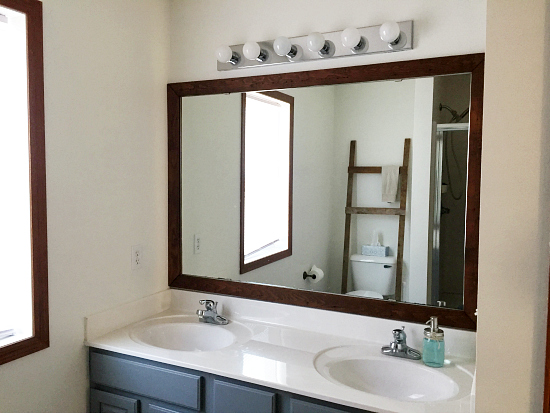 I think the frame adds so much more character to the space, and warms it up as well. The thing I love about barnwood is all the imperfections. Some of the pieces have nail holes and groves that add a bit of personality and history.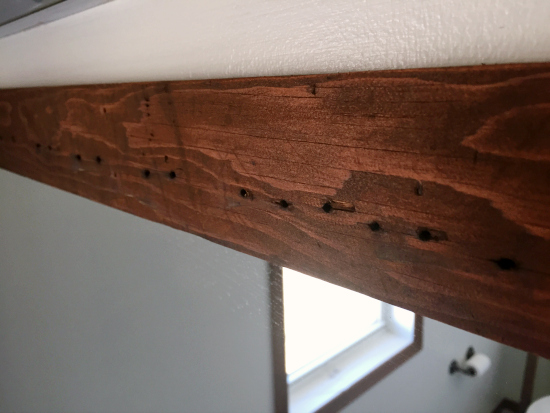 You can see, in the mirror's reflection, another project we finished: Adding a rustic ladder above the toilet. (Again, I'll share the tutorial soon.) Let's take a look back at my toilet. (So fun.)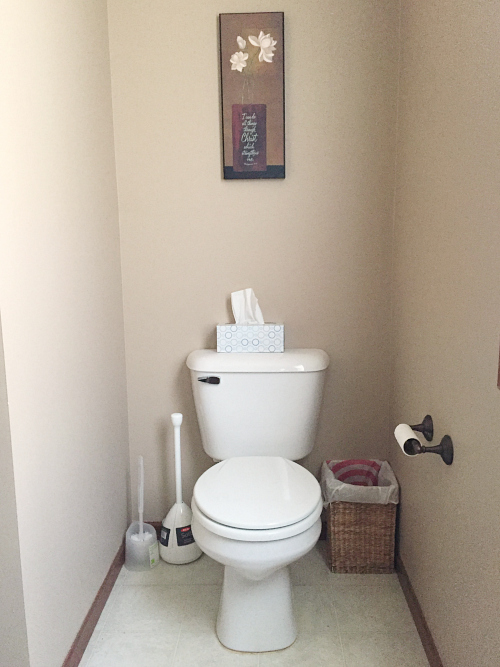 Toilet brush? Check. Plunger? Check. Wastebasket with plastic bag liner? Check.
This space is a little blah. I mean, give me a little credit for the picture (that's totally not my style anymore), but other than that… blah.
We used more of the barnwood to create this rustic ladder:
I know. It's still a little plain. I ordered these Turkish towels that I think are going to be perfect, plus I've got some other elements I'm hoping to bring in. Now, here's the question: Do I stain this dark, like the framed mirror, or do I leave it as is, with its natural weathered look? I am seriously torn on this one and would love your feedback.
The last little detail added to the bathroom was a mason jar soap dispenser. (Again, this simple DIY will have a tutorial coming soon.)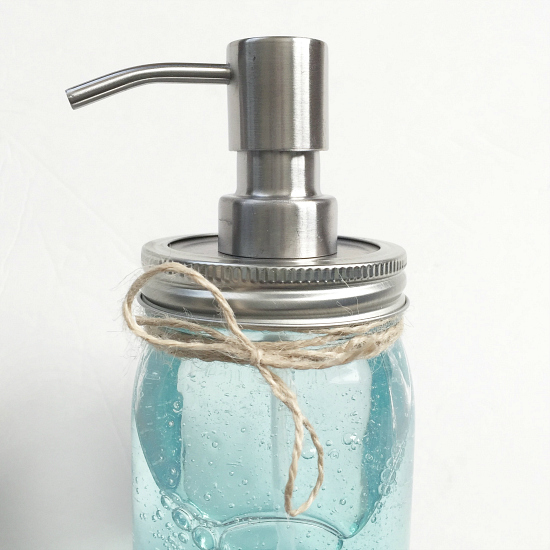 That was all for this week. Still on the list is some shelving, wall art, and a towel hook. Let's check out the budget.
The Budget So Far
Last week, I had spent $35.89. Here's what I've spent this week.
Framed Mirror: FREE
Barnwood- Free (Already had)
Stain- Free (Already had)
Brad Nails- Free (Already had)
Rustic Ladder: $1.80
Barnwood- Free (Already had)
Screws- Free (Already had)
Twine- $1.80 (After applying a 40% Coupon)
Mason Jar Soap Dispenser: $2.99
Mason Jar- Free (Already had)
Soap Dispenser Pump (Fitted for a mason jar)- $2.99
Polycrylic- Free (Already had)
Twine- Free (This twine was free because I already had it, but there wasn't enough for the ladder 🙂 )
Total So Far: $40.68
*As mentioned, I have purchased a few other items, but since they have yet to be added to the room, I'll tally them up once they are actually in here.
Make sure to check out the other bloggers participating in this challenge using the links below.
Week 1 // Week 2 // Week 3 // Week 4 // Week 5
Want to Follow Along with Lemons, Lavender, & Laundry?
Subscribe!
Social media more your style?
Facebook // Pinterest // Instagram // Twitter