Anyone else have a huge collection of sports cards? See how we used an old card catalog for baseball card organization.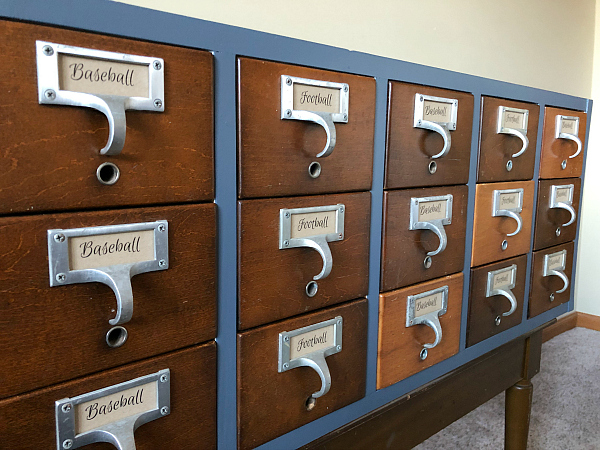 Oh. My. Goodness!!! I am SO excited about what we came up with to organize all my son's baseball and football cards. I could seriously scream with delight. As one who knows zilch about sports, I didn't actually think I was going to like this part of my son's room makeover, but (AHHHH!!! There's the scream 🙂 ) it turned out so cool!
My original idea (which you can see from last week) was to organize these cards in fabric covered boxes of some sort, however, when I started looking through our garage for a little inspiration, I found these two metal card catalogs I had bought years ago.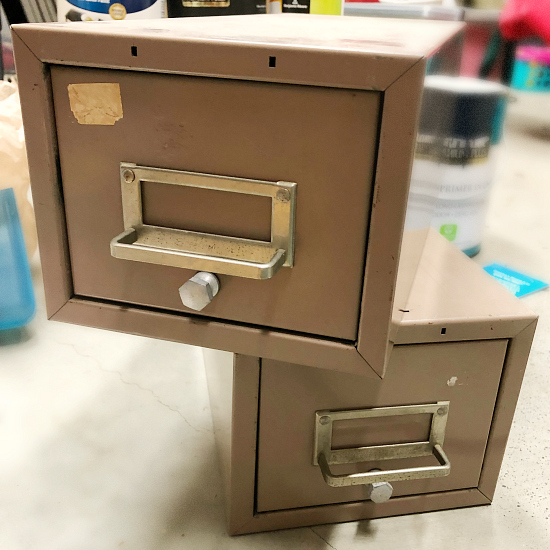 I was so excited until I went into my son's room and saw just how many cards he had…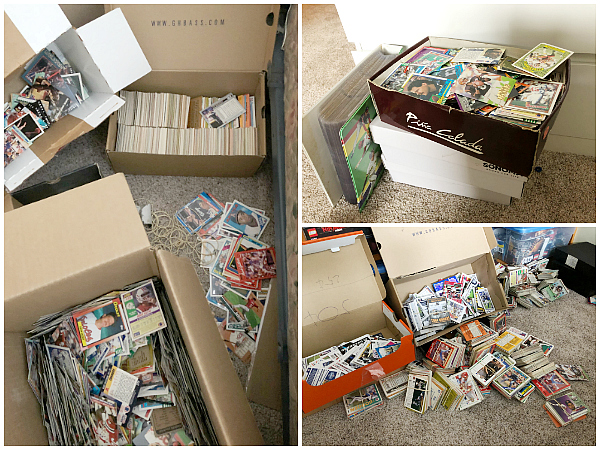 Ummm… all those cards were never going to fit in two small card catalogs. Then I remembered the old wooden card catalog my dad gave me for Christmas a little over a year ago. I had been wanting to redo it and use it in my office space, but I knew all those baseball and football cards could easily be stored in those beautiful drawers.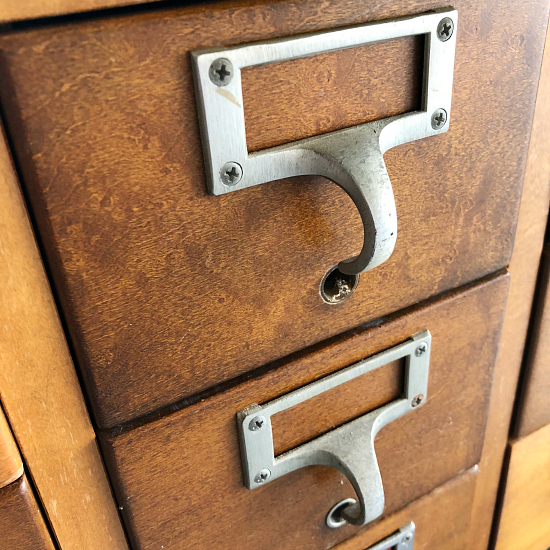 The card catalog is only 13″ tall, so we'd need to elevate it somehow. I went around my house measuring everything I thought might work: night stands, trunks, etc; and then I found it! My dad had made my daughter a very basic table to put a dollhouse on, and it was the perfect fit… but my daughter wasn't having it. Ugh. So, instead, I'm thinking we'll maybe go with some hairpin legs I found on Amazon.
The card catalog needed a facelift. It was dirty and still had old plastic labels on some of the drawers, but it was nothing a little cleaning and paint couldn't fix.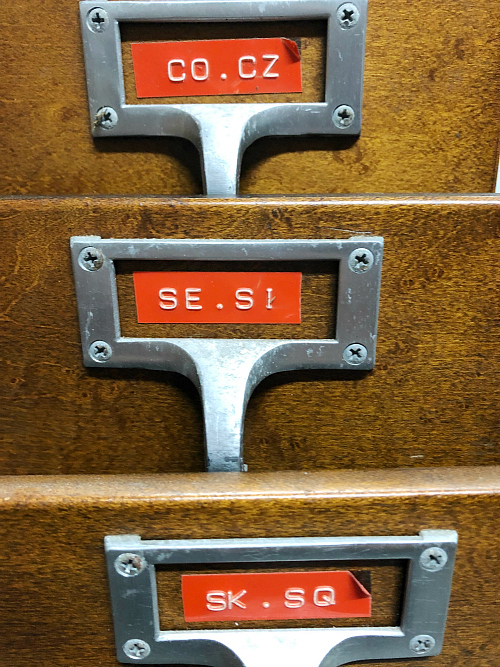 I started by removing all the drawers, and then I sanded, primed, and painted the main box, leaving the drawers as-is. I used only one coat of primer because the wood grain was hardly noticeable. And then two coats of paint.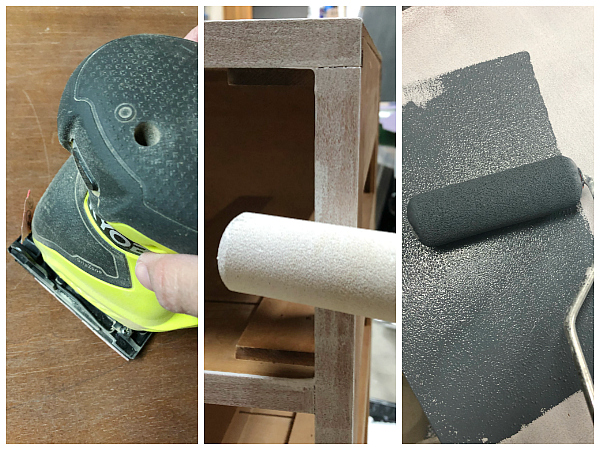 I went back and forth on whether to spray paint the hardware, but eventually decided against it as I feared the removal of the screws may not go so well (they're old and kinda rusty). Instead I gave all the knobs a good cleaning with some cotton swabs and rubbing alcohol.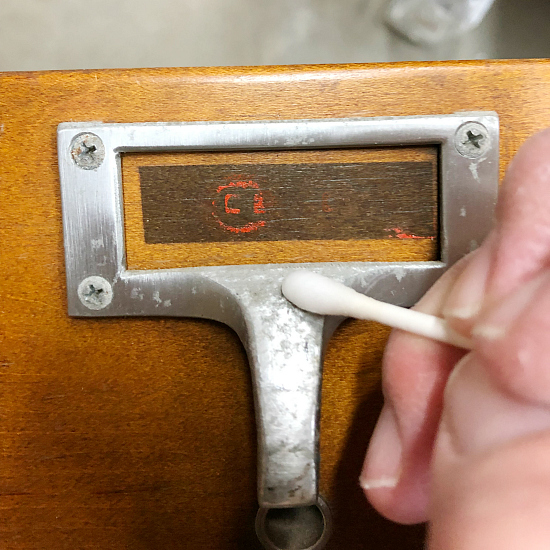 I removed the labels from the drawers and gave them a thorough washing as well, and then put everything back together.
The last step was to create our own labels for the drawers. The old labels had left dark areas when removed (as you can see in the previous image).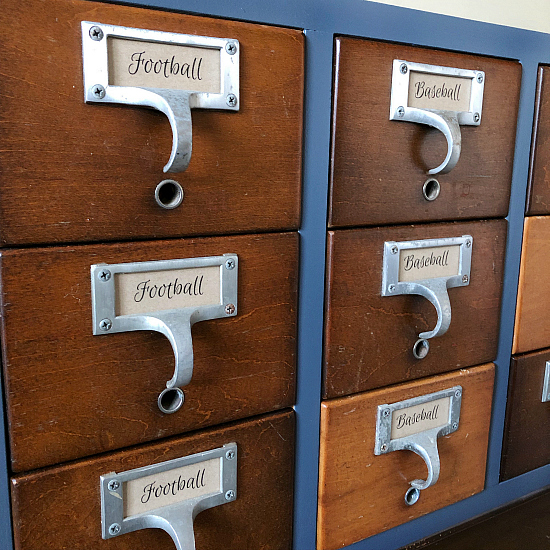 And here's the finished card catalog… well almost finished. We need to replace the piano bench that it's sitting on with some actual legs, and make a top for it, but we're almost there 🙂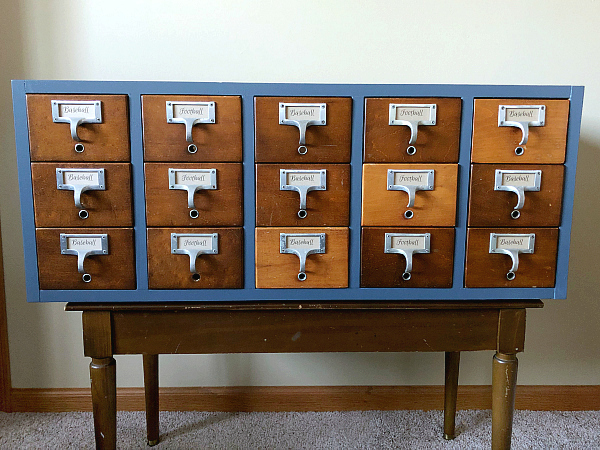 Update on Our Baseball Card Organization Project
Here is what we ended up with… you can find out more about the legs and top in week 3 of this challenge. For the full room reveal, click here.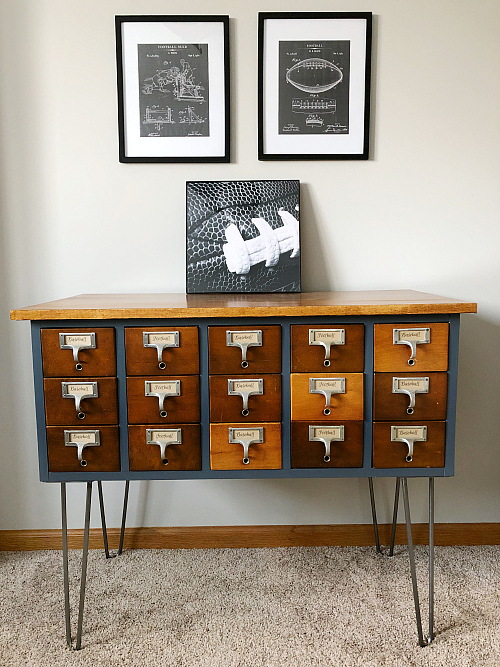 Total Budget… So Far:
Card Catalog Makeover- 35¢
Card Catalog- FREE (Gift item from a couple Christmases ago)
Primer- FREE (Already had)
Paint- FREE (Already had… I swear this can of paint has lasted forever. We painted our coffee station, dining room table, two built in cabinets, and now this… all with the same gallon of paint!)
Paint & Cleaning Supplies- FREE (Already had)
Card Stock for Labels- $0.35… Yep, that's right. I used a 40% off coupon on a 59¢ piece of cardstock 🙂
Total cost of this room makeover so far… $0.35
Want to Catch Up or Jump Ahead?
Week 1 // Week 2 // Week 3 // Week 4 // Week 5
Be sure you check out what all the other participants are up to this week!
Check Out Other Participants Here
Love it? Pin it!