It is one of my favorite days of the year! It's reveal day for the $100 Room Challenge! If you are new to this challenge, the concept is simple: you get one month, and $100, to transform one space in your home. This past month we worked on a boy bedroom makeover… and came in under budget!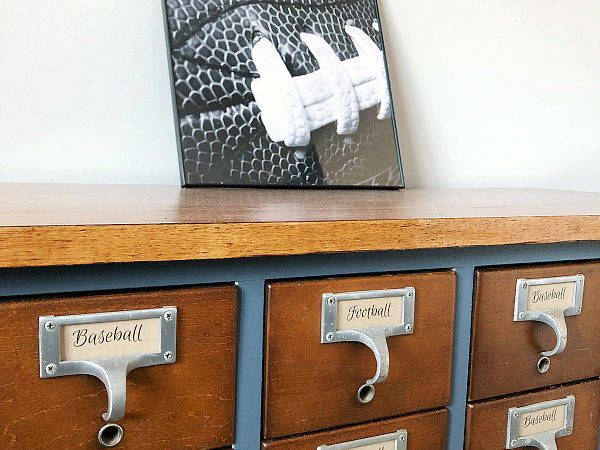 This month we decided to work on my son's bedroom. All of my kids need a room makeover, as none of their rooms are really "them", so we drew names, and my middle child won the makeover. Let's take a look at his room just a few weeks ago…
You would think as the weeks went along, things would get better, but in week 4 (last week) this was what the room looked like…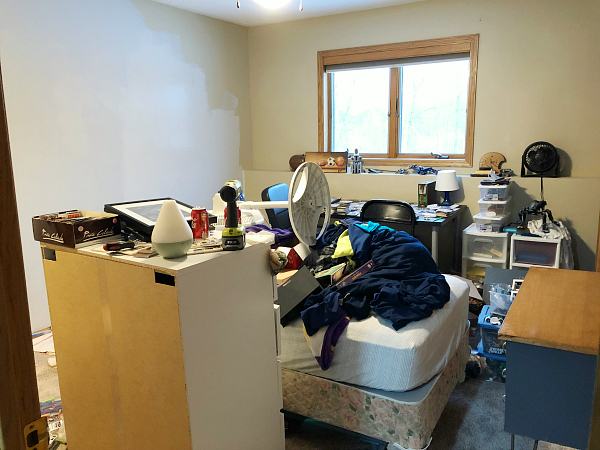 Admittedly, this room reveal doesn't quite have the "shocking" before and afters that you've seen in the past. (If you want to see a major change, check out our last $100 Room Challenge reveal done for $99!) Truth is, sometimes you just need a refresh and a little organization. So, let's talk about what we did in here by taking a look back at the goals from week 1.
$100 Boy Bedroom Makeover
Nerf Gun Organization
If you have boys, you may have acquired a large arsenal of Nerf Guns and, perhaps, like myself, you find Nerf bullets in every crevice of your home. We desperately needed a place to store everything, and decided a Nerf gun wall would be the perfect solution. My son has a floor to ceiling shelving unit, so we turned one side into Nerf Gun storage…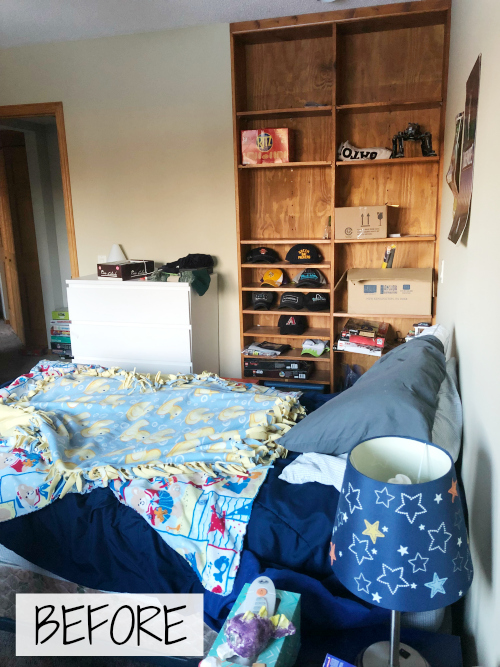 … and here's what it looks like now!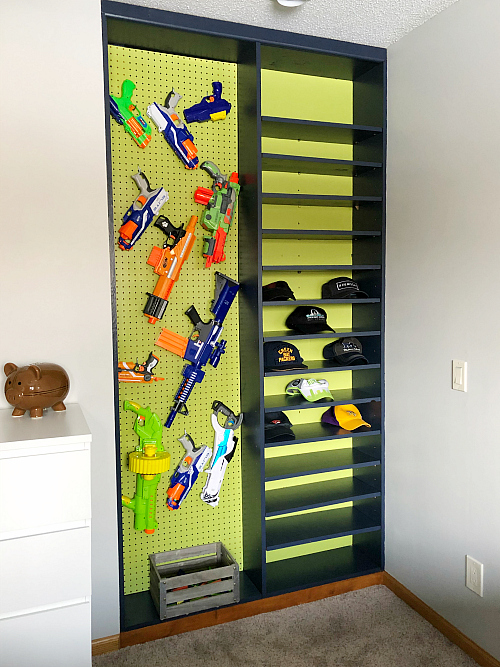 I could not be happier with how well this project turned out!
I hoard bins and baskets, so I grabbed one from my stash to hold all the bullets and accessories.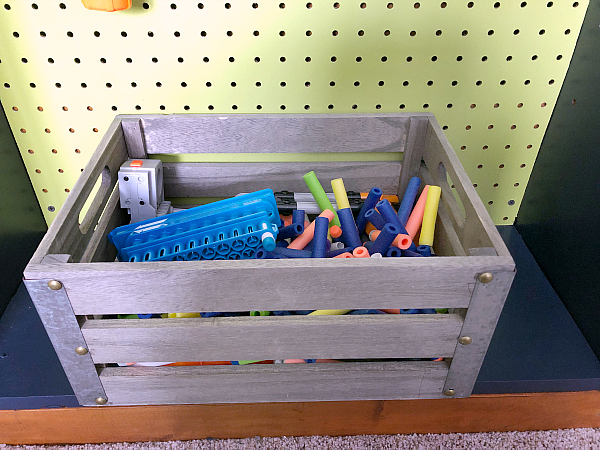 The other side of the shelving unit will be for all the hats my son will be acquiring over the next few years. If you missed last week's post, our family decided we were going to visit all 50 states before my daughter graduates from college (seven down, forty-three to go). In each state, my son gets a hat as a souvenir, so this shelving area is a perfect way to display them.
Lego Organization
Like Nerf bullets, Legos are everywhere; and without a designated place to put them, they end up on every surface in our home. I decided to grab 2 plastic drawer units we have had for years.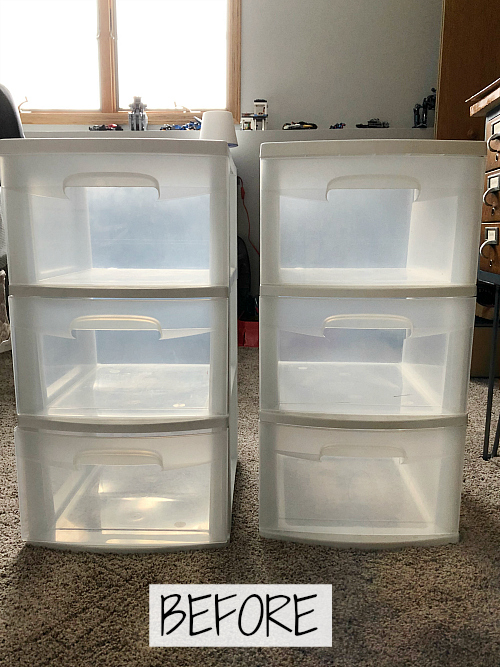 A little spray paint to liven them up, and we had Lego storage.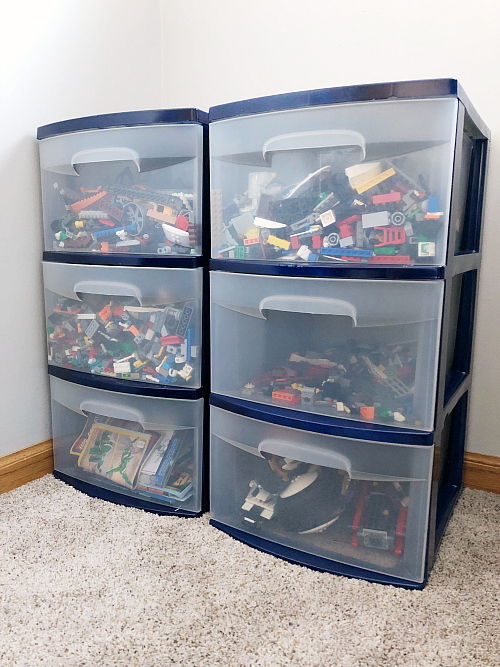 I know there are some that go all out and sort by color or shape, but seriously, while that may look great for pictures, there is no way it's lasting for more than 2.3 seconds, so we didn't waste our time.
Baseball/Football Card Organization
This is one of my favorite projects of all time, and I discussed the process of making this card catalog storage in week 2 and week 3. The gist: we took an old card catalog my dad gifted me for Christmas a few years ago, and gave it some paint, new hairpin legs, and a wooden top. With the millions (okay… thousands) of baseball and football cards my son has, this was the perfect way to store them!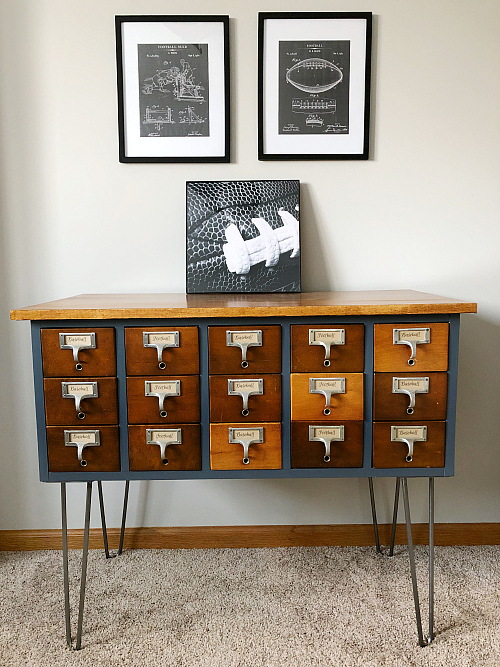 I also found a few free "football blue print" printables to hang above the card catalog, and then grabbed a framed black and white photo of a football I had taken a few years back. You can find more information in week 3.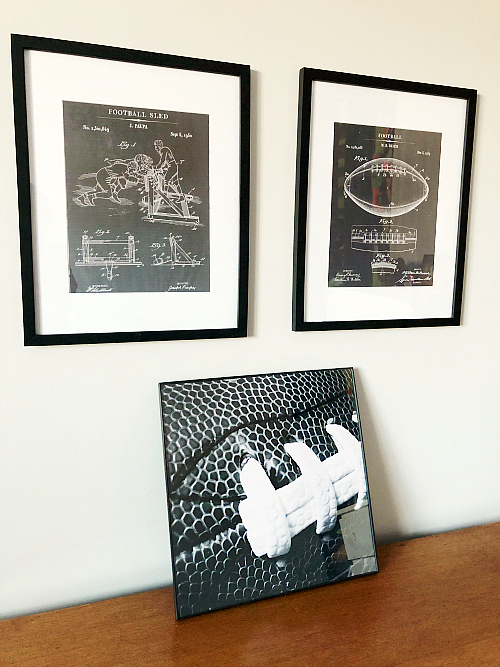 Dresser Makeover
This was a questionable project on our list. I didn't know if time and budget would allow for a dresser makeover, and unfortunately, time was not on our side. I still have some money left over in the budget, so maybe we'll get to this a little later. However, we did do something that wasn't on our list… This room has a ledge that is made out of drywall (I feel like this is a common thing in homes), but both my husband and I thought it would look better if we added wood to the top to create a little warmth and texture, so my hubby grabbed some old barn wood we had out in the garage; cut it, sanded it, stained it, and nailed it onto the top.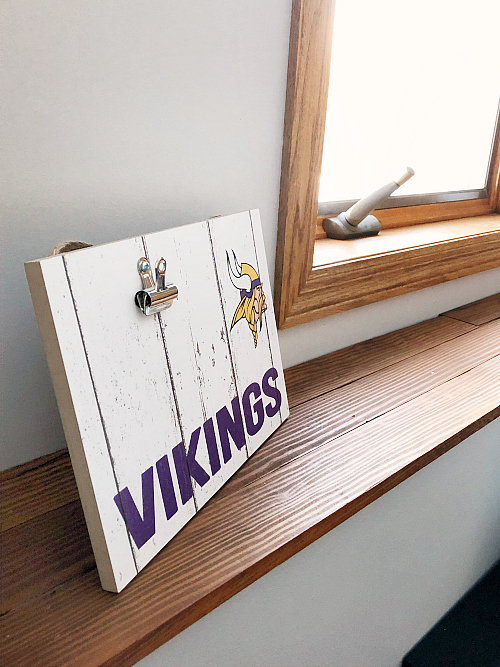 Paint & Posters
This room may not have been the worst color in the world, but the beige-yellow wasn't great. We decided to paint everything a light gray (Stonington Gray by Benjamin Moore, color matched in Behr to save money), and I absolutely love it! The pictures truly don't show how crazy different this change was, so here's a shot that shows the true difference.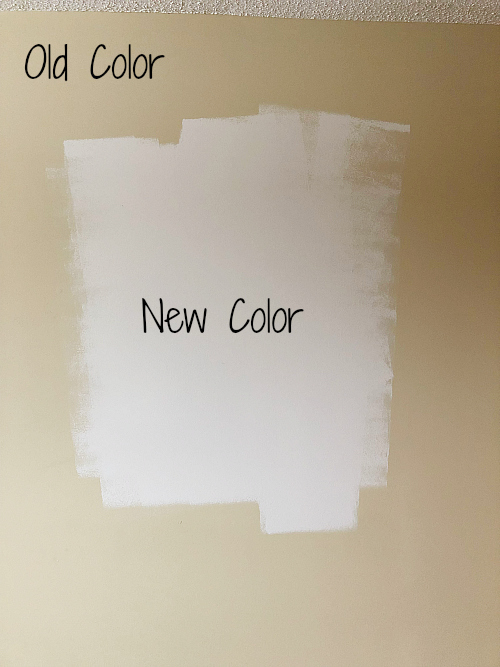 We also bought some poster frames (which were super cheap, so it took quite a battle with packing tape to make them work). Got those up on the wall, and we were done.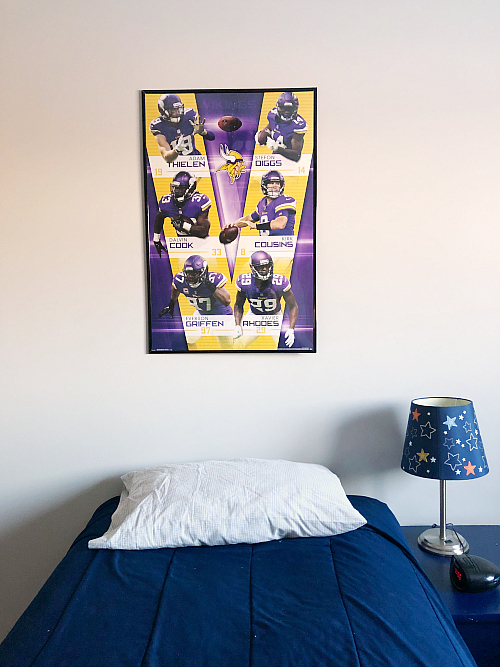 $100 Boy Bedroom Makeover: Before & After
Ready for some "Before & Afters"?
Before…
After…
Before…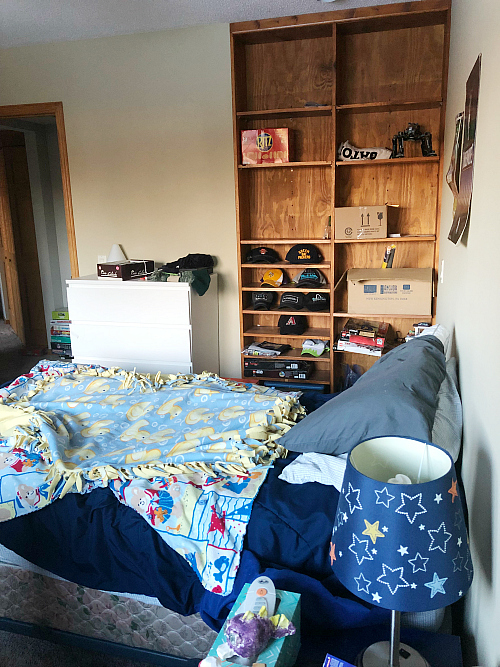 After…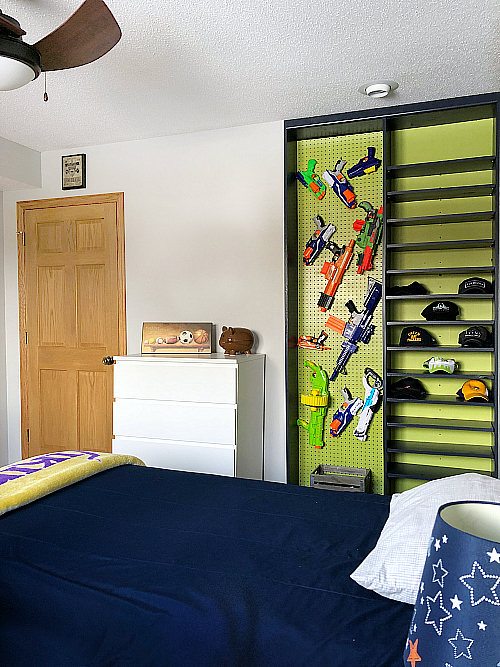 Before…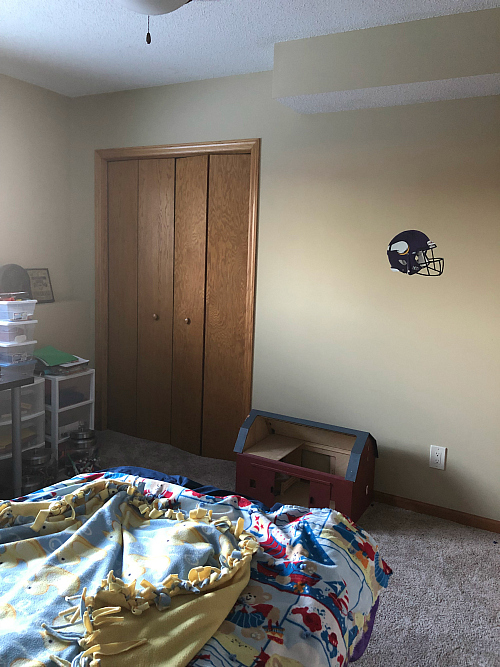 After…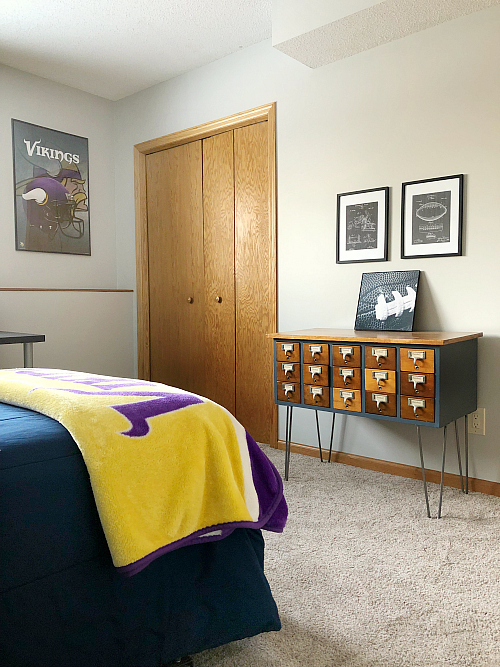 Total Budget:
Last week we were at $67.84, and all we bought this week were a couple poster frames…
Poster Frame- $5.00 + 8.82 (There was only one left at the $5 price-point, so we had to buy one for a little more 🙂 )
Total cost of this room makeover… $81.66
Want to Catch Up?
Week 1 // Week 2 // Week 3 // Week 4 // Week 5
Be sure you check out what all the other participants did with their $100.
Love it? Pin it!