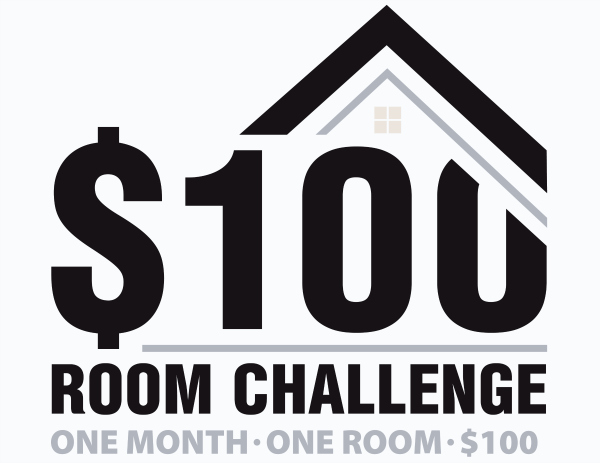 It is one of my favorite times of the year… it's time for the $100 Room Challenge. If you are not yet familiar with this challenge, let me give you a brief summary. Myself, along with dozens of my blogging friends, take on one room in our homes get one month and $100 to completely transform it. I started this challenge in September 2015 to show others just how far you can stretch your budget to create a space you'll love.
In March of last year our family moved into a new home, so we have many rooms that need some love and attention. I started with our basement bathroom for the last $100 Room Challenge; and here's a look at what $100 can do…
BEFORE

AFTER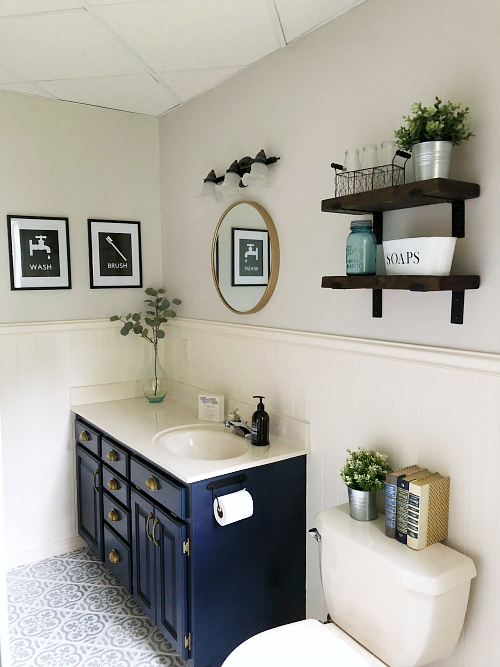 This month I'll be working on my son's room. Each of my three kids desperately need a bedroom makeover, so we drew names to see who would go first. My middle child's name was drawn, so that's what we'll be tackling during the month of January. I love working on kids' rooms because you get to have a little more fun. A few years ago (in our old house) I got to makeover this same child's room in a football theme. Take a look…
BEFORE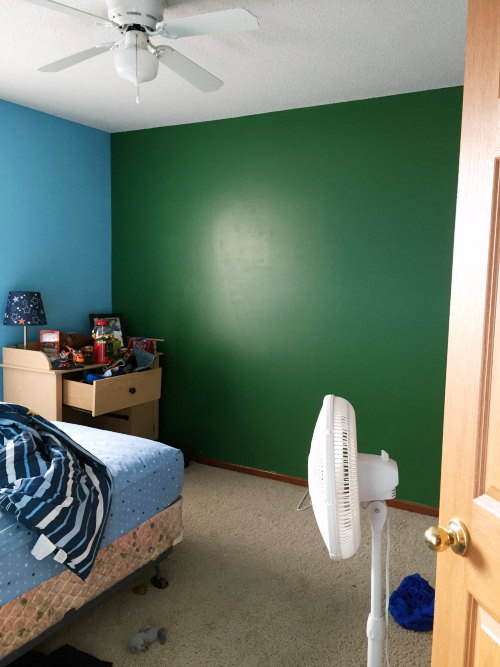 AFTER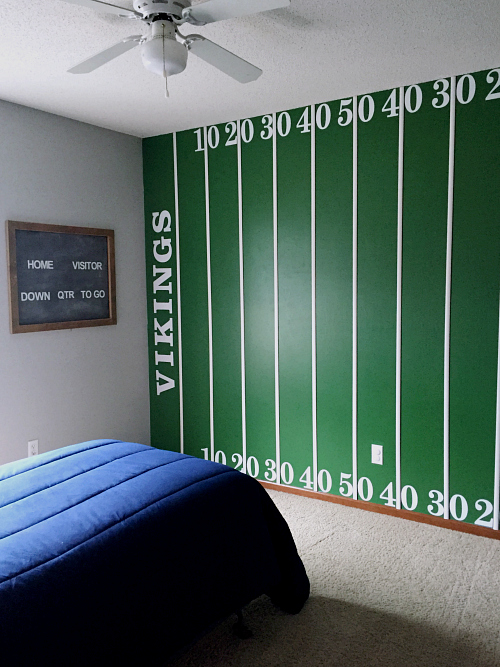 This time around we aren't doing a "theme"; just creating a space that represents him better. Let me show you around and discuss the goals for his room.
My son has toys in three categories, and they each need some serious organization…
Goal 1: Nerf Gun Organization
If you have boys, you may understand the importance of the Nerf Gun. We have approximately 84 Nerf guns and 4,317 Nerf darts around our house… and I find them everywhere! I first saw the idea of a Nerf Gun Wall when Melissa, from Create and Find, made one for the $100 Room Challenge awhile back. We will probably be painting ours and giving it our own spin, but I love this idea!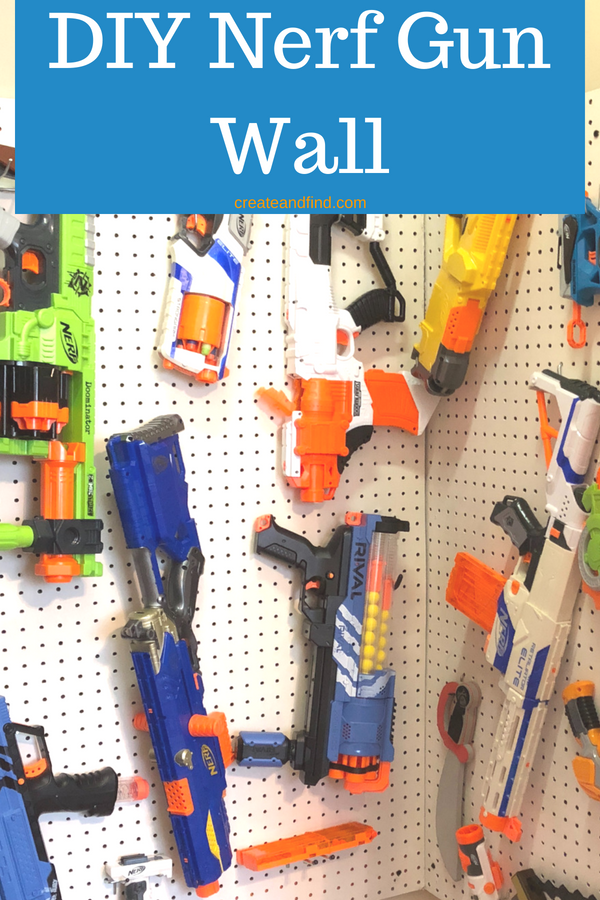 Image via Create and Find
Goal 2: Lego Organization
I feel confident we have more Legos than Nerf darts and that's saying something. The problem we currently have is that there is no specified place for all the Legos to be stored and my son wants to display some of his completed Lego creations. He has amazing built-in shelving that I think would work well, but it needs a facelift. I'm thinking wallpaper (or a stencil?), along with some paint, will create just the look we need.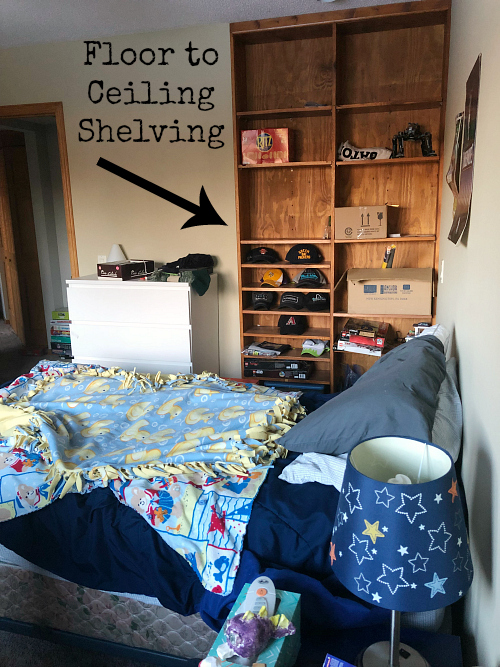 Goal 3: Baseball/Football Card Organization
My son has boxes and boxes full of baseball and football cards, and they need something better than random shoe boxes to contain them. I would love to do a smaller scale version of these storage boxes that Kati, from Houseful of Handmade, did in her $100 Room Challenge closet makeover… Boxes and drop clothes were all it took.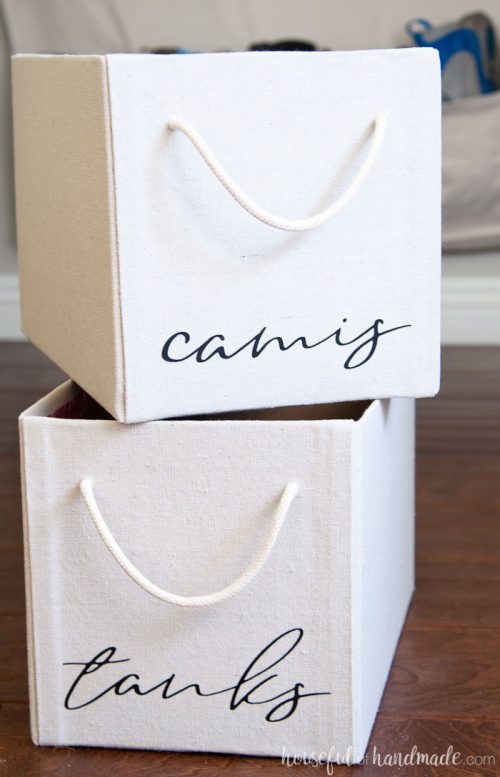 Goal 4: Dresser Makeover
Right now we have a very plain white dresser from IKEA. While not a top priority, we may give it a makeover with some paint and hardware.
Goal 5: Paint & Posters
We will also be painting the walls and adding a few framed posters to this space as well.
For information on joining the $100 Room Challenge, click here! To find some amazing inspiration for your home, check out the what others are up to…
Check Out Other Participants Here
Want to Jump Ahead?