Updating a bathroom often requires a lot of time and money, but when it comes to the $100 Room Challenge, both time and budget are limited. With that being said, taking on our outdated basement bathroom was definitely an challenge… but the results of this $100 classic farmhouse bathroom makeover are stunning. I can hardly believe how much we accomplished in just 3 weeks! See how the transformation unfolded below.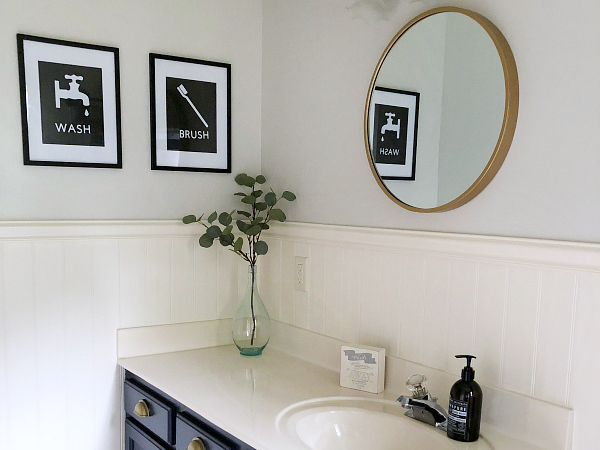 It's reveal day!!! Honestly, this round of the $100 Room Challenge was the most challenging one yet. I typically walk in knowing my ideas will come in under the $100 mark… This time? I had so much I wanted to do that I truly didn't know if I was going to be able to make it. As always, let's take a look at where this basement bathroom started. Ready?
Here is what the bathroom looked like at the beginning of this challenge:


… and here's where we ended up! (Drum Roll Please 🙂 )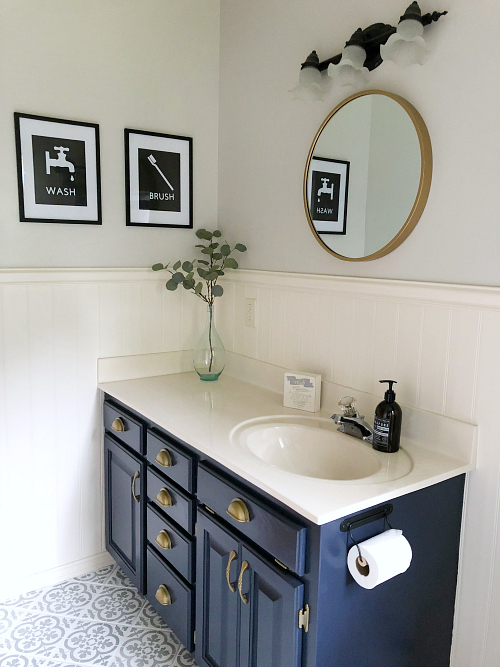 Creating a Classic Farmhouse Bathroom for $100
Let's take a look at how we got here. Below are the goals from Week 1.
Goal 1: Paint the Walls
This was an easy project. We had leftover Agreeable Gray paint that I used to paint the walls. If the budget had allowed, I would have also painted the chair rail and beadboard a brighter white, but nope. No money to spare, and I didn't have any white paint I could use, so it remains a bit creamy. Oh well.
Goal 2: Vanity and Medicine Cabinet Makeover
I wasn't sure about the medicine cabinet. It looked awkward in the corner, but I feared removing it because it dipped into the chair rail, however, so many of you recommended removing it… so that's what we did. And it was a perfect solution. I did drive around to 3 or 4 stores trying to find matching chair rail only to have my husband find some in a stash the previous owners had left behind 🙂 We removed the cabinet, installed the chair rail, and got it painted, all for free (as the previous owners also left behind extra paint from the bathroom). The vanity got a major makeover with leftover Hale Navy paint and Aged Brass spray paint. The navy was leftover from our entry, but I did have to buy the spray paint ($5.89). You can find the full tutorial for this vanity makeover HERE.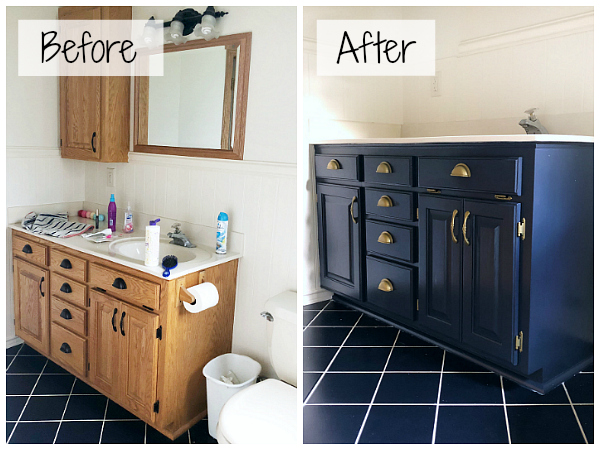 Goal 3: Stencil the Floor
This was the scariest project I did. I am nowhere near a professional painter, and I thought for sure I would mess up this floor. As you can see, it started out navy… but thanks to Cutting Edge Stencils, I got this floor looking like cement tile, and it cost less than $40. I plan to share an update on how this floor holds up (you can now find that update HERE). I figure if it chips or doesn't hold up, it was a very small investment, and provides a short-term solution until we decide to install something different. You can find my tutorial on stenciling a floor HERE (or check out a real-time video of the progress in my Instagram Story Highlights.)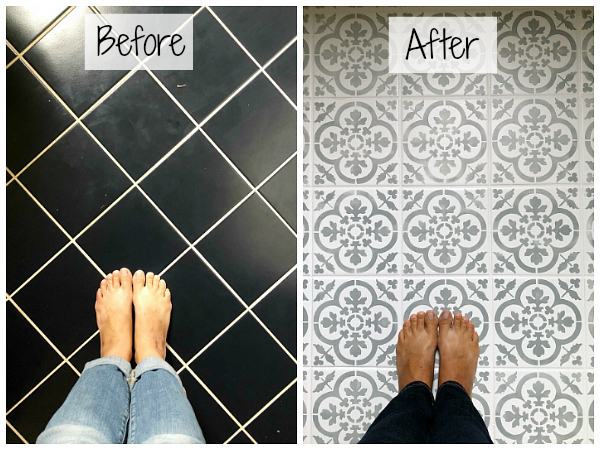 Goals 4 & 7: Fix the Shower Issue & Towel Hooks
The door on the shower was broken, and at first, I thought I'd need to take the door off, but I was able to fix it, and then I covered the whole thing with a shower curtain because the yellow-y tub looked terrible. I bought the tension rod (on sale) at Target and used a shower curtain (also from Target) we already had. This bathroom also had nowhere to hang bath towels. Honestly, the walls are weird in here and don't allow for many spaces to actually hang hooks. I ended up grabbing this little hook/wood combo I had made for our entry last year. Screwed it into a stud outside the shower, and done. Free.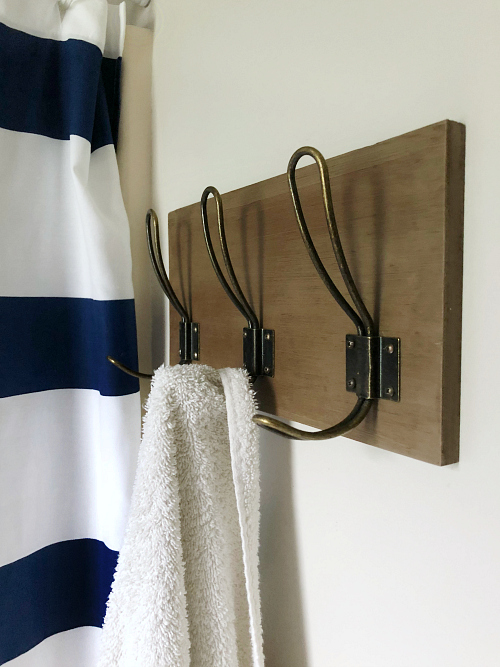 You can find similar hooks here.
Goal 5: Take Down the Valence
Done. I mean, does this need an explanation beyond that? 🙂
Goal 6: Update the Light Fixture
This did not get done. Trust me, I checked every Goodwill within a 30 mile radius for replacement globes, and I couldn't find any that would work. I plan to buy new glass globes, but I didn't have the budget to buy new for this challenge.
New Goals Along the Way…
1.) Add shelving above the toilet.
We used wood we already had, and I bought the brackets from Hobby Lobby (on sale) for $3.99 each.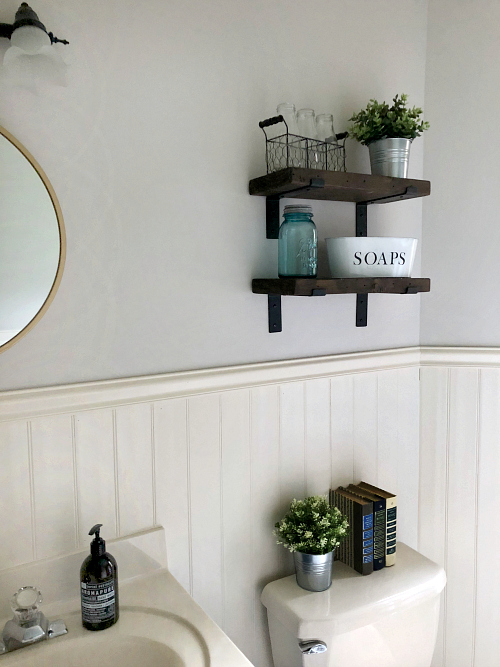 2.) Add Some Wall Art
I wanted to add something to the wall, so I grabbed a couple frames we already had (similar frames can be found here), painted the backing with chalkboard paint, and cut out the "Wash" and "Brush" symbols and words with my Cricut. Wall art done. For free.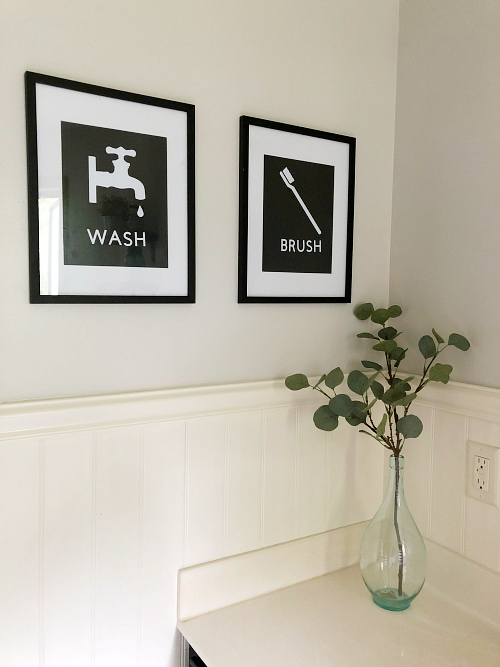 3.) New Toilet Paper Holder
I didn't realize how bad the previous toilet paper holder was until I took it down. It needed to be replaced. IKEA to the rescue with one for $3.99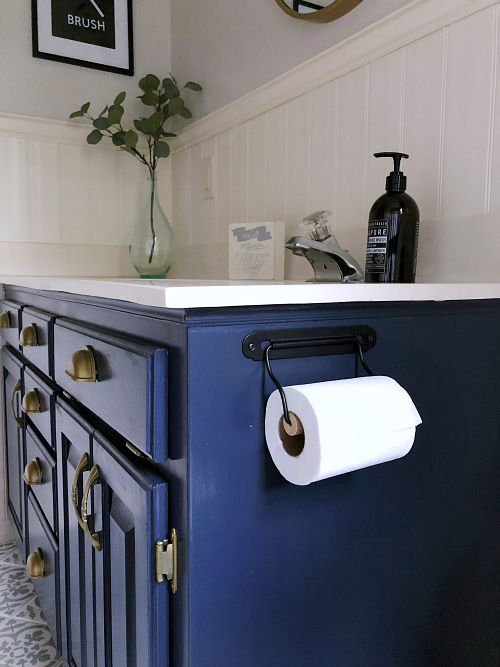 4.) Mirror
The previous mirror was not good. It just seemed wrong for the space. I literally looked everywhere for a round mirror that would fit the smaller gap between the light fixture and chair rail: Home Goods, Facebook Marketplace, Michaels, Target, Goodwill… Finally, I took a trip to At Home (my first time), and found the perfect one… and it fit the budget.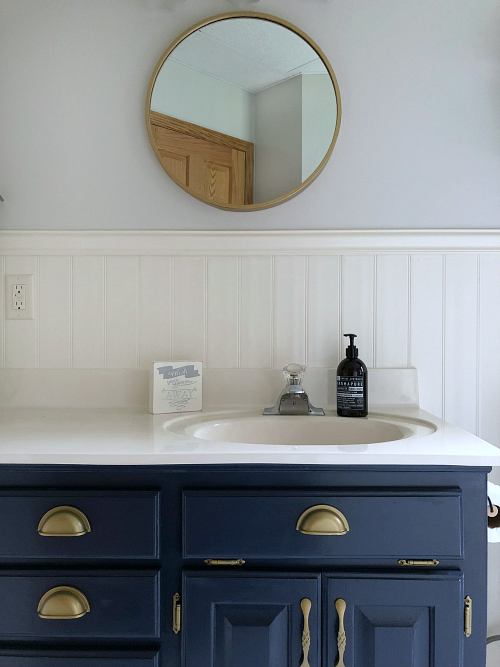 So… here's the room all put together. I am seriously in love with this space. What started out as the worst room in our house, has become my favorite.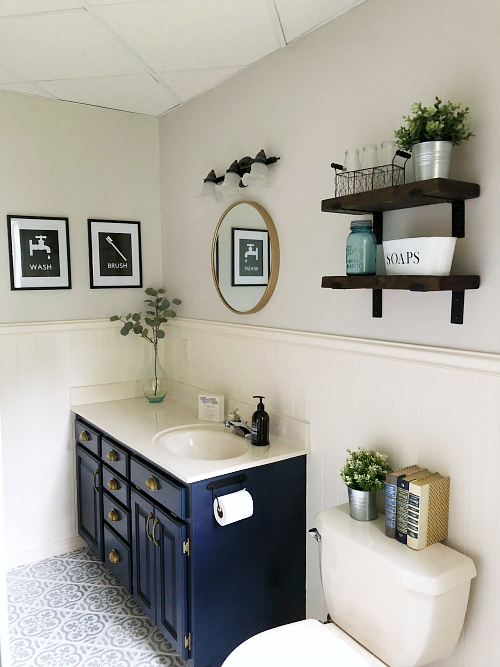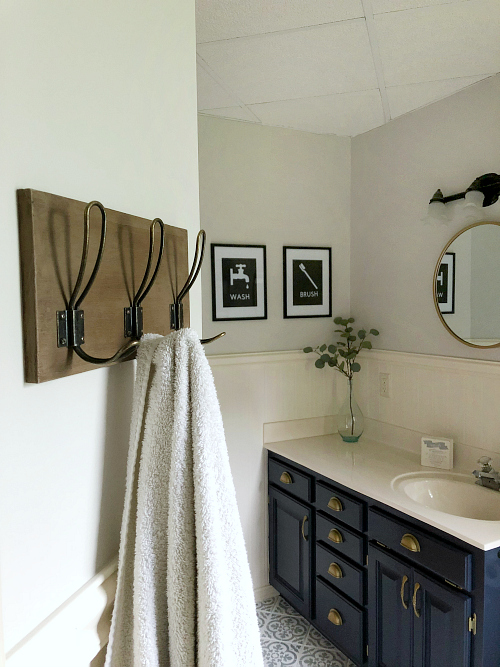 And some "Before and Afters"…




Total Budget
Last week, I had spent a total of $43.40. Here's the breakdown for this week.
Shower Fix: $6.82
Tension Rod for Shower Curtain: $6.82 (That was 20% off with Cartwheel, and another 5% off for using my Target RedCard).
Shower Curtain: FREE. Already had.
Towel Rack: FREE. Already had.
Shelving: $15.96
Wood: FREE. Already had.
Stain & Supplies: FREE. Already had.
Brackets: $15.96
Wall Art: FREE. Just used things I already had.
Soap Dish: Spray Paint $2.95
Mirror: $24.99
Toilet Paper Holder: $3.99
I also bought a foam brush to apply the Polycrylic to the floor: $0.94
Total for this Classic Farmhouse Bathroom Makeover: $99.05!
Wanna Catch Up?
Week 1 // Week 2 // Week 3 // Week 4
Make sure to check out what other participants were able to do with their $100. You won't be disappointed!
Love it? Pin it!