Have you ever looked at your shower head? Ummm… I never had until yesterday, and I really regret that decision. My shower head was disgusting. Truly. The grossest thing I have seen in a long while. Luckily, I was able to get it completely clean using vinegar and paper towels. Let's take a look at how to clean a shower head… even one that looks beyond repair.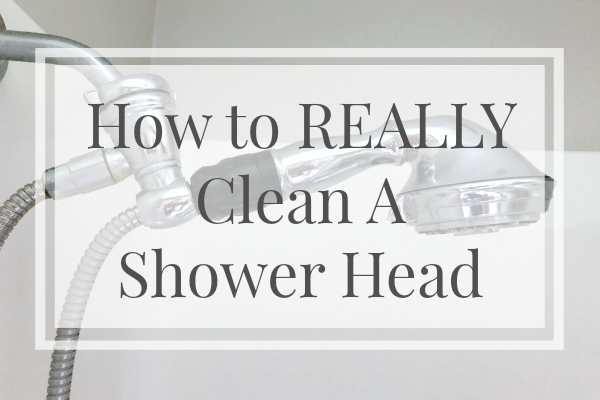 A couple weeks ago I did a segment on The Jason Show, sharing the top five cleaning tips from this blog, and while we were talking about how to remove hard water stains, Jason mentioned the shower head. Honestly, I had never looked at my shower head… and you'll believe me when you see the embarrassing pictures below. I was truly shocked by what I saw… it was caked with hard water deposits and scum tinted red from iron in our water. I was appalled. Like, so appalled I hesitate to even share the before pictures. But I will. Because this blog shares lots of gross things I discover in my house, like toilet stains and dirty oven doors.
What You Need to Clean A Shower Head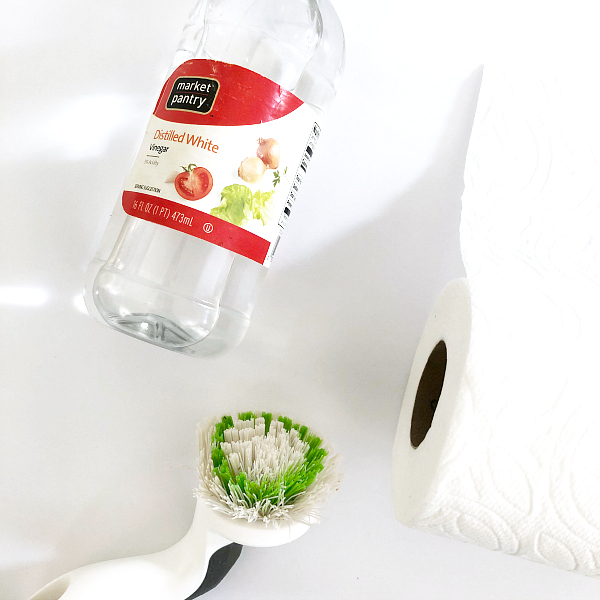 Affiliate links may be used. Please see our advertising disclosure for more information.
How to Clean A Shower Head
Before we begin this tutorial, I would suggest you test this method on a small, out-of-sight, area first. Vinegar is very acidic and could (potentially) affect your finish.
Okay… here we go. Let's start with a before picture…
Warning: Really gross picture of my shower head coming up…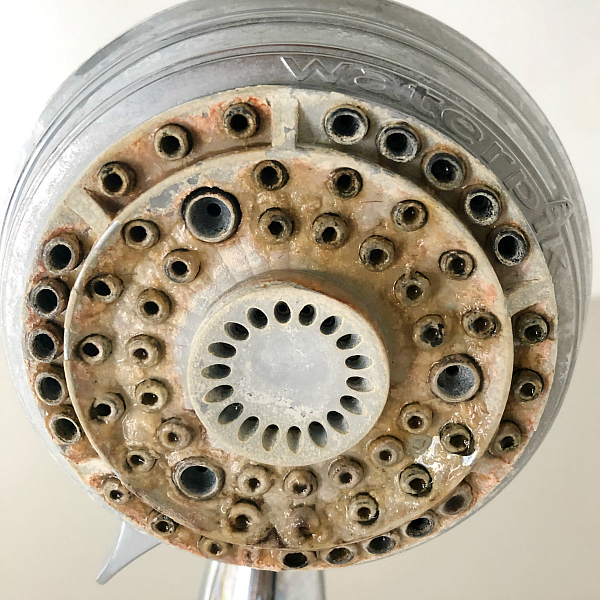 Makes me kinda want to throw up a little.
The good news is, this can be cleaned and never (ever) look like this again.
Start by soaking some paper towels in a bowl of vinegar.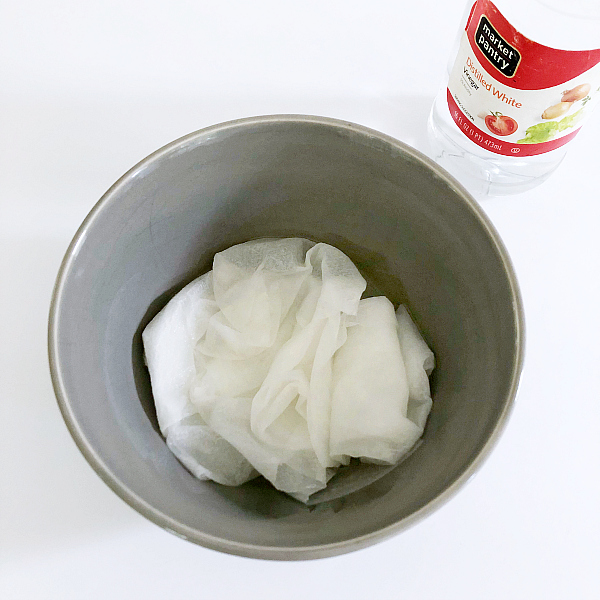 Once they are thoroughly wet with vinegar, wrap them around your shower head. I noticed hard water in more places than just the shower head, so I covered those areas as well.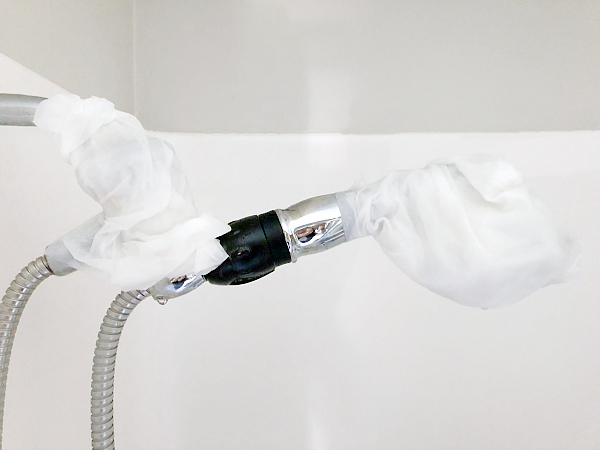 Allow the vinegar-soaked paper towels to sit for an hour. When the time is up, remove the paper towels and use them wipe down the shower head. Then grab a scrubber brush to clean the holes and crevices of the shower head.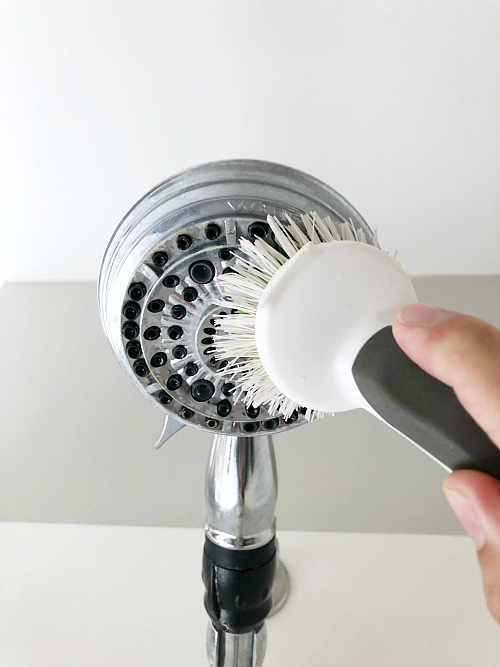 Wanna see how well this method worked? Ta-DA!!!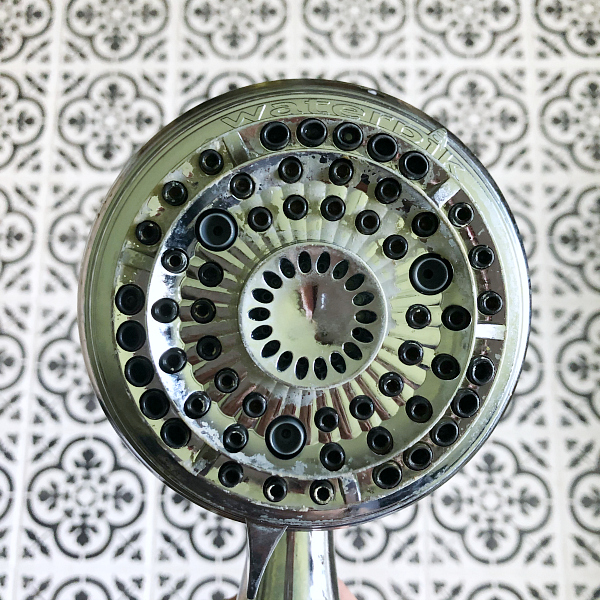 (Since this is a removable shower head, I brought it out of the shower for better lighting.)
Isn't that crazy?! So much better! And I promise, I will check on my shower head more often to make sure it never reaches the point of disgust we saw in the beginning.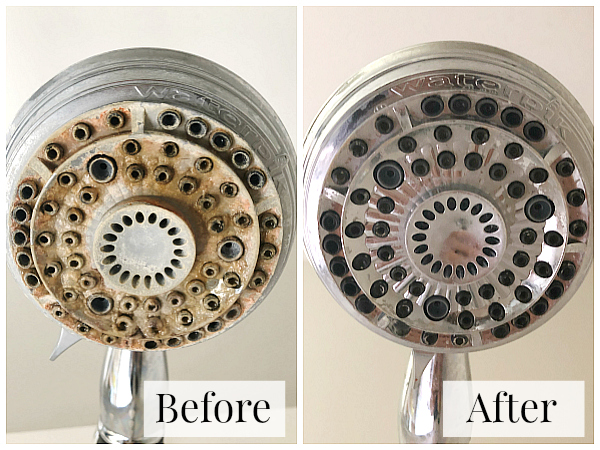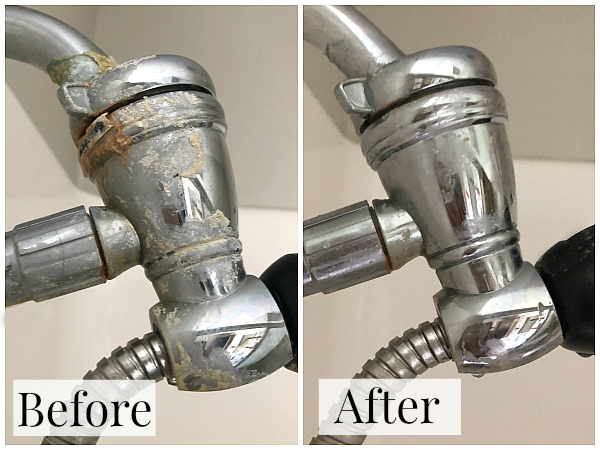 Love it? Pin it!