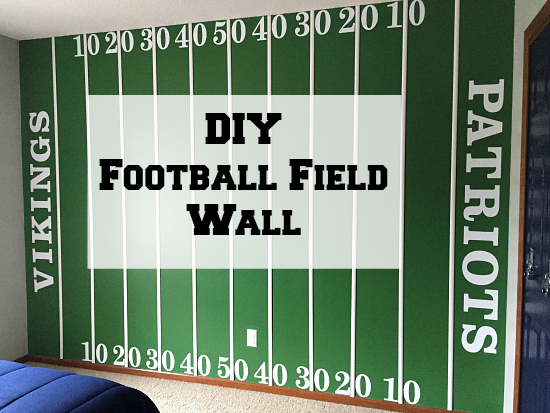 It is week 5 of the One Room Challenge (hosted by Calling It Home). This week I completed the football field wall and I could not be more excited with how it turned out!
I'm admitting right now that I was super nervous about taking this on. I had never used a vinyl cutting machine in my life, and I wasn't sure I'd have it figured out in time to actually get this wall finished. Luckily, it was incredibly easy to use, and once I got the hang of it, I finished all the vinyl cutting and hanging in just a couple hours.
The very first thing we did was paint the wall green… that was about 3 years ago. I actually found the can of paint we used, so I can share the color (which I think is perfect for a football field). It's Martha Stewart Bonsai. This is obviously a before picture!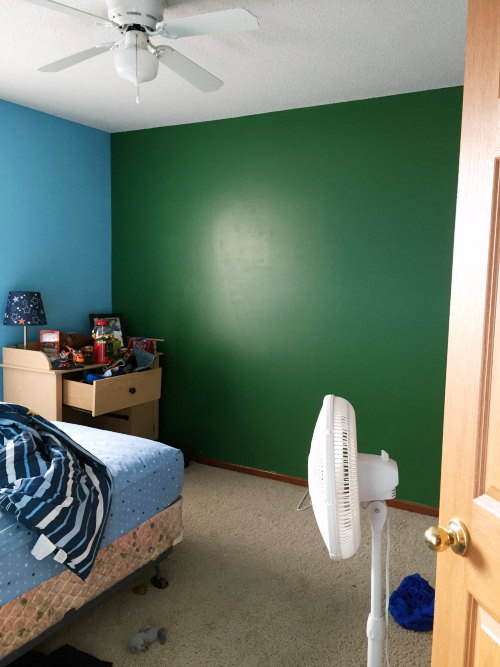 Fast forward 3 years…
I started by taking measurements and sketching out how far apart my lines needed to be for even spacing. The wall was 11 feet, which meant the half-way point was at 5 1/2 feet. Actual even spacing would have been 10.8 inches, but we went with 10.75 so the end zones would be just a bit bigger.
I found some thin white trim strips at Home Depot. They were 8 feet long which was perfect for the room's 8 foot ceiling. However, we did cut off a bit to account for the baseboards.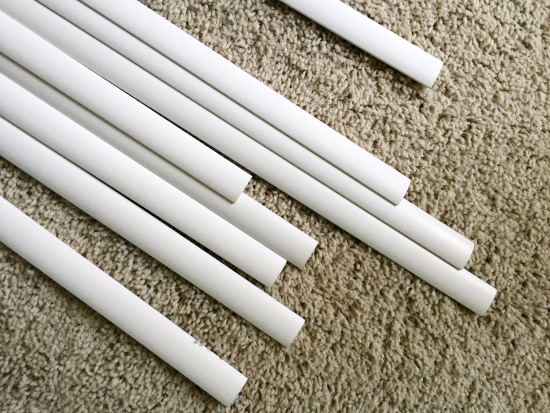 We thought a lot about how we wanted to hang these strips because nailing them probably wouldn't turn out amazing. We figured we had two options: liquid nails or doubled-sided foam tape. Since liquid nails would probably do more damage to the walls with removal, we chose the double-sided tape option.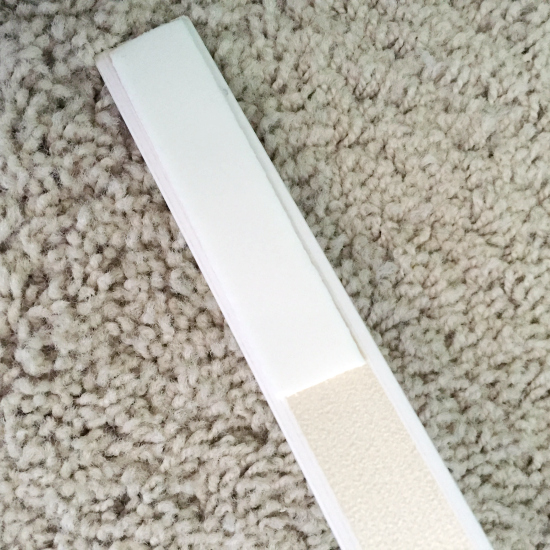 As a Mother's Day gift, my husband hung these for me. Wasn't that sweet?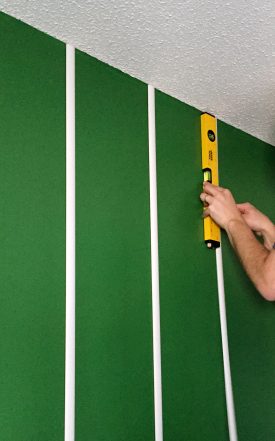 Be sure to use a level as you go down, attaching pieces of tape as you go. If you just adhere it to the wall, it could end up crooked.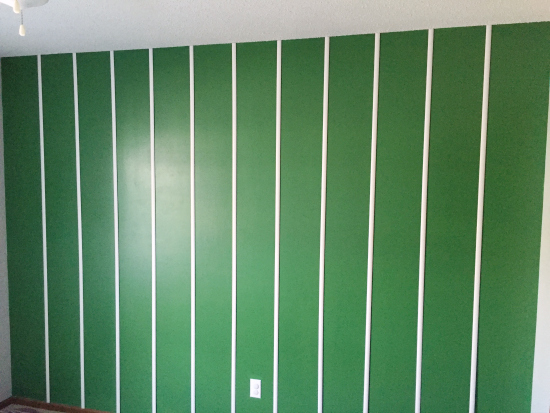 Now comes the fun part. I decided to purchase a Cricut machine for cutting the vinyl. I did a little research online and found that the blades on the Cricut last longer than those on the Silohoutte, and it's more user-friendly (which I need!). Please note: I am a label-lover, so I have wanted one of these machines forever, and when it was going to cost us $80-$100 to get football field wall decals, my husband was on board with doing it ourselves.
I purchased 7 rolls of Cricut vinyl in the color "Linen", but I only ended up using 5 rolls, and honestly, I messed up a couple times, so you might be able to get by with just 4 rolls. I looked up which font was closest to the numbers and lettering on a football field. The answer: Clarendon Bold. Now, remember, I am not super tech-savvy, so I downloaded the font onto my computer, and when I typed into the Cricut design program, I was told the character wasn't supported. Huh? I later found out that you have to tell the Cricut program to do the font bold. Unfortunately, I didn't find this out until after I'd done all the numbers (in Century Schoolbook font, which was a close second to the Clarendon Bold). So, my numbers are one font and the letters in the end zones are another. (Don't tell anyone 🙂 )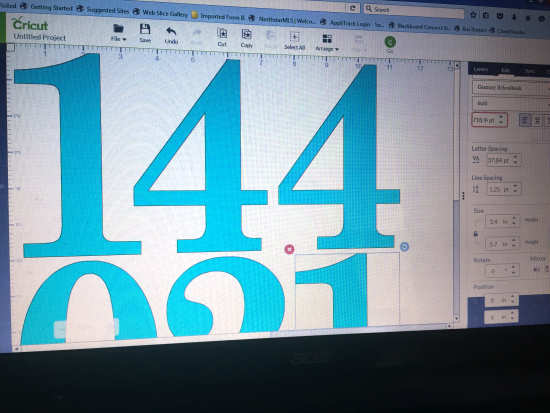 I basically set up my numbers in the design program and was able to get 6 numbers on a 12″ x 12″ sheet of vinyl. I made each number 5.7 inches in height, and allowed the program to adjust the width so the numbers would look balanced on the wall. I found that creating each number individually worked better than creating one text box with all the numbers.
After the sheet was cut, I simply removed the numbers and applied them to the wall. Okay, it's not that simple. It takes a little trial and error to get everything even and spaced right. Remember: A level is your friend.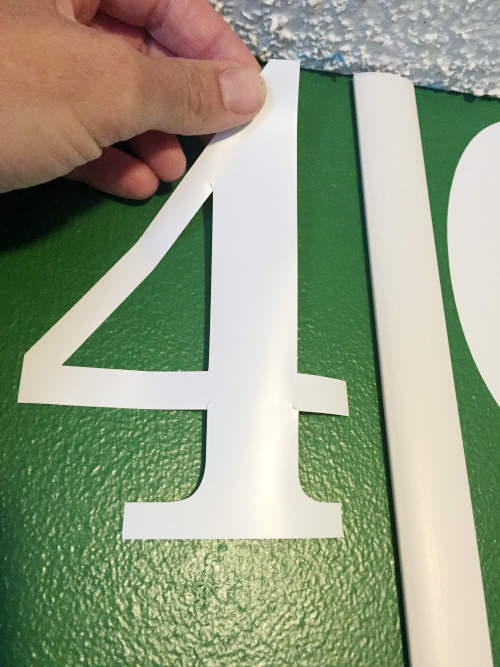 I started by trying to measure distance from the stripes, ceiling, and floor, but I was going crazy trying to be that precise, so I gave up and went the eyeballing-it approach. As long as the bottoms of the numbers were (close to) level, I called it good.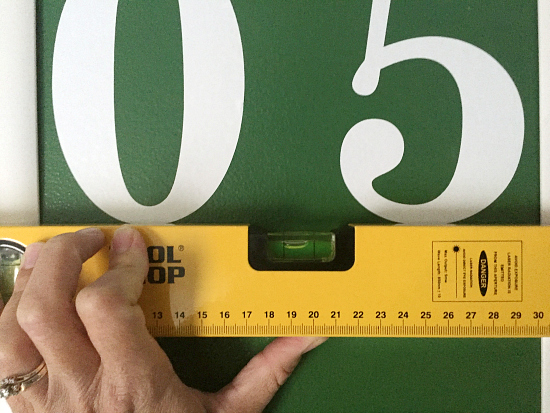 I let my son choose which teams he wanted in the end zones. At this point I figured out how to use the Clarendon Font, and I made the letters 7 inches tall. (Remember, you don't have to cut the full 12 inches of vinyl to fit the cutting board, just cut off what you need… for me, I went with 8 inches to allow for error).
I found the letters MUCH easier to work with than the numbers. I, again, found the middle of the wall and marked it with a pencil. Because I had the width measurements from the Cricut program (which I wrote down), I found which letter needed to be in the middle (about 5 inches down on the R). Remember the width of the letters are going to be different depending on which letter you're using.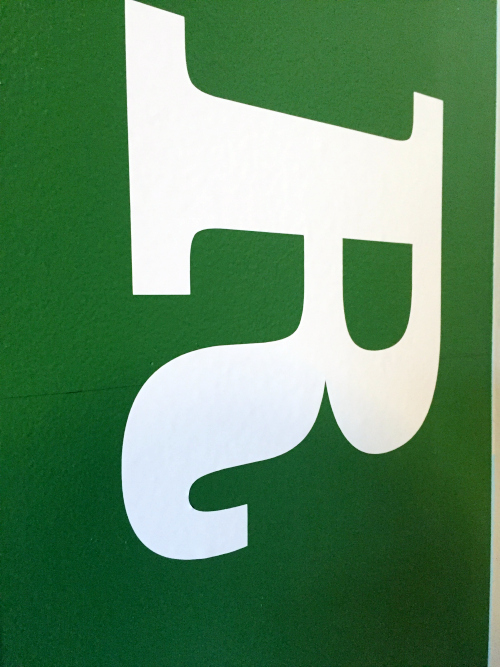 In the end, we had a wonderful football field wall.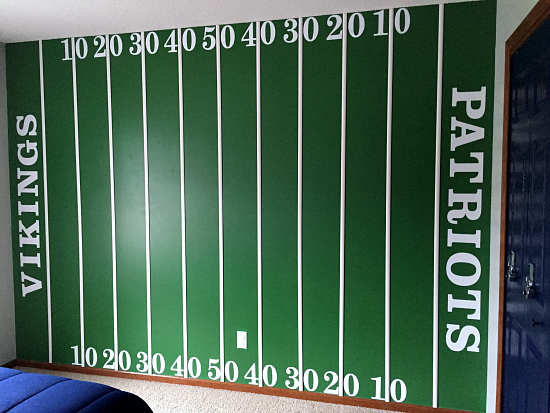 This project was so fun, and after 3 years in the waiting, I'm happy to say it's done.
Wanna Catch Up or Jump Ahead?
Week 1 // Week 2 // Week 3 // Week 4 // Week 5 // Week 6
Love it? Pin it!