It is week 4 of the One Room Challenge, and we are working on my son's football themed bedroom. This room really needed something on the walls, so this week I allowed him to create his own DIY Football Play printables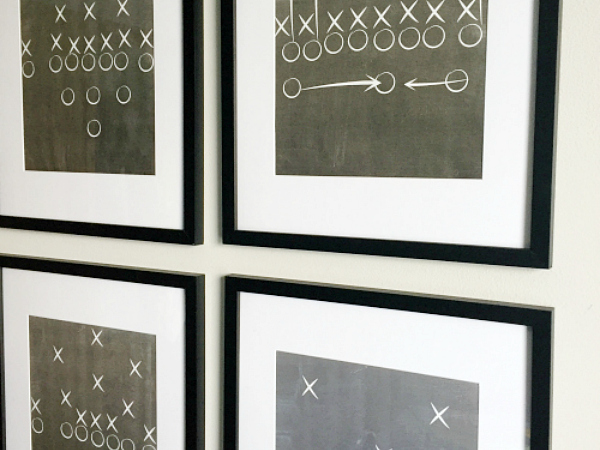 Let me begin by saying that I know these football plays don't actually make sense 🙂 My son is only 9, but I wanted him to feel like he had a part in the makeover of his room, so I allowed him play around with all the x's, o's, and arrows in order to create whatever football plays he could dream up.
What You Need to Create Football Play Printables
PicMonkey– This is a photo editing site that allows you to create your own images. While there is a cost to use this site, you can do a free trial.
Matted Frames– You can certainly do what you want with the prints once you are done, however, I chose frame them and create a gallery wall.
How to Make Football Play Prints in PicMonkey
Step 1: Chose A Print Size
Start by going to the PicMonkey website. You are going to be designing your own creation, so start by clicking the "Create New" Button and then select the "Blank Canvas" from the drop-down. At this point, you will see that you can create your own size image using pixels. This conversion table will help you to create the correct size (converting inches into pixels) for your frame. After you have entered your pixel size, click "Make It".
Step 2: Create A Chalkboard Background
The next things you will need to do is create the chalkboard background. This can be done by selecting "Textures" from the left column. Scroll down until you see "Boards". Click on Boards and select the blackboard background. (Feel free to adjust as desired).
Step 3: Create Your Football Plays
To create the plays, you will need x's, o's, and arrows. To find the o's and arrows, click on "Graphics" in the left column, and then select "Basic". As you scroll down, you will see "Doodly Arrows" and "Doodly Shapes" (which is where you will find the o's). Choose as many arrows and o's as you want by simply clicking on the images you want to add. The x's can be found by clicking "Graphics" and searching for "Marker X".
*When choosing these shapes, you will need to change the color to white. When the "doodle" is added, you will see a box pop up with color options. For the circles, select the black "color circle" in the text box (which is the outer edge), and change it to white by using the color code #ffffff. Select the white circle (which in the inside of the circle) and check the box that says "transparent". Both the arrows and x's only require you to change them from black to white (again, use the color code #ffffff).
Once you have all your shapes added to your design, you can move them around and adjust the size by clicking on each image.
Step 4: Save & Print
Once you have your design exactly as you'd like it, click the "Download" button to save it to your computer. To print, open the image file from your download folder and select "Print".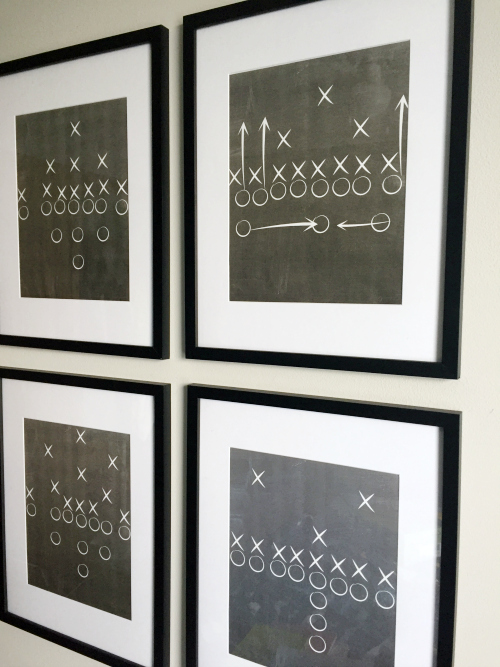 In Other News…
In addition to creating the football play printables, I also covered the blue walls with Sherwin Williams Sliverplate.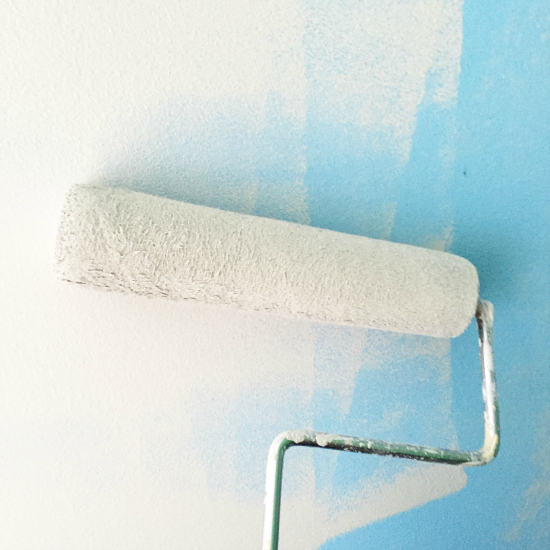 I found a locker at our local vintage shops and I will be turning it into a dresser. (You can see the tutorial here)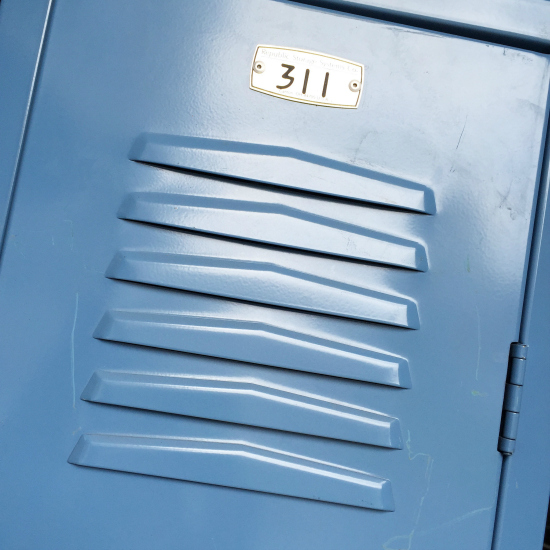 The Budget… So Far
If you have followed any of my $100 Room Challenges, then you already know I factor every little cost into my budget (including things like painter's tape and screws). I want to show you exactly what I spend. Now, this is a One Room Challenge (not my typical $100 Room Challenge), so I'm allowing for a bigger budget, but I still like to keep things budget-friendly. Last week my total was $30.80. Here's what I bought this week:
Paint:
1 Gallon Silverplate Paint (I had Home Depot color match this in Behr)- $26.97
Painter's Tape- $5.63
Paint Roller- $4.77
Football Play Gallery Wall:
11×14 Frames– $28.50 (These were on sale for $7.50 each, and then I saved another 5% by using my Redcard)
12×12 Football Print- $3.99 (At Costco)
Locker:
Locker- $45
Replacement Screws- $3.54 (3 packages of 8 at $1.18 each)
Total So Far= $149.20
Be sure to head over to Calling It Home and check out how all the other bloggers are coming along!
Wanna Catch Up or Jump Ahead?
Week 1 // Week 2 // Week 3 // Week 4 // Week 5 // Week 6
Want to Follow Along with Lemons, Lavender, & Laundry?
Subscribe!
Social media more your style?
Facebook // Pinterest // Instagram // Twitter
Love it? Pin it!