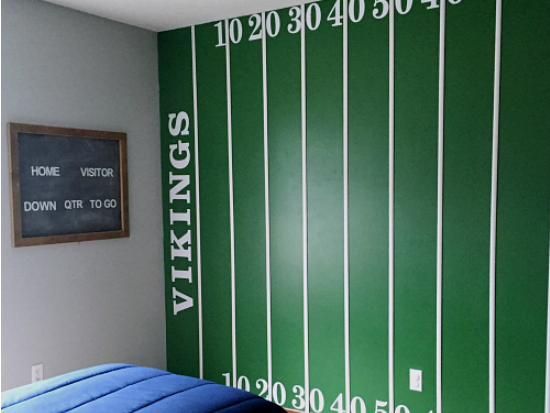 It's here. Reveal day. I've been posting sneak peeks on Instagram all week and I'm so excited to finally share the whole thing! This reveal is a little more exciting because 200 bloggers went on this journey with me, and we all have something to share. If you head over to Calling It Home you can see the featured designers today (Wednesday), and tomorrow the linking participants will be posting their rooms.
These past two weeks have been nothing but getting this room done, so I apologize to all my regular readers that have been looking for cleaning tips every Tuesday because I haven't shared any in two weeks. My house is currently in a state of disarray from trying to finish up this room, so I'm not even going to pretend I've been cleaning anything. No worries. I'll be back on track for next week.
So, without further ado, here's our football themed bedroom… well, almost. Let's take a look at a before picture so you can see where this room started. (Remember that my before pictures are always true to life. I don't put the dirty clothes in the hamper and make the bed. I just snap shots of reality.)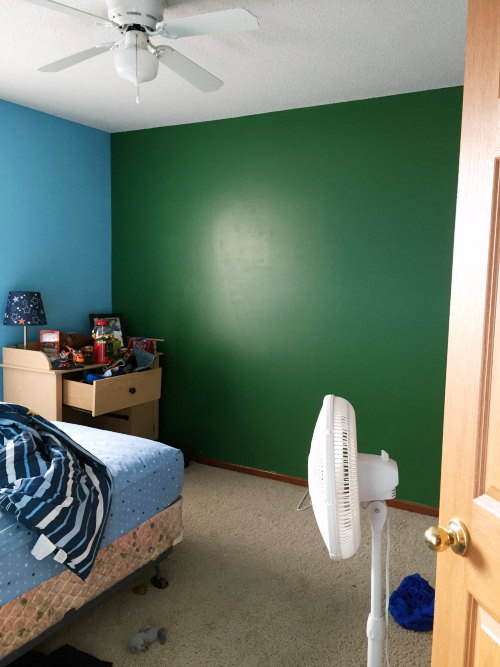 I had several goals for this room, so I'll go through each of them, and then show the full room at the end. Sound good?
Football Field Wall
The first goal I had for this room was creating a football field wall. As you can see from the above picture, the wall was painted green… about three years ago when I first had this idea, and there it sat… for 3 years. Green.
Over the past few days, I figured out how to use my new Cricut (and luckily, it was incredibly easy) and I created a football field. For the full tutorial, click HERE.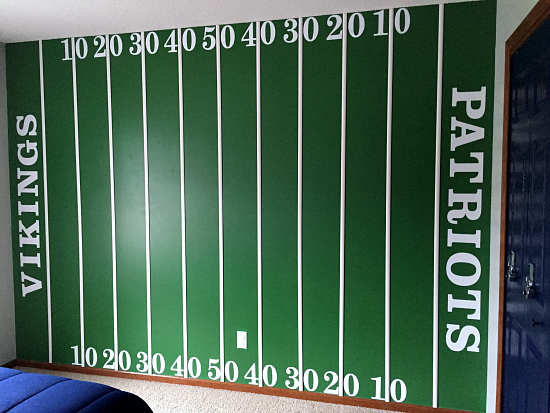 Dresser
When I first started out with ideas for this room, I was hoping to find a "locker type" dresser. Instead, I found an actual locker. You can read all about how I turned a locker into a dresser HERE.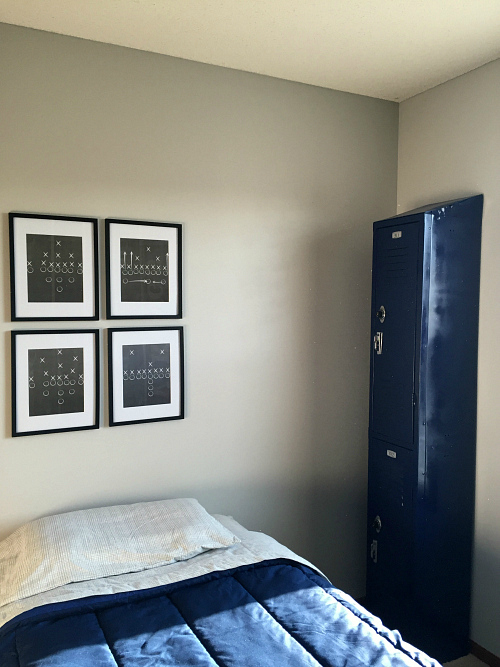 Something on the Walls
This room had nothing on the walls, except for maybe some dust, grime, and bright blue paint. In week 4, I painted those blue walls and showed you how I made a "football formations gallery" using my son's own (made up) creations.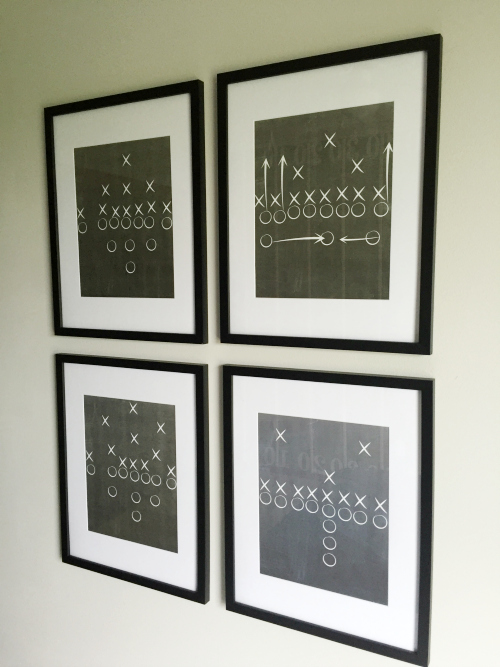 (I also had a 12×12 photo made from a picture I took on Superbowl Sunday, and framed it with a black frame. (You can see it in pictures below… seems kinda weird to take a photo of one framed photo…))
The last addition was this chalkboard scoreboard.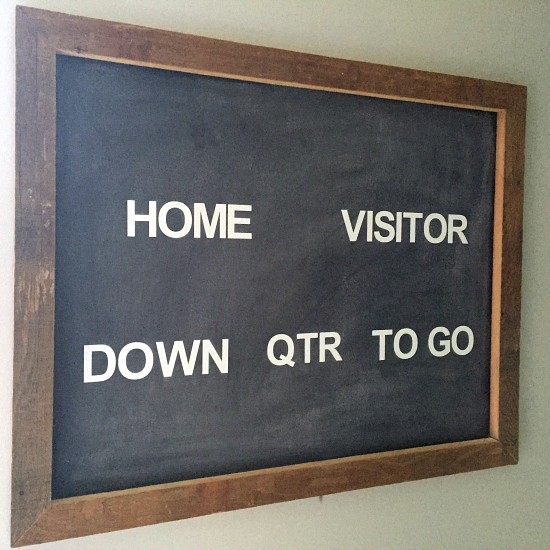 Closet Locker Bay
This project was not originally part of the plan, my husband found an image on Pinterest showing how someone had turned their bi-fold closet into, what looked like, a locker bay. You can find the tutorial for this project HERE.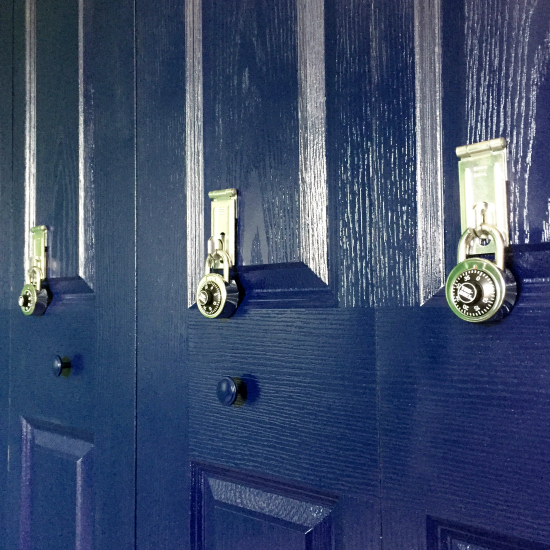 Nightstand
Since we took out the old dresser, we needed a nightstand so he would have space for his lamp and clock. Again, not an original goal for this room, but a necessity after finding a locker without any surface area. I headed to Goodwill, and found just what I was looking for… and it was a whole $5. Can't beat that.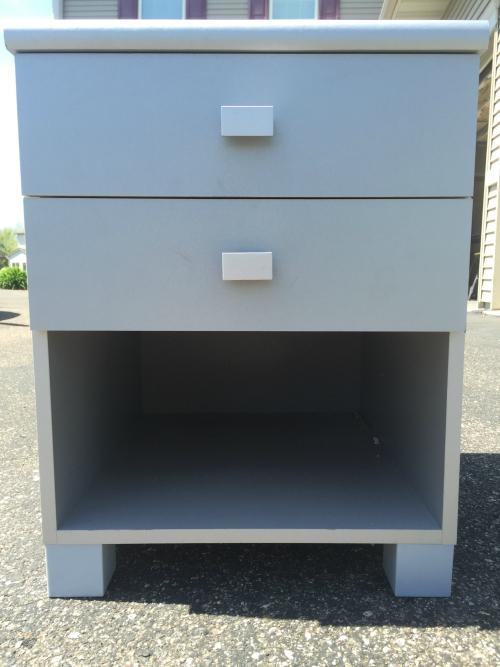 The only issues are that I'm not a fan of the shiny, silver, laminate-countertop coating, nor the plastic feet and plastic pulls, but I do like the shape. I removed the feet and pulls, but I haven't been able to paint it because it has been raining… and raining… and raining around here. I'm hoping to share this last piece of the room next week… or 1 1/2 years later 🙂 (You can find the tutorial here.) The nightstand should also provide a bit of the storage I was hoping for at the beginning of this challenge.
Bedding
Stars, planets, and spaceships don't exactly scream "football", so I searched for bedding options and found one I LOVED at Restoration Hardware, but I couldn't justify the $228 pricetag, so I went to Target, and found a navy comforter and some gray patterned sheets. I think they'll do just fine.
So, here's the final room in all its football glory: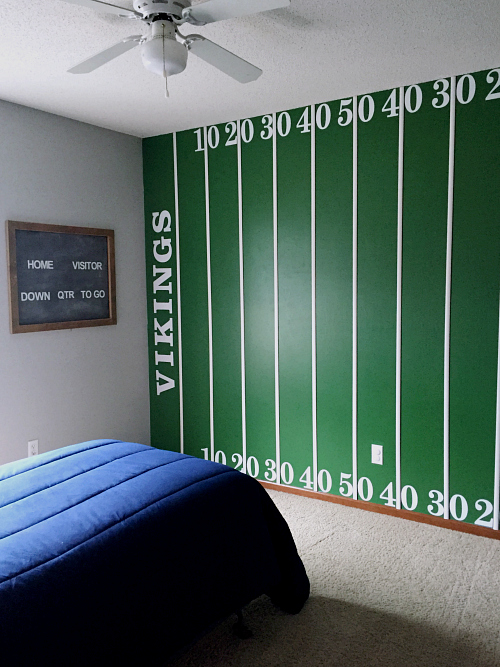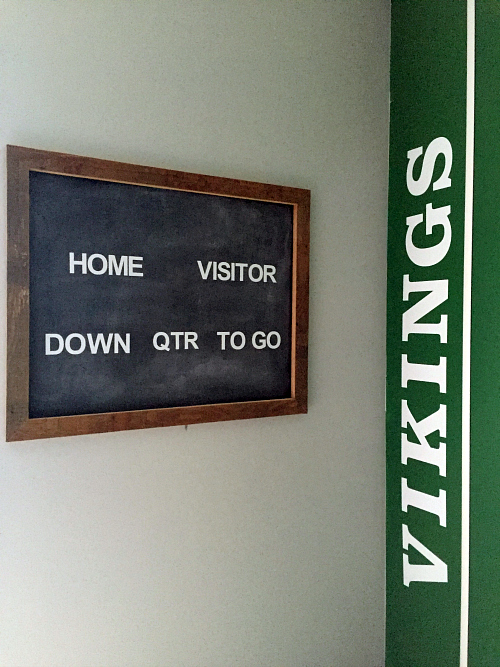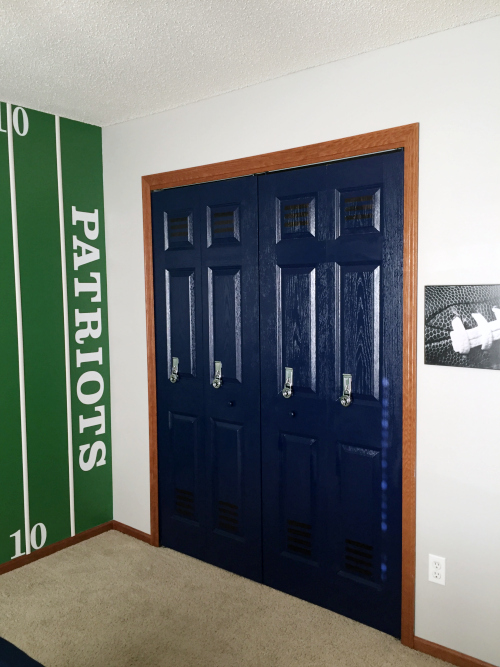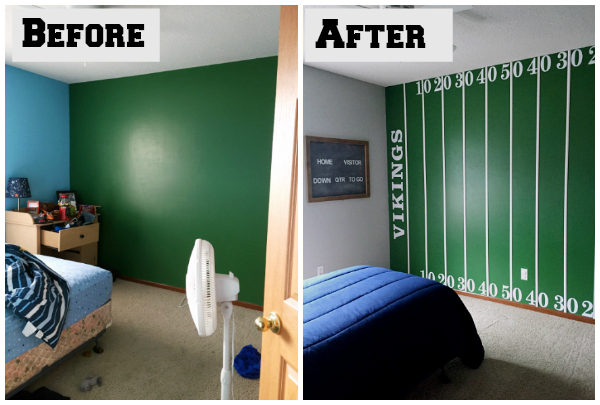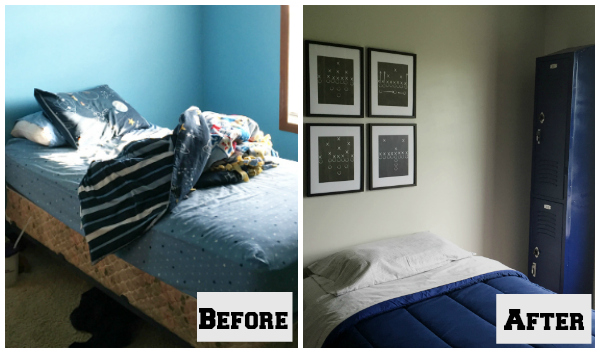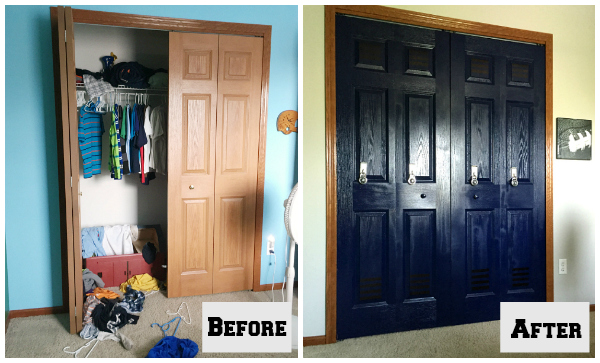 The Budget
Typically, I work with a $100 budget when I do room makeovers. I love the challenge of a small budget, and  enjoy showing people that you don't need unlimited funds to create a better space. However, for this challenge, I decided to stretch the budget a bit, but I still wanted to share just how much this room cost when all was said and done. Last week, I was at $166.60, and in the end, we spent a total of $280.75. Here's what we bought this week:
Closet Hardware:
(Spray paint already accounted for in previous budget)
Latches x4- $15.96 ($3.99 Each)
Padlocks x4- $7.16 ($1.79 Each)
Football Wall:
(White strips already accounted for in previous budget)
Double Sided Tape- $2.98
Cricut Vinyl Rolls x5– $24.10 (2 Rolls were bought for $4.19 each and 3 Rolls were bought for $5.24 each)
Scoreboard:
(Vinyl accounted for above in football wall)
Barnwood Frame- FREE (Already had all the supplies needed)
Chalkboard Paint- Free (Already had some)
Cricut Transfer Tape Roll– $5.24
Bedding:
Comforter– $18.99 (After 5% Redcard Discount)
Sheet Set- $15.19 (After 5% Redcard Discount)
Nightstand:
Even though this hasn't been completed, I did buy all the supplies.
Nightstand- $5.00
1 Quart Gripper- $10.97
Dark Gray Paint- FREE (Found at the Recycle Center)
Paint Rollers- $4.97
Frame:
Frame for the Black & White Football Print: $3.59 (After 40% coupon)
Total Spent= $280.75
Thank you so much for stopping by. I will be going through all 200 One Room Challenge posts and sharing my favorites in two weeks from today. Remember that another $100 Room Challenge starts up the first Wednesday in June (June 1st), so I hope you'll join me for that. Now head on over and see what everyone else decided to do with their spaces!
Erin
Week 1 // Week 2 // Week 3 // Week 4 // Week 5 // Week 6
Want to Follow Along with Lemons, Lavender, & Laundry?
Subscribe!
Social media more your style?
Facebook // Pinterest // Instagram // Twitter
Love it? Pin it!