I recently read an article that addressed the effects of cleaning products on the lungs of women. And it's not good. After following 6,000 participants for 20 years, women who regularly used cleaning products were found to have the same decline in lung function as those that smoked 20 cigarettes per day. What?! This is why it is so important to find cleaning products that are natural and don't contain harsh chemicals… Some think going natural in their cleaning products means spending a ton of money, but that doesn't have to be the case. Check out this DIY Thieves laundry detergent that costs 7x less than what you'd buy at the store.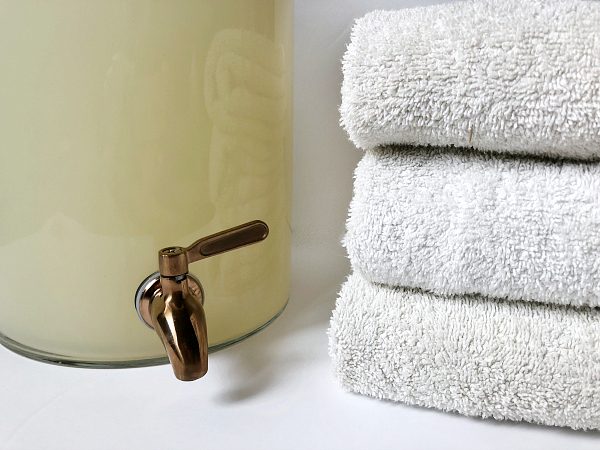 I have been making my own laundry detergent for years, and have loved almost everything about it… but there was one little part I wasn't a huge fan of, and that was the need to grate soap into the mix. It isn't super difficult, but it makes a mess, and you really need to wash your clothes in warm or hot water to ensure the soap fully dissolves. I was willing to overlook this for the past 3 years because the batches I made would last forever, and it did a fine job of getting my clothes clean. (You can find the recipe here if you are interested). But then a friend of mine posted a recipe for a liquid laundry soap that required zero soap grating and was super budget-friendly. As always, I did a little research and tweaked the recipe a bit.
I love that everything in the recipe is void of harsh chemicals, and even better, it costs a fraction of what you'd pay for laundry detergent in the store. (Cost breakdown at the end of this post.) Ready for this awesome recipe?
Here's What You'll Need to Make DIY Thieves Laundry Detergent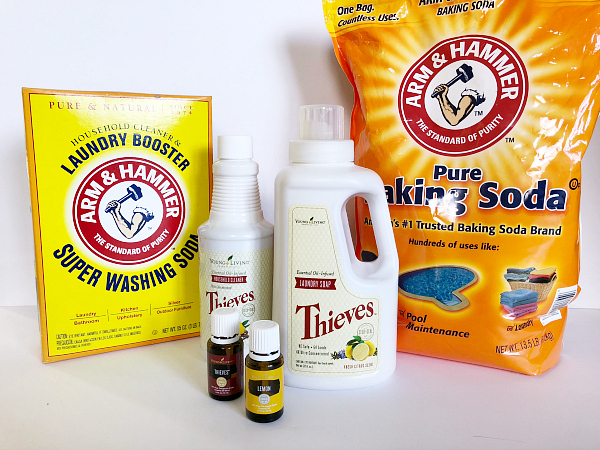 The recipe below will make one gallon, you can certainly double the recipe (like I did) if your dispenser is larger.
1/4 Cup Washing Soda
1/4 Cup Baking Soda
1/4 Cup Thieves® Laundry Soap
1/8 Cup (or 2 Tbsp) Thieves® Household Cleaner
Hot Water- You may want to use distilled water to avoid impurities that naturally occur in tap water.
8 Drops Essential Oil of Your Choosing (Optional)- I used Thieves® and Lemon– 4 drops of each. If you are not sure where to buy essential oils, please check out this post.
Drink Dispenser (at least 1 gallon)- I used this one and doubled the recipe to make 2 gallons. While my dispenser was glass, many ask about using a plastic container instead… If you want to use plastic, it needs to be the right kind of plastic for use with essential oils. "Typically, HDPE plastic as well as plastics number 1 (PETE) and 2 are safe for use with essential oils." -Dr. Hill (Quote found here.)
Directions: DIY Thieves Laundry Detergent
Ready for the easiest tutorial ever?
*** If you are using a glass dispenser, it is recommended that you perform steps 1-3 in a stock pot in order to avoid the glass cracking from the hot water.***
Step 1:
Start by pouring 1/4 cup Washing Soda into your dispenser (or stock pot).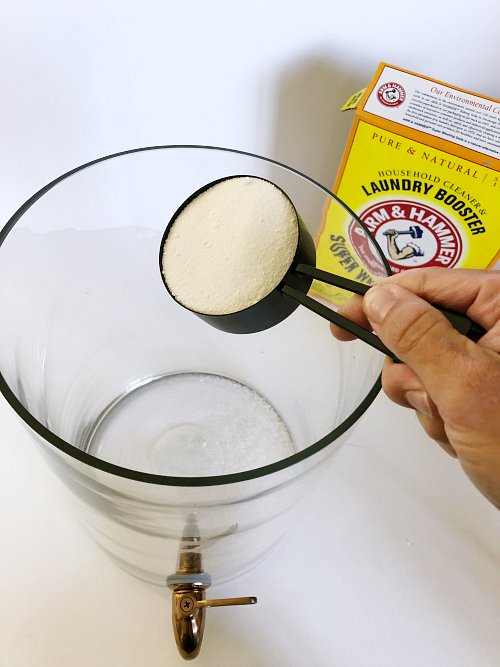 Step 2:
Add enough hot water (not boiling) to cover by an inch or two and stir until the washing soda has dissolved.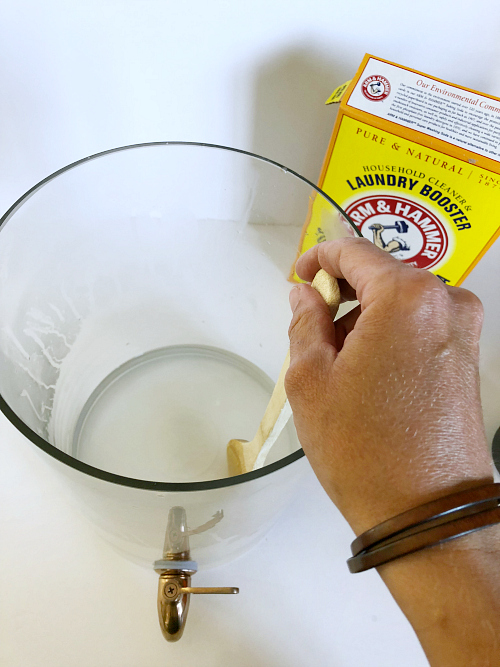 Step 3:
Once your washing soda has dissolved, add 1/4 cup baking soda, and, once again, stir until dissolved.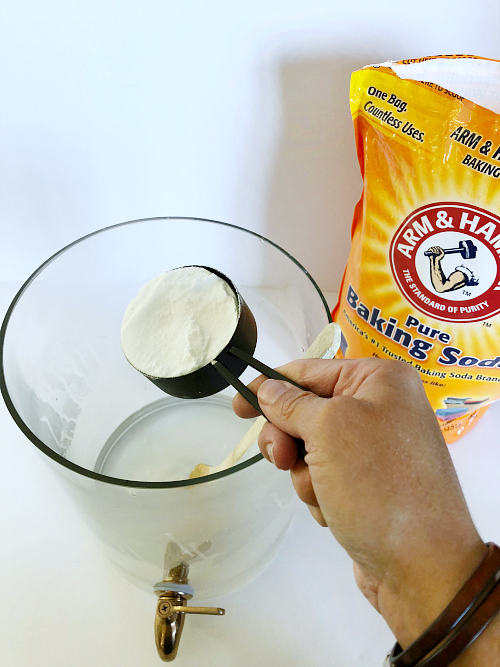 At this point, I would highly recommend placing your dispenser where you plan to keep it, as it gets a bit heavy. When adding water, simply using a pitcher or jug.
Also… if you performed steps 1-3 in a stock pot, at this point, pour the mixture into your dispenser once cooled.
Step 4
Fill your dispenser with warm (room temperature) water, allowing some room at the top to add a few more ingredients.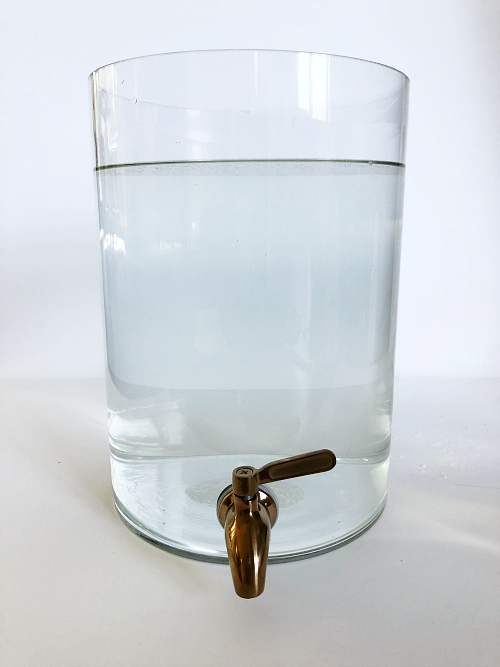 Step 5
First add 1/4 cup Thieves® Laundry Soap. I have seen similar recipes done with Castile Soap, but I love the idea of using an actual laundry soap instead (and others have reported that the Castile Soap gets chunky and dispensing becomes difficult).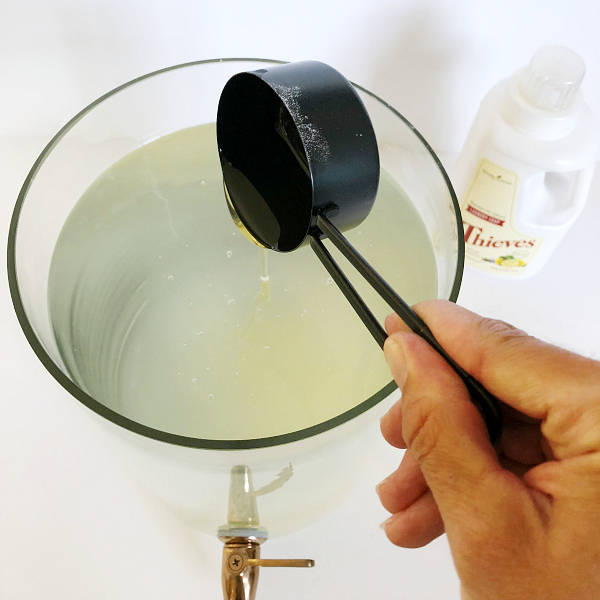 Step 6
Next add 1/8 cup (or 2 Tablespoons) of Thieves® Household Cleaner. This plant-based cleaner is highly concentrated and requires diluting when using as a cleaner… the 14.4 oz. bottle actually makes 29 bottles of household cleaner*!
*Based on using a 16 oz glass spray bottle and following instructions for "Most Cleaning Applications".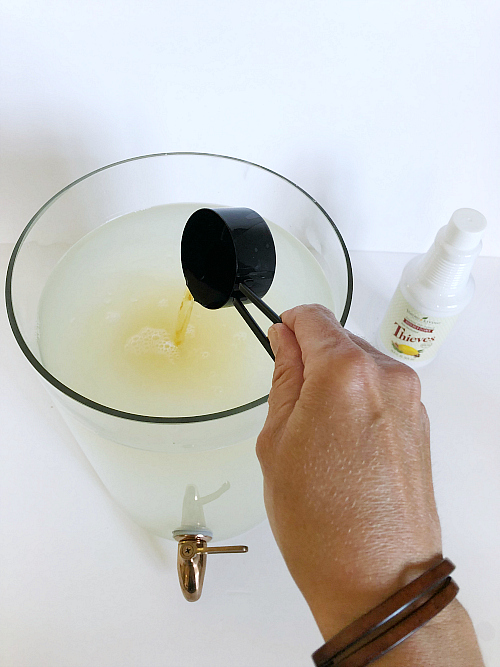 Step 7 (Optional)
If you want to enhance the scent of the detergent a bit, feel free to add a few drops of essential oil. I chose to add Thieves® and Lemon (2 of my favorite essential oils for cleaning 🙂 ). A couple drops of each is all you'll need.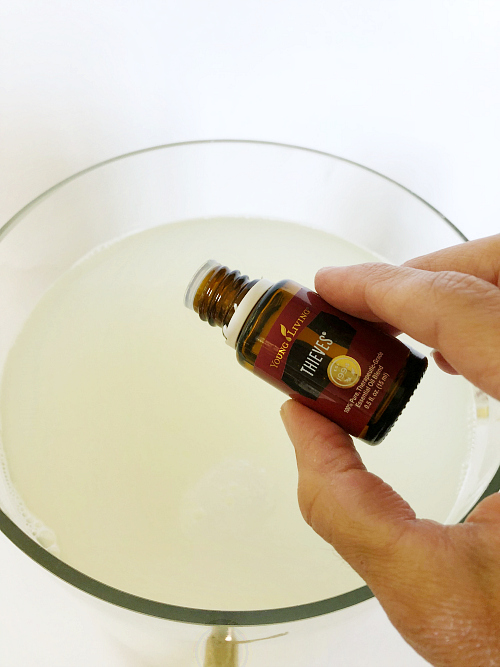 Step 8
All you have left to do is give it a little stir, and you're good to go.
When doing laundry in a HE washer, use 1/4 cup per load.
UPDATE: If you notice the laundry soap settling to the bottom, just give the mixture a little stir. I actually didn't notice this happening until it had been sitting on my counter for about 2 weeks, but others are reporting this happening after a short period of time. I just leave a wooden spoon next to my dispenser and give it a quick stir if I notice any separation.
Cost Breakdown
DIY Thieves Laundry Detergent
1/4 cup Washing Soda: 17¢ (Based off Walmart's pricing of $3.97 for a 55 oz. box, which has 6 cups)
1/4 cup Baking Soda: 10¢ (Based off Target's pricing of 79¢ for a 16 oz. box, which has 2 cups)
1/4 cup Thieves® Laundry Soap:  $1.84 (Based off Young Living's wholesale pricing* for a 32 oz. bottle)
1/8 cup Thieves® Household Cleaner: $1.56 (Based off Young Living's wholesale pricing* for a 14.4 oz bottle)
4 Drops Thieves essential oil (optional): 56¢
4 Drops Lemon essential oil (optional): 20¢
Total Cost:
With optional essential oils added: $4.43/gallon
Without optional essential oils added: $3.67/gallon
When using 1/4 cup per load, this equals 6-7¢ per load.
*Wholesale pricing is available to members of Young Living, however, you also have the option to buy retail. If buying retail, the price of the Laundry Soap would increase to $2.43 and the cost of the household cleaner would increase to $2.06; increasing the price per gallon to $4.76 (without essential oils added) and the cost per load would be 7¢/load.
Dare to Compare
Leading Brand of Laundry Detergent
Leading Brand of Laundry Detergent: $16.66/gallon (Based off Target's pricing of $17.99 for a 138 oz. bottle of Tide)
Be very careful when looking at cost per load. While the packaging states there are 89 loads, it also states this is when measured to "line 2". If you are doing a "large load" of laundry, you are directed to use twice as much detergent and fill to line 4. If using a HE washer, you need to use even more, and fill to line 5. I have a HE washer, and would definitely need to fill to that number 5 line, so…
Total Cost:
Filling to line 4 or 5: 41¢ per load. That is 6-7x higher than the DIY version above!
Filling to "line 2": 20¢ per load (3 times more expensive!)
Okay… after all that math, I need a break 🙂
For the printable version of this recipe (plus answers to the most frequently asked questions about this recipe), click here.
Want to Follow Along with Lemons, Lavender, & Laundry?
Subscribe!
Social media more your style?
Facebook // Pinterest // Instagram // Twitter
Love it? Pin it!