Our master bedroom is in desperate need of a little love. If you are a fellow farmhouse-style enthusiast, I have gathered up some the best farmhouse bedroom inspiration to share with you today.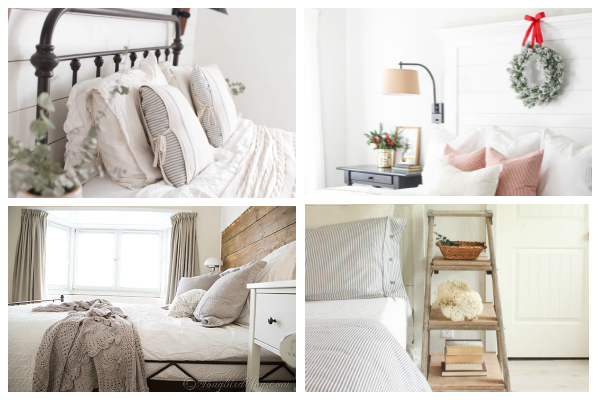 It has been four months since we moved into our new house, and it seems as though life has kept us busy; with hardly a moment to catch our breath. I have been itching to get my hands on this house; to create spaces that reflect "us" and make this house our home. And I think today just might be the day to get started. This house has a few rooms that are going to need a major overhaul, others that will be perfect for the $100 Room Challenge, and a few that are in between. Today, I'm introducing you to one of those "in between" rooms: our master bedroom. As always, I will be working to make this space amazing, without spending a lot of money. Let's take a look at some of the things I want to do in here and then I'll update you as we make progress.
Here is what we are currently working with… and be excited because I actually made the bed for you 🙂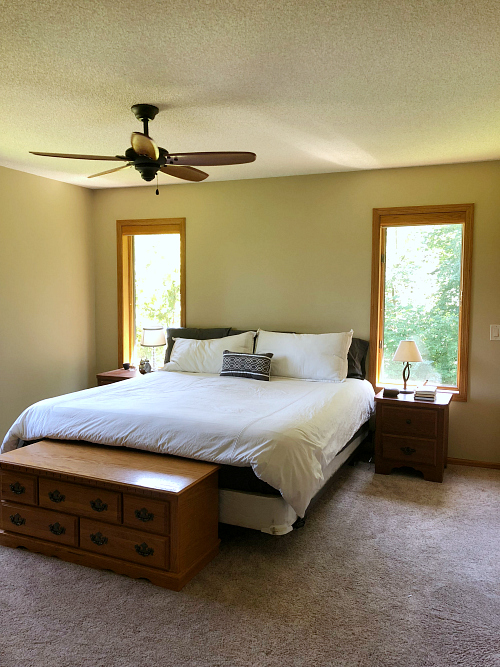 Goals for Our Farmhouse Bedroom
Paint
The first thing to happen in here is paint. While the room has a warm, neutral wall color, it appears almost mustard yellow at certain times of the day. I like mustard on my burger, but not so much on my walls 🙂 We'll be going with a light gray (maybe my go-to: Agreeable Gray, or Repose Gray which we plan to do throughout the whole house). We are hiring someone to do all our trim work; going from wood to white, so this room will get that same treatment.
Barn Door(s)
Our closet doors kinda drive me crazy. It's one where the top "clicks" into a groove, and one side takes some real work to actually open. I would love to take those doors off and put a barn door in its place. I'll be shopping old, chippy doors with a bit of character 🙂 OR, I could make my own like My Vintage Porch did for her laundry room. I mean… seriously!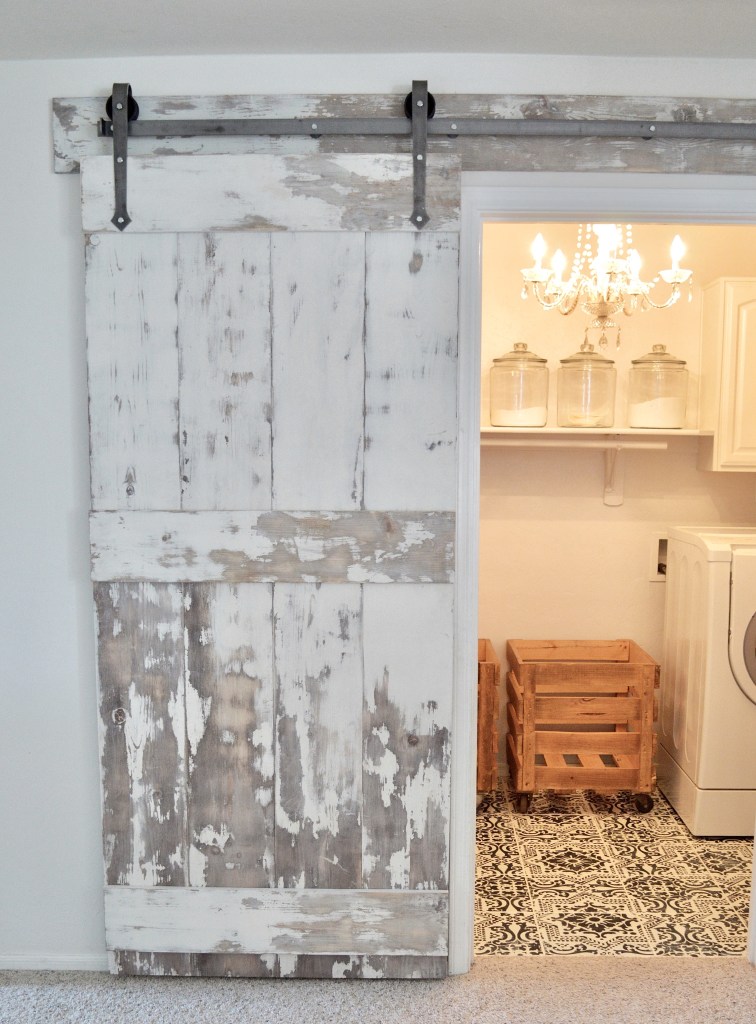 Photo via My Vintage Porch
We also have a pocket door that leads into our bathroom. While I'd love to do a barn door here as well, I think it might be a bit much, so we'll see…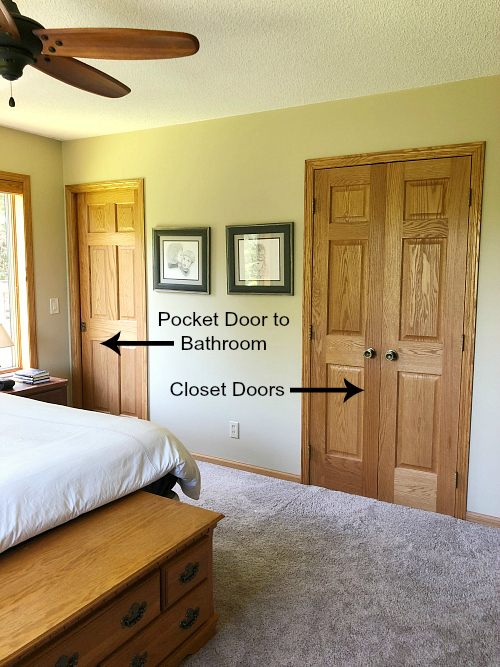 Headboard
I am probably in the minority here, but I'm not a huge fan of headboards… but I do think they are an amazing way to add a focal point with texture and pattern, so I'm going to go with a faux headboard. I have two ideas that I love: a shiplap wall feature, much like this one from Sincerely, Marie Designs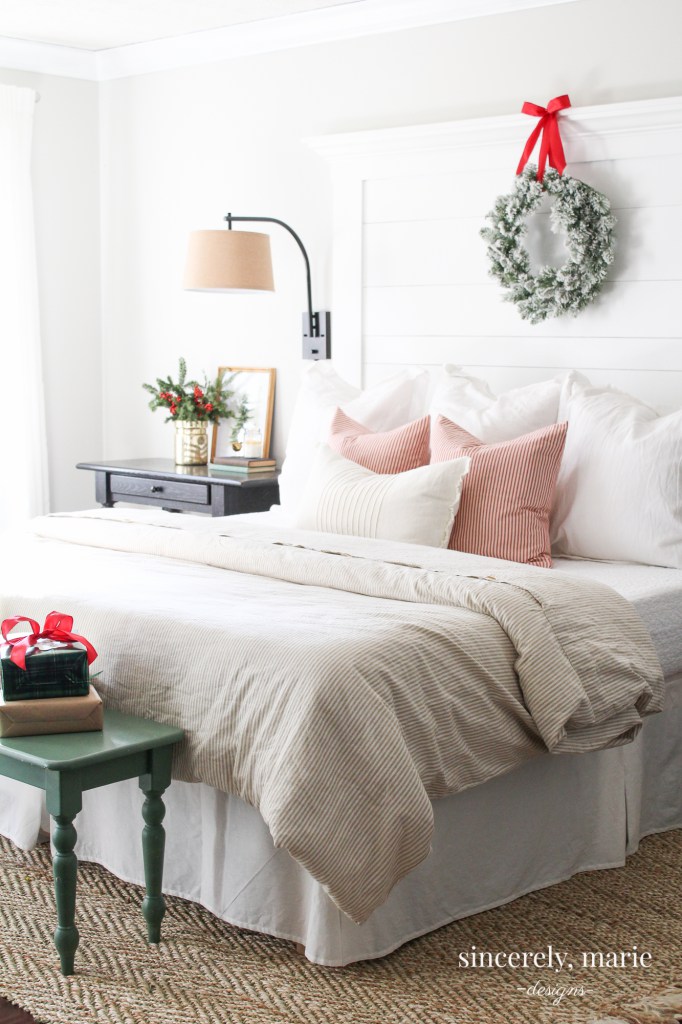 Photo via Sincerely, Marie Designs
… or a barn wood version like this one from Songbird. We actually have barn wood out in our garage, so this option might be cheaper 🙂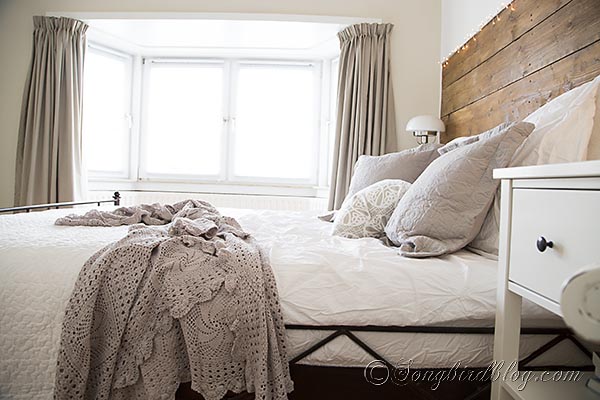 Photo via Songbird
Bedding
I would also love to add some ticking stripe pillows to our bed. Farmhouse on Boone has a great DIY tutorial, but unfortunately I don't sew, so I'll need to figure out a no-sew version, or buy some.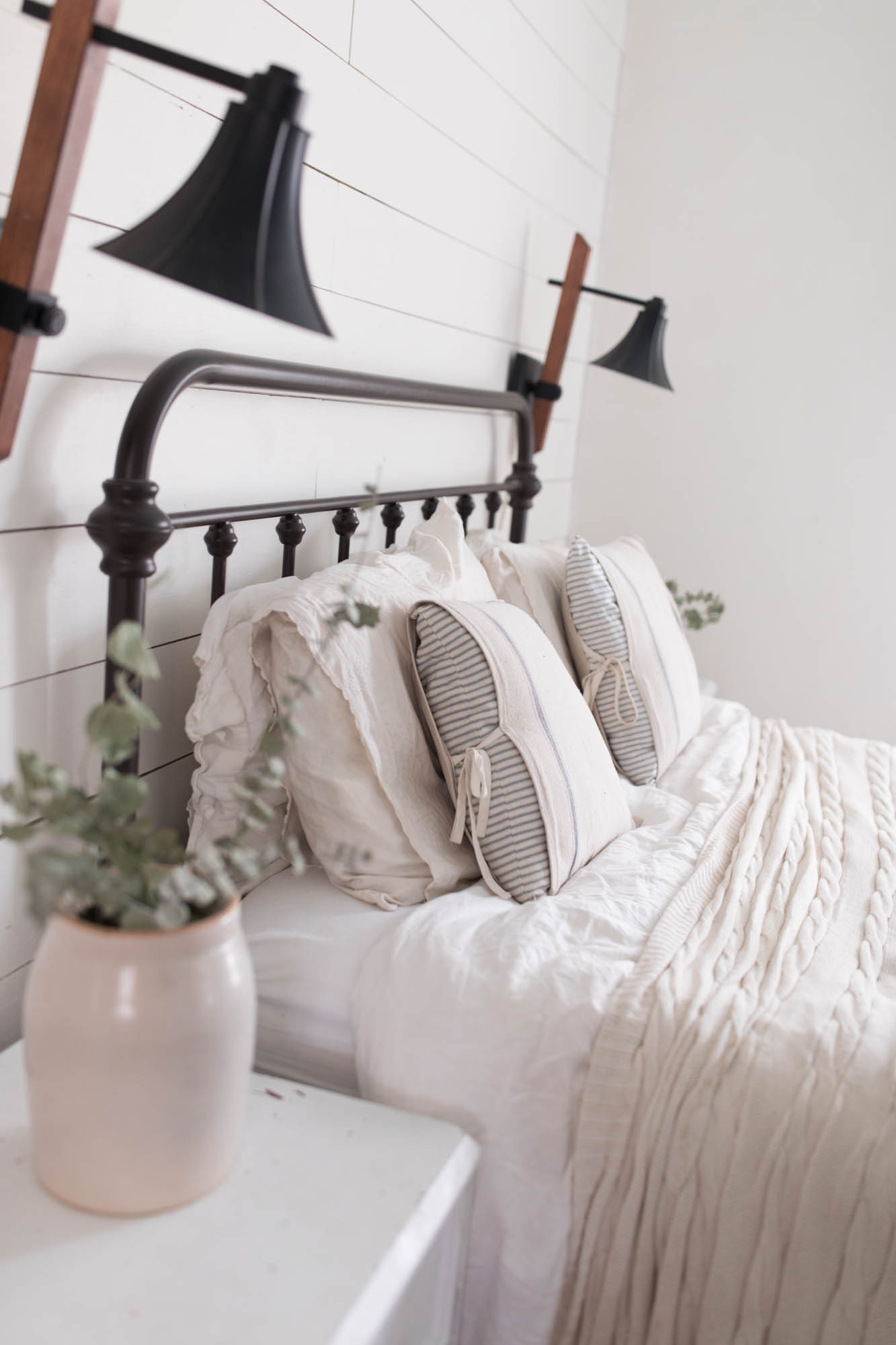 Photo via Farmhouse on Boone
Furniture
Currently we have matchy-matchy nightstands that also match the dresser. I would love to do something different for our nightstands. One idea that keeps coming to mind is this idea of using wooden ladders from Twelve on Main.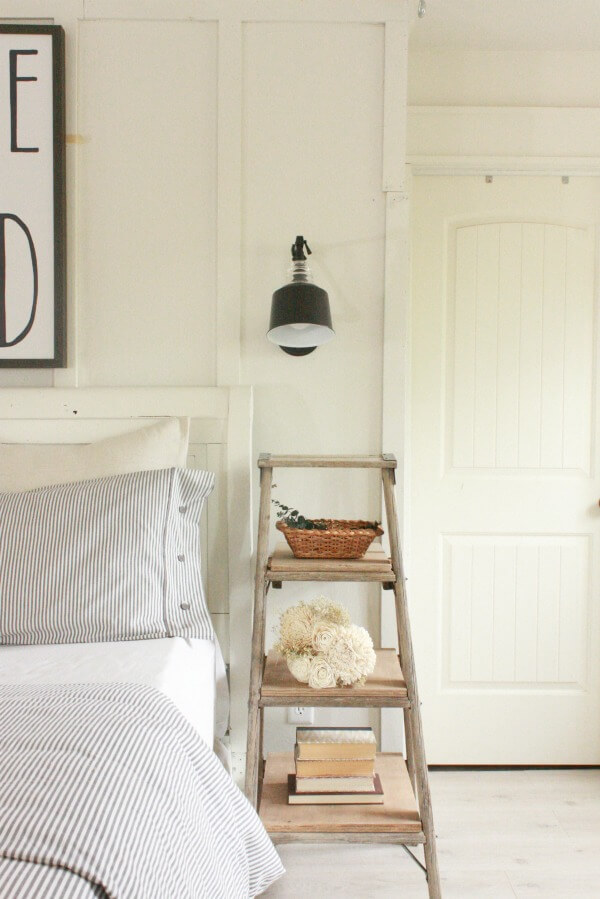 Photo via Twelve on Main
While I would love a different dresser, I'm not sure it's in the budget right now, so I'm thinking of giving our current dresser a makeover with a little paint. (UPDATE: You can see the dresser makeover here.)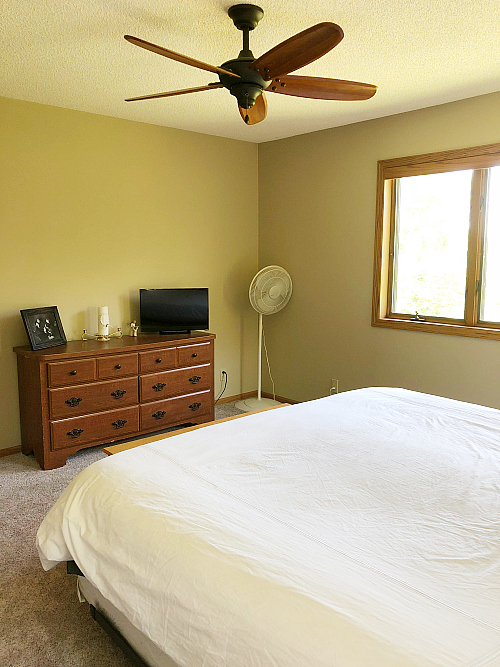 6.) Window Treatments
I would also love to add some light, airy curtains in this space. I shopped curtains when we were working on our dining room, and IKEA has some great ones, especially when working with a tight budget.
Another idea I would love to incorporate is something similar to these DIY curtain rods from Maison De Pax.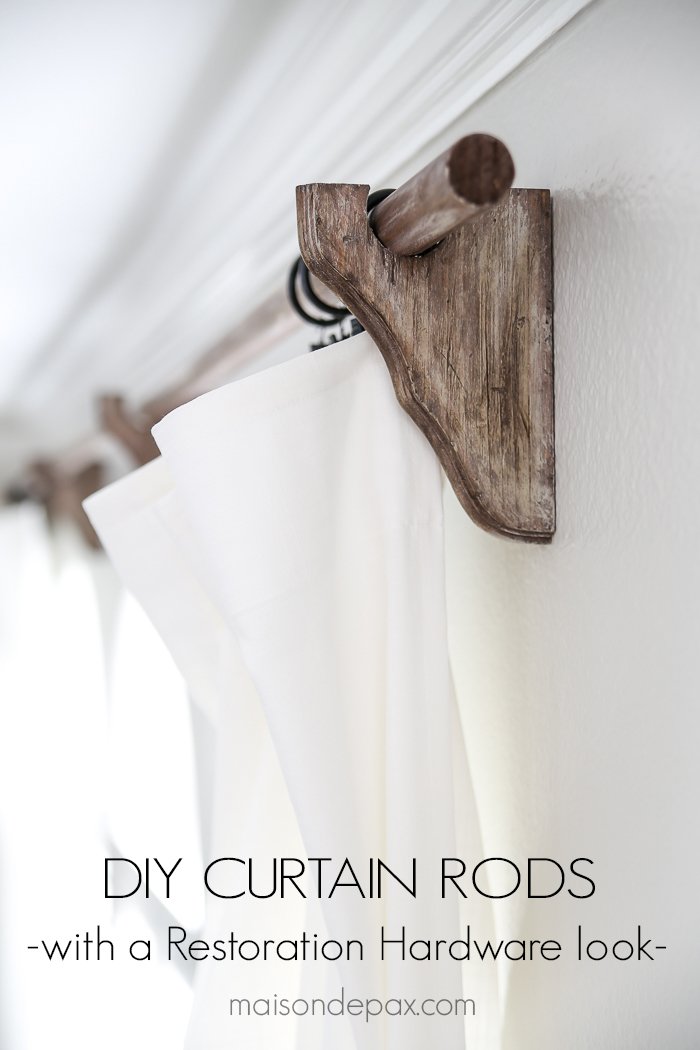 Photo via Maison De Pax
Wall Decor
I want to add some personality to the walls. I am thinking of moving our DIY Farmhouse Sign from our living room to the space above the bed.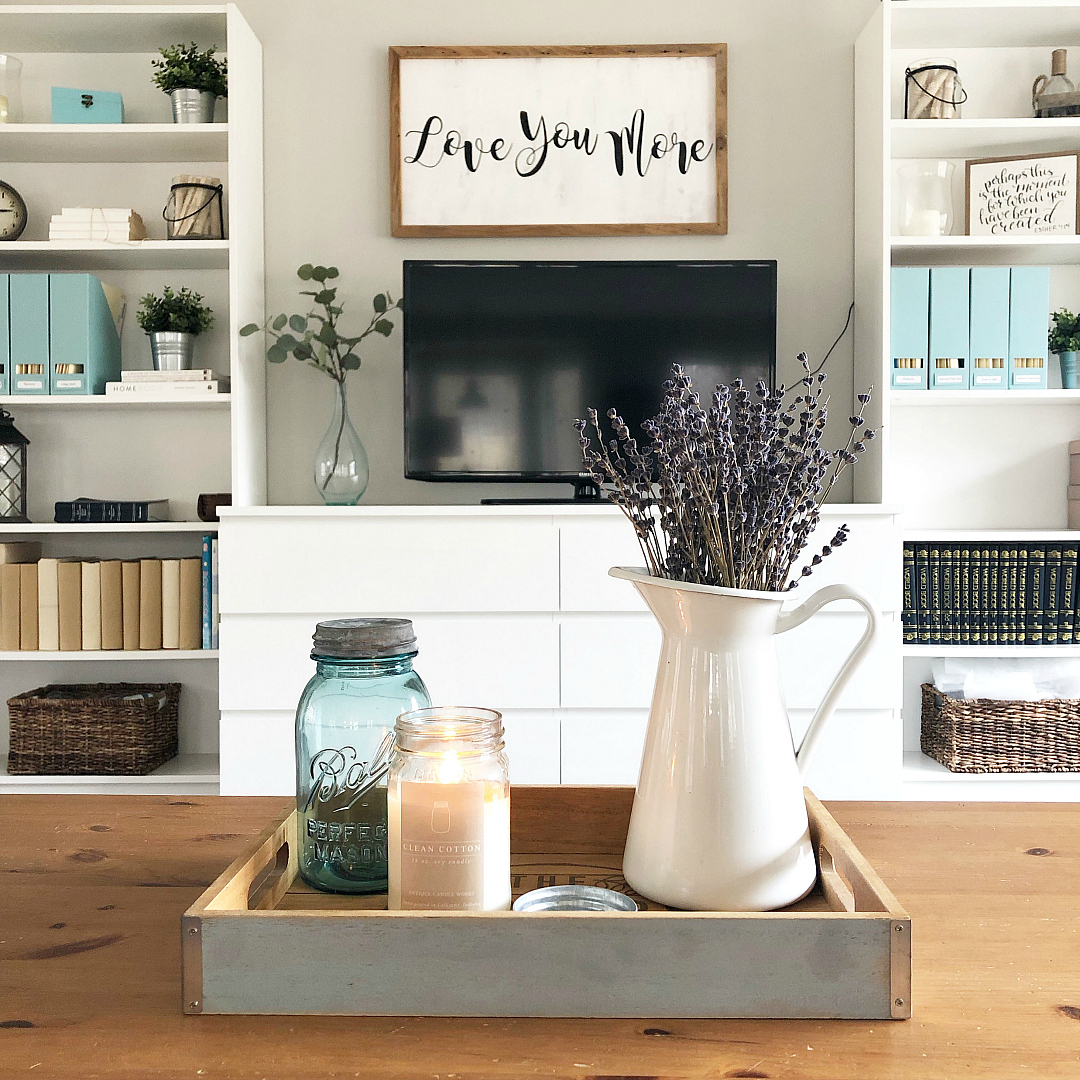 Above the dresser, I would like to do one of two things: a farmhouse gallery wall, like this one from Cotton Stem.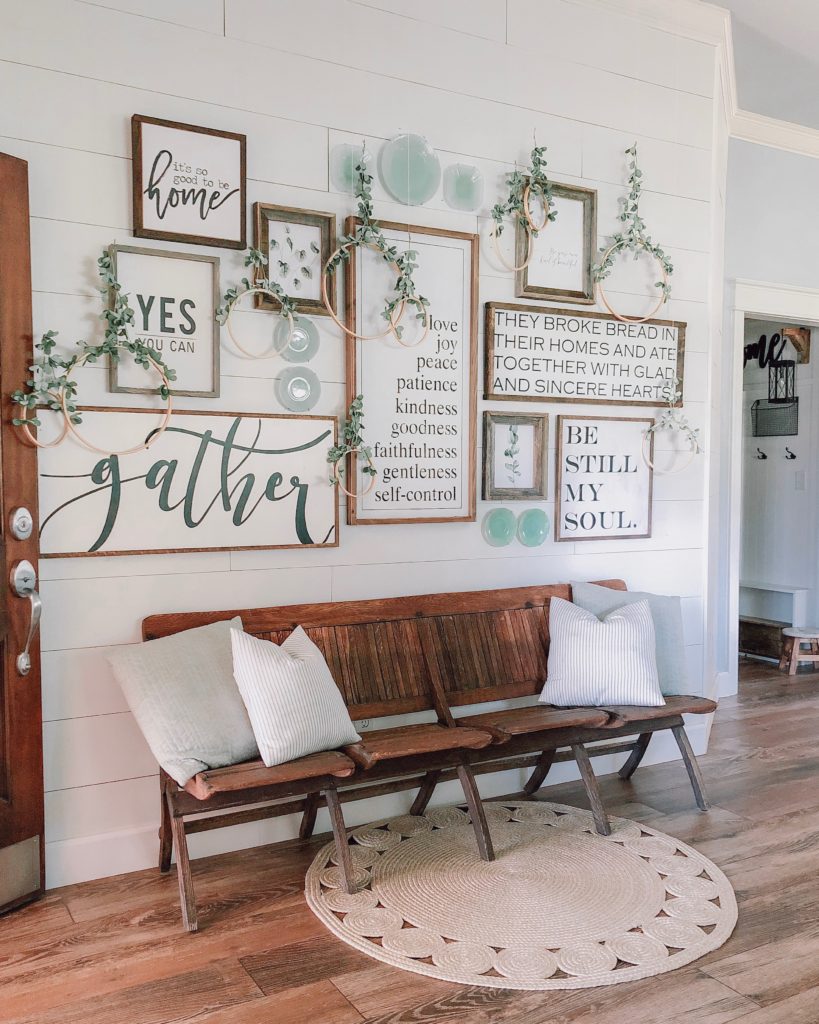 Photo via Cotton Stem
… or use some of the old, chippy windows we already have, and do something fun with those. Maybe something like we did in our living room last year.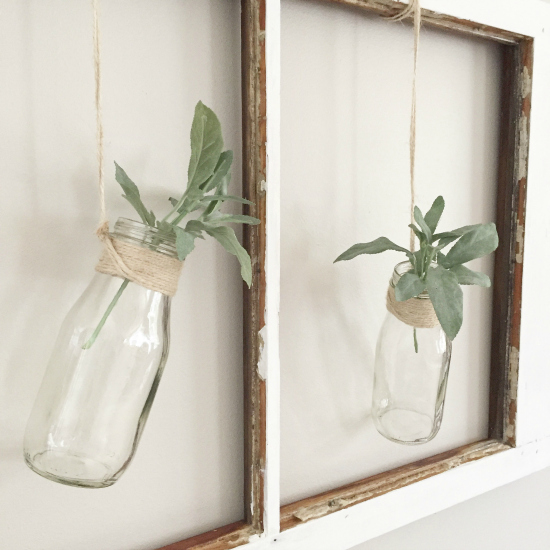 … or maybe, a combination of the two 🙂
(UPDATE: See what I did above the dresser here.)
Lighting
Dear heavens… the lamps we currently have on our nightstands are far from my style, so I'll also be looking into some lighting options. Sconces??? Upcycled lamps??? We'll have to see what I can find at the thrift stores.
(UPDATE: See one of the lamps I made over for our dresser here.)
Rug
Here's the deal with the flooring… if I could do anything I wanted, I would remove the carpet and put down hardwood floors (and we actually have a bunch of boxes of hard wood in the basement that the former owners left for us). The issue is: cold feet. While I'm sure putting our feet on an ice cold floor would really wake us up in the morning, I don't know if it's the best idea; plus I don't think my husband would go for it. He lets me have a whole lot of freedom when it comes to decorating our home, but cold feet might be where he draws the line. Either way, maybe a rug would be nice in here… just not totally sure yet. I've been crushing on this one I keep seeing.
Lots and lots to do over the next few weeks, but I think this space might just turn into one of my favorites.
Looking for more Farmhouse Master Bedroom Inspiration? Follow my Master Bedroom Inspiration board on Pinterest.
Got some thoughts on this space we'll be working on? Leave them in the comments below.
Love it? Pin it!