Oh. My. Goodness!!! Last month I headed over to The Jason Show and shared some DIYs for the laundry room; and that segment has over a half-million views on Facebook. What?! Who knew laundry could be so exciting? 🙂 Many of you have been asking for a printable of the Thieves laundry soap recipe, so here it is… a free Thieves Laundry Detergent printable, along with some answers to your most frequently asked questions.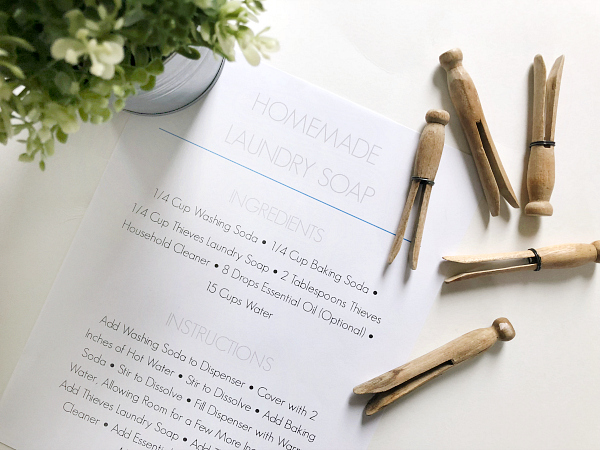 First and foremost, if you need the Thieves laundry soap recipe/tutorial, you can find it HERE… and the cost is gonna blow you away! This all-natural recipe costs 6-7¢ per load (depending on how you choose to make it), while a leading store-bought brand costs more than 40¢ per load. Alrighty… here we go.
Answering Your Questions About DIY Thieves Laundry Soap
Where did you get your dispenser?
I bought my dispenser at Target. You can find it here.
Where do I find Thieves products?
You can buy Thieves products through Young Living.
Do you put the laundry detergent in the soap dispenser or directly on the clothes?
I always add my DIY laundry detergent into the washing machine soap dispenser. In our previous house, our washing machine had a separate spot for liquid vs. powder detergent. Now, ours simply has one for everything. The mixture does disappear the moment I add it, but I figure, either way, all that laundry soap ends up in my load anyway 🙂
Can you use this in a HE washer? If so, how much?
I have been using this recipe in our HE washer without issue, and I add 1/4 cup per large load.
How much detergent should I use in a top loading washer?
Because I don't actually have a top loading washing machine, this is a little harder for me to answer. Most top loading washers use about twice as much water as a HE front loading machine, so I would guess you would need to double the amount of detergent to 1/2 cup. You can certainly play around with the amount until you find what works best.
Can I substitute Borax for the Washing Soda?
Borax and Washing Soda do similar things for your laundry. Both have a higher pH which softens the water, allowing the soap to do a better job cleaning your clothes. The reason I did not add Borax to this recipe was because there are some people that prefer not to use Borax in their DIY recipes. My powdered laundry detergent recipe does use Borax, so I wanted to offer an alternative that was Borax-free. I have had some people choose to substitute the Washing Soda with Borax and reported success, however, I cannot say for sure how it fairs as I have never tried it myself.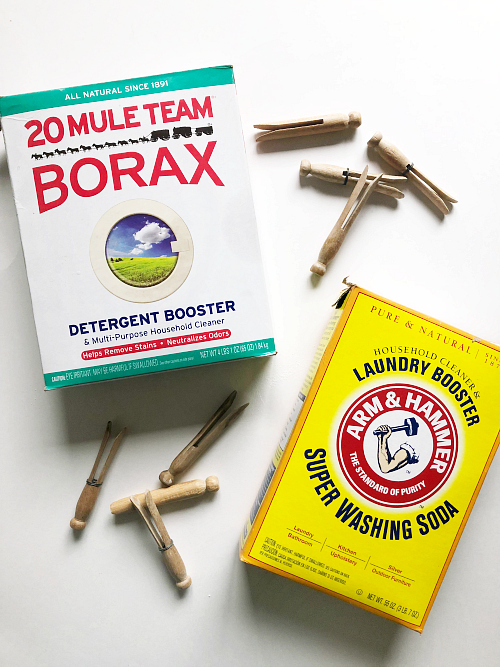 I'm seeing some separation. What do I do?
It's always frustrating when the soap separates out of the mixture and settles to the bottom. This ended up happening to mine after about two weeks, so when I originally posted the recipe, this hadn't yet occurred. I still have a lot of this laundry soap left, but for my next batch, I will try to figure out a solution. In the meantime, I have a wooden spoon sitting next to the detergent; I simply give it a stir before adding it to my washing machine. While I know this is a bit frustrating, I am more than happy to stir if it means I'm saving tons of money and avoiding harsh chemicals.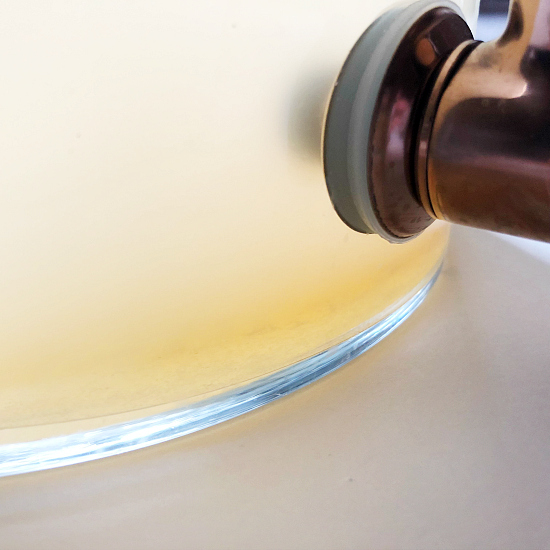 If you are choosing to add essential oils to the mix, I did notice mine floating on the top 24 hours later, but after the first mix, they never reappeared.
Do the clothes smell strongly of Thieves?
I have never noticed a strong smell to any DIY laundry detergent recipe. This recent recipe does state that you can add essential oils to the mix, which does (of course) add a little scent. However, once the clothes are washed, the scent doesn't seem to stick around. (Honestly, I'll probably skip the addition of the essential oils next time around). If you want to add some scent to your clothing, I would highly recommend adding a few drops of essential oil to some dryer balls when drying your laundry. I love this method because you can change out the scent as often as you'd like.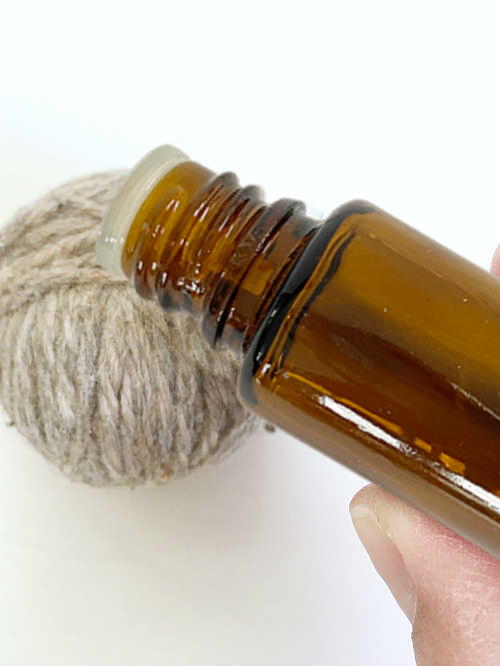 You can also make your own dryer balls. It's super easy to do. You can find the tutorial here.
Is there a Thieves Laundry Detergent Printable we can use for reference?
Many of you are asking for a Thieves Laundry Detergent printable of this recipe because you want to be able to reference it for your next batch. While I didn't originally create a printable, I have now. You can print it off using the link below.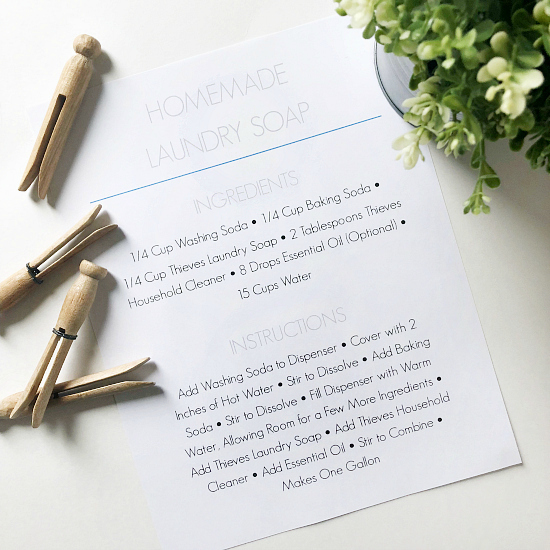 If you have further questions, you can leave them in the comment section below, or email me 🙂
Love it? Pin it!