IT'S WEEK 5!!!! That means one more week to go! No worries. I'm continuing to make good progress in the laundry room. I'll do a short recap for those of you just joining in. I am participating in the One Room Challenge hosted by Linda at Calling It Home. Myself, along with 150+ other bloggers, are redoing one room in our homes in 6 weeks' time. I have chosen to redo my laundry room (actually it's a closet). I have given myself $100 to complete the space. Call me crazy, but I absolutely love coming up with cost-effective ways to get things done. Have you missed any of the last few weeks? Wanna catch up? No problem. Here you go:
Week 1 // Week 2 // Week 3 // Week 4
Here's everything I did this week:
The Dryer
If you recall from last week, I got the dryer painted (you can read all about the process of painting the dryer HERE). However, it was still sitting out in the garage. I thought for sure I would need to call for back-up to haul the beast back upstairs, but my hubby and I managed all by ourselves. We're just that amazing. (Actually, I feel like my hubby did all the work and I just kinda helped guide… so maybe it's just my hubby that's so amazing.) Here's a before and after for you: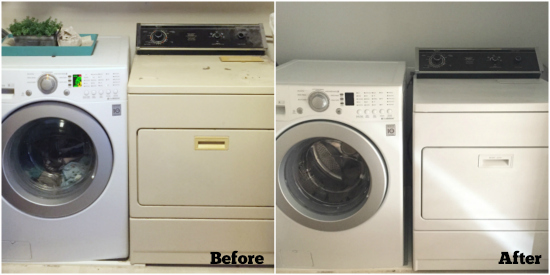 Doesn't that look so much better? White washer. White dryer. Just want we were hoping for.
A Little Bit of DIY Storage
Let's take a little stroll down memory lane, shall we?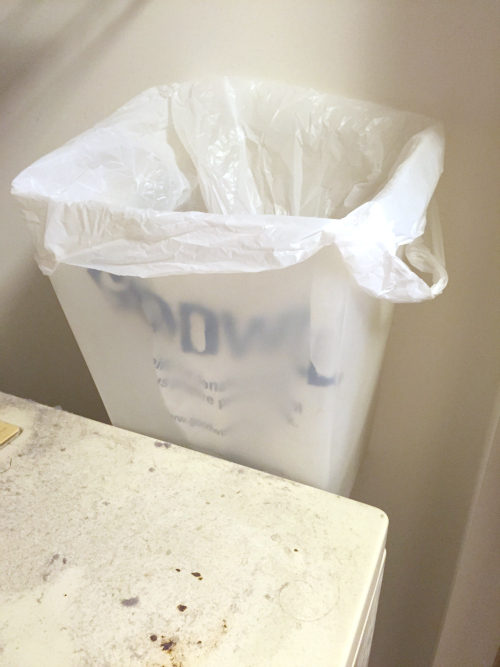 That was my solution for lint. An oversized trash can stuffed between the wall and the dryer. Not exactly the look I'm going for. Remember, I'm on a budget, so here's my cereal box turned lint box. (Maybe you caught a sneak-peek on Instagram…)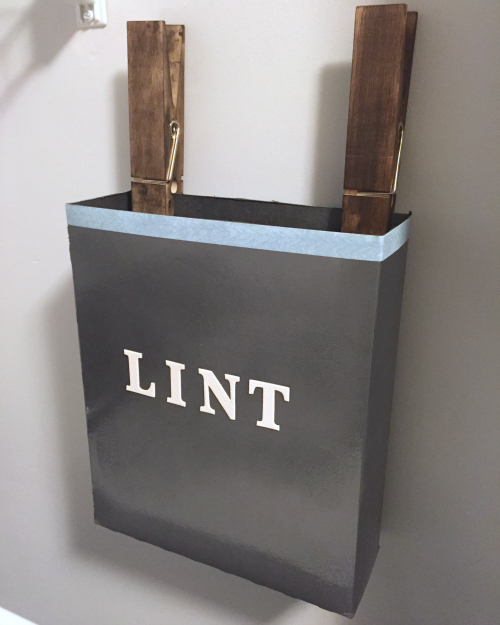 (Here's the "cereal box turned lint box" tutorial)
Store-Bought Storage
One thing I really wanted to do was find a glass jar for my laundry soap. Every Tuesday I do a "Cleaning Tip", and decided I'd try a DIY laundry detergent, so I bought my favorite jar from Target to house the detergent.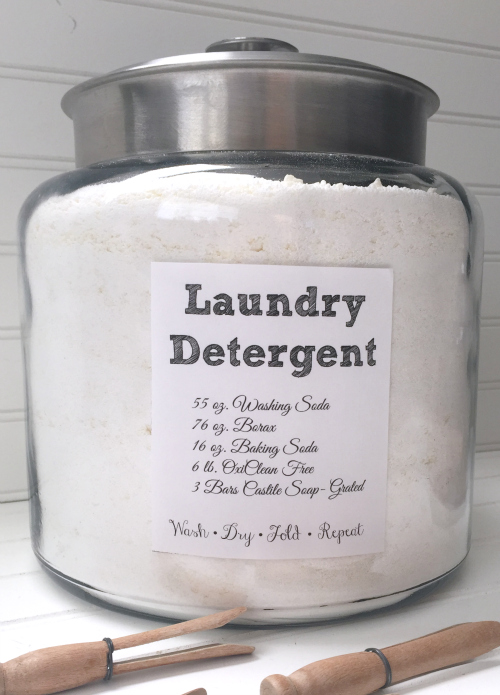 Hanging the Printables
I decided to hang my printables from knobs, like I did during the spring One Room Challenge. I think it looks classier than a nail. (Here's the tutorial if you're interested.)
The Wood Overlay For The Wire Shelving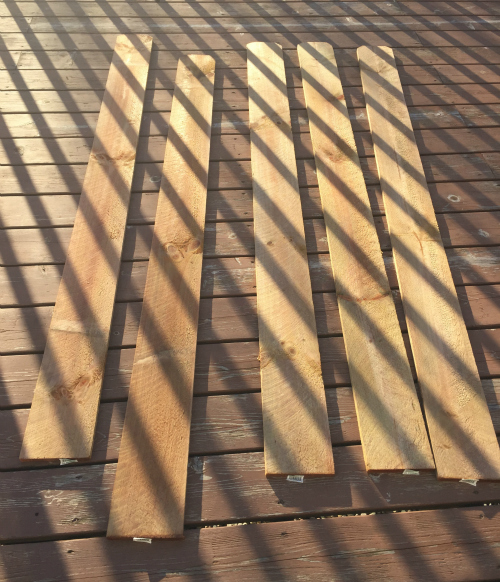 Yep. That's our shelf. Five cedar picket fence pieces laying on our deck. That's our project for the week.
The Budget… So Far
We left off last week with me having spent $9.31. Here's the additional expenses for this week:
Dryer (In addition to what has already been accounted for):
Another Can of Appliance Epoxy: $3.76
Weldbond Glue: $1.99
Lint Box:
Cereal Box: Free
Spray Paint: $5.39
Sticker Letters: Free (Already had from when I made these)
Washi Tape: Free (Already had from when I made this)
Large Wooden Clothes Pins x2: $2.38 ($1.19 each)
Stain Used on the Clothes Pins: Free (Already had from this project)
Command Strips: Free (Already had some from this project)
*Good thing I do so many other projects 🙂
Detergent & Clothespin Jars:
Hanging Printables (In addition to what has already been accounted for):
Knobs: Free (Already had from last year's ORC)
Hanger Bolts: $1.18
Wood for Shelving:
5 Cedar Picket Fence Planks x5: $11.25 ($2.25 each)
TOTAL= $57.76
Good luck to all of you that are in your final week of the One Room Challenge, and thanks to all of you for stopping by!
Erin
Can't get enough of these room makeovers? Head over to Calling It Home where you can see the professionals here and other linking bloggers here.
The One Room Challenge Week-by-Week:
Week 1 // Week 2 // Week 3 // Week 4 // Week 5 // Week 6
Want to Follow Along with Lemons, Lavender, & Laundry?
Subscribe!
Social media more your style?
Facebook // Pinterest // Instagram // Twitter