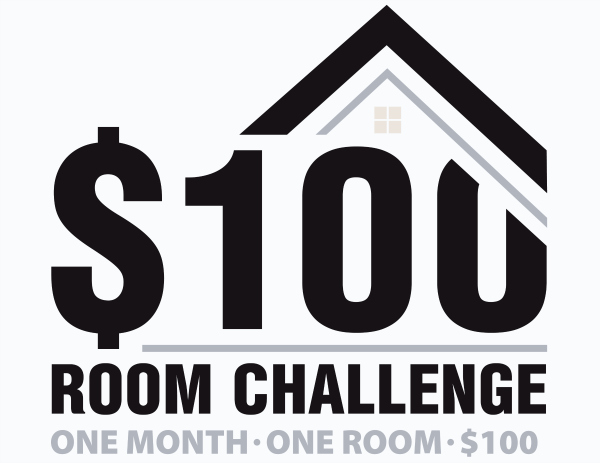 YAY!!! It is my favorite time of the year… another round of the $100 Room Challenge starts now. If you are not familiar with the $100 Room Challenge, this is a one month challenge in which people makeover one room with a budget of $100. (You can check out all the participants at the end of this post, or follow the hashtag #100roomchallenge on Instagram).
So, let's chat about this month's challenge… I am taking on our basement bathroom (a.k.a., the kids' bathroom). Let's take a look at the "before".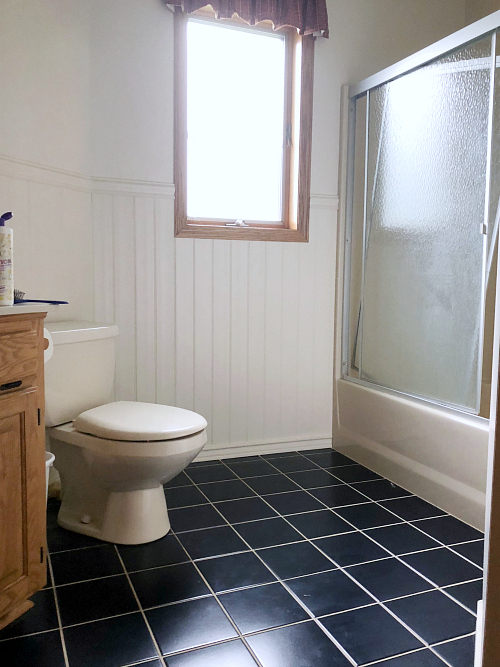 It's not awesome. Let's talk about the crazy things I want to do in here with my $100 budget, shall we?
Goals For This $100 Basement Bathroom Makeover
Goal 1: Paint the Walls
If you look at the walls, they are a creamy white… the exact same color on the beadboard. I'm going to paint the walls a lighter gray to add a little warmth, and keep the beadboard white (although, if the budget allows, I may paint it a brighter white than its current state). I did find some "Amazing Gray" paint at the recycle center (for free), or I have some leftover "Agreeable Gray" that I could use as well (also free 🙂 ).
Goal 2: Vanity and Medicine Cabinet Makeover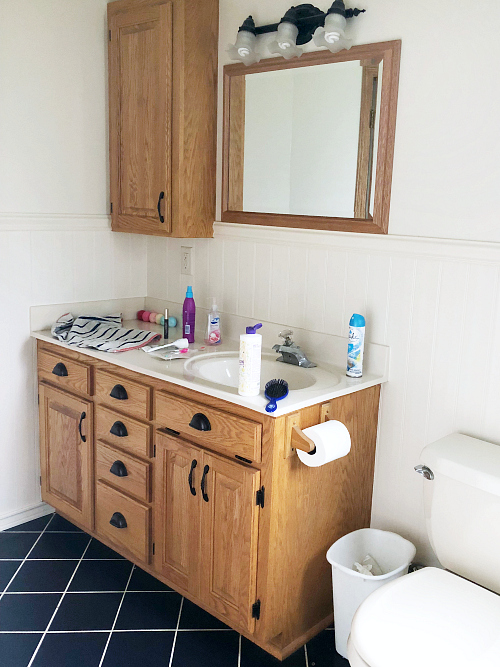 The vanity and medicine cabinet in this room are a dead-giveaway that this house was built in the early 90s. They'll both be getting an update with paint; and while I would love to remove the medicine cabinet all together, we simply can't because it dips down into the chair-rail and beadboard. Shoot. I have almost an entire gallon of "Hale Navy" paint left over from our entry makeover last year, and I think I might just use it… 'cause it's free!
Goal 3: Stencil the Floor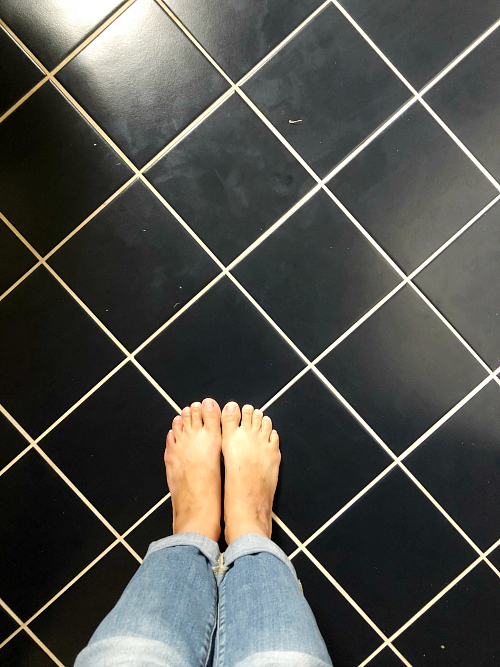 While this image makes it appear as though this floor is black… it's not. It's actually the darkest navy ever. I am not gonna lie, I am freaking out about stenciling because I have never done it, but I have seen others who have, and the results are always stunning. I already have my stencil and can't wait to get started. Fingers crossed this turns out as beautiful in real life as I'm dreaming in my head.
Goal 4: Fix the Shower Issue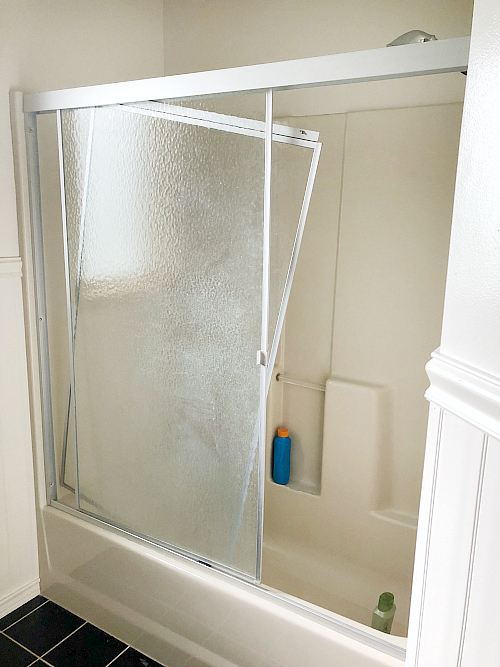 I do not even know what happened here. A couple weeks ago this shower door just broke, and instead of doing anything about it, the kids have been showering upstairs. I'm hoping to remove those doors altogether and buy a shower rod and curtain.
Goal 5: Take Down the Valance
What is with the valance? (You can see it a couple pictures above.) It should have come done the moment we moved in. It's a free fix, and I think I'll probably leave the window alone. It's has a covering so people can't see in. At some point, I would love to add a roman shade, but unless I find one for free, I don't think I'll have the budget this time around.
Goal 6: Update the Light Fixture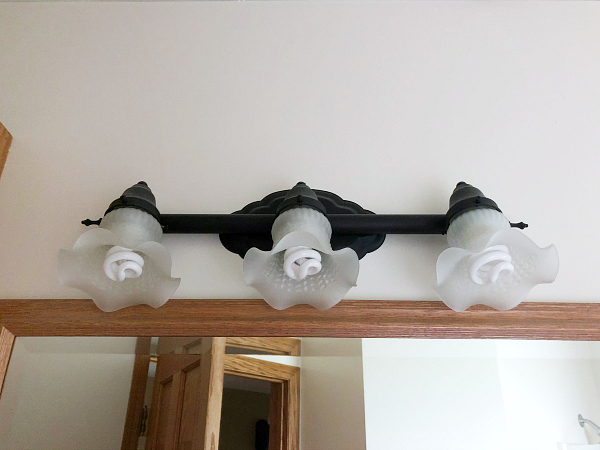 This light fixture??? I mean… First, it needs new bulbs, right? I am sure we have bulbs somewhere around here. Second, it needs new globes. The floral pattern is not my style… at all. That alone would definitely make this light fixture 100x better.
Goal 7: Towel Hooks
Currently there is no place to hang a towel. Zero. Which is probably why my kids' towels always end up on the floor in a soggy heap. A towel rack, or some simple hooks are a must in here.
Goal 8: Update the Mirror Or Buy A New One
I would love to do something with the mirror, like replace it. I am already freaking out about how I'm going to do all this with $100, so I can't image I'll be able to do much about the mirror, but a girl can dream, right?
Check back every Wednesday in September for a progress report on the bathroom, but for now, go and see what other bloggers will be doing this month.
Check Out Other Participants Here
Wanna Jump Ahead?
Week 1 // Week 2 // Week 3 // Week 4