It's reveal day for the $100 Room Challenge! Check out our new $60 Farmhouse Entry Makeover!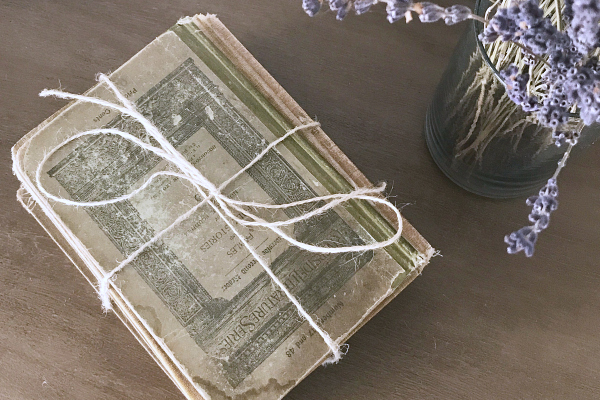 During the month of September, I decided to make over our entry… again. Let's start at the beginning. This was our entry 13 months ago.
It was a little dark and dated, so one year ago, I decided to give it a makeover for the $100 Room Challenge, and I brought it up to this point.
It was so much brighter with the lighter paint on the walls. I also painted the entry table white and the door blue, for a little added color.
Fast forward to the beginning of this month… In July, we redid our living room (again, for the $100 Room Challenge), and one of the things we did was paint. However, the light gray living room clashed with the beige entry, so I decided to take on the entry again… and here it is today!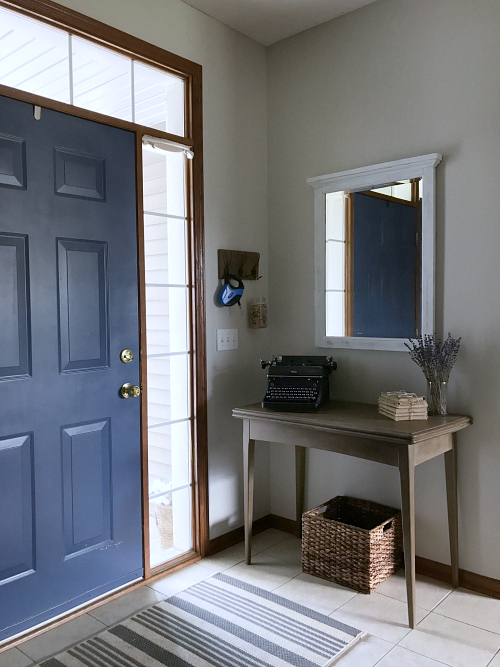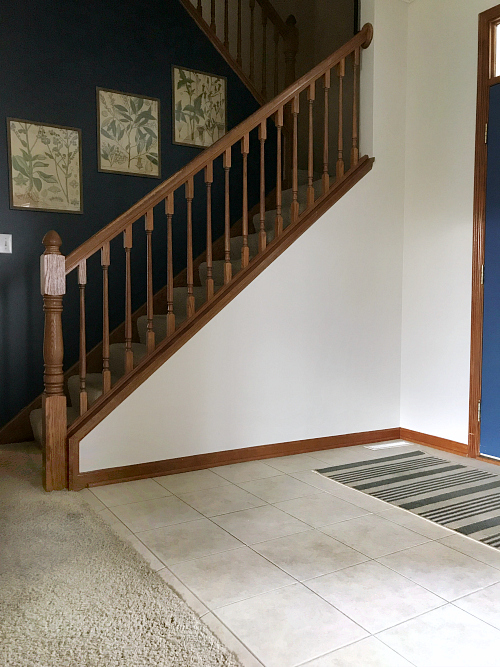 Let's take a look at everything that took place by reviewing my goals from week 1.
Our Farmhouse Entry Makeover
Goal 1: Paint Entry
Obviously, the whole reason I decided to redo this entry space for a second time was to update the paint to match the living room… Here you can see the clash of paint.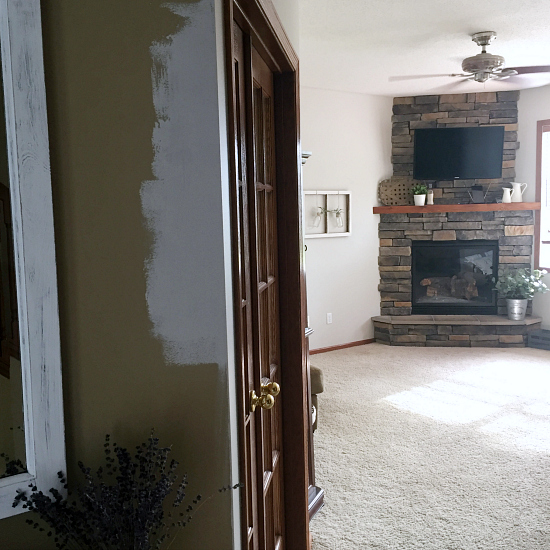 Not only did I want to get these two rooms to work together, I also wanted to add a navy accent wall.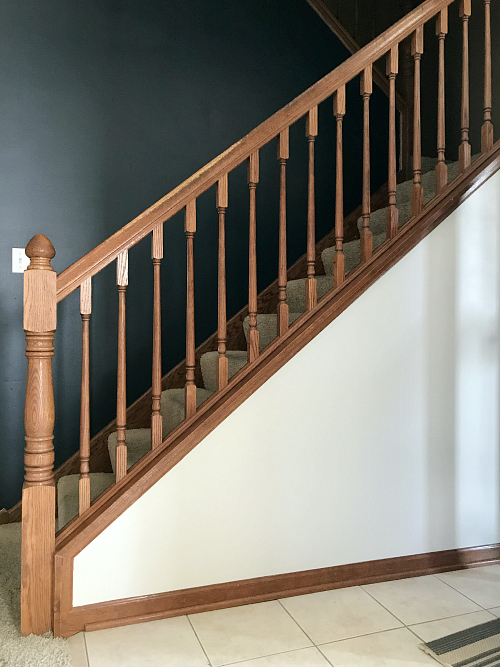 Goal 2: Add Wall Décor to the Entry
That navy wall was looking a little plain, so last week, I shared how I made these 16×20″ prints for less than $10 each.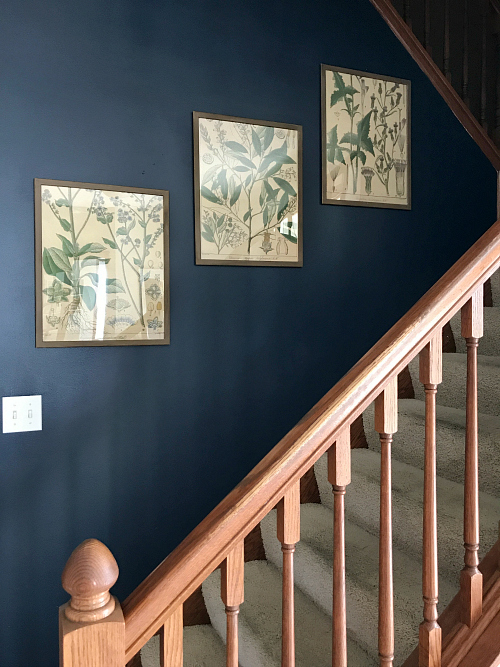 Goal 3: Entry Table Makeover
While the white table was definitely an upgrade from the previous dark (really worn) wood table, the white was getting too dingy with my kids placing everything from dirty shoes to muddy footballs on top of it, so I decided to create a weathered wood look using paint… check out week 2 for details.
Goal 4: Create a Place for Shoes & Dog Stuff
I was able to get only one of these things checked off: dog stuff has a designated spot. I love these rustic farmhouse hooks. I simply screwed them into a piece of wood I painted, and they provided the perfect spot for his leash and treats.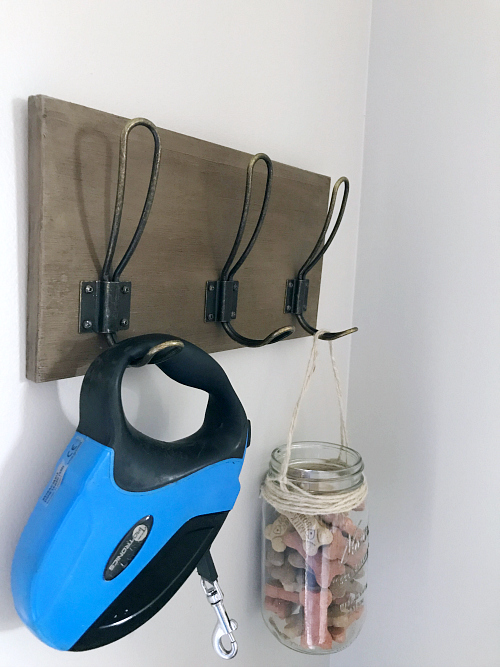 This project gave me a little trouble as the screws that came with the hooks were too long… so, I had to buy shorter screws and spray paint them to match the hooks. Luckily I had a spray paint that matched beautifully. (I would never guess those screws didn't come with the hooks). I had also thought to put a little paw print on it (or something), but then realized this would be a great spot to hang umbrellas, or other little things, so I decided against it.
Shoe storage did not happen. I thought long and hard about how to get shoes off the floor so our dog wouldn't continue to use them as chew toys, but I just couldn't figure out a solution that worked in this space, so for now, we'll use the basket under the table and hope for the best.
Here are a few more pictures of this entry makeover: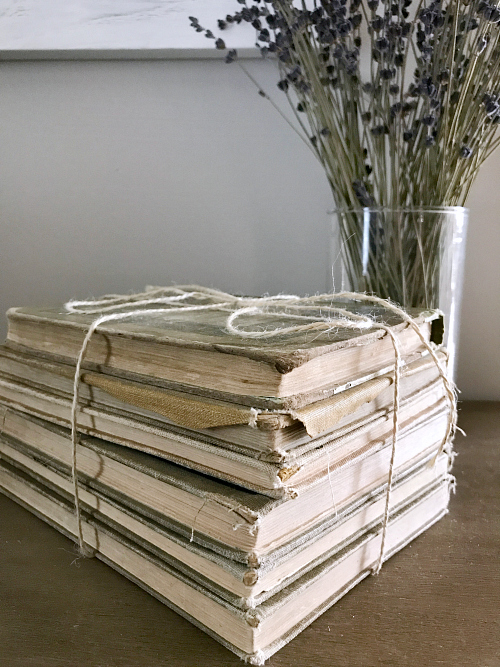 The old books on the entry table are actually my grandfather, and great-grandfather's, reading books from school. One even has my great-grandfather's handwriting, with his name and date (1893) written in it. Priceless.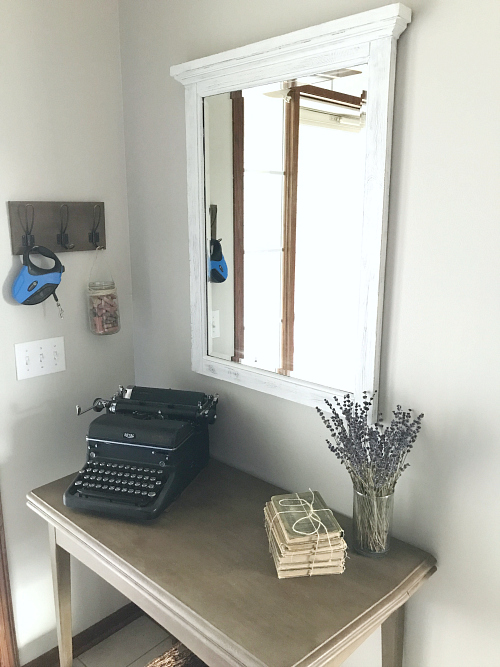 The old typewriter was a vintage find for about $20…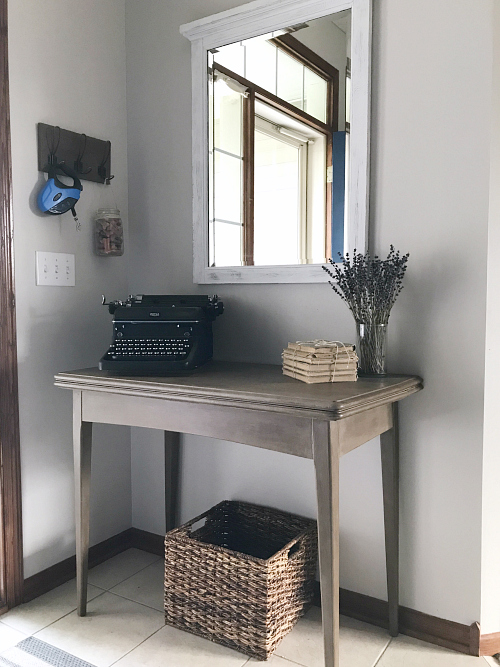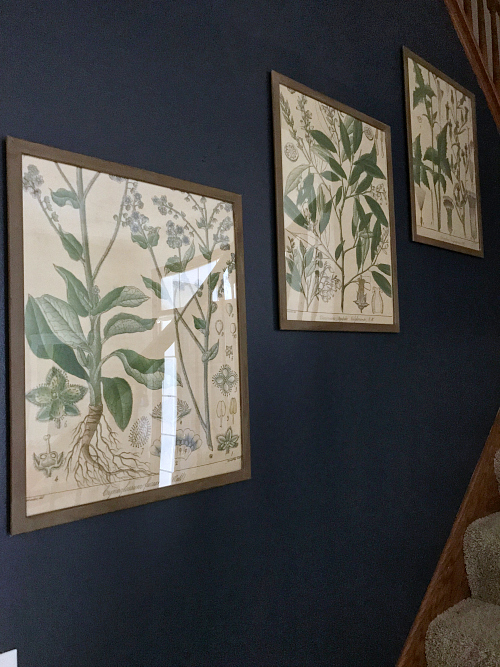 Total Budget
Last week we left off having spent $54.47. Here's what we spent this week.
"Leash & Treat Hanger"- $4.94
Wood- Free (If you caught my Instagram story yesterday, you may have seen that an amazing worker at Home Depot, not only cut some wood for me, he let me have it for free 🙂 )
Paint & Supplies- Free (Already had on hand)
Hooks- Free (These came in a set of 10 and we only needed 5 for a previous project)
D-Rings- $2.58
Screws (2 packs of 8)- $2.36 ($1.18 each)
Total Spent on the Entry= $59.41!!!
Not bad coming in $40.59 under budget!
Make sure to check out all the rooms that were made over with a $100 budget. What people can do with $100 is utterly ah-mazing!
Wanna catch up?
Week 1 // Week 2 // Week 3 // Week 4
Love it? Pin it!