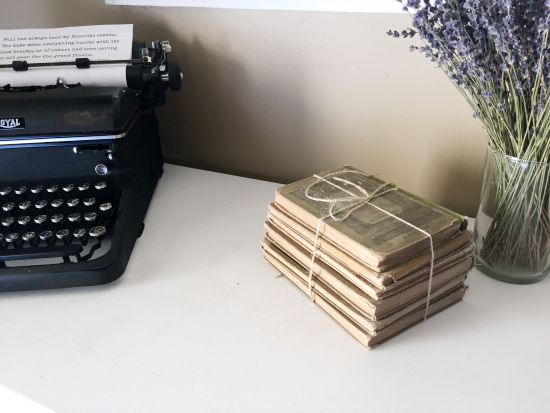 It's reveal day! I love these days so much. Every month I do a $100 Room Challenge, in which I choose one space and do a complete makeover with a $100 budget. This month I chose to makeover our entry. It was so dark, and quite dated. Let's take a look back at where this space started just 3 short weeks ago.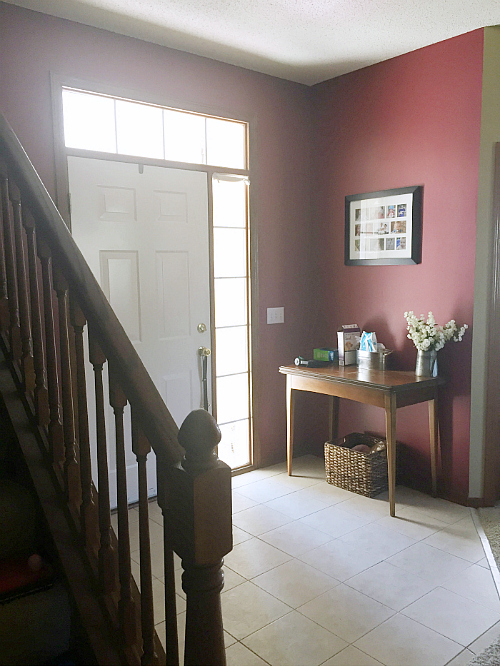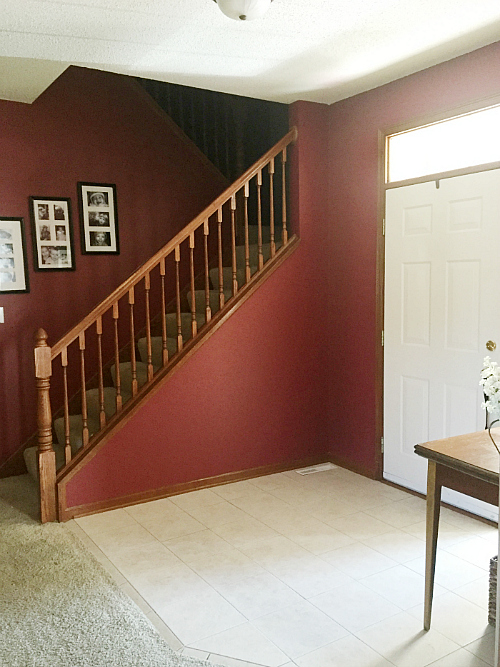 During week one, I created my goals for this space, so let's do a quick review.
Updating An Outdated Entry on A Budget
Goal 1: Goodbye Red Paint
The red paint was creating such a dark space, and I knew it needed a lighter paint color. Sharon took on my space for her Design Dilemma series, and recommended I go with the same paint color that is currently in our living room, and that is exactly what I did.
Goal 2: Paint the Entry Table
As you can see in the images above, the entry table is also very dark. I had a couple items I wanted to display on the table, but I feared they'd blend in with such a dark color. I grabbed my paint brush and some white paint, and got to work. Last week, you were able to see how much a couple coats of paint could completely change up a space.
Goal 3: Wall Décor
I love my family. I really do… but, I was ready for a change in wall décor. Sharon recommended I find myself a mirror to bounce light around. Lucky me, I found one on Facebook for $20. Again, I grabbed a paint brush because the original color blended into the wall. And here's a little glimpse of the mirror today.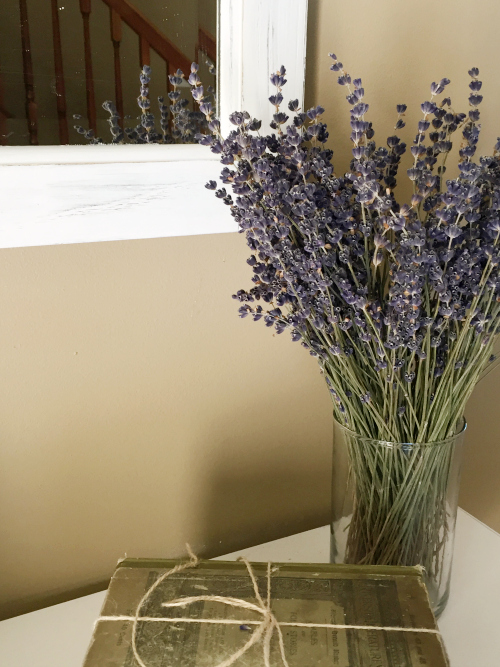 Goal 4: Rug
I knew this space needed a rug. Rugs create a little texture, color, and warmth. Again, Sharon gave me three budget friendly options for rugs, which you can see in week 2. I picked out the one with stripes, and I love it.
Goal 5: Accessories
Luckily, I already had some accessories on hand; they were what made me want to makeover my entry in the first place. If you notice in the "before images" above, there's a box of dog treats, a tin with dog supplies, and a leash… certainly welcoming if your a dog, but I wanted to create some interest on the table with an old vintage typewriter and some books that belonged to my grandfather and great-grandfather.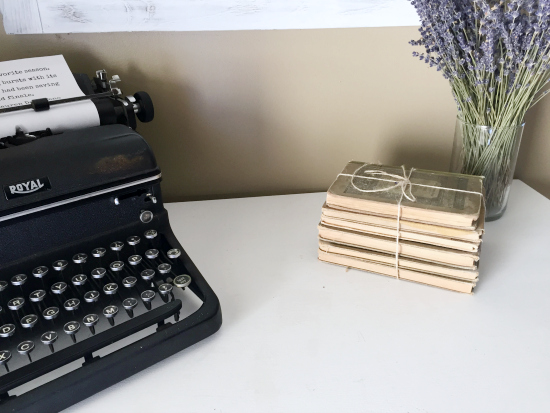 Last week, I posed the idea of painting the inside of the door. After affirmation from a few of you, I went for it, and I am so happy I did. I absolutely love it. The white door with the beige paint just looked a little too bland. The blue door adds a dose of color. Perfect.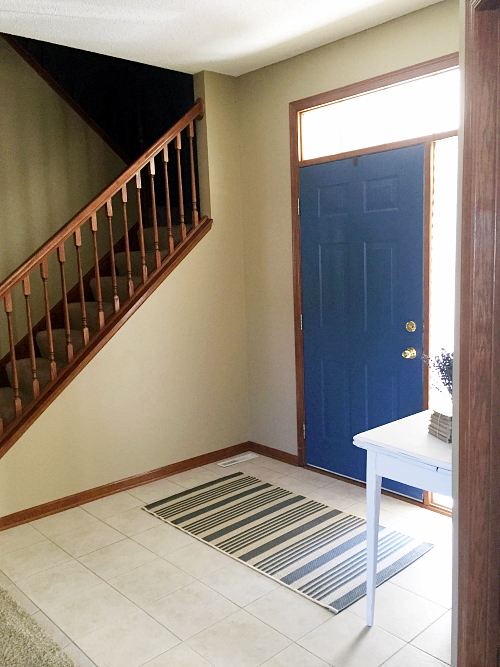 Here are a few more images of the current entry: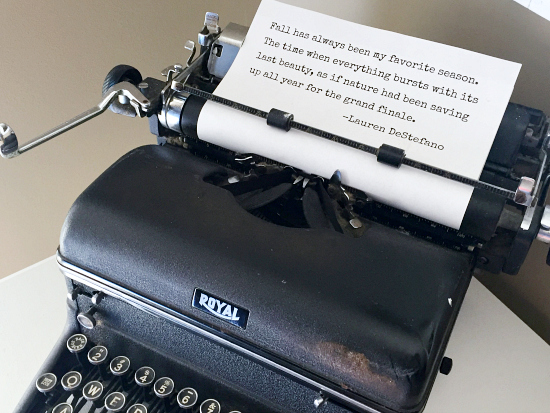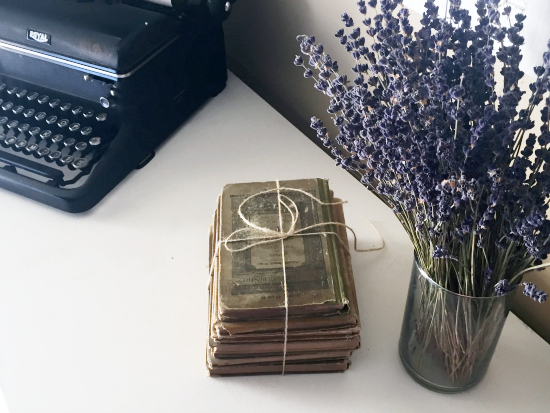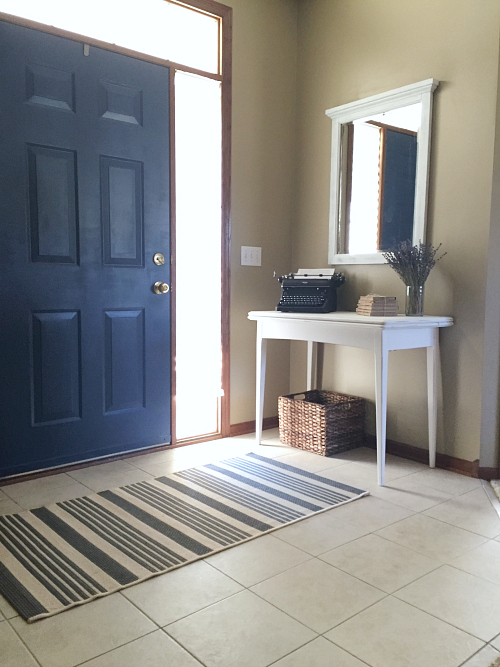 And who doesn't love a few before and afters?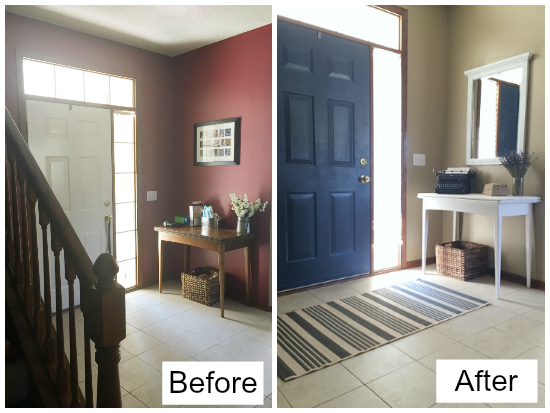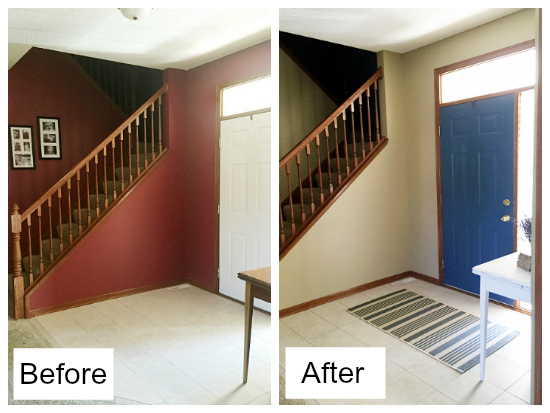 The Budget
When we left off last week, I had spent a total of $93.72. This week I didn't really have much to buy, as matter a fact, I actually "made money" this week. Here's what I bought…
1 Quart Paint for the Door– $15.28
But here's where the budget gets a little interesting. While picking up my paint, and a few other supplies at Home Depot, they told me if I opened a line of credit, I would receive $25 off my purchase that day, and another $25 off on a future purchase, so technically, my paint was free, plus some 🙂 I'm not sure whether that technically counts, but I think it's fair.
Total Spent $109.00 – $25 Credit= $84.00
(If you consider the $25 Credit a bit of a "cheat" then the total was $109.00, which still seems like a pretty good deal to me.)
That's all for this entry makeover.
Wanna Catch Up?
Week 1 // Week 2 // Week 3 // Week 4
Love it? Pin it!