This post on cleaning stainless steel appliances has been sponsored by Casabella. All opinions are 100% my own.
Many people (myself included) love the look of stainless steel, but it is notorious for displaying fingerprints and smudges. When we got our first stainless steel appliance, I was determined to figure out a way to clean it, and it is so easy! Let's take a look at how to really clean stainless steel.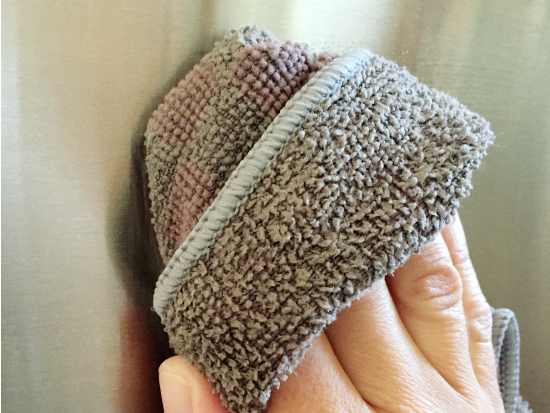 I am pumped! We just got ourselves a brand new, stainless steel dishwasher! Our old one was no longer cleaning our dishes: Fifty percent of the time, the soap didn't dissolve, so we were left with a hard clump in the dispenser, the brackets that held the racks in place kept breaking… and if none of that sounds like reason enough to be annoyed, it was also growing weird, slime-y orange stuff inside. (Totally gross!)
After ranting for years ('cause that's always helpful), my husband calls and asks if I'm ready to bring home a new dishwasher. (Ummm… Let me think on that…) He had found a high-quality, name-brand dishwasher, on sale, because it had been the floor model. Since we are not fans of our current creamy-colored appliances, we went with stainless steel.
I cannot tell you the number of times I have been asked about cleaning stainless steel, but I never had the answer because I didn't have any stainless steel to work with. Now that I actually have some, I was ready to figure out the best way to keep it clean.
What You Need to Clean Stainless Steel
Affiliate links may be used. Please see our advertising disclosure for more information.
Clean, Dry, Lint-Free Cloth (I used a clean Dish Towel)
If you've been around this blog at all then you know I try to steer clear of store-bought cleaning products as much as possible. When I discovered that Casabella made a microfiber cloth specifically for stainless steel, I was excited to give it a try because all that is required is water… no harmful chemicals 🙂
How to Clean Stainless Steel Appliances
Stainless Steel is notorious for attracting fingerprints, but this cloth cleans them right up. Simply add water to the cloth, wring it out, and wipe down the stainless steel. When it comes to stainless steel, make sure you are wiping with the grain.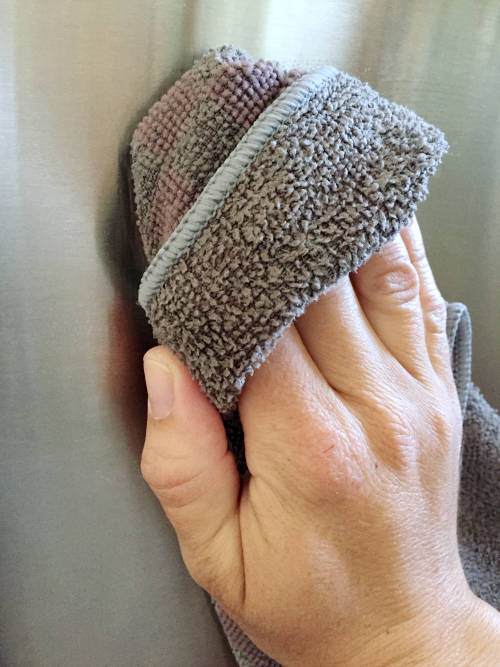 You do not want water drying onto the stainless steel because this will create watermarks. Instead, grab a clean towel, or cloth, and dry it off; again, wiping with the grain.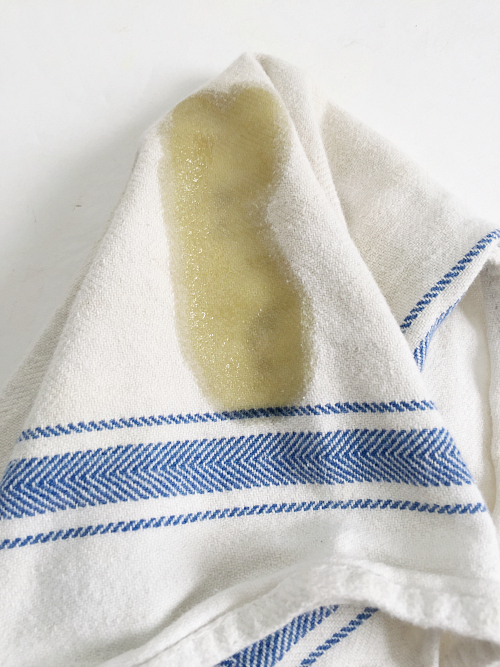 To polish up the stainless steel, and prevent immediate fingerprints from taking over your appliance again, add a little olive oil to your dry towel/cloth and wipe it onto your appliance. (With the grain 🙂 ). Please note: You are not smothering your appliance in olive oil, this should be a minimal amount. Once you've covered the whole appliance, go back over it with your dry towel (not the part with olive oil), and buff your appliance (Say it with me… "With the grain.")
Let's take a look at where this stainless steel dishwasher started, shall we?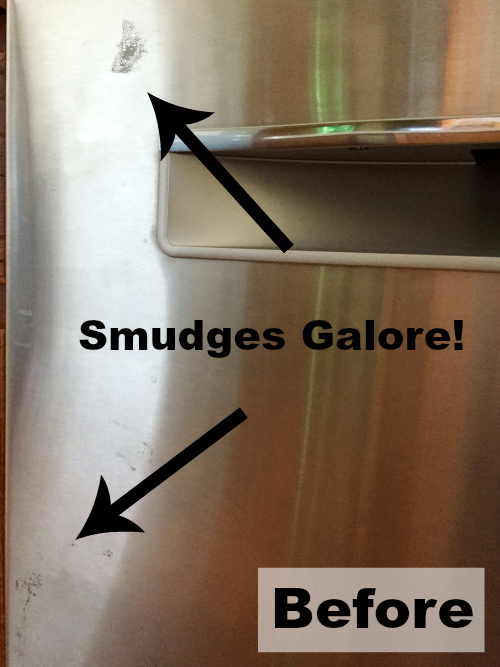 … and now…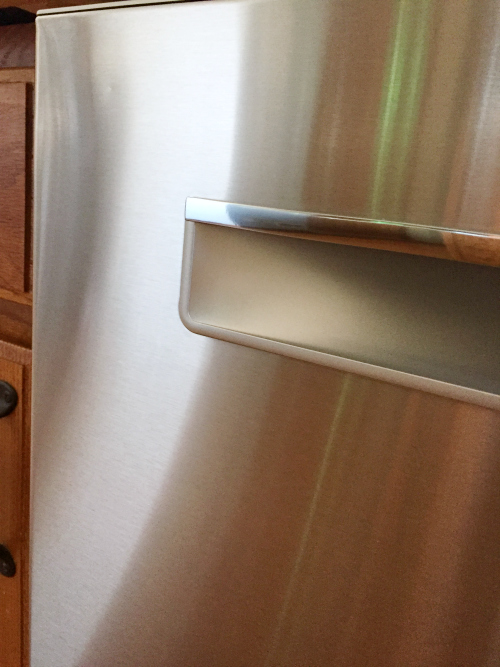 So much better, right???
Love it? Pin it!