It's baaaaaaack! Today begins another round of the $100 Room Challenge! If you are new to the challenge, let me take one quick second to explain what it's all about… Basically, you get one month and $100 to completely transform one space in your home. This month I'll be taking on our entry nook, and today I'm sharing all my budget-friendly ideas for this entry space.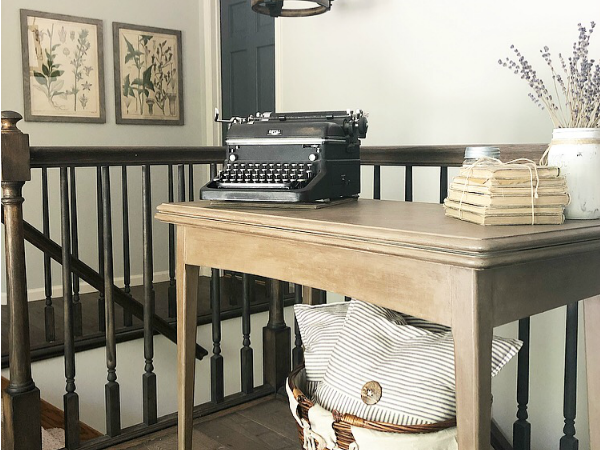 It is week 1 of the $100 Room Challenge, and I could not be more excited. This challenge began exactly five years ago. At that time, I had no clue this challenge would be featured on television, in-print magazines, and various online sites. Each round welcomes dozens of bloggers, sharing their incredible creativity, as they take on one space in their own homes. To see just how far $100 can go, check out some of my favorite $100 room makeovers from years past.
Favorites (2017) // Favorites (2018) // Favorites (2019) // Favorites (2020)
So… let's take a look at where this entry nook (as I'm calling it) is starting…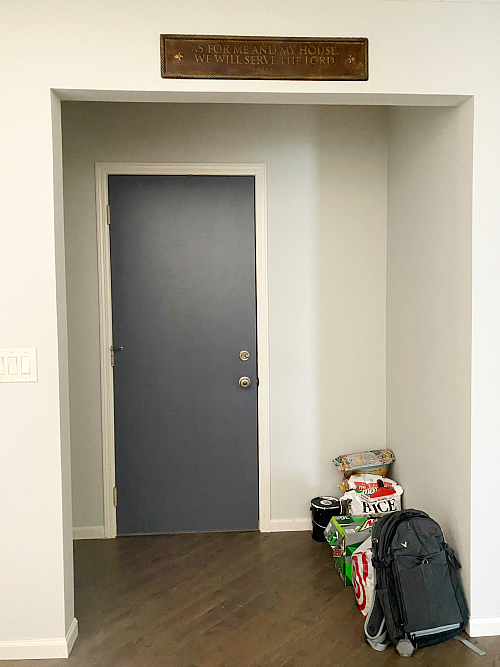 Can we say bor-i-n-g?
This space is where we enter from the garage and it has been like this since we moved in a few years ago. (We have apparently decided to make this a Costco drop-zone for oversized bags of rice and tortilla chips 🙂 ) Here is how that nook sits within the rest of our entry.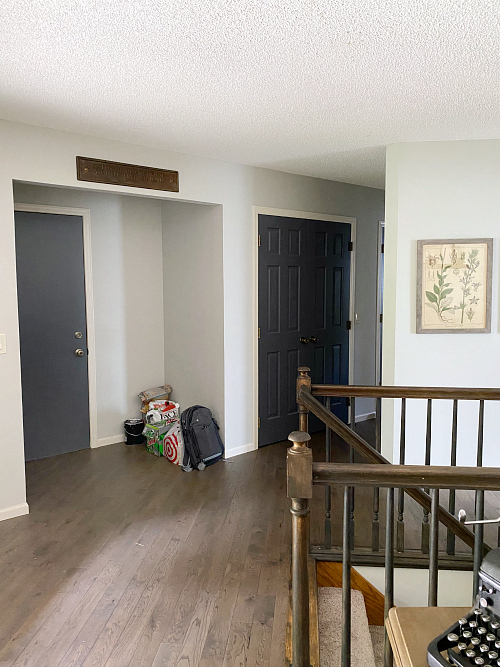 Let me share my budget-friendly ideas for this entry, along with some inspiration!
Budget Friendly Ideas For An Entry
Goal 1: Shiplap
I have loved shiplap since it first became popular years ago (thank you Joanna Gaines), but I have never actually had it in my house. I realize this is probably a passing trend (maybe it has already passed, I don't know), but I love the way shiplap brings texture to a space, and if I decide I don't love it in a few years, I can always take it down.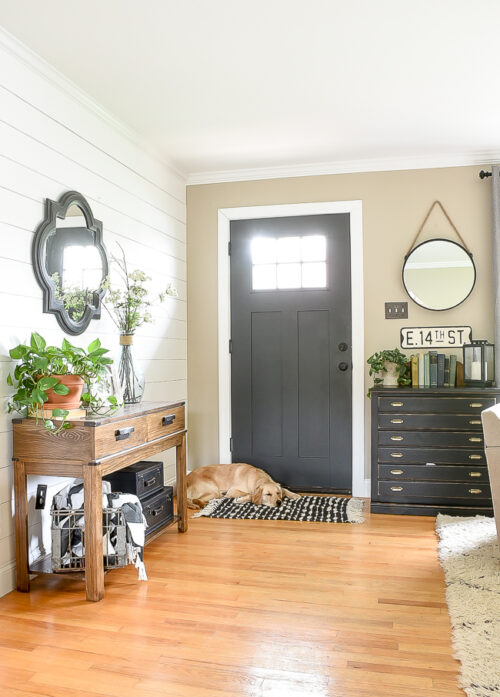 Shiplap Entry Inspiration from Little House of Four
My husband and I have lots of experience with shiplap, as we decided to shiplap our entire barn last fall. The process is actually quite easy, and we'll share how we do it in the upcoming weeks.
Goal 2: Add A Small Console Table
Adding a small table is going to be our biggest challenge on such a tight budget. My hope is that we can make one using the stash of wood out in our garage. (A few years ago, my husband and I purchased an entire shed full of old wood at an auction… for $10.) Below is what I'm using for inspiration.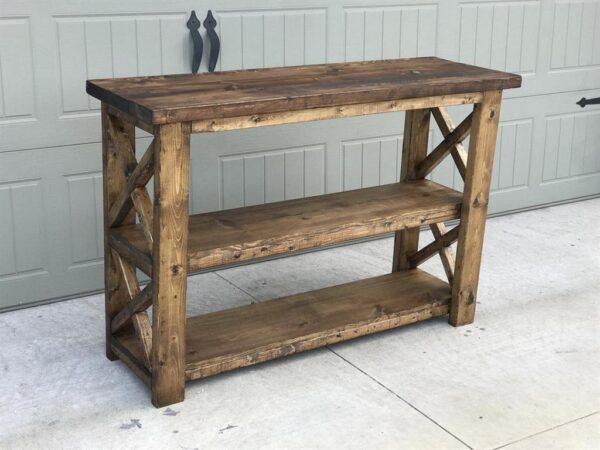 Console Table (with provided instructions) via Handmade Haven
I have also been shopping our local online garage sales to see if anything pops up. The biggest challenge with purchasing a console table is size; this space cannot accommodate anything too deep or wide.
Goal 3: Wall Décor
Once the shiplap goes up, I want to add a mirror above the table and framed prints to the right of the door. I already bought the mirror at IKEA this past weekend; and for the framed prints, I'll check what frames I already have and hopefully find some free prints online. Loving this one for fall…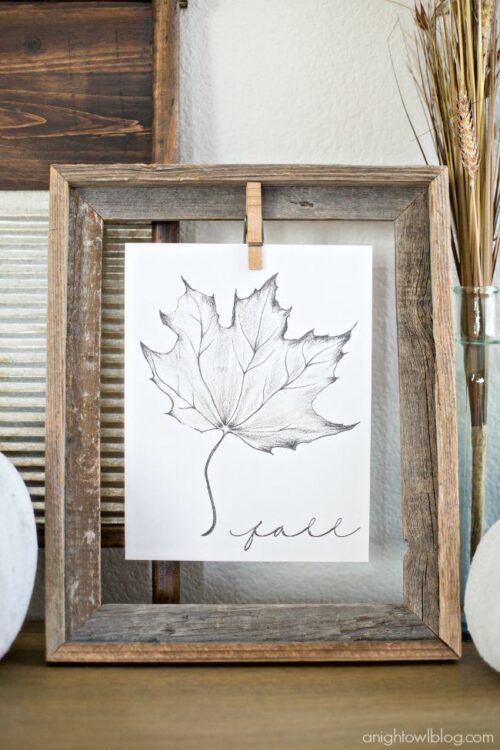 Image (and the free printable) via A Night Owl Blog
Goal 4: Spruce Up the Door
I am going to keep my fingers crossed that our budget will allow for a rug, because we need one in this space. I'd also love to find a wreath to hang on the door, just to add a little warmth to the space… or maybe there's something else I can come up with to spruce up the door leading out to the garage? Maybe something like these wooden tags?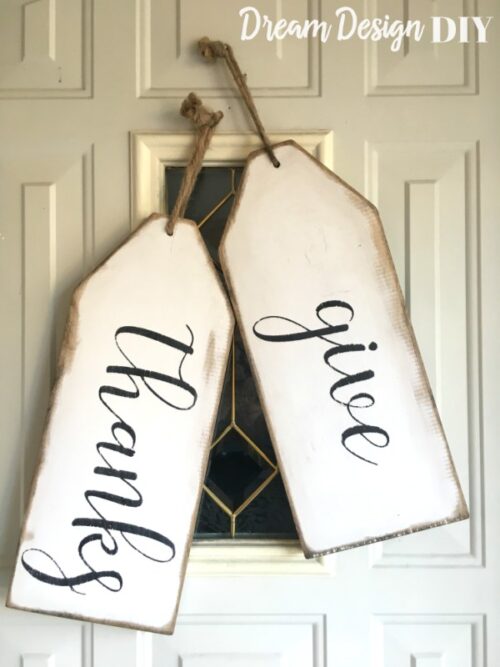 DIY Wooden Tags via Dream Design DIY
Let me know if you have any ideas.
Goal 5: Light Fixture
Again, the tight budget may not allow for it, but I would love to change out the light fixture… or maybe just spray paint the base? We shall see. Something like this one we had in our office.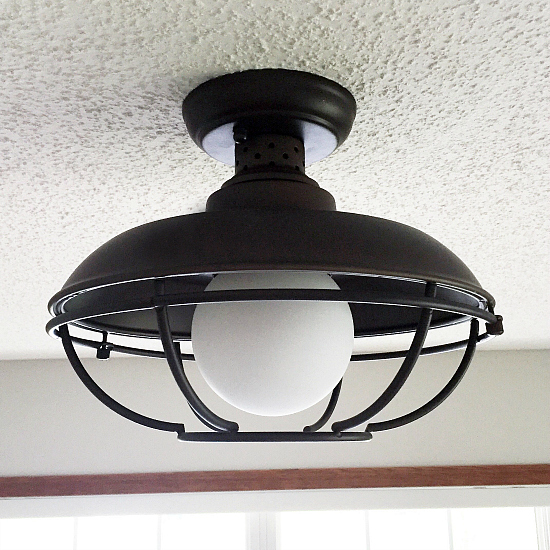 I think that's about it for goals… I am so ready to get started!
To see even more entry inspiration, check out my Pinterest board here.
Make sure you check out what the other participates are doing!
Check Out Other Participants Here
Wanna Jump Ahead?