Another round of the $100 Room Challenge starts today, and I couldn't be more excited. This month I am taking on our laundry room. Let's take a look at some goals for the space; and how I plan to create a budget friendly laundry room.
This is not my first time working on a laundry room with a $100 budget. In our previous home, we redid our laundry room for $85, and it made a world of difference.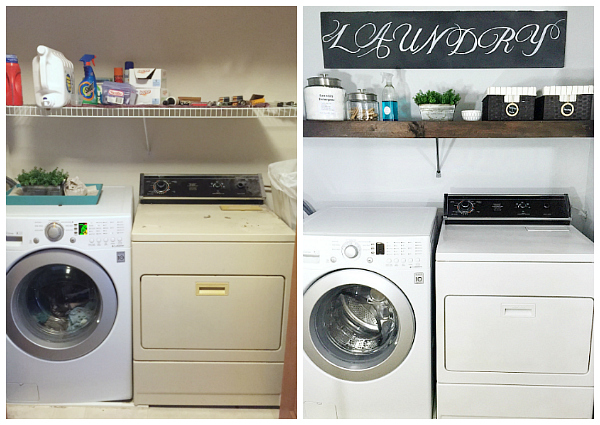 Now let's take a look at the current space…
Disclaimer: When I take "before pictures", I take them of the room's current state. I don't clean. I don't move stuff around. I just snap photos.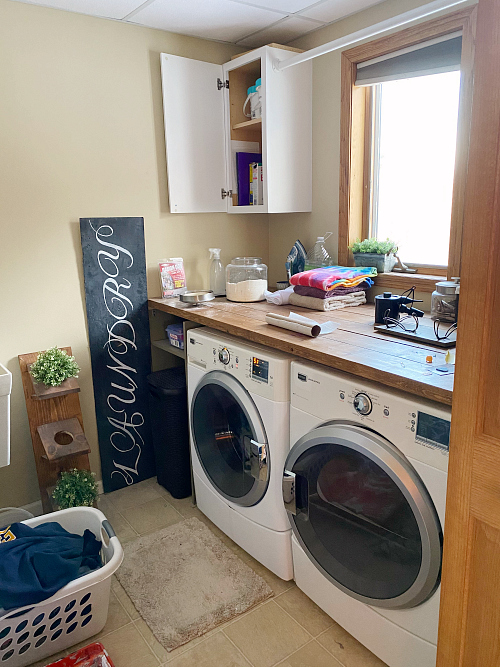 Budget Friendly Laundry Room Ideas
There's a lot I like about our laundry room. I love the wood counter over the washer and dryer. I love the cabinets for storage. I love that there's space to hang clothes to dry… but there are definitely a few things I'd like to do to make this space even better. Let me start with this inspiration picture I ripped out of my Magnolia Journal magazine.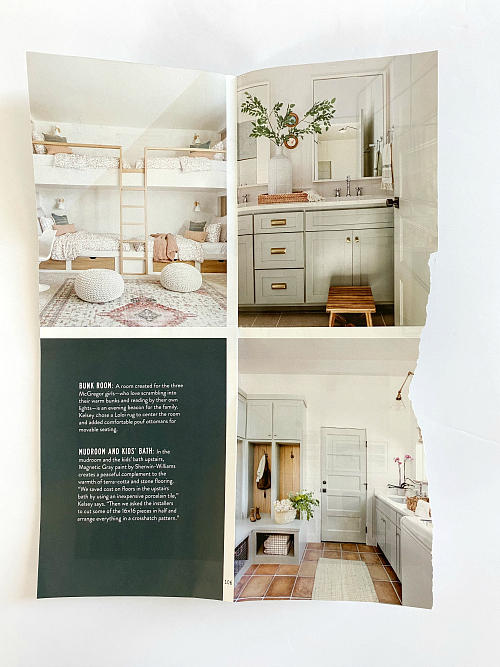 And for a close-up…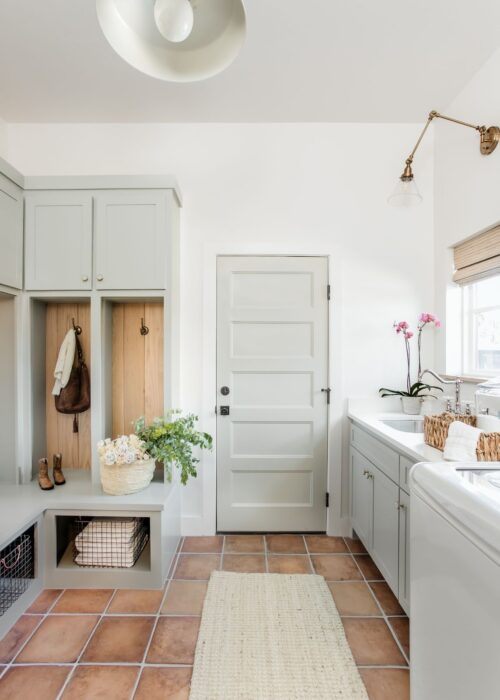 Image via Kelsey Leigh Design Co. (You can find her Instagram here) // Photographer: Emily Hart
I realize this is a mudroom, but the moment I saw it, I knew this was the look I wanted. I love the soft color palette. It's soothing and clean. Perfect for this space. With these images in mind, here are my budget friendly ideas for the laundry room.
Goal 1: Paint
I'm pretty sure every room I make over involves paint. It is the cheapest way to update a space. Luckily, Magnolia Journal shared the exact paint colors used for my "inspiration".
Walls: Sherwin Williams Marshmallow
Cabinets: Sherwin Williams Magnetic Gray
I'll grab some paint swatches to make sure the colors look good in our laundry room as what is portrayed in a magazine may not look the same in my space. (For tips on choosing the perfect paint color, make sure to check out this post.)
Goal 2: Fix Drywall
Long story short. We had a faucet head break off, which spewed water all over our laundry room for hours until it was discovered by my son. The drywall around the faucets was soaked, so we cut out the damaged section and never replaced it.
We scored some free drywall from Facebook Marketplace when we redid our main bathroom, so I'm hoping that will work in here as well.
Goal 3: Create A Surround for the Utility Sink
I think utility sinks are an eye-sore.
I'd love to create a faux surround to make it look more pleasing to the eye. While the following ideas aren't exactly what I have in mind, you can catch my vision.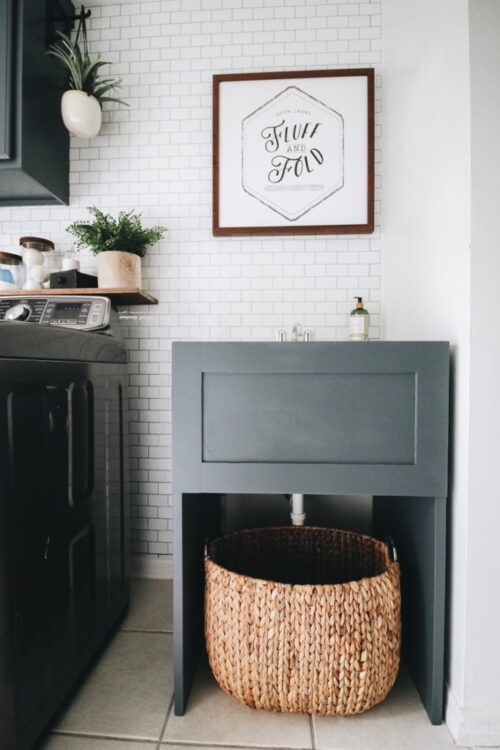 Image via Within the Grove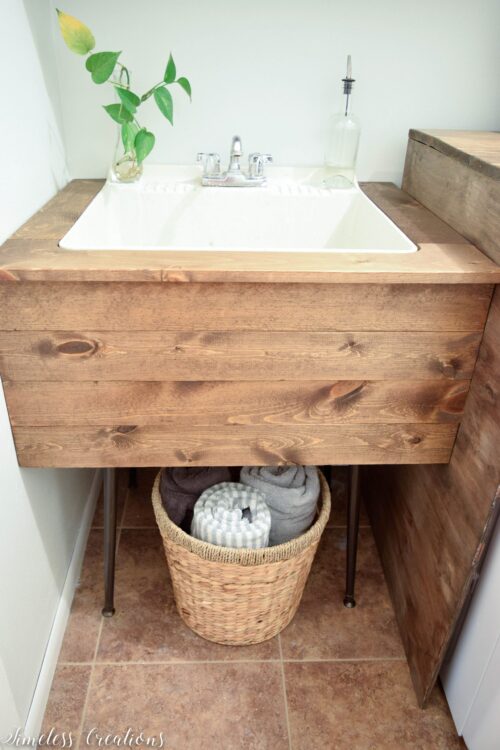 Image via Timeless Creations (This was actually done for the $100 Room Challenge!)
Goal 4: Add Wall Décor
I have done nothing with the walls in the space, and they need a little something. I haven't quite figured out what I'm going to do yet, but I'm sure I'll think of something 🙂
Goal 5: Remove Ironing Supplies
While an ironing board and iron seem fitting in a laundry room, I never iron downstairs, which is where our laundry room is located. I always haul everything upstairs so I can watch TV (because, let's face it, ironing is a really boring chore). Because of this, I will re-locate all the ironing supplies upstairs to a more suitable location.
Wanna Jump Ahead?
Week 1 // Week 2 // Week 3 // Week 4
I am not the only one taking on a room with a $100 budget. Be sure to check out what the other participants are up to in their homes. So much inspiration to be found! You can also find the challenge on Instagram, using the hashtag #100roomchallenge.
Check Out Other Participants Here