I love this day so much! Reveal day! If you have been following along with this month's $100 Room Challenge, then you know I have been working on our (very) outdated bathroom. Honestly, I didn't know if I was going to be able to do everything on my list for $100. This is a huge bathroom that needed so much work… let's see how we did with this modern farmhouse bathroom makeover.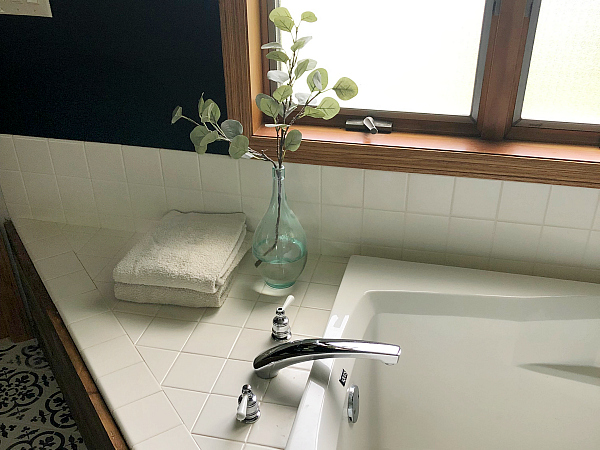 I'm calling this bathroom makeover "Go Bold or Go Home". I did something in this space that I have loved seeing in so many rooms, but was terrified to try in my own home. Black walls anyone?
As always, let's take a look at where this room started.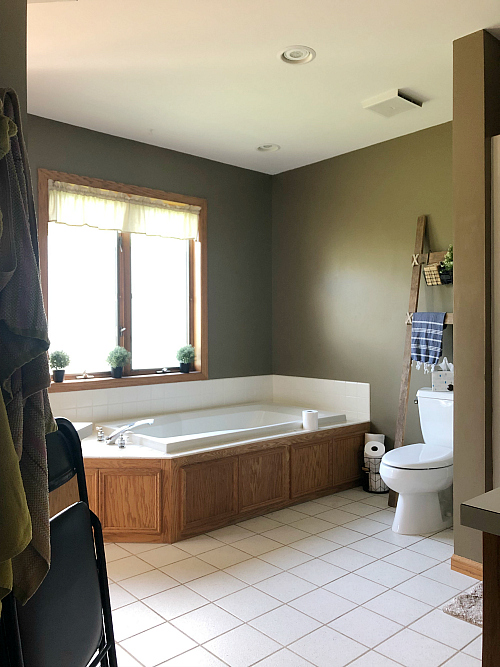 As if the oak paneled tub wasn't enough, we also had two vanities and two medicines cabinets to match.


I had a long list of "to do's" for this space, but before we get into all that, you wanna see what it looks like now?
Here you go…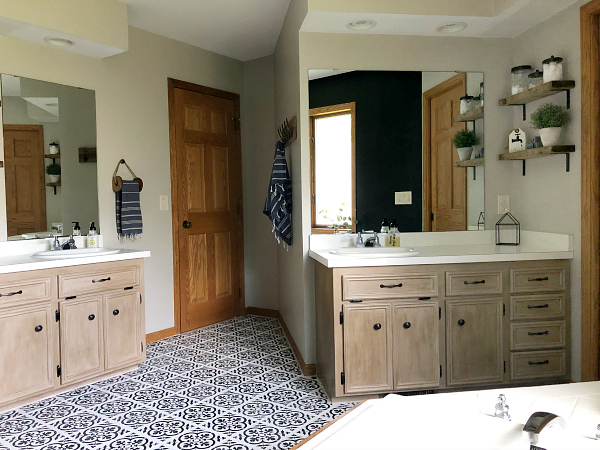 Isn't it crazy what 3 weeks and $100 can do in a space?
Now, let's see how we got there… Looking back at week 1, here were my goals (and how I accomplished them).
Goals for Our Modern Farmhouse Bathroom Makeover
Goal #1: Paint… Everything
I wanted almost every inch of this space to be painted… literally.
Walls: Remember my motto of "Go Bold or Go Home"? Well… the walls were my "go bold" moment. I wanted to try two black accent walls, but my husband was so hesitant that I started to question myself. I even asked for people to vote on Instagram, and only 6 people voted black. Everyone else wanted me to go dark blue… but there was something in my gut that knew I had to do it… so I did. Black accent wall it is.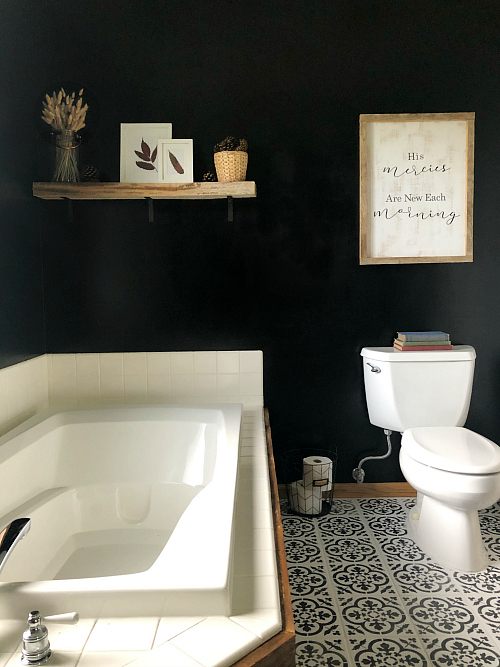 I have zero regrets. I love it! It ended up working so well with the white tile surround on the tub.
The rest of the walls were painted in Worldly Gray by Sherwin Williams. I knew I wanted a light gray or white, and when you're on a budget, you take what you can get for cheap. I had two gallons of Worldly Gray sitting in my basement, so that's what went on the walls.
Vanities: I have had my fair share of painting oak vanities. I painted one in our old house using a satin enamel paint; and last year, I painted our basement bathroom vanity with leftover latex paint… This time, however, I tried something new and used chalk paint and wax to get a weathered wood look. (You can find the full tutorial for this technique here.)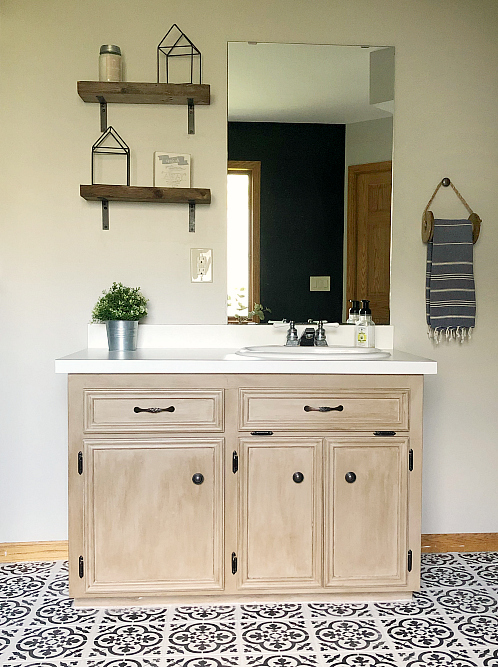 This project was definitely the longest because I had to hide the oak grain in order to be successful. If I didn't, all the dark wax would get into the grain, which I don't think would have looked all that great. Last week, I wrote about the process of hiding the wood grain (which was a game-changer and totally worth the effort). You can find the tutorial here.
Tub Surround: Honestly, I thought I was going to do the "weathered wood look" on the tub surround as well, but after sanding for 142 hours, I was dreading having to do more… Along comes my husband with the most brilliant idea. We took off the panels and wrapped the tub with barn wood we had out in our garage. I cannot take any credit for this project. I literally took my son to his football game with the oak paneling intact, and when I got home, it looked like this…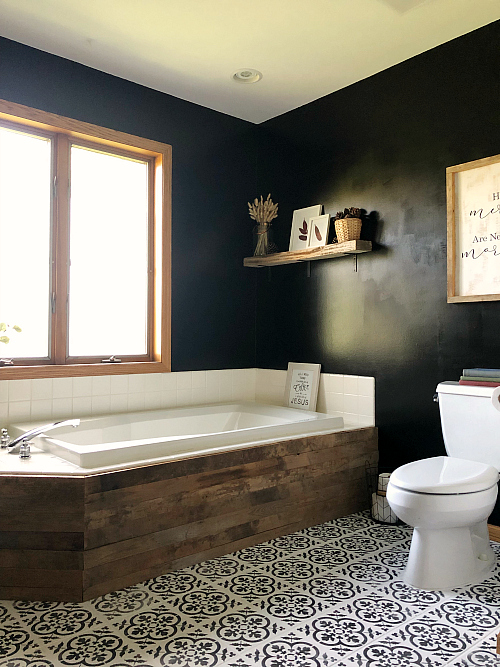 You can find the tutorial for this tub surround makeover here.
Floor: The last thing that needed paint was the floor. I knew I was going to grab the same stencil I used in our downstairs bathroom, and go for it. If you are interested in the how-to, you can find the tutorial here.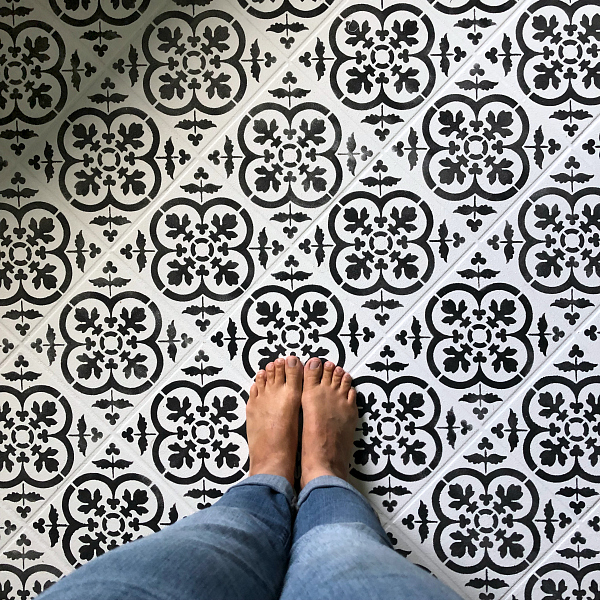 Don't judge the feet. They have been working very hard these past few weeks and could use a pedicure 🙂
Goal #2: Goodbye Medicine Cabinets. Hello Open Shelving.
Call me weird, but I don't like the look of medicine cabinets. I understand they are a great way to store unsightly items behind closed doors, but I just don't love them… so we took them down. Both of them. The first one went well; the second, not so much. We found a huge hole had been cut out of the sheetrock behind the cabinet. Once again, husband to the rescue. Not only did he find us free sheetrock on Facebook Marketplace, but he also fixed the hole. (Round of applause for husbands!) In place of the medicine cabinets, I hung open shelves. The wood was already in our garage, and I spray painted some corner braces (in Oil Rubbed Bronze) to use as shelf brackets. (Corner braces are less than $2 each, which helps with the budget).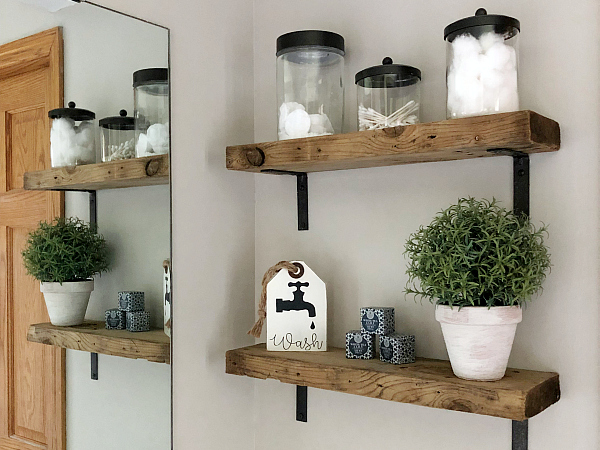 Goal #3: Mirrors and Wall Décor
Okay… the mirrors didn't happen. I tried a couple ideas, but in the end decided to just keep them for now. I did, however, make a farmhouse style sign for above the toilet… at the cost of free. You can find a tutorial on making these farmhouse signs here.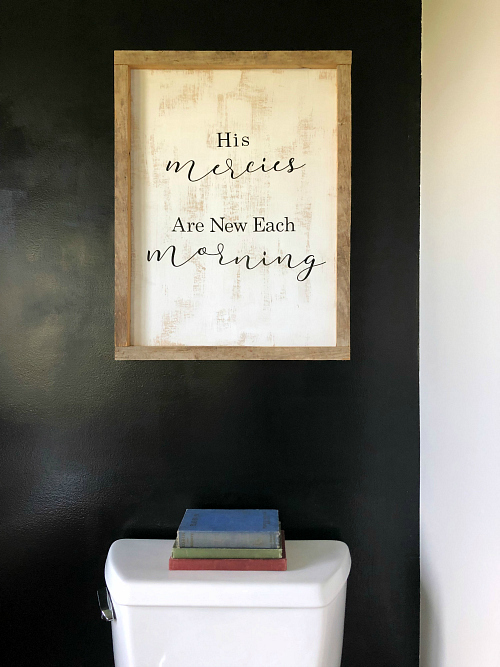 Goal #4: It's the Little Things
I took down the valance. I bought a new toilet paper holder. I did not cover the counters with contact paper. I actually bought a roll of "Marble Contact Paper" at Target for $6, but it looked like $6 marble. In other words, it looked so fake (even in the wrapper) than I returned it and decided to do this project outside of the challenge, using a higher quality (more realistic looking) marble contact paper like I found on Amazon.
I did, however, end up making a new towel rack, which wasn't in the original plan, and I absolutely love it. You can find that tutorial here.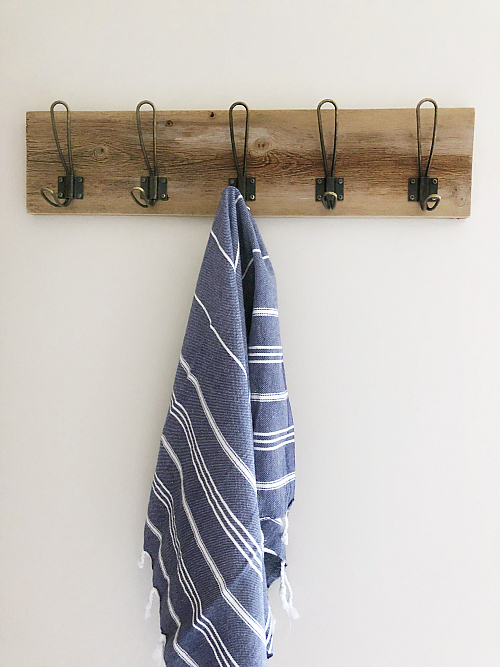 I always love seeing before and afters, so here are a few for you…
Before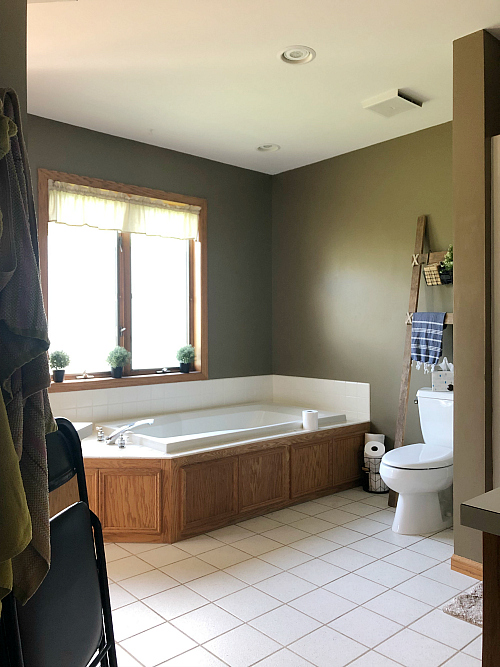 After
Before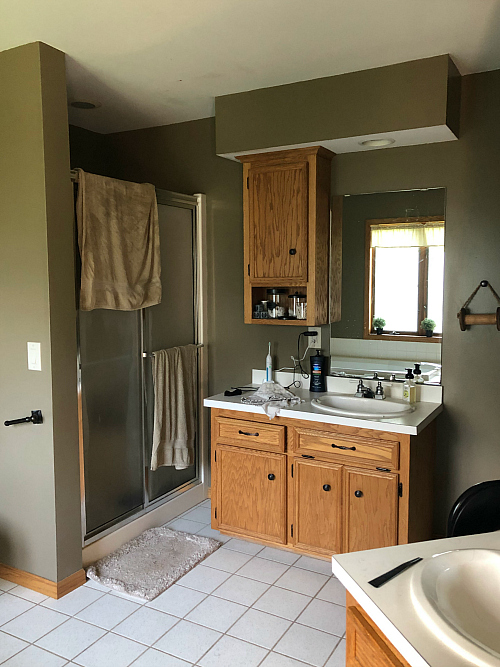 After
Before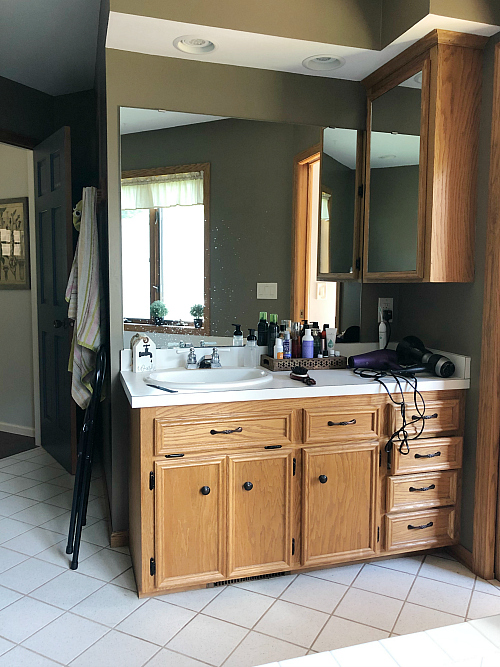 After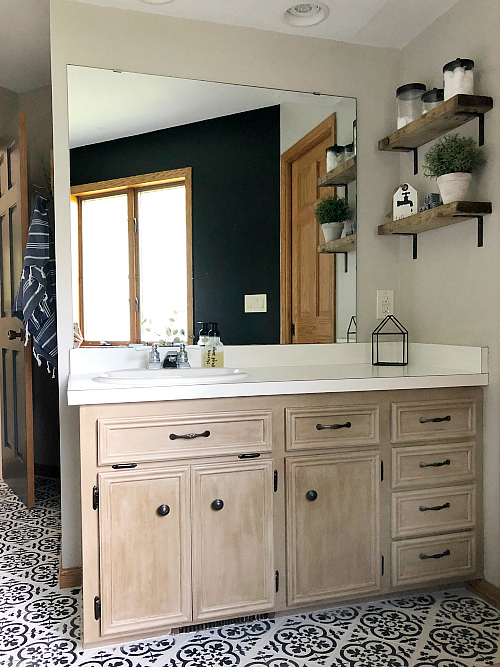 That's it… our $100 Modern Farmhouse Bathroom Makeover!
So… How About the Budget?
Last week, I had spent $25.76… Don't worry, I used a whole lot more this week 🙂
Open Shelving: $37.38
Stenciled Floor- $27.96
Stencil– FREE (Already had from our other bathroom makeover)
White Floor Paint- $13.98 (While I still had some of the white floor paint leftover, it wasn't enough to cover the floor with two coats)
Black Floor Paint- $13.98
Supplies (Foam Roller, etc)- FREE (Already had on hand)
Farmhouse Sign- FREE
I already had everything I needed for this project… good thing 🙂
Toilet Paper Holder- $3.99
Another Paint Roller- $3.42 (for the accent wall)
Décor Used on Open Shelves- FREE
I simply shopped my house, and looked through bins in the basement until I had things I could use to style the shelves. I did, however, grab a few fall leaves outside to add to some white frames I already had.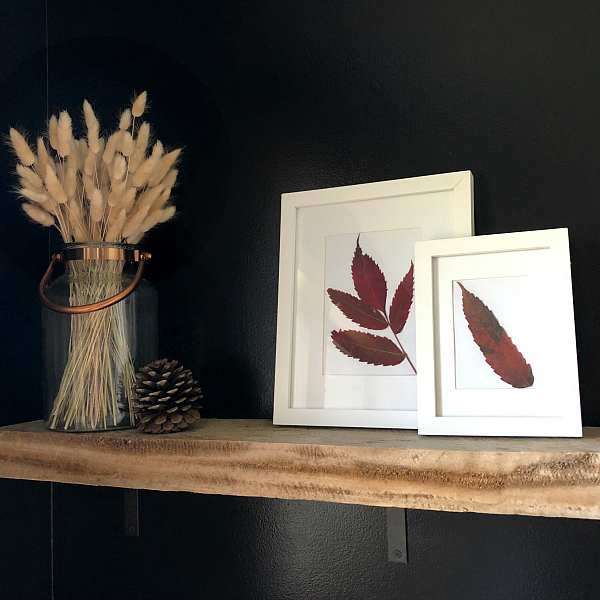 Total Cost: $98.51
Wanna Catch Up?
Week 1 // Week 2 // Week 3 // Week 4
Make sure to check out all the other reveals from those that participated in this month's $100 Room Challenge!
Love it? Pin it!