It's reveal week for the $100 Room Challenge. Myself, along with a dozen (+) other bloggers took on one space in our homes this month. Our goal was to give each space a major transformation without spending more than $100. May I present our $100 Laundry Room Makeover…
We always have to start with a before shot, right? This is what our laundry room looked like just 3 short weeks ago.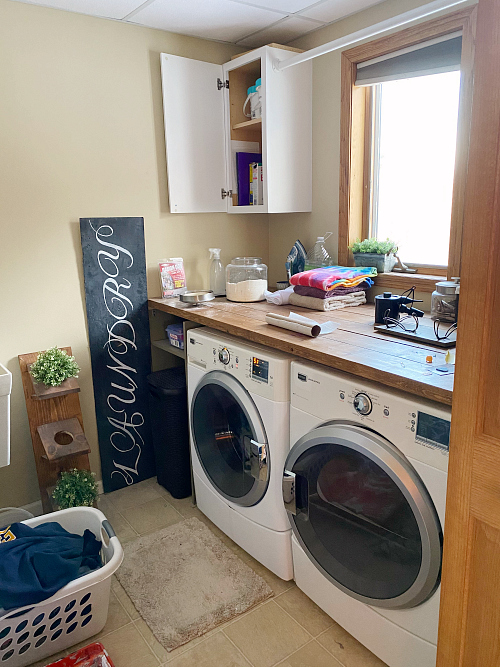 As I mentioned in week 1, there was a lot I loved about this space. First, it is an actual laundry room. In our old house, it was simply a laundry closet. I also love the big wood counter… that is apparently there to hold everything from empty paper towel rolls to radon testing kits.
So… let's take a look at what this laundry room looks like today, and then I'll walk you through what took place to get us from the "before" to the "after".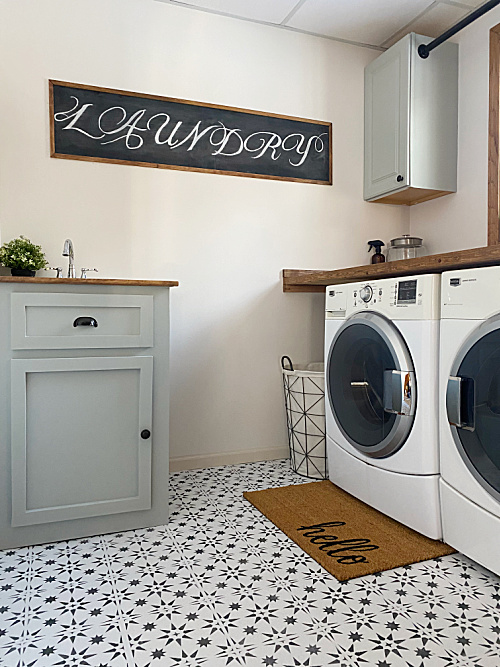 Can you even believe that's the same room?!
During week 1, I always talk about my goals for the space, so let's take a look at what we accomplished in here (along with a few things I decided to do along the way 🙂 ).
$100 Laundry Room Makeover
Goal 1: Paint
I had an inspiration picture, as you might recall.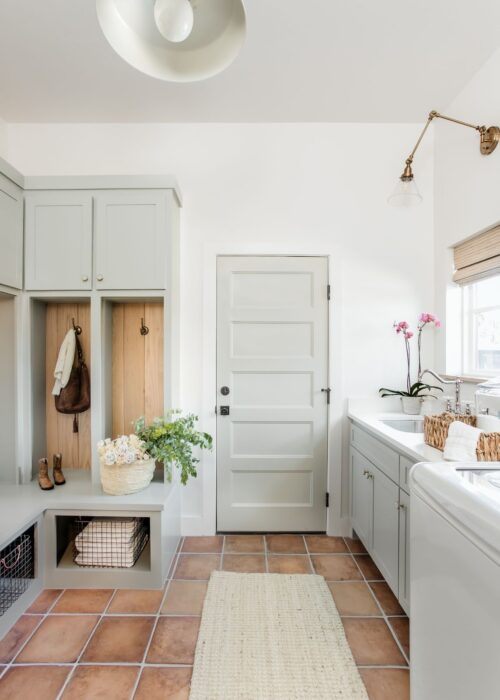 Image via Kelsey Leigh Design Co. (You can find her Instagram here) // Photographer: Emily Hart
While this is obviously a mudroom, I loved the creamy walls with the gray/green cabinets, so I copied the same color palette in the laundry room, color matching Sherwin Williams Marshmallow and Magnetic Gray in Behr to save a little money. (You can read all about how to paint laminate cabinets here.)
Goal 2: Fix Drywall Stencil Floor
Soooo… we didn't actually replace the drywall because, honestly, what I thought was a huge missing piece turned out to not really be that bad; and it's completely hidden, so we didn't get the drywall fixed. Instead, I stenciled the floor!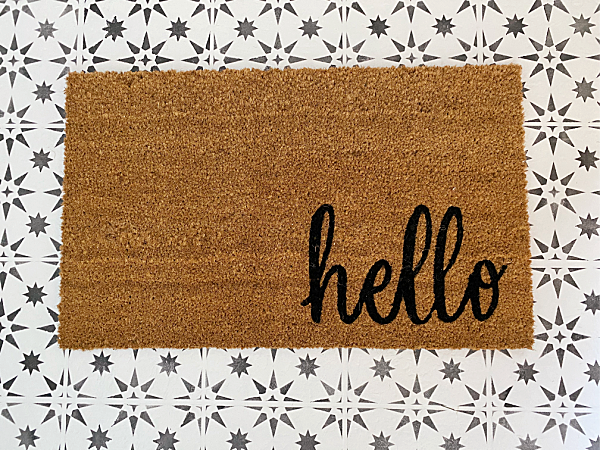 I used the Jewel Tile Stencil from Cutting Edge Stencils and stenciled just up to the front feet of the washer and dryer. I did not paint or stencil under the washer and dryer.
I have stenciled two bathroom floors for previous challenges, and I just love the way it creates a little pattern in the room. I have learned a lot since my first stenciling project (use oil-based primer, not water-based!). You can find the tutorial for stenciling a floor here, along with an update on how it holds up here.
IMPORTANT: If you decided to stencil in your laundry room, and use an oil-based primer/paint, do not run your dryer while using it and for (at least) 24 after it has dried! The vapors are likely flammable, which is why you certainly don't want to run it while priming/painting, and running your dryer too soon afterwards will cause your clothes to smell like kerosene. Yuck!
I also bought the welcome mat to put in front of the washing machine… I originally wanted a jute rug, but couldn't find one in the right size for the right price. Instead I found this cutie mat at Target for $13. (It seems they are no longer available, but here is something similar).
Goal 3: Create A Surround for the Utility Sink
Let's face it, utility sinks are kind of an eye-sore. I had this vision of creating a faux vanity to cover the sink, and we were able to bring that vision to life. You can find the tutorial for this faux vanity here.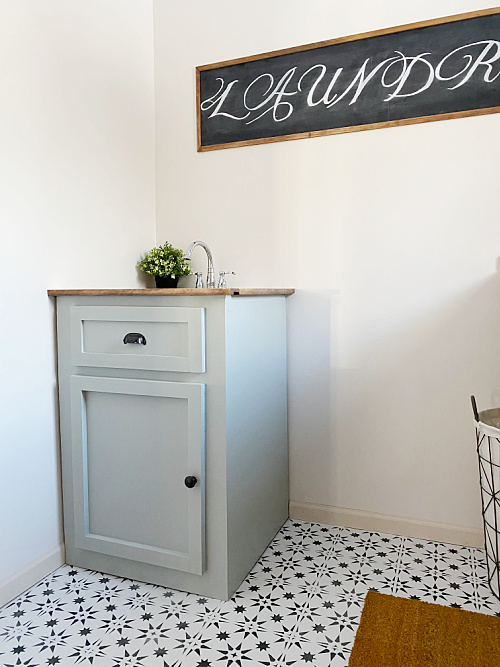 Goal 4: Add Wall Décor
I decided to reuse my "chalkboard" sign. (Wanna know what it really is? A piece of cardboard!) It was a totally free DIY that's been around since our $85 laundry room makeover in our old house almost 6 years ago! Only this time, we added a thin wood frame around it to make it feel a little less cardboard-ish 🙂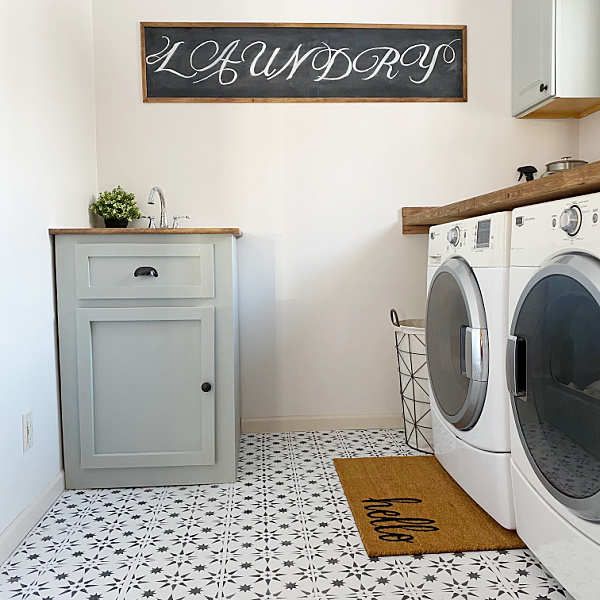 I also used two clipboards (like my dollar store vintage clipboards), and spray painted the clips with oil-rubbed bronze spray paint, and used leftover paint from the cabinets to paint the boards. I clipped on two free printables I found from Cherished Bliss, and that was it!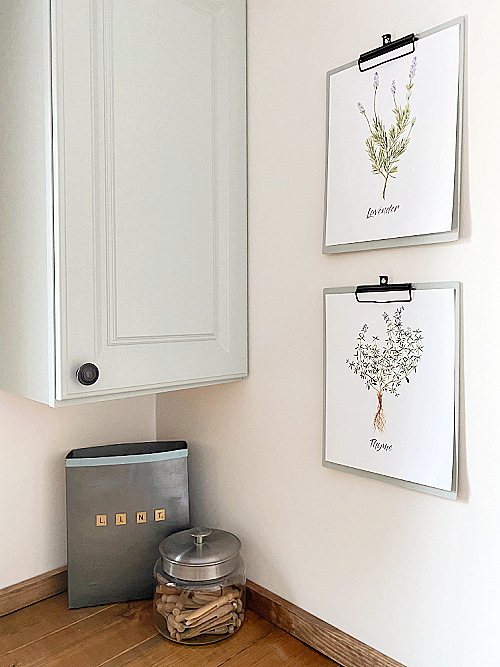 Did you catch that lint box? That is actually a spray painted cereal box! Another item that's been around 5+ years. I did lose the "T" sticker off the original, so I grabbed a couple Scrabble tiles and redid that part. You can find the original tutorial here.
Goal 5: Remove Ironing Supplies
Done. I relocated them upstairs where I actually do my ironing.
$100 Laundry Room Makeover Before and After
Before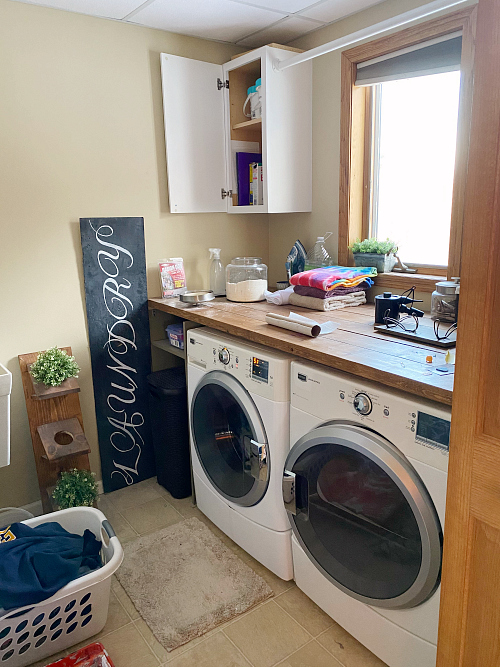 After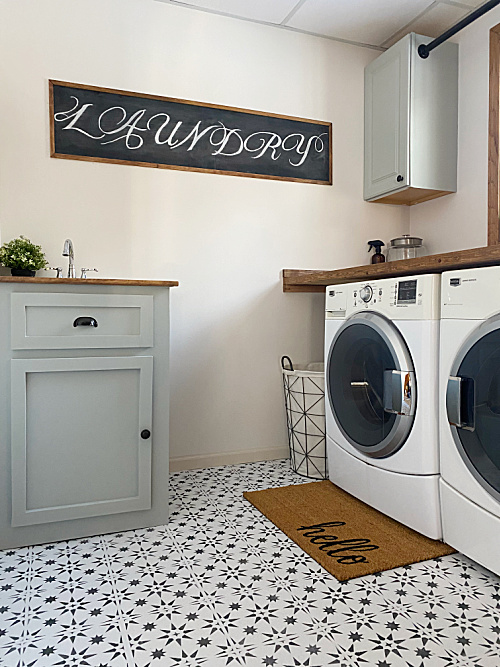 Before
After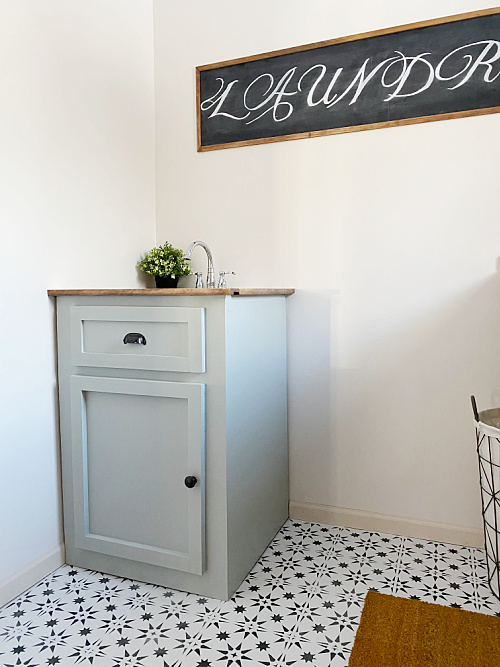 Before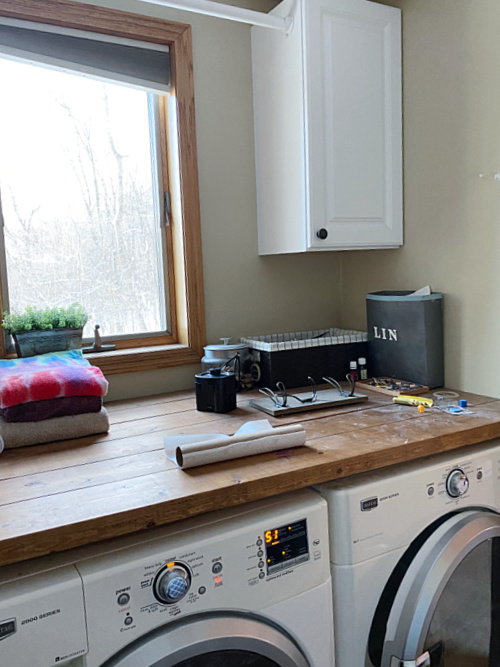 After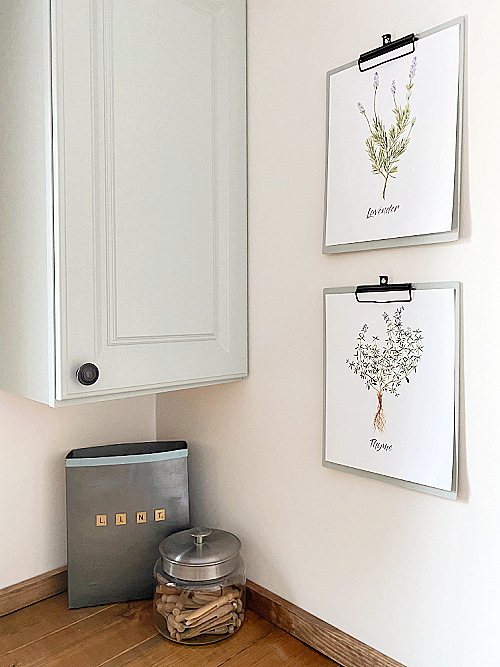 Budget
Last week I had spent $71.69. Here are my expenses from this week…
Stenciled Floor: $17.95

Jewel Tile Stencil– $17.95
Oil Based Primer- FREE (Already had on hand)
Floor Paint- FREE (Already had on hand)
Paint Supplies- FREE (Already had on hand)

Wall Décor: FREE
Rug/Welcome Mat: $12.35 (After 5% discount for using my Target RedCard)
Total Spent on This Laundry Room Makeover: $101.99
(I will have you know that I did grab a plain welcome mat that would have only cost $9.49, making me come in at $99.13, but I splurged because the added "Hello" was worth going over $2 🙂 )
For more amazing $100 Room Challenge makeovers…
See More $100 Room Reveals Here!
Love it? Pin it!