You may not think about cleaning your washing machine until you notice a mildew-type odor coming from it, or get error messages saying there's a problem. While cleaning a washing machine isn't the most pleasant job, it's fairly easy to do. Ready to learn how to clean a washing machine?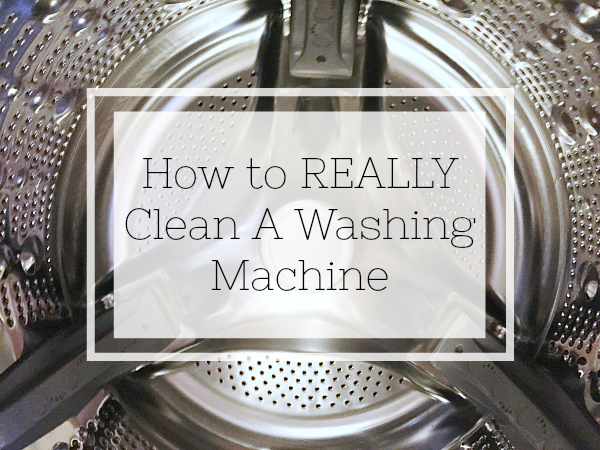 Do you have a front loading washing machine? If so, you most likely have noticed a pretty foul smell that gets worse with time. This odor comes from the fact that the washing machine has an extremely tight seal (which is good because you wouldn't want water leaking all over the floor during your washing cycle). However, when you tightly enclose wet clothes, a musty odor begins to overwhelm the space.
A couple weeks ago, my aunt asked me about cleaning her washing machine. I did my best to explain the process over Facebook Messenger, but without pictures, it was pretty hard to give all the details. So, today I thought I would give you a little tutorial on cleaning your washing machine.
*For those of you with a top-loading machine, you actually have it a little easier. You can do many of the steps listed here, but some will not apply.*
What You Need To Clean A Washing Machine
Affiliate links may be used. Please see our advertising disclosure for more information.
Buckets (I used ice cream buckets, but any larger bucket will do)
How to Clean A Washing Machine
Part 1: How to Clean A Washing Machine Filter
The first thing you need to do is clean your washing machine filter. Warning! This process is cringe-worthy! But do not skip this step! Wanna know why?
We moved into a new house with a new (to us) washing machine, and unlike the images below, the  filter was not easy to identify and access. Read: I couldn't find it, so I didn't clean it. After years of living in the house, our washing machine started displaying error codes pertaining to the inability to drain properly. I ignored it until I could no longer open the door without water pouring out. I knew the washing machine filter was probably plugged up with gunk, so I figured out how to get to it (under the front panel) and look what I found in that trap!!!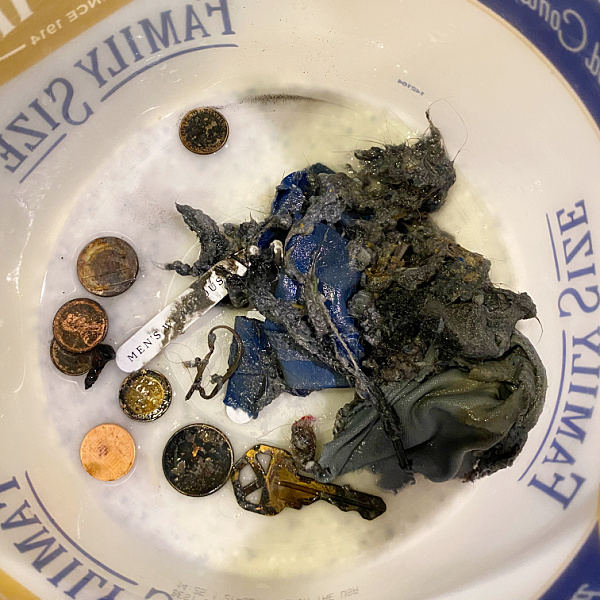 Huge pieces of fabric, seven coins, a key, screws, a safety pin… and more. Is this where all our lost socks end up?? No wonder my washing machine wasn't draining!
Every washing machine is different, so the location of your filter may not be in the same place as you see in the images below, however, your instruction manual should be able to help you locate it.
Prior to starting this process, unplug your washing machine… just to be safe.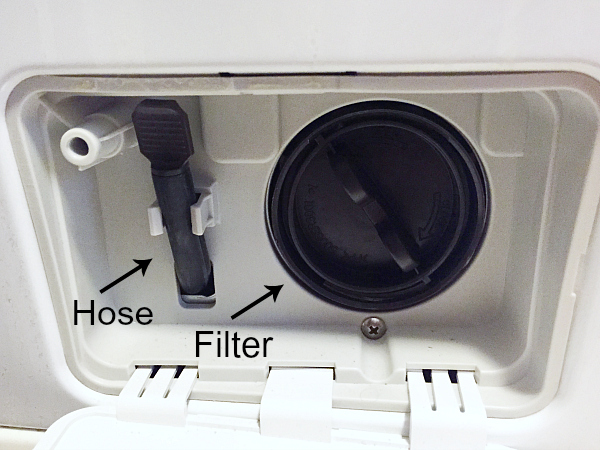 Some filters will have a hose to help drain the water prior to removing the filter, others (like the one in our new house) did not. If you have a hose, secure it over a bucket (I used an ice cream bucket). Remove the end-cap and allow all the water to drain. If a hose is not part of your system, move onto the next step.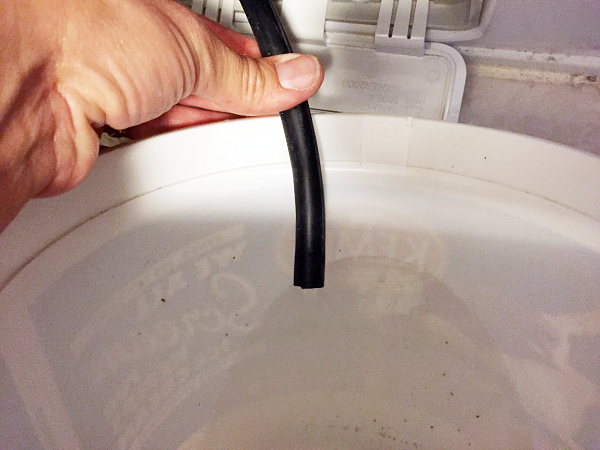 The water that comes out of the hose is one of the WORST smells ever! I choose to wear a mask because it is strong and indescribable… I know, you're pumped to do this now, aren't you? Once all the water has drained out of the hose, you can remove the filter. Place an old towel underneath, because despite all the water you just drained, more still comes out when removing the filter… yes, that's right, more rancid water to deal with. Yippee! (Just trying to stay positive here!)
Isn't that lovely? Once the filter has been removed, place it in a container (again, I used an ice cream bucket) and cover it with vinegar. Let it soak for 15-30 minutes.
When the filter is done soaking, you can wash it with a little dish soap and a paper towel. Replace the filter and close the door, never to deal with it for another 3-6 months!
Part 2:  How to Clean the Drum of A Washing Machine to Reduce Odor
When I did my post on freshening the laundry, I discovered that vinegar and baking soda did an amazing job of ridding, not only my towels of musty odors, but the machine itself smelled fresh as well. Therefore, I'm going with the vinegar/baking soda route once again.
Remove any clothes from the washer. Then, fill your detergent dispenser with vinegar. (You can also use bleach, which is a stronger cleaner, however, DO NOT mix bleach and vinegar together!) My washer actually has a setting called "Tub Clean", so I just push the button and let the washing machine clean itself.
If you do not have a "Tub Clean" setting, I'm sure running a normal cycle with hot water will do the trick (this goes for top-loaders as well). Once the cycle is complete, you can run another normal cycle with 1/2 cup baking soda added to the powdered detergent dispenser, again, using a hot water setting. (If you used bleach instead of vinegar, you can skip this step.)
Alright, you're almost there! The last thing you need to do is wash the inside and outside of the washer. Using a DIY All Purpose Spray, sponge down the inside and outside of the washer. (The reason I use a DIY version of the All Purpose Spray is because I'm not sure if using a store-bought version would do something to your washer or clothes. Better safe than sorry, right? If you don't want to use a DIY version, I would recommend using plain water). Make sure you wash the inside door because soap builds up there. You will also need to clean inside the rubber seal.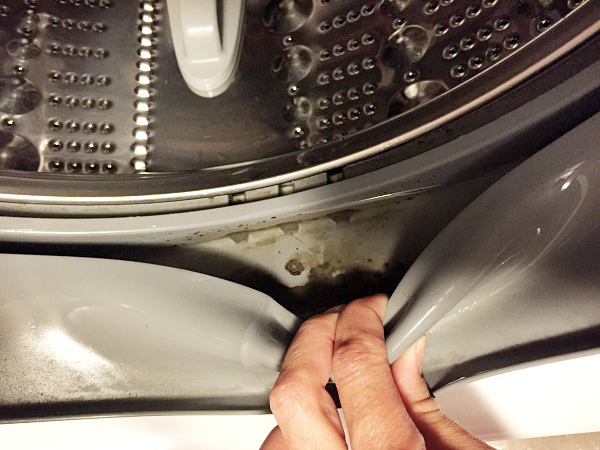 Because you already ran your machine through the above cycles, much of the soap scum, etc. that builds up in the seal will have been washed out, but using a few paper towels to really remove any remaining gunk is a good idea.
Yay- a clean washing machine!!! In order to maintain the fresh smell as long as possible, keep the door slightly ajar when the machine is not in use. This allows for air flow to the machine.
Now that you've gotten your washing machine cleaned up, click here to learn how to clean your dryer.
Love it? Pin it!