Looking for the best homemade cleaning solution for your floors? Then you've come to the right place. This no-rinse floor cleaner uses two simple ingredients and the results are incredible!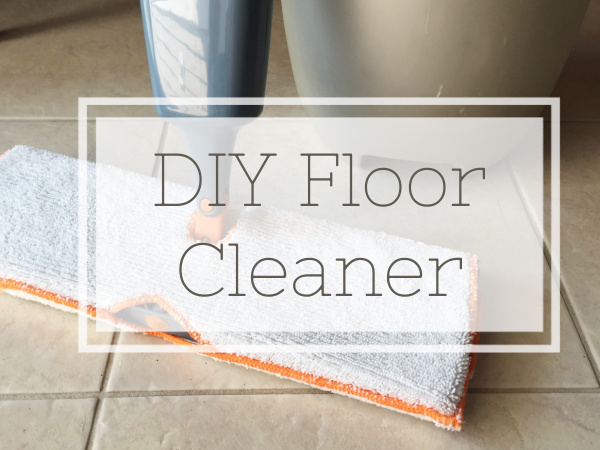 Last week, I revealed our laundry room makeover, and while it looks pretty amazing at the moment, there were some dirty jobs that had to be completed… like washing the floor under the washing machine. So gross! Let me show you a picture of what our vinyl floor looked like… but prepare yourself. It is not pretty…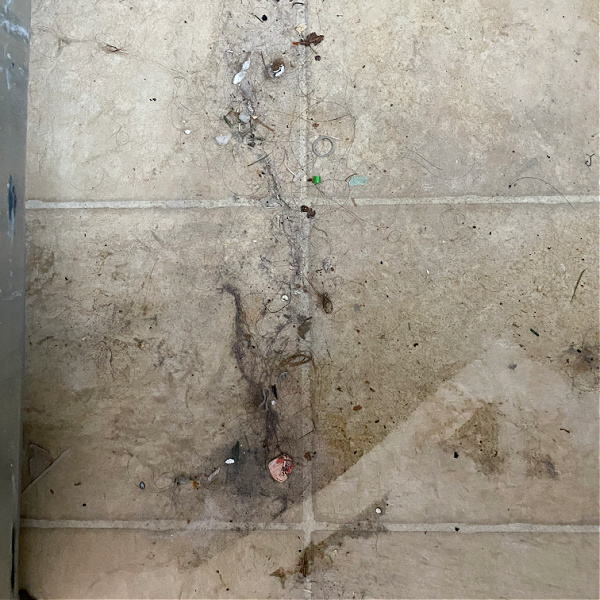 I decided to try a new recipe this time around… mainly because I had bought a bottle of Sal Suds to make my own dish soap, and wanted to try it out in other areas of my house.
What You Need To Make Homemade Floor Cleaner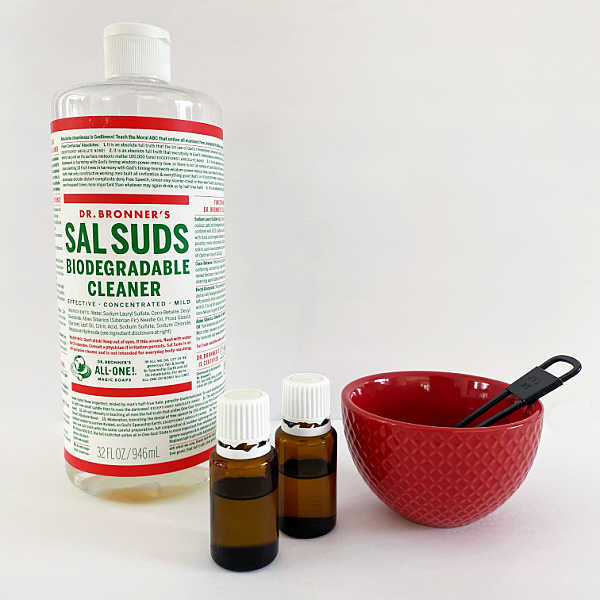 Affiliate links may be used. Please see our advertising disclosure for more information.
Ingredients Needed for DIY Floor Cleaner
Supplies Needed to Clean Tile, Linoleum, & Vinyl Floors
How To Make the BEST Floor Cleaner
I made a 1 gallon (diluted) solution of floor cleaner, however, you can adjust the amounts based on how much you are making.
Start by adding 1/2 teaspoon Sal Suds to a small bowl. (You truly don't need much.)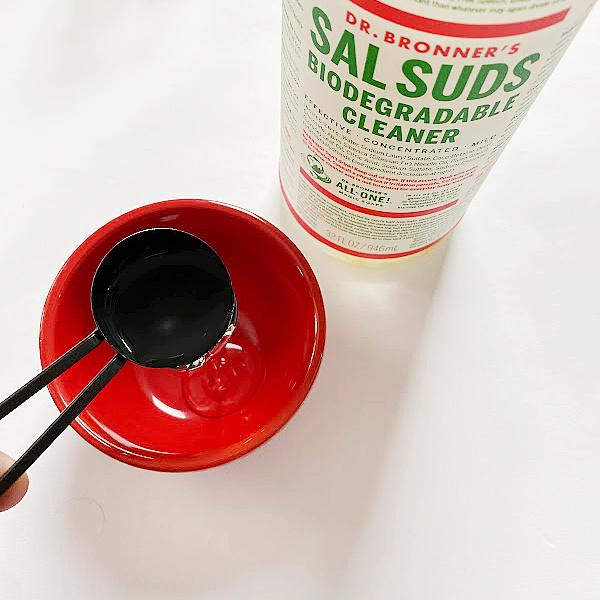 This next step is completely optional, however, I love adding essential oils to my cleaning products for a little extra cleaning power. Sal Suds already has Fir and Spruce essential oils in it, so I enhanced it with few drops of Pine and Lemon (3 drops of each). Give this a little stir. You will notice the consistency of the Sal Suds change as you stir.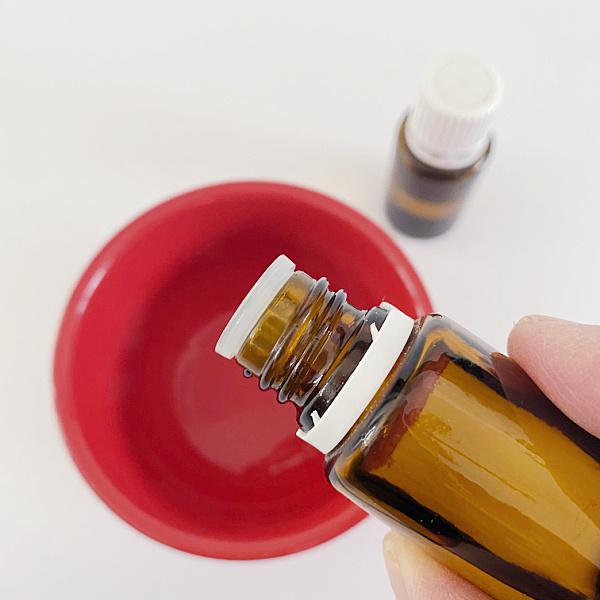 You can now fill your cleaning bucket with warm water. I added about 1/2 gallon of water and then poured the Sal Suds/essential oil mixture in as I added the last 1/2 gallon. Make sure to rinse the bowl as you fill in order to get all the cleaning solution in the bucket.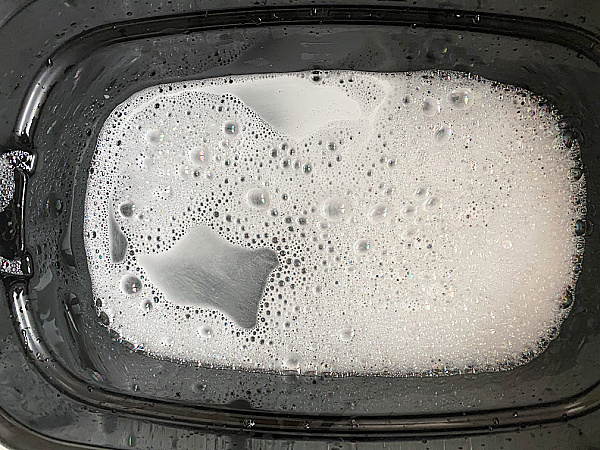 Prior to using any cleaning product, it is highly recommended that you test the solution on a small area to make sure there is no undesired change to your finish. For more, please see our disclaimer statement.
For best results, sweep the floor prior to using the floor cleaner. This helps reduce the amount of dust, hair (and whatever else) may be on your floors. (Unfortunately the floor under my washer was already a little wet from a washer leak, so I couldn't effectively do this step.) If you want to go one step further, use a microfiber mop to pick up fine dust that a regular broom won't get.
When ready, grab a mop or sponge and start cleaning. I actually found this solution to work with hardly any effort at all.
Cleaning Tip!– Always start cleaning in the area furthest from the door. This allows you to exit without having to walk on the freshly cleaned (wet) floors.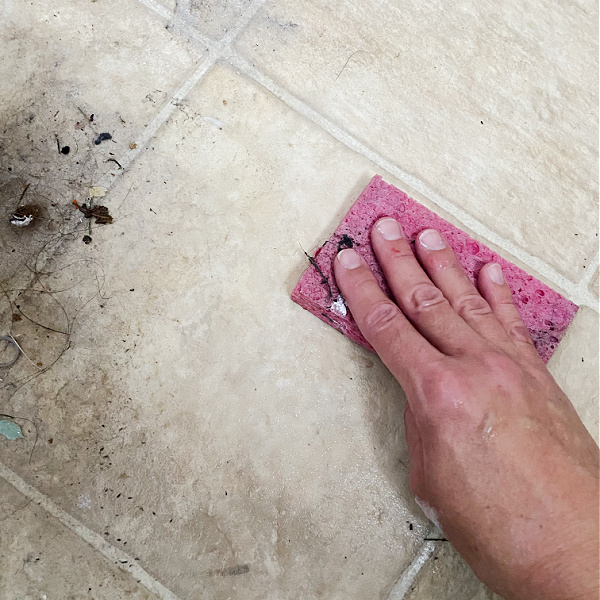 Ready to see the results… achieved in about 2 minutes?!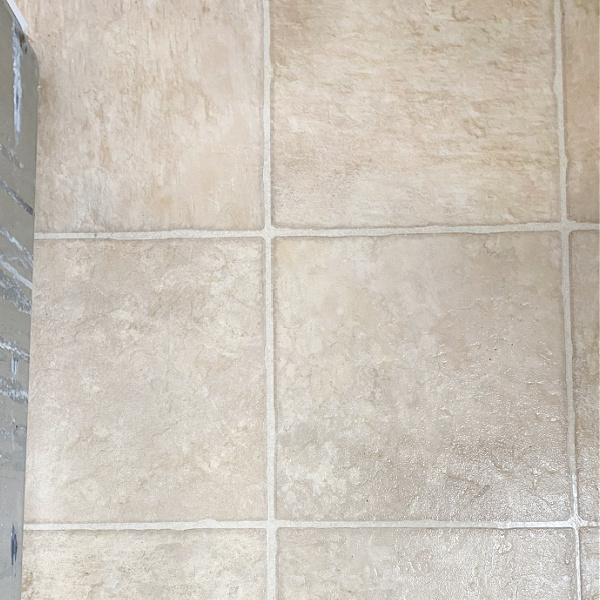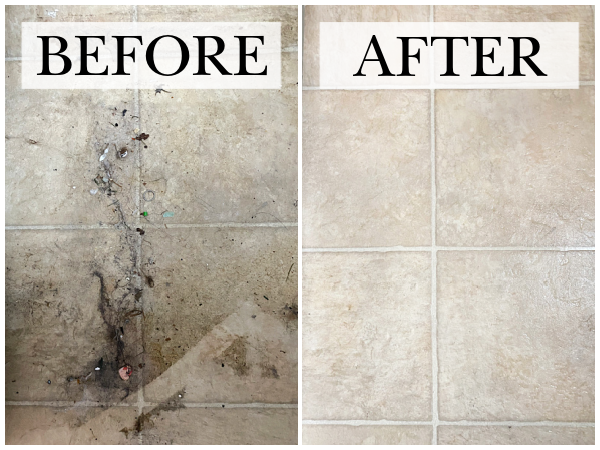 This floor cleaner is not only incredibly easy to make, it works so well!
Looking for more ways to use Sal Suds?
Check out these recipes:
Common Questions About Homemade Floor Cleaner
Is this floor cleaner recipe safe for use on all floors?
I have not tested this recipe on wood, laminate, nor stone floors, so I cannot say with certainty whether it is safe or not, however, according to Lisa Bronner (part of the family that creates Dr. Bronner products, which includes Sal Suds), this recipe would be safe for use on all flooring types. As always, I recommend testing a small area to make sure the cleaning solution does not harm the floor in any way. The article referenced above specifically mentions using Sal Suds on wood, laminate and stone.
Is the Floor Cleaner Safe to Use Around Pets?
As a dog owner, I know the safety of our pets is extremely important, and we'd never want to use a product that could potentially cause them harm. The concern with pets (particularly cats) is that they could ingest the essential oils, or absorb them through their skin. While I have always felt comfortable using this floor cleaner in my home (as the essential oils are quite diluted in the solution), you may want to use extra caution; particularly if you have cats. An alternative would be to use unscented Castile Soap instead of Sal Suds. If you choose to go this route, you would add 2 Tablespoons of the Castile Soap to 1 gallon of water (instead of the 1/2 teaspoon of Sal Suds). You can then omit the addition of essential oils, or add essential oils that are safe to use around your pet. No matter what you decide, do not allow your pet in the room while you are cleaning and do not let them enter again until the floor has completely dried.
Can I Use Castile Soap Instead of Sal Suds?
Before I answer this question, let me explain the difference between these two products. Castile Soap is a soap (surprise!) and Sal Suds is a detergent. I have always used Castile Soap for personal care products (like my foaming hand soap recipe) and Sal Suds for cleaning. The issue with Castile Soap is that you cannot add vinegar to it or it curdles. Many cleaning recipes use vinegar, so I avoid using Castile Soap. However, because this floor cleaner does not use vinegar, you could use 2 Tablespoons of Castile Soap as a replacement for the Sal Suds. The other potential downfall of using soap (vs. detergent) is the potential of soap residue. When using Sal Suds, I have never had an issue with residue, however, using soap may yield a different result.
Can I Add Vinegar to This Floor Cleaner Recipe?
I love using vinegar to clean my home! I have found this floor cleaner recipe to be very effective without adding vinegar, but you certainly can add vinegar if you'd like. The great thing about Sal Suds is that is it a detergent (as mentioned above) so it doesn't curdle with the addition of vinegar (like Castile Soap would). A word of caution: Do not add vinegar if you are using this solution on natural stone as the acidity of vinegar can etch stone.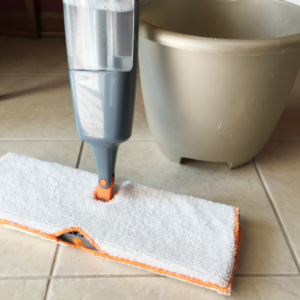 The BEST Homemade Floor Cleaner
This two-ingredient homemade floor cleaner works like magic to clean your vinyl and tile floors.
Ingredients
1/2

Teaspoon

Sal Suds

3

Drops

Pine Essential Oil

(Optional)

3

Drops

Lemon Essential Oil

(Optional)

1

Gallon

Water
Supplies
Small Glass or Ceramic Bowl

Cleaning Bucket

Mop or Sponge
Instructions
In a small glass (or ceramic) bowl, mix Sal Suds and essential oils (if using)

Add approximately 1/2 gallon of water to a cleaning bucket, then pour in the Sal Suds/essential oil mixture. Continue filling the bucket with water to make one gallon. (Make sure to rinse the bowl into the bucket so you have all the solution.

To use, simple soak a sponge or mop and scrub floors.
Love it? Pin it!