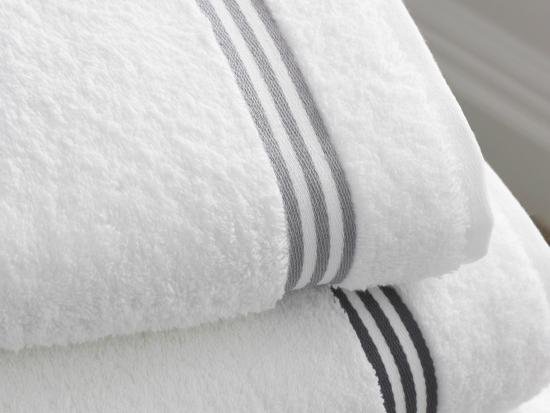 During the months of October and November I was creating a coffee station for the One Room Challenge, so there was a little break from the $100 Room Challenge. Now that it's December, I'm ready to go at it again. Since this month is always so busy with the holidays, I decided to tackle a smaller space: My linen closet. Let's take a look (and remember, there is no tidying up for "before pictures"… nor did I pull out my lighting kit for this dark space. Sorry, a little grainy, but you get the idea.)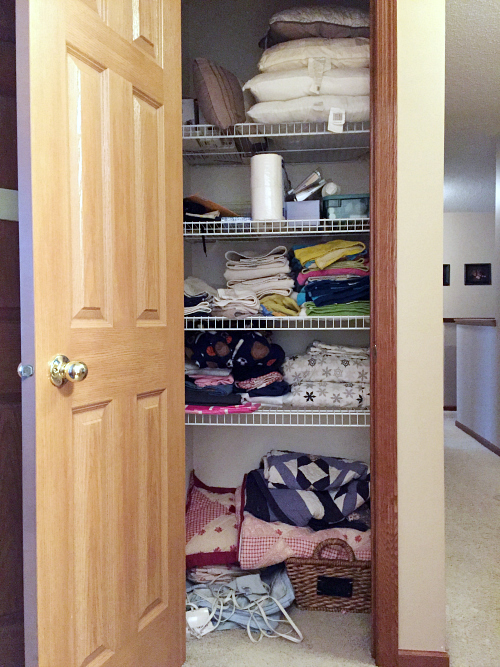 Here are my goals over the next few weeks:
1.) Organize
I'm not sure of everything that's in here, but I feel like I need to sort and toss and stream-line.
2.) Update the Shelving
As you may know, I am not a fan of wire shelving because things keep falling over or slipping through the cracks; yet our closets are full of it.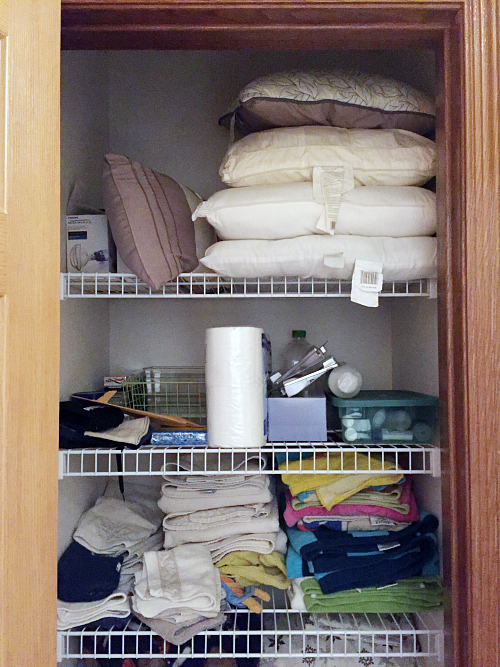 I absolutely love, love, love the wood overlays we made for the laundry room and coat closet, but I have something different planned for this space.
3.) Storage
This linen closet holds more than just towels and bedding; we also have extra toiletries stored in here. However, having a whole bunch of bottles, toilet paper, and facial tissue doesn't seem very neat and tidy, so I'll be looking for some baskets/containers.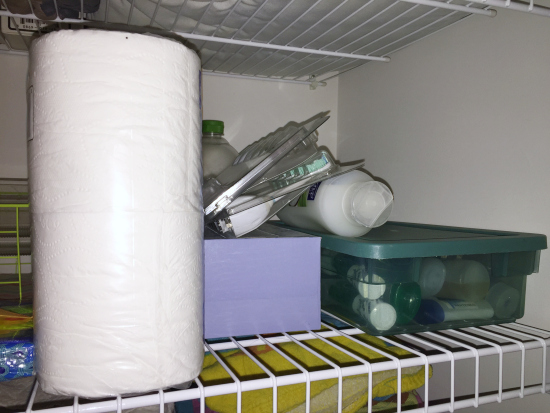 4.) Different Linens
I don't think I need to spend a huge amount in this space, so I might splurge (up to $100) on a few new towels for my husband and I. We had two sets, but one set was used to clean a backed up drain, and it just seemed best to throw them away after that fiasco. So gross.
I'm excited to get started in here and see what can be done.
You can follow the progress:
Week 1 // Week 2 // No Week 3 // Week 4
Want to Follow Along with Lemons, Lavender, & Laundry?
Subscribe!
Social media more your style?
Facebook // Pinterest // Instagram // Twitter