Another round of the $100 Room Challenge starts today! This time I'm taking on my most challenging room yet. There is not one single thing I like in this space, so it's going to need a ton of work. I have just 3 weeks and $100 to to take on this outdated bathroom and give it a much needed makeover.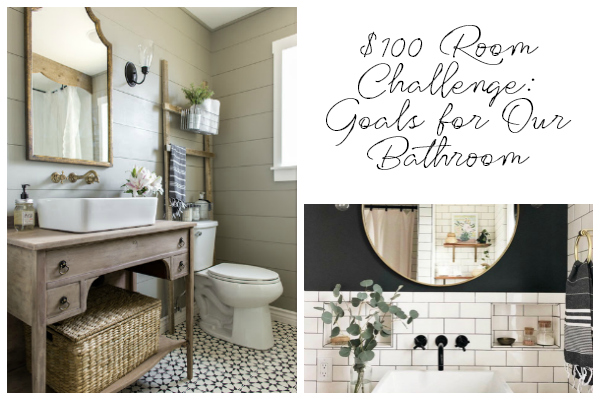 Oh our main bathroom. It has been my least favorite room ever since we moved into this house. Originally we were going to divide the space into a master bathroom and powder room because it currently serves as both the master bathroom (with a pocket door leading into the room) and guest bathroom (with a door from the hallway). Not ideal.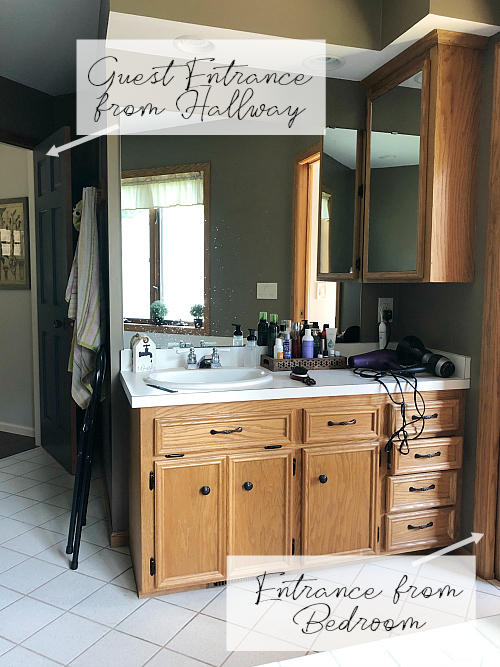 However, we also know that will be a huge undertaking, so while we wait for our financial situation to allow for us to completely gut and remodel, I thought I'd see what I could do to make it more tolerable in the mean-time.
Honestly, I wasn't going to do this space for the $100 Room Challenge because I knew how many things I needed work on, but what's a challenge without a, well… challenge? I always like to start with some goal setting/vision casting, so here's what I'm planning to do over the next few weeks… with just $100 to spend. (Yikes!)
Goals for This $100 Outdated Bathroom Makeover
Goal 1: Paint. Everything!
I'm pretty sure my entire budget will be going towards paint because I'm planning on painting all the things.
All. The. Things.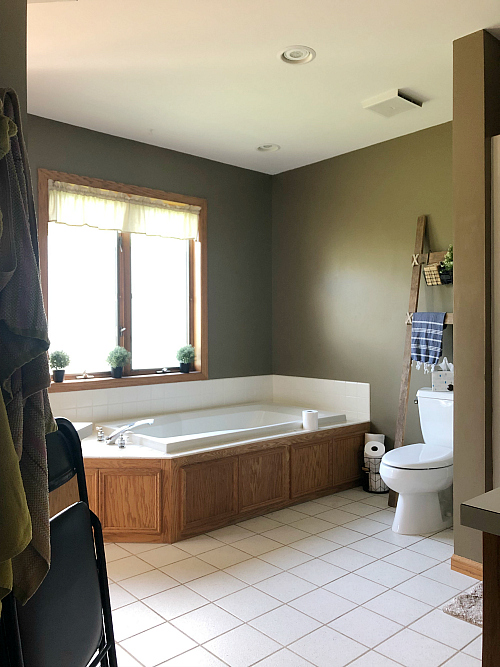 Paint the Walls
I am doing something I have never done before. I'm going black. Yep. Black… As an accent anyway. Every time I see someone use black in a space, I love it. Yet, I have always been afraid to use it in my own home. It's a bold choice, but I think it is the only things that will make the white tile surround on the tub look decent. (My husband thinks I'm crazy, so please let him know it is going to be okay 🙂 ) The rest of the walls are going white or light gray. A little black wall inspiration below… (See how it works so well with the white tile?!)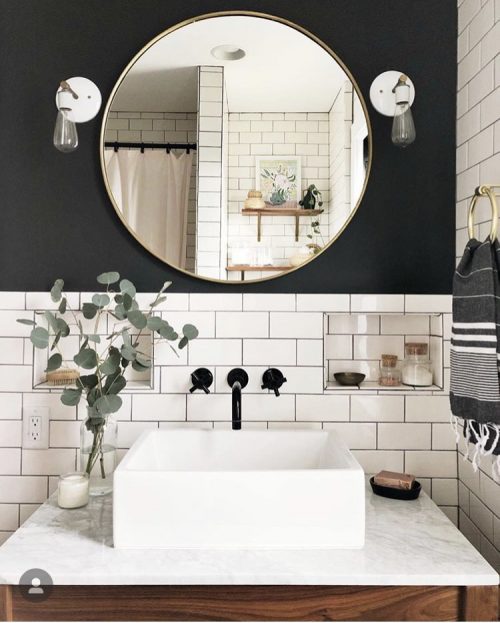 Image via Carpendaughter on Instagram
Paint the Vanities and Tub Surround
Outdated. That is the word I would use to describe the wood tones on the vanities and tub. At first I thought I'd go black, but then realized, with the tub surround, there might be too much black in that area, so I'm going to use this technique to create a weathered wood look instead. A little inspiration from Jenna Sue Design Co. Love that weathered wood vanity with the black and white floor! Perfection.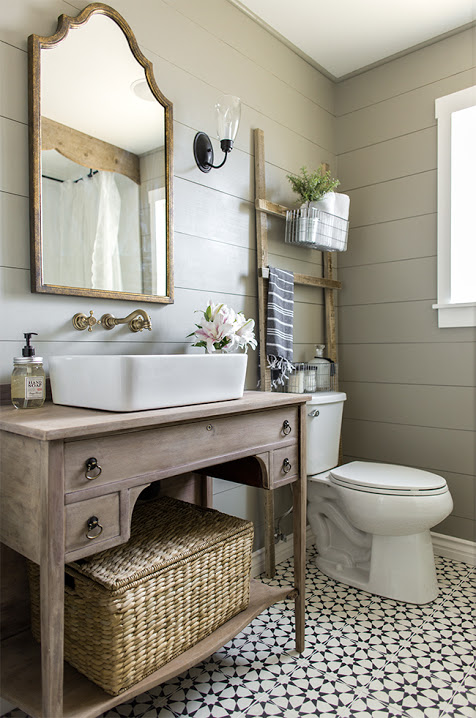 Image via Jenna Sue Design Co.
Stencil the Floor
Speaking of floors… Yep. We're going to paint the floor again. The tile in this bathroom is not something I'm loving… at all. The wonderful thing about it is that's it has a bumpy texture, which means paint should adhere rather well to it. You may recall that I stenciled our bathroom floor a year ago for this challenge, and I'm gonna do it again. This time I'll do black on white like the image below.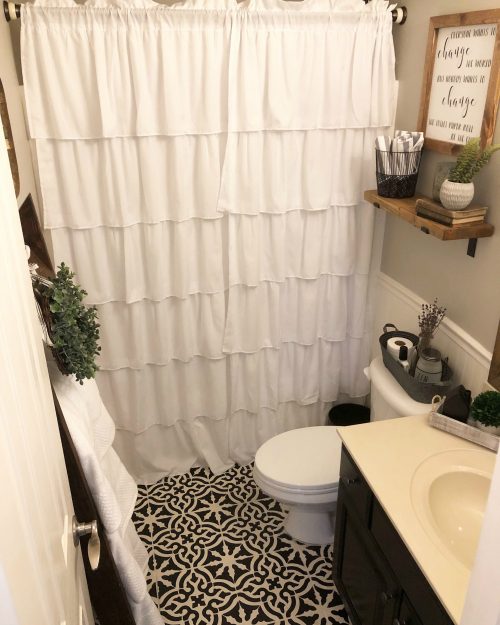 Image via Wilshire Collections
Goal 2: Goodbye Medicine Cabinets. Hello Open Shelving.
I don't know if it's just me, but I don't love medicine cabinets. I get it. They're handy. I can store all the bandages and bottles of sunscreen behind closed doors, but they look bulky to me. This space has not one, but two medicine cabinets; and they're both coming down.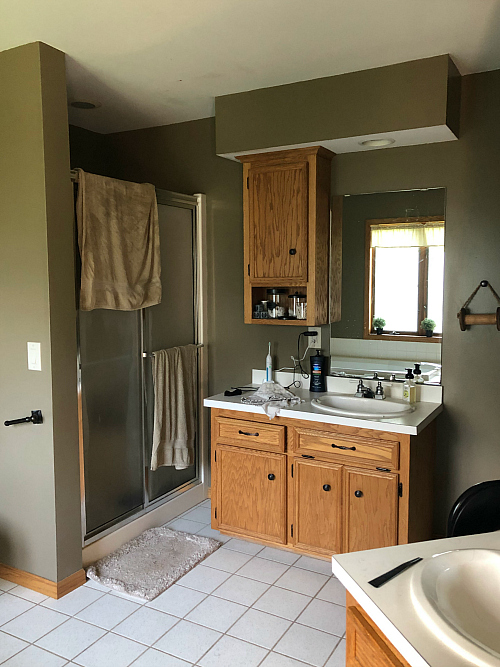 In their place, we'll add some open shelving. We'll also add shelving to the wall above the tub. Who doesn't love wood tones against a bold, black wall?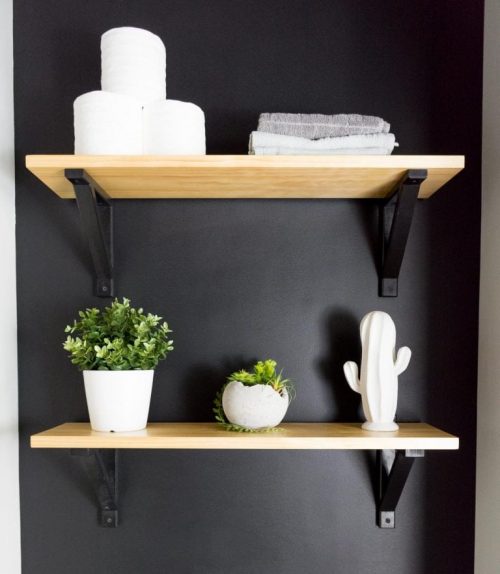 Image via By Brittany Goldwyn
Goal 3: Mirrors & Wall Décor
Let's all pray that someone, somewhere is throwing out two mirrors that are perfect for this space because how on earth am I going to afford two mirrors??? However, that is what I'd really like to do: take down the frameless bathroom mirrors that always look dated, and replace them with rectangular, black framed mirrors. (Wishful thinking? Maybe.)

Image via Pottery Barn
We made a rustic ladder for our master bathroom in the old house (for a $100 Room Challenge actually), and while I love it, it doesn't quite fit the dimensions of this new toilet, so we'll replace it with some pictures… I'm thinking something like this…

Image via The Peddler's Shed on Etsy
Goal 4: It's the Little Things
Little things like… taking down the valence, replacing our broken toilet paper holder (which explains why there's a toilet paper roll on the tub)… and perhaps trying a contact paper covering on the vanity countertops (eek!). Oh, and also figuring out where to store all those boxes of bandages and bottles of sunscreen once we remove the medicine cabinets 🙂
I might be crazy to try and do all this with such a minimal budget, but I'm excited to try. Check out what everyone else plans on doing this month.
Check Out Other Participants Here
Wanna Catch Up or Jump Ahead?
Week 1 // Week 2 // Week 3 // Week 4
Love it? Pin it!