Welcome to week 3 of the $100 Room Challenge. This week's project was updating our oak vanities. The problem with oak is it has a very deep wood grain that will show, even after painting. Because I was using chalk paint and wax, I didn't want the wax settling into the grain, so I had to figure out how to hide it. After doing a little research, here's what I ended up doing to hide the wood grain on our oak vanities.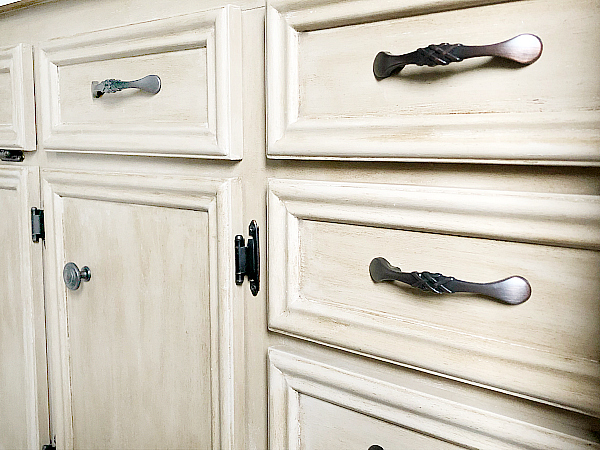 This project is, admittedly, a little time consuming, but it is so worth it in the end. Before getting started, make sure to remove the doors and drawer fronts, along with their hardware. Label each piece (and the hardware that goes with it) to ensure everything gets put back in the correct place.
What You Need To Hide Wood Grain Before Painting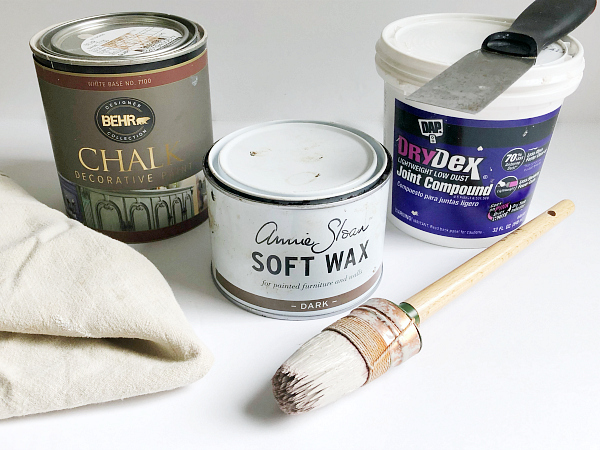 Affiliate links may be used. Please see our advertising disclosure for more information.
Items Needed to Fill the Wood Grain
Items Needed for Painting & Waxing
How to Hide Wood Grain
Step 1: Clean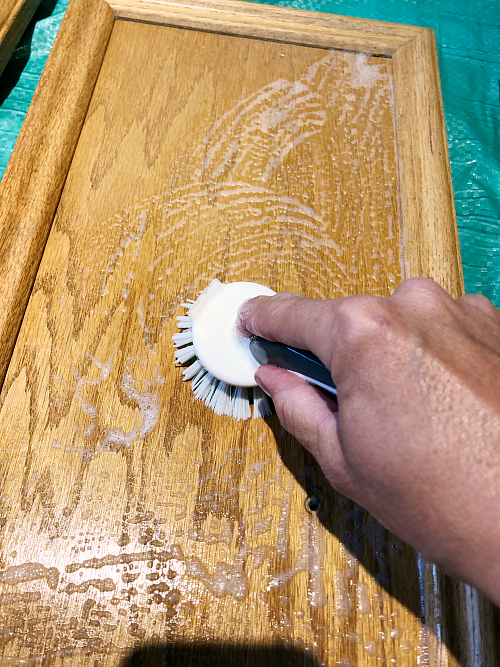 Whether or not you see visible dirt and grime on the cabinets, you're going to want to give them a good cleaning. I typically use TSP, but this time I guess I got lazy and just used some soapy water and a soft bristle brush. After a good scrubbing, dry things off with a flour sack cloth (or something similar).
Step 2: Apply Joint Compound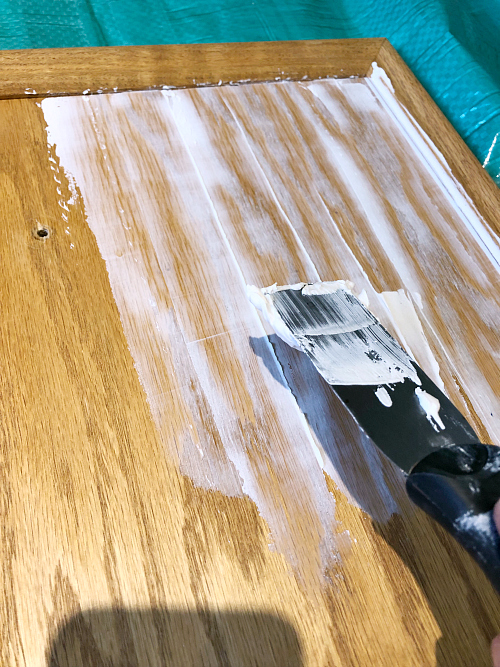 Grab your putty knife and apply joint compound over the entire surface that is going to be painted. Spreading joint compound is a lot like spreading frosting… only don't eat it 🙂 You are going to "frost" your wood surface and then glide your putty knife over the area to remove any excess. This process allows you to fill in the small niches in the wood grain. Please note that you want just a thin layer of joint compound, otherwise you will end up having to sand a lot more.
If you have trim work (like I did), the putty knife will not work well, so I grabbed a vinyl glove and applied it in the grooves with my fingers. My one piece of advice here is to try to get the thinnest layer possible, otherwise, like I said, there's a lot more sanding involved.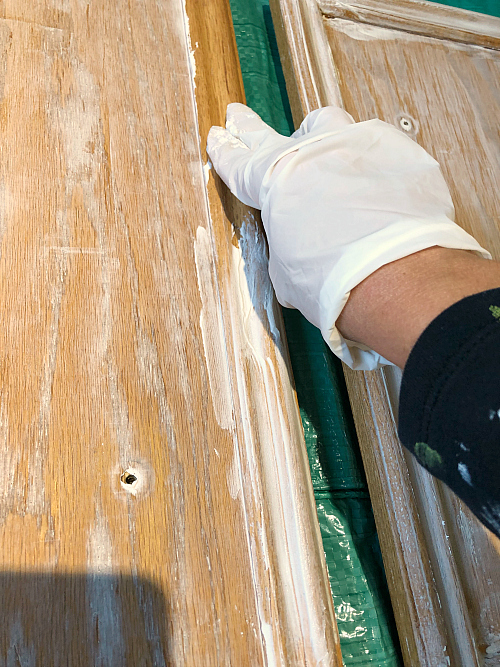 Once the entire surface is covered and the excess removed, allow the joint compound to thoroughly dry.
Step 3: Sand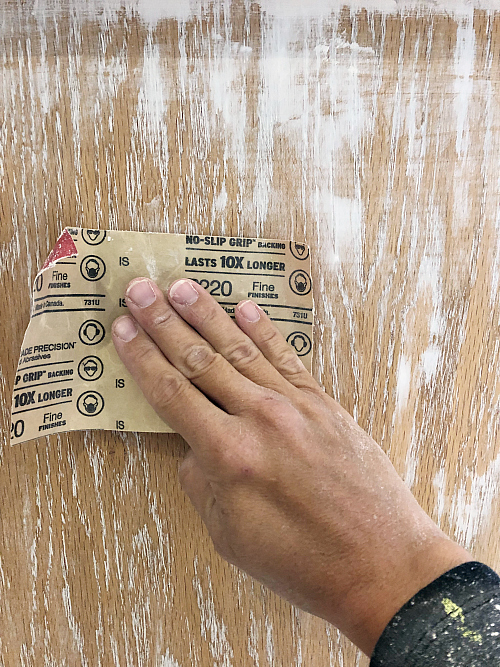 I'm not gonna lie… this part is the worst. It's time-consuming and dusty. Please wear a dust mask and safety goggles while sanding because you don't want to breath in dust nor get it in your eyes… and sand outdoors if possible. Use a high grit sandpaper and sand off the joint compound until you get a smooth surface. (While the image shows a 220 grit, I ended up switching to a 180 grit which worked a bit better). I ran my hand over everything to make sure there were no rough patches before moving on. Notice how the joint compound settled into the wood grain? That's what you want.
Step 4: Dust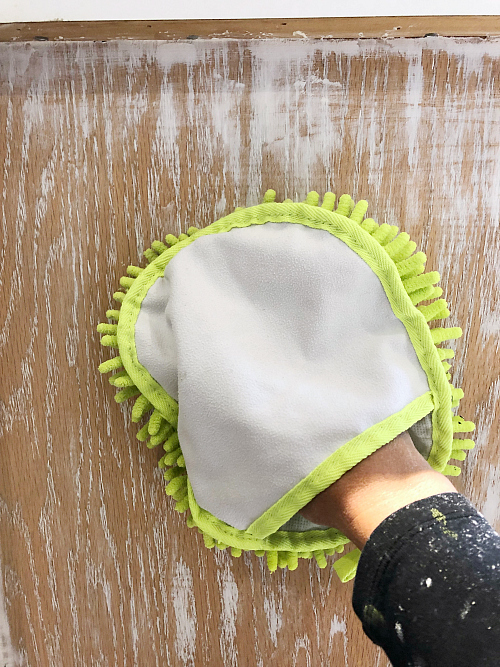 You will need to dust all the sanded surfaces to ensure that your paint goes on smoothly. I started by vacuuming up the loose dust and then went over everything with a microfiber dusting cloth to remove even more.
Step 5: Apply a Coat of Primer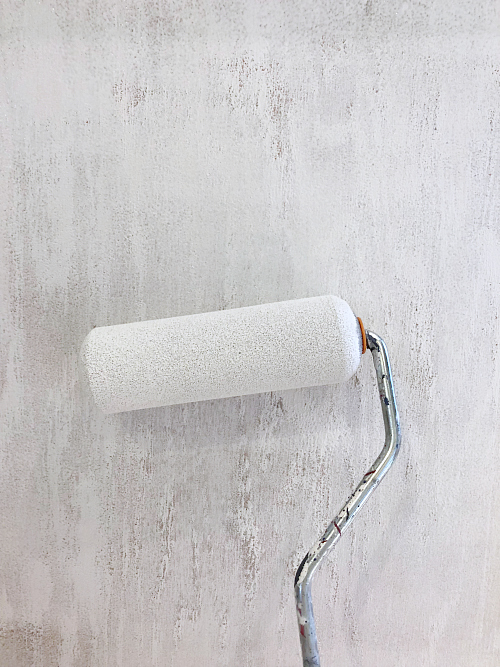 The last step is to apply a coat of primer. While chalk paint typically doesn't need sanding nor priming prior to application, in the case of hiding the wood grain, applying a coat of primer will help further fill in the grain. After the primer is dry, lightly sand it with a 220 grit sandpaper. This just helps to create a smooth surface.
You have now filled in the wood grain so it won't show when you paint. YAY!
So that I am not being redundant, there is a full tutorial on how to create a weathered wood look with chalk paint and wax already on this blog. While it was done on a table, I did the same technique to our bathroom vanity. For a quick peek, you can check out the image below. For an in-depth tutorial, go to this post.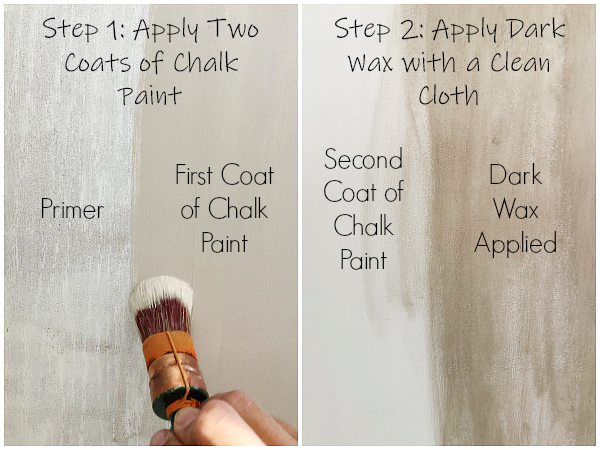 While not the most attractive picture, here are a couple close-ups of the vanity with two coats of chalk paint. As you can see… no wood grain is showing.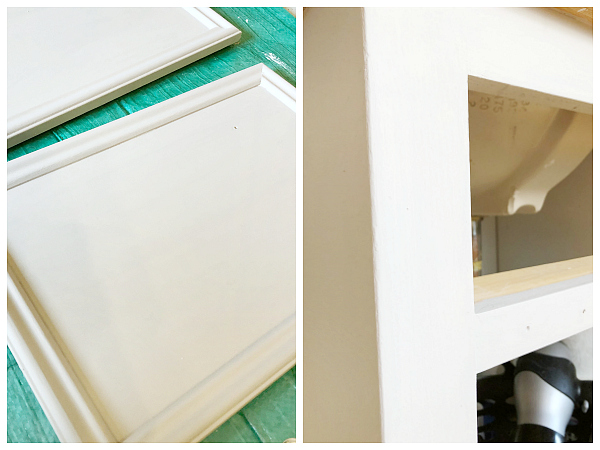 So… there you go. That's how you hide wood grain when painting oak (or any other wood surface with a deeper grain)!
In Other News…
Not only did I work on the vanities, I also painted my accent wall… Remember, I was debating whether to actually do black or switch to a dark blue? Well… the paint is on the wall, and I'm going to wait until the reveal next week to show you what we ended up with… Ahhh, the suspense.
I feel like I have a million more things to do by next week… Wish me luck!
Budget… So Far
Last week I had spent $5.78. Here's the total for this week…
Vanity Makeover: $19.98
Joint Compound- FREE (Already had)
Chalk Paint- $19.98
Wax- FREE (Already had)
Supplies (Sandpaper, Paintbrushes, etc)- FREE (Already had)
Accent Wall: FREE
Paint (Already had on hand)
Total So Far: $25.76
Wanna Catch Up or Jump Ahead?
Week 1 // Week 2 // Week 3 // Week 4
Make sure to check out what everyone else is up to this week .
Check Out the Other Participants Here
Love it? Pin it!