"Affordable Ways to Organize Under the Bathroom Sink" has been compensated by Collective Bias, Inc. and its advertiser. All opinions are mine alone. #DesignedMega #CollectiveBias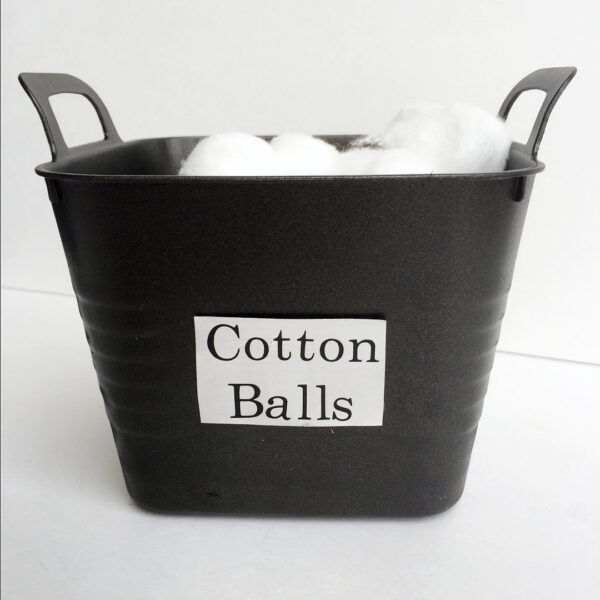 Under the bathroom sink. Need I say more? It's a collection of crazy under there: hair dryers, bags of cotton balls, rolls of toilet paper… and so many "trial size" dental floss containers I could knit a floss dress. If you struggle with this area of your home, I'm here to offer you a little hope. You can easily, and affordably, organize under the bathroom sink.
What You Need To Organize Under The Bathroom Sink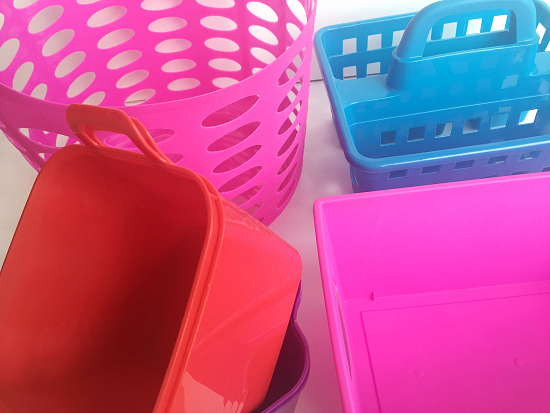 Affiliate links may be used. Please see our advertising disclosure for more information.
For Labels- If you choose:
Affordable Bathroom Organization Ideas
Let me show you a few pictures of what my space looked like before this project got underway.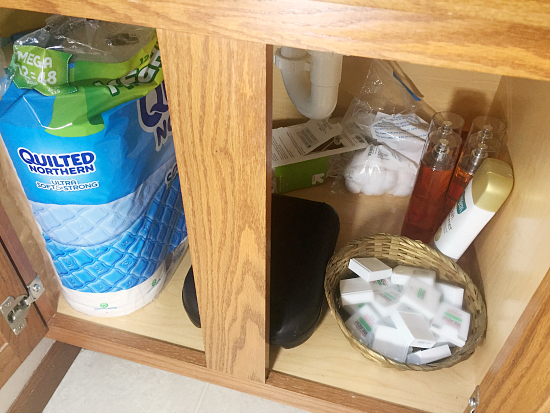 Left side of the sink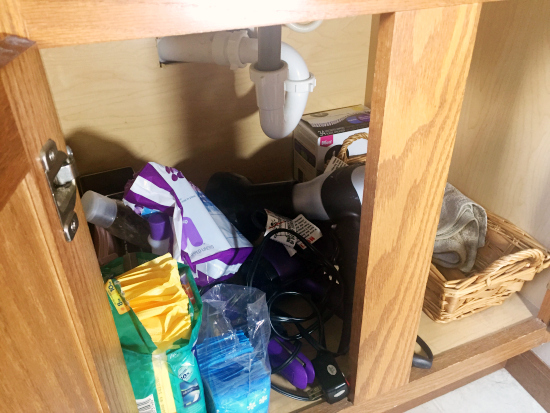 Right side of sink
Pretty bad, right? I believe bags and boxes make everything look cluttered, so removing items from their packaging and placing them into cohesive containers is a great option; and it doesn't have to be expensive.
Start by creating a list of everything you have under your sink. This makes it easy to figure out how many bins you need, as well as which sizes will work best. Once you have your list in order, head out, and look for bins to match your needs. Many places, like Target, have "Hot Spots" with affordably priced storage bins. Don't worry about the colors because you're going to spray paint them. I ended up with a rainbow: blue, purple, red, and pink.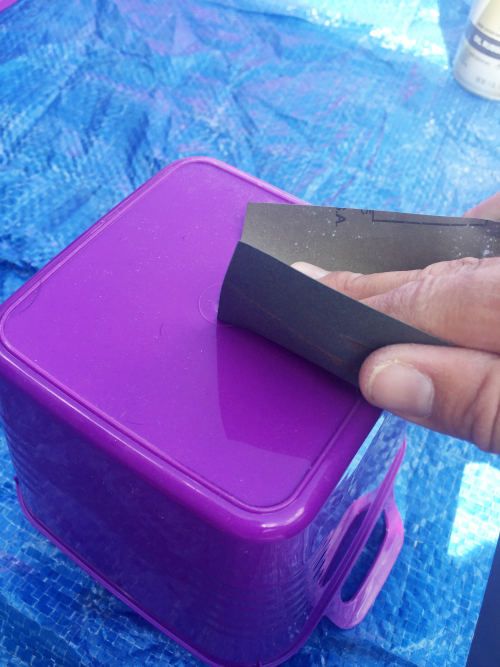 If you have a glossy plastic, it's helpful to lightly sand it with a high grit sandpaper. This will help the spray paint adhere better. If the plastic has any texture to it, you don't need to sand at all. (For tips on spraying painting plastic bins, check out this post.)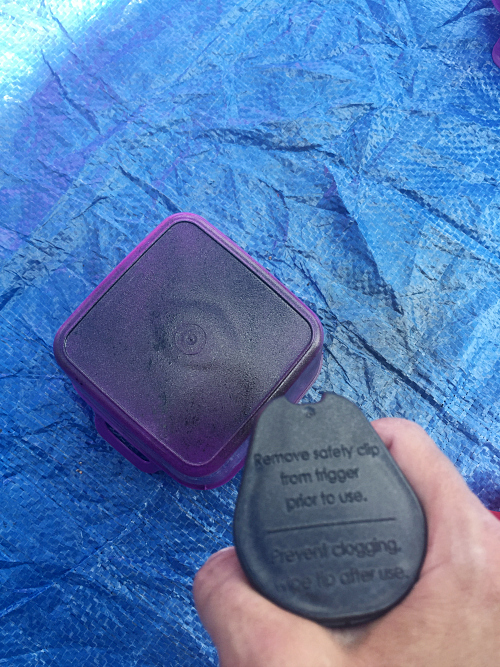 Spray paint one side, wait about an hour, and turn the pieces over to spray the other side. I did a thorough coverage of the Oil-Rubbed Bronze followed by a light spray of the Flat Chestnut. I like combining two "metal" spray paint colors in order to add a little texture.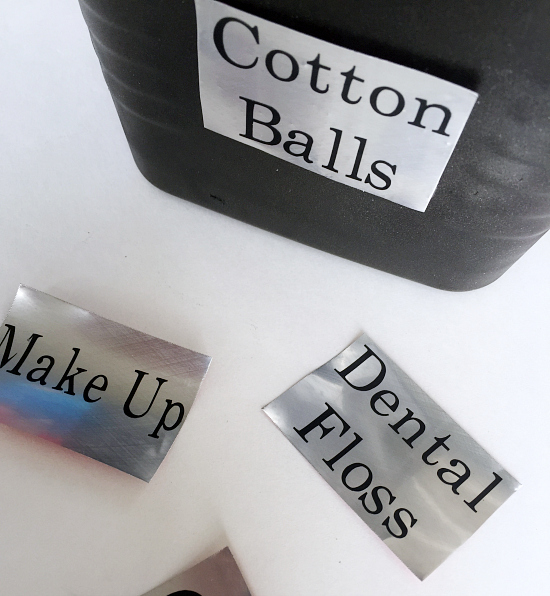 I am a label-lover, so I decided to add a few labels to my smaller bins. Believe it or not, I used a soda can. Start by carefully cutting off the top and bottom of can.
Obviously aluminum cans are sharp when cut, so please, please be careful! Wearing a pair of leather work gloves is advised.
If you want to avoid this step, you can purchase metal labels instead.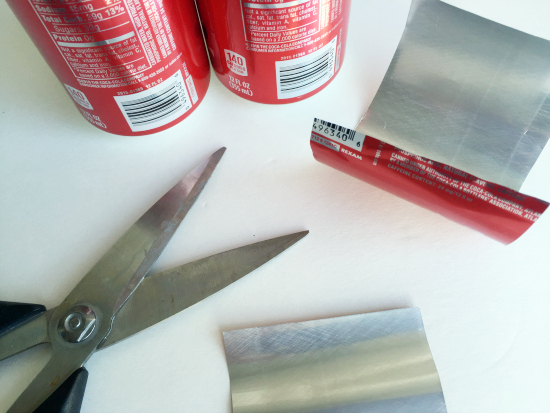 With the remaining piece of aluminum, cut out your shapes (I went with rectangles, but you could make squares, circles, etc.).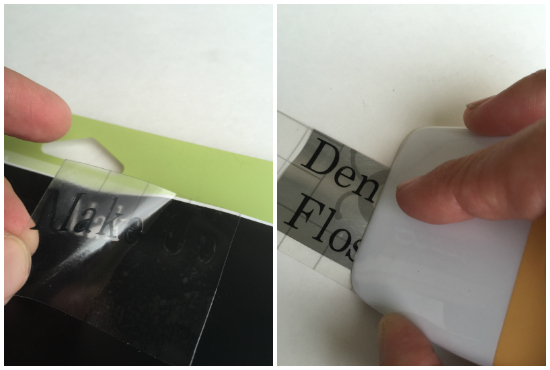 With a vinyl cutting machine, black vinyl, and transfer tape, I created the lettering for each label. Start by choosing a font, and size it to your labels. Cut it out of the vinyl, and use transfer tape to remove the label from the vinyl's backing and adhere it to your labels.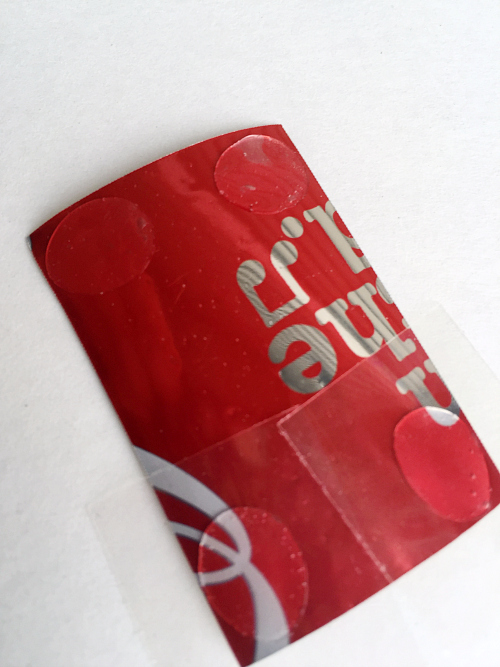 I then grabbed some adhesive dots and placed them in all four corners of the label, and stuck the labels onto the bins. Here's how they turned out…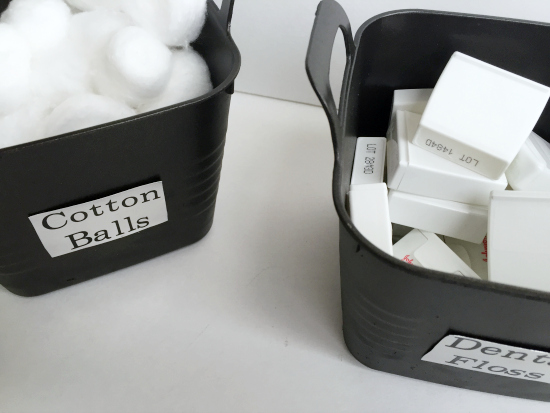 Next, I grabbed my wire wastebasket, which I used to store extra rolls of toilet paper in a more "stylish" manner.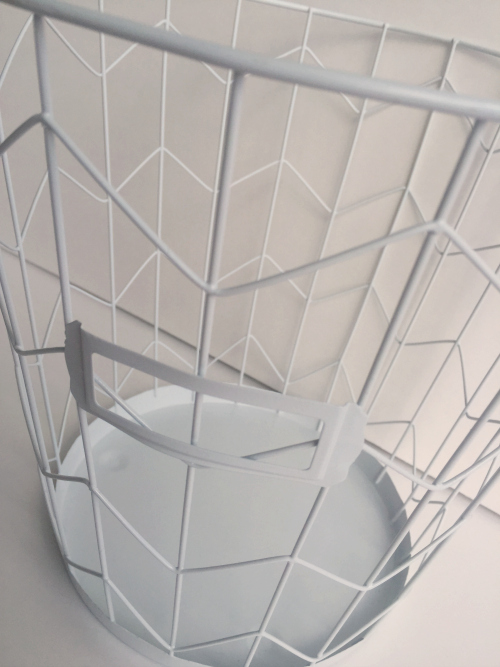 I spray painted it in the same way as the plastic bins, and, again, used my vinyl cutter to create a label on some wrapping paper I had on hand, and here's how it turned out.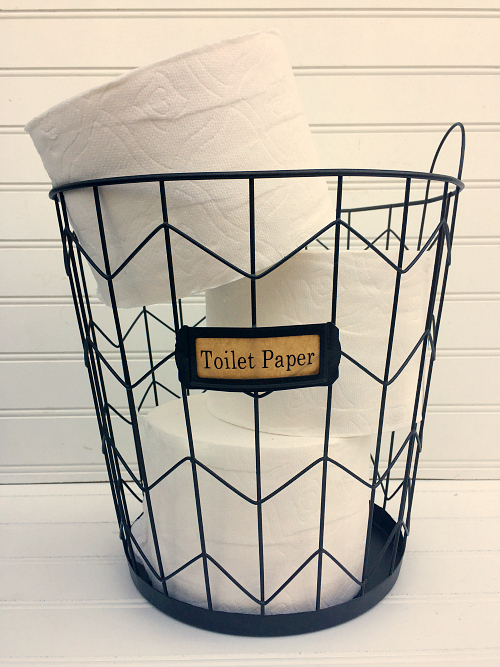 For "feminine hygiene products", I spray painted a shower caddy with 3 sections… again, from the dollar store.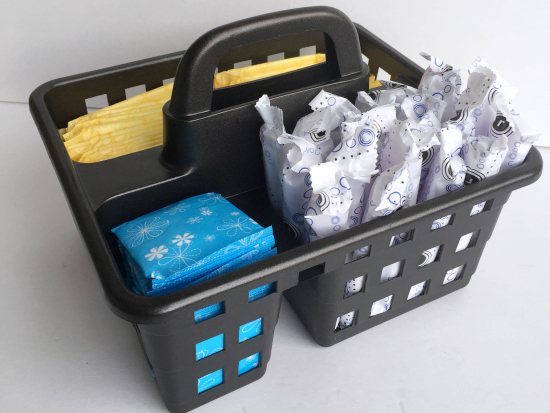 … and all my hair supplies went into a large bin.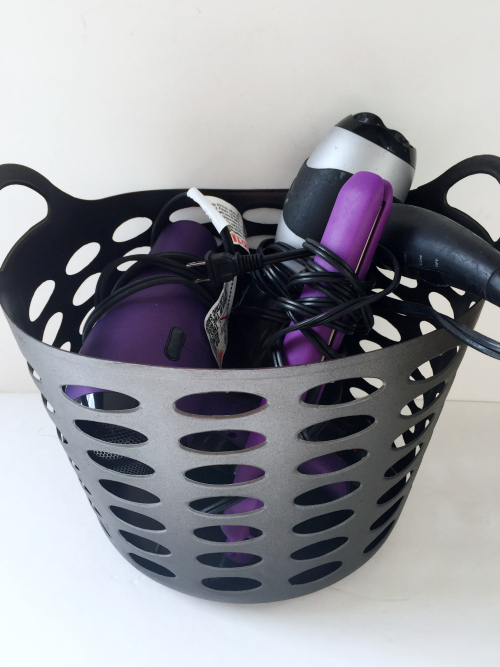 Extra products, such as shampoos, lotions, etc, went into a small tote.
The last step in the process was lying down a "wrapping paper shelf liner" to add a little color. (I used the same method as I did with these "DIY Drawer Liners".) Here's the finished space.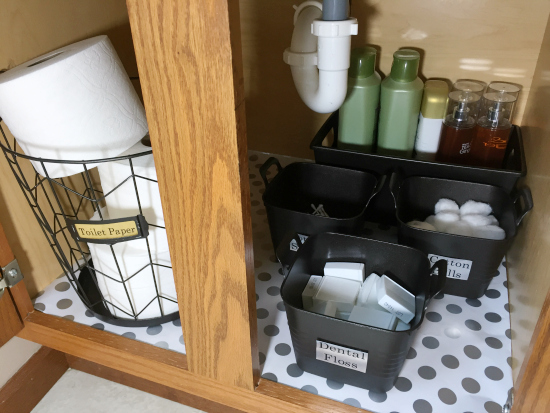 Left Side of the Sink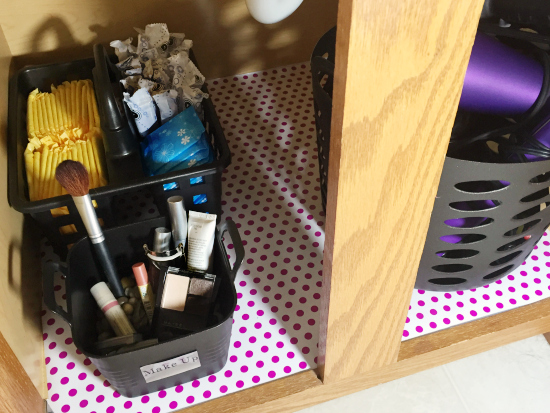 Right Side of Sink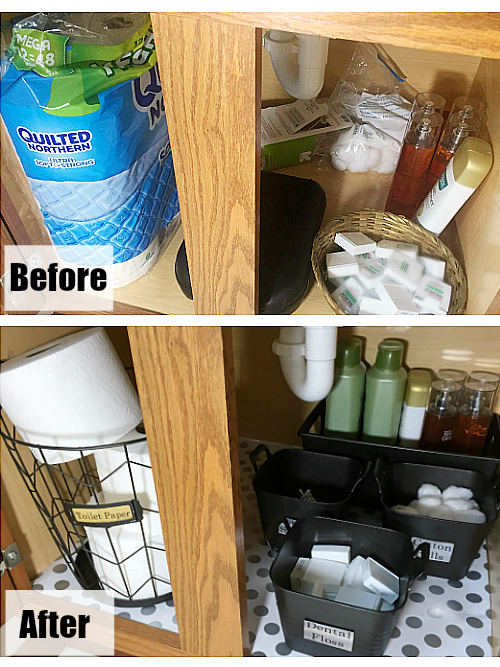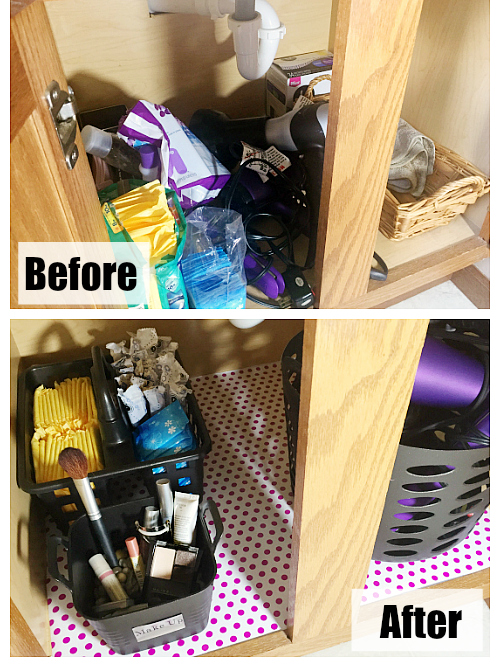 It is so nice to have this space organized. Just one less obstacle to face each morning 🙂
Love it? Pin it!