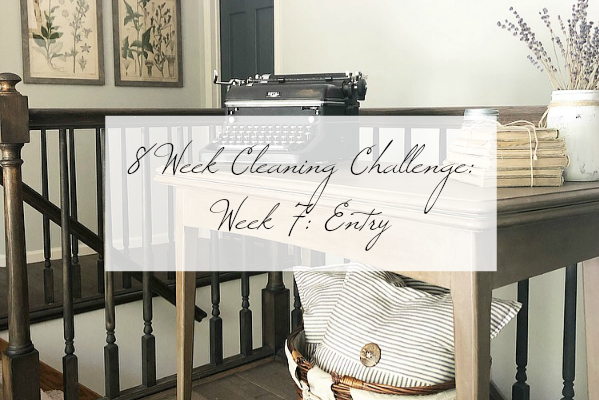 Welcome to week seven of the 8 Week Cleaning Challenge!
Here we are. Week 7. We are headed into our final two weeks of the 8 Week Cleaning Challenge. This week we are going to be working on cleaning and organizing the entry. This includes the front entry, mudroom, vestibule, etc. While these areas tend to be smaller in nature, a lot can accumulate: coats, shoes, hats, scarves, mittens, backpacks, grocery bags, mail, etc.
Cleaning the Entry
Depending on your flooring, vacuum or wash the floors- If you have tile, try this for cleaning grout.
Vacuum/Dust Baseboards
Wash Rug(s)
Dust All Surfaces
Clean the Windows and Window Sills- I know I talk about this every week, but these glass cleaning products are my favorite thing ever!
Dust/Clean Heating Vents & Cold Air Returns
Disinfect Door Knobs & Light Switches- Try using these DIY Cleaning Wipes
Bonus Points
Do something to spruce up your entry: Add some pictures, art, fresh flowers or a welcome sign.
Create an organizational system to corral incoming papers and mail- Here's a post on keeping paper clutter under control that may help.
Create an organizational system for coats, backpacks, etc
Here's your printable for the week: 8 Week Cleaning Challenge: Entry.
Have a wonderful week!
Week 1: Bathrooms // Week 2: Bedrooms // Week 3: Laundry Room // Week 4: Closets // Week 5: Living Spaces // Week 6: Office // Week 7: Entry // Week 8: Kitchen
Love it? Pin it!