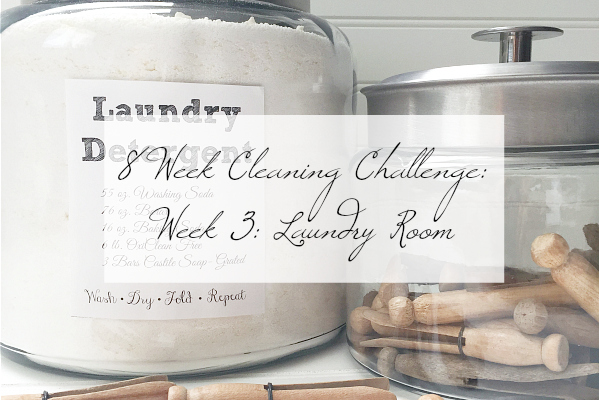 Welcome to week three of the 8 Week Cleaning Challenge!
The bathrooms are clean. The bedrooms are clean. Now it's time to tackle the laundry room. As I created the list of things to do this week, I realize some things won't apply to you, so you're off the hook. If, for example, you don't have windows in your laundry room; no need to clean something that's not there, right?
Cleaning the Laundry Room
Wash the Floor- If you are able, wash the floor under your washer and dryer as well. You will not believe how gross it gets under there… Here's a peek at what mine looked like when I got under the dryer… yuck!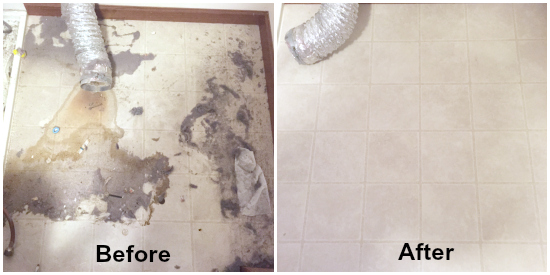 I used my DIY Floor Cleaner to get all the grime off the floor.
Vacuum/Dust the Baseboards
Dust All Surfaces- With all the lint flying around, dusting is a must. Try using a microfiber dusting mitt, like this one, to really trap dust well.
Clean Windows & Window Sills- This Norwex Cleaning Package is my favorite cleaning "tool" ever! I highly recommend it for cleaning all the glass around your home… windows, mirrors, etc.
Wash Laundry Sink/Tub
Organize Laundry Supplies- Toss items that are old/no longer used
Empty the Trash- If your laundry room is small, here's an idea for creating a lint box you can hang on the wall.
Wash Rug(s)
Dust/Clean Vents and Cold Air Returns
Disinfect Door Knobs and Light Switches- Try using these DIY Cleaning Wipes
Wash All the Laundry… Fold It… Put It Away
Iron
As always, here's a printable cleaning list for this week: 8 Week Cleaning Challenge Laundry Room
Remember not to neglect the areas you have already cleaned (bathrooms and bedrooms). Go through each room and tidy up/clean areas that need addressing.
Click Here to See My Favorite Laundry Room Cleaning Tips
Week 1: Bathrooms // Week 2: Bedrooms // Week 3: Laundry Room // Week 4: Closets // Week 5: Living Spaces // Week 6: Office // Week 7: Entry // Week 8: Kitchen
Love it? Pin it!