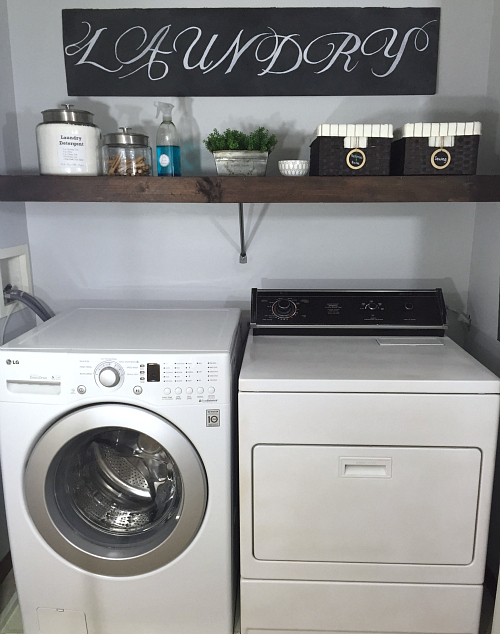 Image from our Laundry Room Reveal
The bathrooms are clean. The bedrooms are clean. Now it's time to tackle the laundry room. I realize laundry rooms come in all shapes and sizes. Some of you have large, spacious laundry rooms, and others (like me) have a small closet. As you may recall, I just redid our little laundry space for the One Room Challenge this past fall, and I'm loving it! (You can see the transformation HERE.)
As I created the list of things to do this week, I realize some things won't apply to you, so you're off the hook if, for example, you don't have windows in your laundry room. No need to clean something that's not there, right? This week may involve some tasks that you have never done before (like cleaning your washer and dryer). Tomorrow I will post links to tutorials for all your laundry room cleaning needs.
The Plan
Wash the Floor- If you are able, wash the floor under your washer and dryer as well. You would not believe how gross it gets under there… Here's a peek at what mine looked like when I got under the dryer… yuck!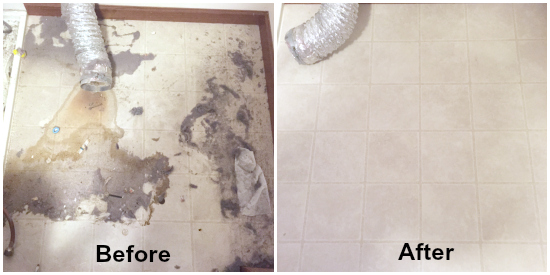 I used my DIY Floor Cleaner to get all the grime off the floor.
Vacuum/Dust the Baseboards
Dust All Surfaces- With all the lint flying around, dusting is a must. Try using a microfiber dusting mitt, like this one, to really trap dust well.
Clean Windows & Window Sills- This Norwex Cleaning Package is my favorite cleaning "tool" ever! I highly recommend it for cleaning all the glass around your home… windows, mirrors, etc.
Wash Laundry Sink/Tub
Organize Laundry Supplies- Toss items that are old/no longer used
Empty the Trash- If your laundry room is small, like mine, here's an idea for creating a lint box you can hang on the wall.
Wash Rug(s)
Dust/Clean Vents and Cold Air Returns
Disinfect Door Knobs and Light Switches- Try using these DIY Cleaning Wipes
Wash All the Laundry… Fold It… Put It Away
Iron
As always, here's a printable cleaning list for this week: 8 Week Cleaning Challenge: Laundry Room
Remember not to neglect the areas you have already cleaned (bathrooms and bedrooms). Go through each room and tidy up/clean areas that need addressing.
*I would love to see how you all are doing with this cleaning challenge. Got a good before & after picture? Progress photos? Use the hashtag #8weekstoclean on Twitter or Instagram, or email your photos to me at theorglife@gmail.com
Have a good week!
Week 1: Bathrooms // Week 2: Bedrooms // Week 3: Laundry Room // Week 4: Closets // Week 5: Living Spaces // Week 6: Office // Week 7: Entry // Week 8: Kitchen
Want to Follow Along with Lemons, Lavender, & Laundry?
Subscribe!
Social media more your style?
Facebook // Pinterest // Instagram // Twitter