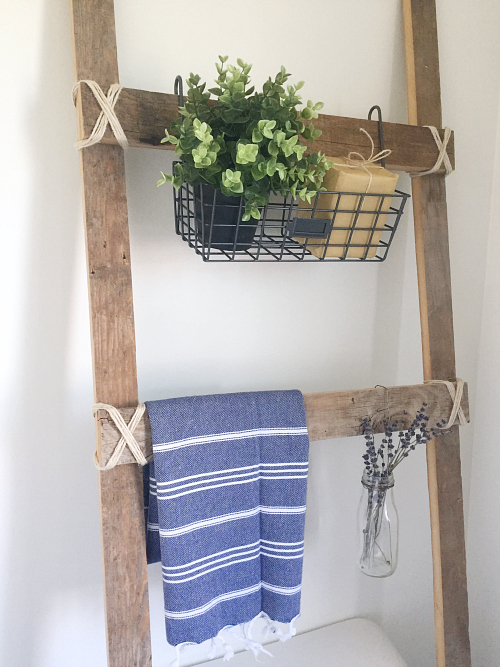 Image from our Master Bathroom Reveal
Welcome to week one of the 8 Week Cleaning Challenge! If you saw my "Real Life Home Tour" last week, you know I am in need of a little cleaning/organization around my house; and maybe you are too. For some reason the holiday season brings out the worst in my house. I just don't have time to clean and organize when I'm Christmas shopping and wrapping gifts and preparing food and running from one celebration to the next. If your house looks anything like mine, I've got a plan for us.
When you look at your whole house and see all the messes and disarray, it can be very overwhelming, right? I have come to find that tackling one space at a time, and doing a thorough job with it, can be a more manageable solution. Each week of this challenge focuses on one "space type". This first week we are going to tackle bathrooms… all the bathrooms, so if you have one bathroom, you've got a whole week to tackle that one space. We have 4 in our house, so I will choose 4 days and tackle one bathroom each of those days. If you are super motivated, feel free to tackle all your bathrooms in one day.
The Plan
There is a lot to do in a bathroom. Lots to clean. Lots you can organize. Ready?
Clean the Sinks and Counters
Wash the Mirror
Organize the Drawers
Organize Medications/First Aid Items (Toss medications & sunscreens that have expired)
Empty the Trash
Wash Rug(s)
Hang Fresh Towels
Vacuum/Dust the Baseboards
Clean Windows and Window Sills
Dust Fan Vents
Dust Any Shelving
Disinfect Door Knobs, Toilet Handles, & Light Switches
I love lists. I love crossing things off lists. If you're like me and want a list of bathroom chores for the week, here you go: 8 Week Cleaning Challenge: Bathrooms. Print off as many as you need. You can tape these to the bathroom door(s) or create a 3 ring binder.
For Cleaning Tip Tuesday, I've rounded up all my favorite Bathroom Cleaning Tips for you.
*I would love to see how you all are doing with this cleaning challenge. Got a good before & after picture? Progress photos? Use the hashtag #8weekstoclean on Twitter or Instagram, or email your photos to me at lemonslavenderlaundry@gmail.com
Happy Cleaning!
Week 1: Bathrooms // Week 2: Bedrooms // Week 3: Laundry Room // Week 4: Closets // Week 5: Living Spaces // Week 6: Office // Week 7: Entry // Week 8: Kitchen
Want to Follow Along with Lemons, Lavender, & Laundry?
Subscribe!
Social media more your style?
Facebook // Pinterest // Instagram // Twitter