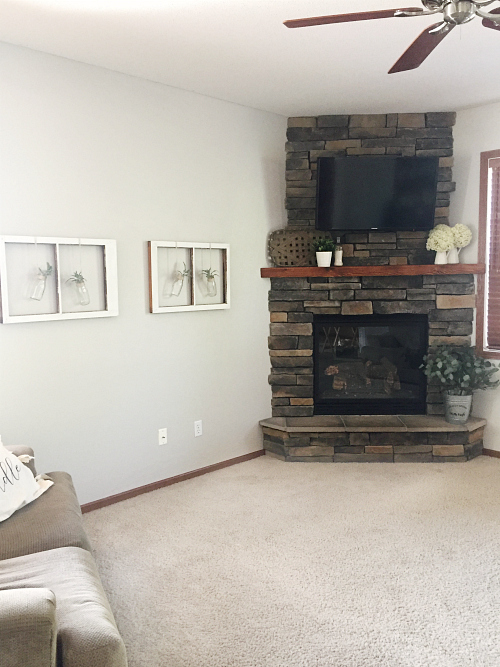 Image from our Living Room Reveal
We are half way through our 8 Week Cleaning Challenge! Four weeks down, four more to go. This week we're concentrating on our living spaces: living rooms, rec rooms, playrooms, etc.; those places where you unwind and relax, play games, and have conversation… and maybe binge-watch Netflix… or is that just me?
As a reminder, you have an entire week to work on these spaces. I know a lot can accumulate in these areas, especially if you have young children. Just take it one day at a time. Here is your To Do List for this week:
The Plan
Depending on your flooring, vacuum or wash the floors- Stains on your carpet? Try this.
Vacuum/Dust Baseboards
Dust All Surfaces, Wall Frames, Ceiling Fans/Other Fans, and Screens (If there is a television/computer in the room)-You can learn more about my favorite dusting products HERE
Clean the Windows and Window Sills- I know I talk about this every week, but these glass cleaning products are my favorite thing ever!
Wash Any Throw Blankets You May Have
Clean Mirrors
Remove Couch Cushions… Find Treasures… Vacuum
Deodorize your Upholstery- Here's an easy DIY upholstery deodorizer 🙂
Sort, Organize, Donate/Toss- This is another areas where the DONATE, PUT AWAY, NEEDS A HOME boxes may come in handy, especially if going through a playroom- Here's how I organized our toys last summer.
Dust/Clean Heating Vents & Cold Air Returns
Disinfect Door Knobs & Light Switches- Try using these DIY Cleaning Wipes
As always, here is the printable version for you to use: 8 Week Cleaning Challenge: Living Spaces
Happy Cleaning!
Week 1: Bathrooms // Week 2: Bedrooms // Week 3: Laundry Room // Week 4: Closets // Week 5: Living Spaces // Week 6: Office // Week 7: Entry // Week 8: Kitchen
Want to Follow Along with Lemons, Lavender, & Laundry?
Subscribe!
Social media more your style?
Facebook // Pinterest // Instagram // Twitter