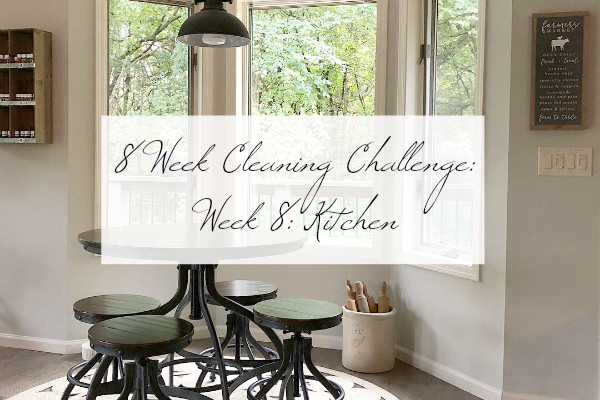 Welcome to week eight of the 8 Week Cleaning Challenge!
It's the final week of our cleaning challenge. I hope this series has helped you get your home clean and organized over the past 8 weeks. If you fell behind at some point, no worries. There is no prize for completing the challenge on time (except that your house is clean). This is simply a tool to help you consider how to deep clean the spaces in your home. You can start anywhere you'd like and take as long as you'd like.
I decided to save the kitchen for the last week of the challenge because there is so much to do in this area: refrigerator, freezer, pantry, microwave, sink, dishwasher, etc. I figured if one place may take a little longer than one week to complete, it would probably be your kitchen. Here's the plan for this week:
Cleaning the Kitchen
Wash The Kitchen Floor- If you have tile or linoleum in your kitchen, here is a DIY Floor Cleaner I use.
Wash Your Counters- Here is a DIY All Purpose Spray I use on my counters
Organize Your Cupboards- This means thoroughly going through each cupboard and disposing of things that no longer work, donating items that are in good condition (but are never used), and organizing everything that's leftover.
Go Through Your Cookbooks and Recipes- I did this awhile ago and realized I had a large collection of cookbooks that didn't get a lot of use. If any cookbook was used for just a couple recipes, I made copies of them and then donated the book.- Click HERE for ideas on creating a recipe binder.
Go Through The Food In Your Pantry and Clean It Up- We are all known for finding items in our pantry that expired months (even years) ago. It is time to toss out all that expired food. If you have unopened items that have not expired, and you know it's highly unlikely you'll use them before they go bad, donate them to the local food bank. As you go through the food items, wash down the shelves. This post gives you some ideas on pantry organization.
Organize The Area Under Your Kitchen Sink- For some reason the space under the kitchen sink becomes a catch-all for a lot of stuff. Take time to pull everything out of this area and, again, toss, donate, & organize. Here is a post on how I organized the area under our kitchen sink.
Clean Your Garbage Disposal- You can click HERE for a post on making your own garbage disposal bombs.
Thoroughly Clean Out and Wash Your Refrigerator- If you're feeling ambitious, you can make your own DIY Fridge Deodorizer.
Thoroughly Clean Out and Wash Your Freezer- Click HERE for a post on freezer cleaning ideas… and a free printable.
Wash Windows- These are my favorite cleaning product when it comes to cleaning glass (no cleaning solution needed).
Vacuum/Dust Baseboards
Clean Your Oven and Stove Top Grates (if you have a gas stove) or Glass Stove Top
Dust/Clean Heating Vents & Cold Air Returns
Here are a few other posts that may come in handy:
As always, here is your printable for this week: 8 Week Cleaning Challenge: Kitchen
Click Here for Some Amazing Kitchen Cleaning Tips
Week 1: Bathrooms // Week 2: Bedrooms // Week 3: Laundry Room // Week 4: Closets // Week 5: Living Spaces // Week 6: Office // Week 7: Entry // Week 8: Kitchen
Love it? Pin it!