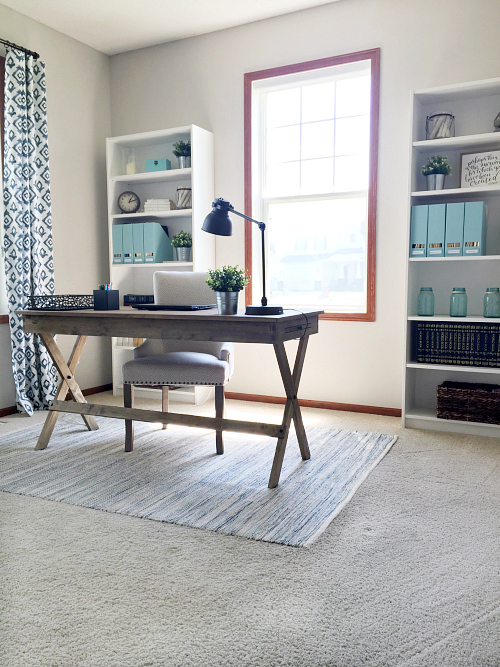 Image from our Office Reveal
Happy Monday! We had quite the weekend. My brother and his wife had a baby boy on Saturday, so we got to hang with big sister for a couple days. Last night, we hosted a Superbowl Birthday Bash for my middle. Poor thing has a December birthday, so we always put off partying until after the holidays… l-o-n-g after the holidays, apparently. #oops
A new week means another space to clean and organize. This week we'll be conquering the office. You may call this room something else: den, craft room, sewing room, etc. You get the idea. If you have none of the above, you are off the hook this week.
I'm letting you in on a little secret… My office? Disaster. Since I started blogging, I've been accumulating a lot of stuff. Along with the "stuff", I suddenly see everything as having potential: cardboard, glass jars, plastic containers. Everything. Plus, the paper clutter is getting a little out of control. Paper clutter is the worst.
No matter how bad it is, we can totally do this!
The Plan
Depending on your flooring, vacuum or wash the floors- Stains on your carpet? Try this.
Vacuum/Dust Baseboards
Dust All Surfaces, Wall Frames, Ceiling Fans/Other Fans, and Screens (If there is a television/computer in the room)- Tomorrow I'll share some products for cleaning electronics.
Clean the Windows and Window Sills- I know I talk about this every week, but these glass cleaning products are my favorite thing ever!
Deodorize your Upholstery- Here's an easy DIY upholstery deodorizer ?
Sort, Organize, Donate/Toss- This is another areas where the DONATE, PUT AWAY, NEEDS A HOME boxes may come in handy.
Dust/Clean Heating Vents & Cold Air Returns
Disinfect Door Knobs & Light Switches- Try using these DIY Cleaning Wipes
Bonus Points
Later on in the week, I plan to do a couple posts on the "bonus points" topics, so stay tuned. As always here is your "to do" list for this week: 8 Week Cleaning Challenge: Office
Have a wonderful week!
Week 1: Bathrooms // Week 2: Bedrooms // Week 3: Laundry Room // Week 4: Closets // Week 5: Living Spaces // Week 6: Office // Week 7: Entry // Week 8: Kitchen
Want to Follow Along with Lemons, Lavender, & Laundry?
Subscribe!
Social media more your style?
Facebook // Pinterest // Instagram // Twitter