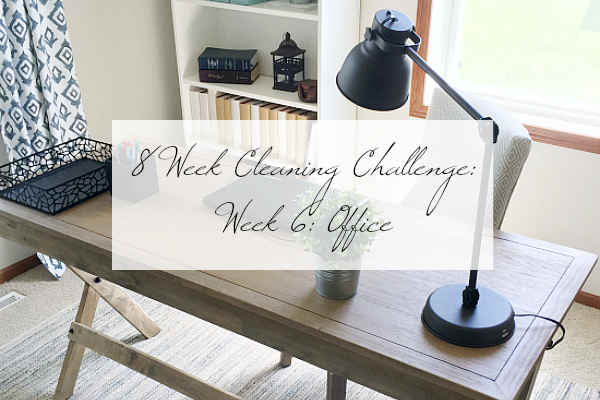 Welcome to week six of the 8 Week Cleaning Challenge!
A new week means another space to clean and organize. This week we'll be conquering the office. You may call this room something else: den, craft room, sewing room, etc. You get the idea. If you have none of the above, you are off the hook this week.
Office spaces and craft areas tend to accumulate a lot of stuff, but no matter how cluttered and disorganized your space may be, we've got this. I am providing a plan for the week as well as some posts that can help as we clean and organize our office spaces.
Cleaning the Office
Depending on your flooring, vacuum or wash the floors.
Vacuum/Dust Baseboards
Dust All Surfaces, Wall Frames, Ceiling Fans/Other Fans, and Screens (If there is a television/computer in the room). Here's a post on some products I have used to clean electronics.
Clean the Windows and Window Sills- I know I talk about this every week, but these glass cleaning products are my favorite thing ever!
Deodorize your Upholstery & Carpet- Here's an easy DIY Carpet/Upholstery Deodorizer
Sort, Organize, Donate/Toss- This is another areas where the DONATE, PUT AWAY, NEEDS A HOME boxes may come in handy.
Dust/Clean Heating Vents & Cold Air Returns
Disinfect Door Knobs & Light Switches- Try using these DIY Cleaning Wipes
Bonus Points
Organize Emails
Organize Photos
As always here is your "to do" list for this week: 8 Week Cleaning Challenge: Office
Have a wonderful week!
Week 1: Bathrooms // Week 2: Bedrooms // Week 3: Laundry Room // Week 4: Closets // Week 5: Living Spaces // Week 6: Office // Week 7: Entry // Week 8: Kitchen
Love it? Pin it!