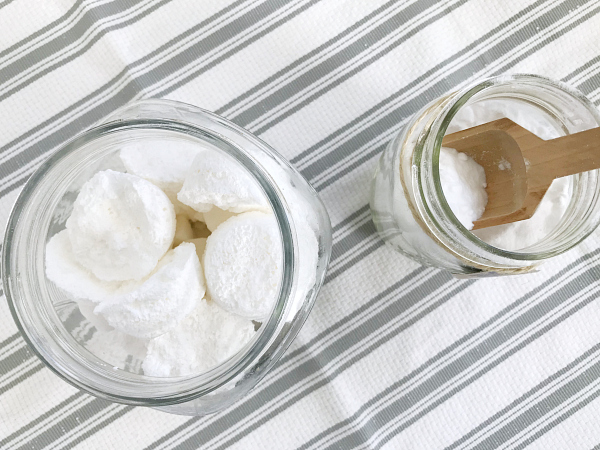 Years ago I started making my own cleaning products as a way to save money, and while that is still a wonderful benefit, I also make them because it's safer for our home. I remember cleaning my bathroom, and having to leave the room because the chemical smell from store-bought cleaners was so overwhelming. Over time, I have done some research on store-bought cleaners, and have come to find that they are not required to disclose what they put into their products. If you look at any bottle of store-bought cleaner, you may see vague ingredients like "carriers, wetting agents, cleaning agents, pH adjuster, fragrance, dye". (These are not made up, by the way, this is directly from a bottle of glass cleaner.)
So instead of having no clue what your spraying around your house, you can buy a few simple supplies and make them yourself… and the best part is, you know exactly what's in them.
Let's start with the supplies you'll need for storing your cleaning products, and then we'll discuss what you'll need to make them.
What You Need to Store Your Homemade Cleaning Products
Spray Bottles
When making your own cleaning products you'll definitely need a variety of spray bottles. I use 16 oz amber glass bottles for my all-purpose spray, 4 oz cobalt glass bottles for DIY room sprays, and clear glass bottles for things, like vinegar (which I use for my DIY toilet cleaner). If using essential oils, you will need to use glass spray bottles, and preferably in a blue or amber shade. Essential oils will actually break down plastic, which is why you'll want to go with glass. For other non-essential oil products, you can certainly use plastic, however, I still prefer glass. Below are some of my favorite spray bottles that have held up well over the years.


Air Tight Jars and Canisters
When storing your DIY cleaning products, most require storage in an air-tight container. I love using big glass jars with a lid or clamp to store my DIY toilet bombs and garbage disposal bombs. Mason jars are great for holding my DIY cleaning wipes, because they're glass, and my version contains essential oils. My DIY laundry detergent makes a huge batch, so I store it in these glass containers (which I have all over my house for storing everything from coffee to art supplies).


Labels
When making your own cleaning products, remember to label them. It's really hard to tell the difference between rubbing alcohol and vinegar (unless you smell them; which I wouldn't recommend). Check Etsy for some cute ideas, use free printable labels found online, or buy a few chalkboard labels.


Cleaning Caddy
You obviously do not need to make your own cleaning products in order to use a cleaning caddy, but it sure does help to keep everything you need in one place 🙂


What You Need for Cleaning
You only need a few products (most of which you probably already have) to make everything you need to clean your home.
Microfiber Cloths
I have a bunch of microfibers cloths, and I use them for a variety of things around my house. The best thing about microfiber is that you don't need to use cleaning products with them. They are made to be used with water, or on their own. Another plus is that you can wash them and reuse them for years. I've had some of my Norwex cloths for years, and they are still in great shape!
Cleaning Glass
If I could only recommend one cleaning item, these Norwex Cloths would be it. They are amazing for cleaning glass. You simply wet down the EnviroCloth with water, wash your glass, and then use the window cloth (which has some crazy squeegee-type fibers) to wipe it down without any streaks. Norwex products can be bought through a Norwex consultant, and while prices are cheaper, I do not know about shipping costs. If you do not know someone that sells Norwex, you can easily purchase them through Amazon. I know these cloths are expensive, but I've had mine for-ever, and they are still going strong. Totally worth the price you pay.
Cleaning Stainless Steel
Stainless steel is hard to keep clean. Every fingerprint seems to show up. I use these microfiber cloths (plus a little olive oil) to get our appliances looking like new. (For full tutorial on cleaning stainless steel appliances, click here.)
For Dusting
I have a microfiber mitt I use to quickly go over dusty surfaces in my home. Microfiber is great for trapping dust, and requires no other dusting sprays or products to be used with it. Simply wipe the mitt over dusty surfaces and you're good to go.
General Cleaning
I tend to use sponges and cotton cloths for my general cleaning, however, microfiber cloths are also great for wiping down counters, sinks, and kitchen tables.


What You Need to Make Your Own Cleaning Products
Baking Soda
I use baking soda in a ton of my DIY cleaning products, so much that I buy it in a 13 1/2 pound bag 🙂 To learn about all the ways you can clean with baking soda, check out this post.
Vinegar
Again, I buy vinegar in a huge one gallon jug because I use it so often. For ways to clean with vinegar, check out this post.
Dish Soap
I use dish soap in everything from Stain Remover to DIY Cleaning Wipes.
And here's a recipe for DIY Dish Soap if you'd like 🙂
Hydrogen Peroxide
Combine this with baking soda and it makes the best porcelain sink cleaner and grout cleaner!
Rubbing Alcohol
Use rubbing alcohol to clean microfiber furniture (along with some distilled water) or use it in combination with a few other ingredients to make your own cleaning wipes.
Essential Oils
I have made many cleaning products without essential oils, however, they do a great job of enhancing your cleaning products, and making them smell amazing. Check out this post for ideas on how to use essential oils for cleaning.
If you are not sure where to buy good essential oils, check out this post to help you make the best choice for your home.
Olive Oil
This is great for making your stainless steel shine or making your own furniture polish.
Vodka
While some choose to use witch-hazel for their room sprays, I find vodka to work even better because it has no smell to interfere with the scent of the spray. I use vodka in both my room spray and linen spray.
Distilled Water
When making cleaning products that are diluted with water, make sure you use distilled water. Tap water has natural impurities in it that can grow bacteria over time. Distilled water has been stripped of these impurities, giving your cleaning product a longer shelf life.
I know it can feel intimidating to make your own cleaners, but you really just need a few basic essentials. Start by replacing items as they run out. When you are out of counter-top spray, try a DIY version. When your disinfecting wipes are out, try making your own. It has taken me years to switch out most of my products, so just start with one thing at a time.
Love it? Pin it!